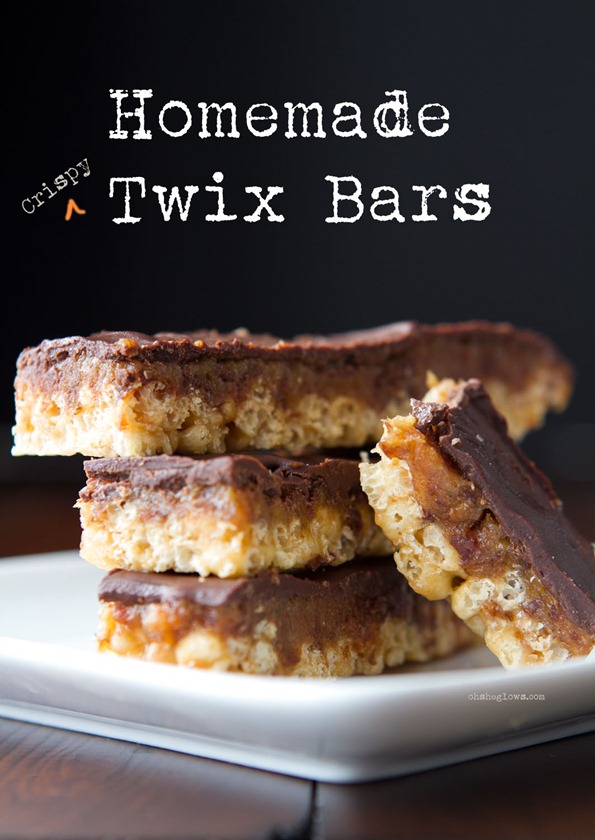 muhahauha
I don't know why, but that just felt appropriate to open with being 6 days from Halloween and all.
Evil cackles are the perfect compliment to many situations, don't you think?
Such as:
– When you're bored at work and want to make coworkers think you're up to something (aren't you always??) See Dwight Kurt Schrute III.

– Ditto above, but for your significant other/family members.

– Obviously, evil scheming is one of them, which I did lots of as a teenager with my sister Kristi and girlfriends. (Don't worry sis, your secrets are safe with me…..unless I ever write a novel. mhauhauha!)

– When you hide behind a wall and then jump out to scare your pet or husband (not that I do this or anything…)

– When you send your spouse to work with salty cookies…on April Fools Day

– When kids ring your doorbell on Halloween

– When you make a killer dessert recipe
When to avoid witch cackles: going through airport security or customs, when the officiate asks if anyone objects to the marriage, in church, after serving food to your guests at a dinner party (Halloween excepted), near any newborn, during a GRE, at a job interview.
Use at your own risk.
Last week, a couple of you asked me if I could revamp my Vegan Twix bar recipe. I like the way you think because I was already planning on doing so! The original recipe was very tasty and decadent, but the shortbread crust was fairly crumbly and contained a ton of vegan butter. It also required baking the crust and making caramel from scratch.
For this version, I made the recipe lower in fat, gluten-free, faster, and improved the crust. After the Homemade Rolos were such a hit with many of you, I knew I wanted to use date caramel again. The crust ended up driving me a bit crazy though. I used oat flour, agave, and just a touch of coconut oil. While it held together perfectly it was way too dense and the flavour was too earthy for a Twix recipe.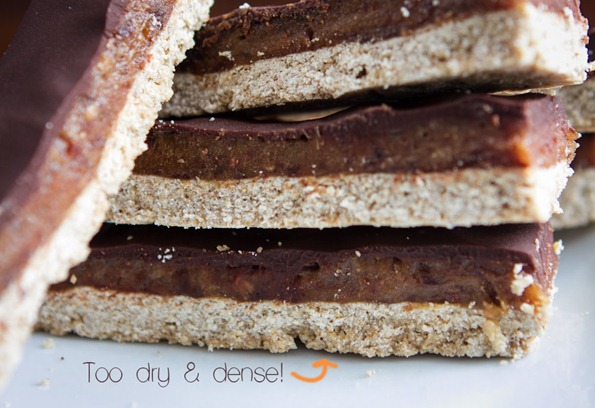 I also knew I didn't want to make a soft, fluffy crust. To me, a Twix bar has to have a crisp crust! Then Eric suggested I use rice crispies for the crust. Genius. It's easy, fast, and just a few ingredients. Most of all, you don't bake the crust which saves a lot of time. The crispy texture turned out to be the perfect compliment to the gooey date caramel and hardened chocolate coating. I don't think I need to explain any further…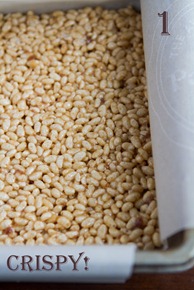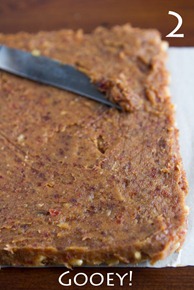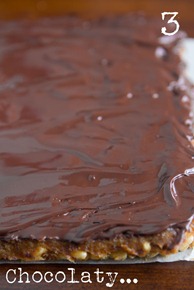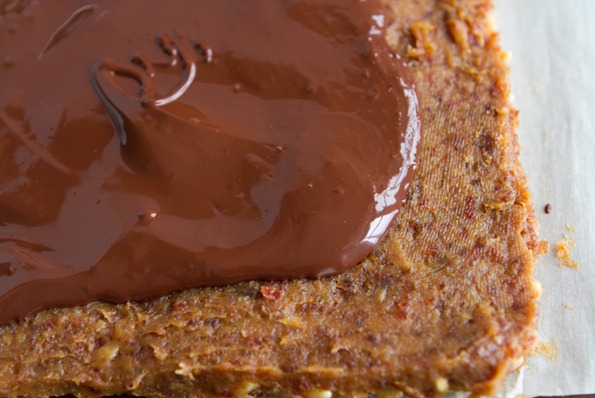 You can thank Eric for this one. (He says he will accept boxes of Homemade Twix bars.) ;)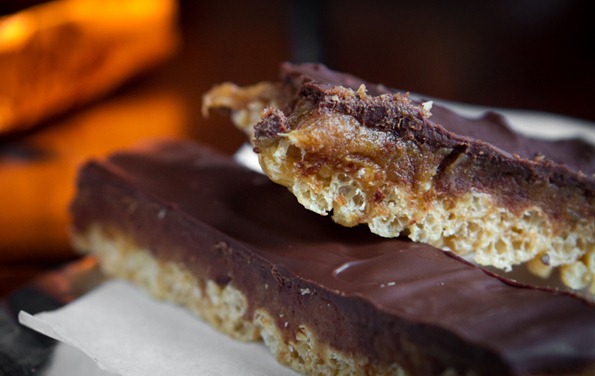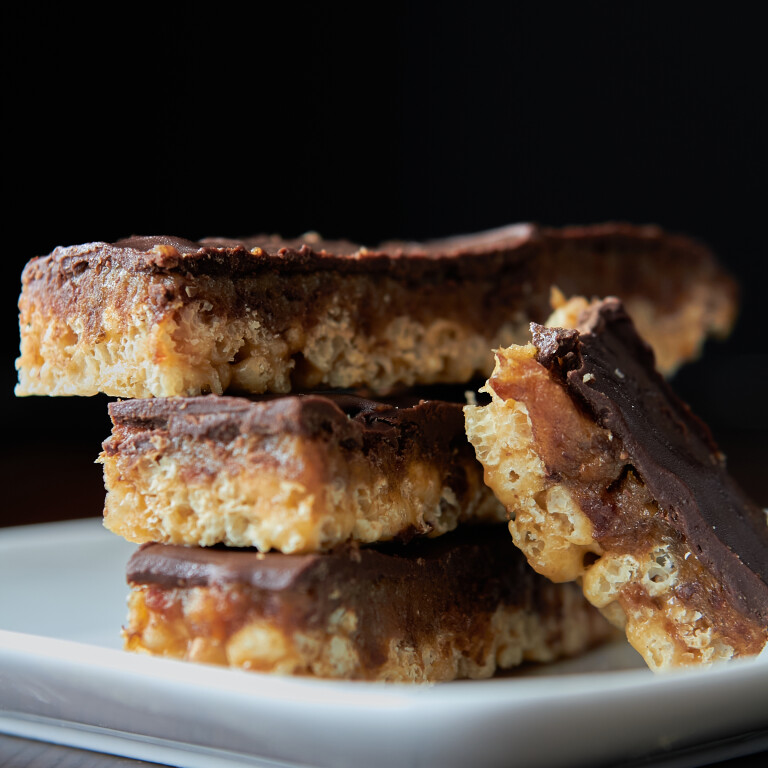 Homemade Crispy Twix Bars

Yield

16-18 bars
Prep time

Cook time

0 minutes
Chill time

30
Total time

Ingredients
For the crust
1 & 1/4 cup GF crispy rice cereal (I use Nature's Path)
1/4 cup brown rice syrup

*

2 tbsp peanut butter

*

1 tsp pure vanilla extract
pinch of fine grain sea salt
For the date caramel
200-210 grams pitted soft Medjool dates (about 1 & 1/4 cup pitted dates)
1 tbsp peanut butter

*

1 tbsp almond milk, or more if needed
pinch of fine grain sea salt
For the chocolate coating
1/2 cup dark chocolate chips
1 tsp coconut oil (optional)
Directions
Line an 8-inch pan with two pieces of parchment paper. In a small pot, add the brown rice syrup, peanut butter, and vanilla. Increase heat to medium and bring to a simmer, stirring frequently until combined. Add pinch of salt. Pour into a large bowl with rice crisp and stir well.
Scoop the rice crisp mixture into pan. Wet hands slightly and then spread the mixture evenly and press down firmly until smooth. Place in freezer while you make the date caramel.
Soak dates in water until soft (only if necessary) and drain. Place pitted dates, peanut butter, milk, and salt in the food processor and process until almost smooth and a big ball forms.
Spread caramel layer over top of the crust until it's as smooth and even as you can get it. Place back in the freezer for 10-15 minutes to set.
Melt the chocolate and optional coconut oil in a small pot over low heat. When 2/3 of the chips are melted, remove from heat and stir until smooth. Spread chocolate on top of the caramel and place in the freezer for about 3 minutes only.
Remove from freezer (chocolate should be slightly firm, but not completely set) and slice into rows and then in half. Freeze again until set for about 10 minutes. Store in fridge or freezer.
Tip:
The brown rice syrup can probably be subbed for honey (if you include honey in your diet). Agave won't hold together as well since it's not as "tacky", but it will hold together when kept in the freezer. It will fall apart at room temperature though.
You can sub peanut butter for sunflower seed butter as a nut-free option.
Nutrition Information
(click to expand)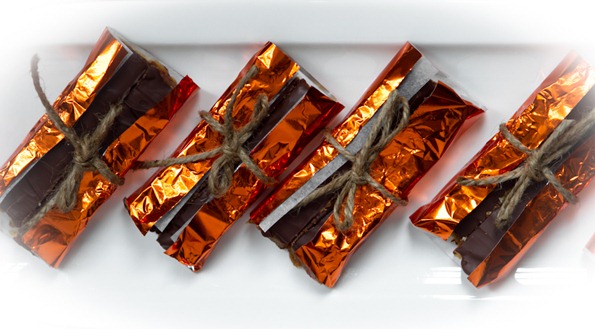 I wrapped up two at a time in orange candy wrappers (from Bulk Barn) and secured them with kitchen twine. Not spooky, but so darn cute and festive.