Good morning!
First up, a bit of OSG house keeping this morning:
1) Don't forget to check out my wedding recap posts. The rehearsal, Part 1, Part 2, Part 3, and Part 4 are all up for your viewing pleasure. ;)
2) I also updated the Green Monster Movement website with new reader recipes.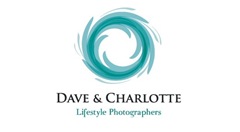 3) Now the winner of the Summer Glow Photo shoot contest!
A huge congrats to Sarah for winning the contest with 43% of the votes! Sarah please email me with your contact info and I will give it to Dave and Charlotte.
Thank you to everyone who participated!!! We wish that we could give each and everyone of you a photo shoot! I will be sure to post about it when it is complete so you can all see the exciting photo shoot!
~~~~~~~

Eric's birthday dinner #2 with the family last night was fun. We made reservations at Kelsey's.
I ordered a green tea as I was not in a wine kind of mood after all the festivities lately!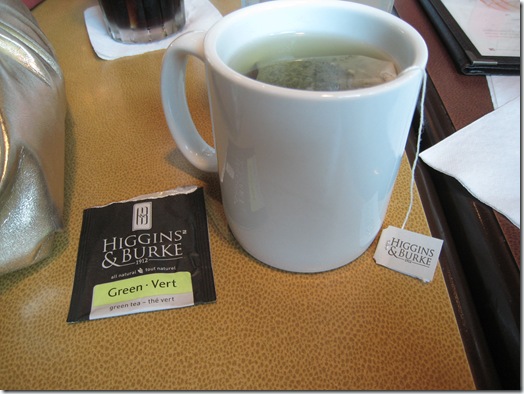 Eric ordered the bruschetta with naan bread (sans cheese) as an appetizer: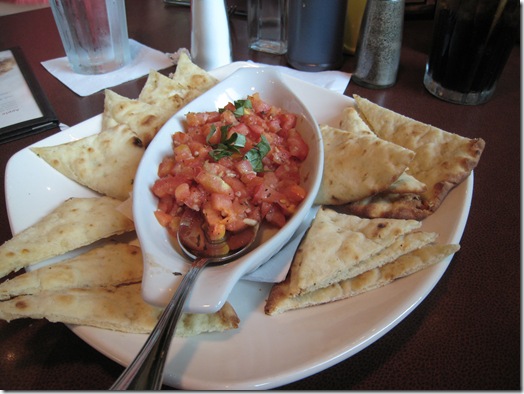 I had two wedges. It was really yummy!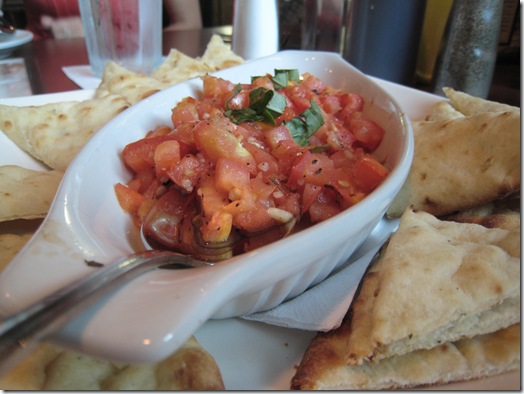 For my main course, I ordered the vegetarian burger (sans egg) with a side house salad. Not sure why they put cheese on it! I just picked around it. I ordered the balsamic dressing on the side (a great trick that I always do with any type of dish that has a sauce).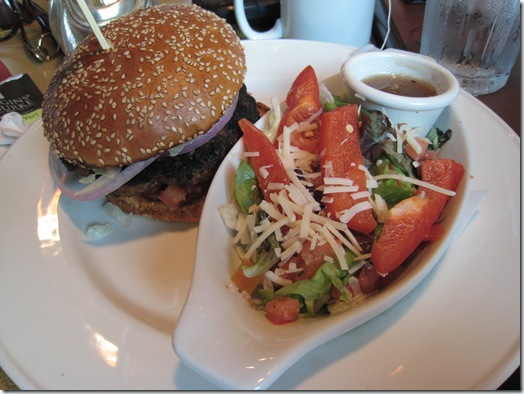 The veggie burger was DELISH. Lettuce, red onion, with bruschetta (on bottom). Oh it was lovely.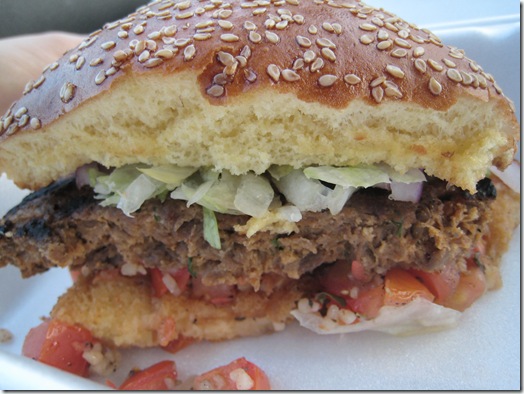 I ate 90% of the burger and most of the salad without the cheese.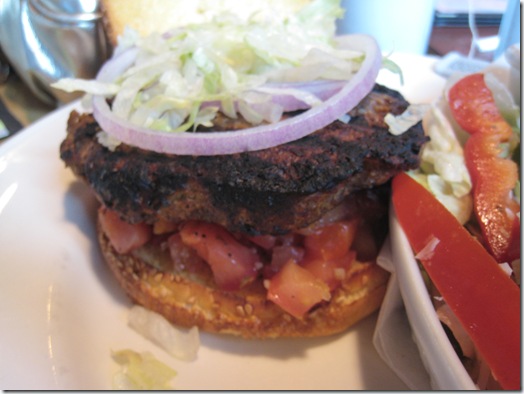 It was a nice outing with the family!
I feel like we've been spoiled this past week. We've been 'out for dinner' 3 times in 1 week (Eric's birthday, Leah's WEDDING, and tonight)! I think that is more than we have eaten out all YEAR! haha. While it is nice not to have to do dishes and cook, I do prefer to cook myself at home. Nothing beats it…and it is just so much cheaper. For what we paid for Eric's birthday dinner, we could have almost bought groceries for a week! It's crazy to think about.
~~~~~~~
Speaking of groceries…
Last night we made a quick grocery shop at Loblaws: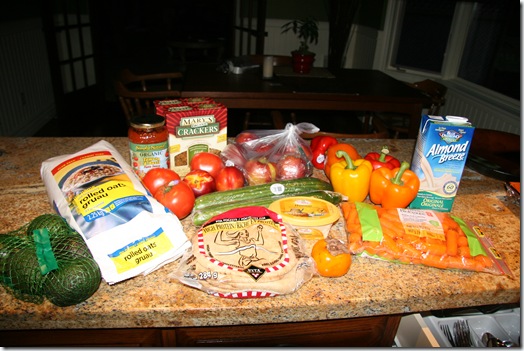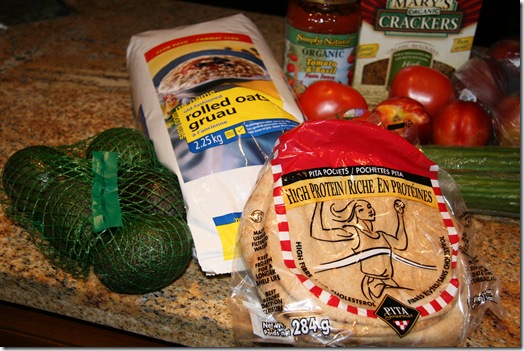 Bag of avocados
High protein High Fibre pitas
Rolled oats
Homemade Crack Down
OK guys, I promised myself this was my LAST store bought pitas and hummus this week!!! For the past several weeks, I keep saying, 'I really need to start making my Buck Ten Spelt Tortillas and 50 cent hummus again to save money!!' So it ends here.
I am going to make time this week to make them. It has been way too long. And the spelt tortillas are sooooooo good- actually my favourite things in the world!!!
Just as the name says the spelt tortillas only cost $1.10 for 1 batch. So I will save about $2 by making them myself (and they are super quick to make- like 10 minutes). The hummus also only costs 50 cents per batch, which saves me about $5-6 because it makes twice the amount!Ok, now that I just typed that I am seriously kicking myself for slacking in the homemade food department. I need to set aside some time each week to prep these things. By taking just 30 minutes out of each week, I could be saving over $10 VERY easily. Please give me a kick in the butt if I don't make these this week!
Whoa that was a tangent, wasn't it? lol. Back to the groceries…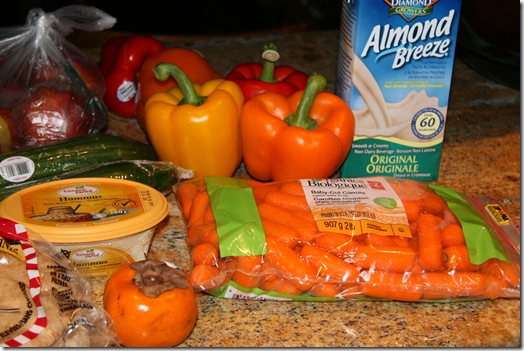 Red, yellow, orange peppers
2 english cukes
Fontaine Sante hummus
Almond Breeze
Organic baby carrots (not sure why I got baby carrots, I guess it has been a long time since I got them)
Mystery fruit of the week :D (Anyone spot it?)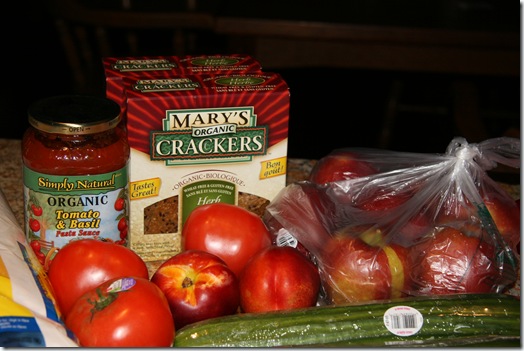 Simply natural organic pasta sauce (on sale)
Mary's Crackers (on sale)
3 organic tomatoes
2 organic nectarines
7 Eve apples (non organic- they were all out)
~~~~~~~
Well, I am off to bake up two orders and then get cracking on a couple business calls. I have a huge long list of Glo Bakery stuff to do this week. Let's hope I can charge through it!
See you at lunch for a Healthy Living Summit hot topic! I can't wait to hear your opinion on this one.
Today's question: Do you make any homemade versions of things to save some money instead of buying it at the store/restaurant? What are they?
One thing I always make at home is tea (unless of course it is the odd time like tonight when I was out to eat and wanted something other than wine or water). You will be hard pressed to ever find me buying a tea at a coffee shop. When I was in the workplace all of my coworkers went on a coffee run every morning and afternoon. I brought my own kettle to work and made my own tea instead. It saves me so much money- probably $60 a month (yes, I drink a lot of green tea, hahaha)!!!