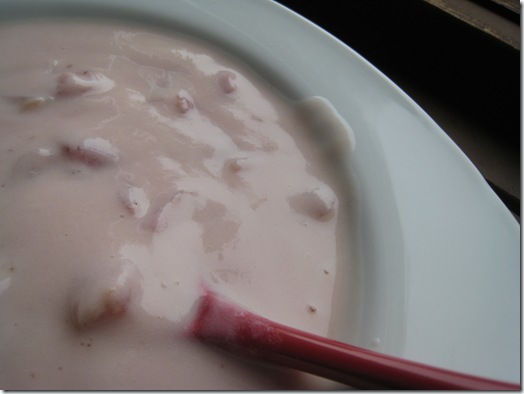 Yes, you saw that right.
I thought I was seeing things too when I stumbled across Celine's latest post over at Have Cake Will Travel.
Homemade Soy Yogurt?!
She posted a recipe for Homemade Soy Yogurt! If you have ever purchased soy yogurt (or any yogurt for that matter!) before you know how pricey it is.
So you can imagine my delight over the prospect of making my own Soy yogurt! With summer just around the corner I love having a cold breakfast option aside from cereal or a green monster. Off to the kitchen I went at 11pm last night!
The recipe was hands-down SIMPLE to make! From start to finish I was in and out of the kitchen in 10 minutes.
Ingredients:
1 cup soymilk (I'm sure you could use any type of milk?)
1 T fresh lemon juice
1-2 T agave (or any other sweetener- I used 1 T agave)
1 T cornstarch
1/2 t pure vanilla extract
fresh strawberries, chopped small (optional)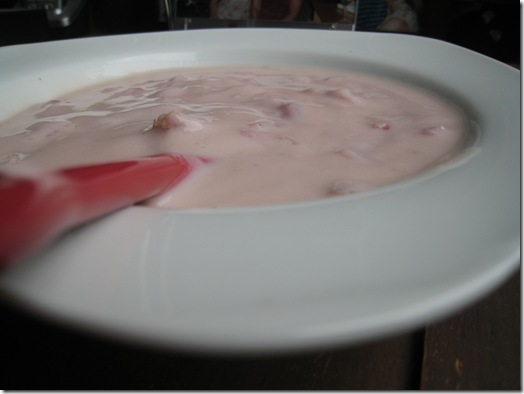 Directions:
1. Mix soymilk + lemon juice together and allow to curdle. The milk bubbles a bit when you add the lemon juice. Embrace your inner mad scientist and cackle ever so evily!
2. After 30 seconds or so, add in the agave and cornstarch. Blend with a hand blender until smooth.
3. Pop into microwave for 60 seconds on high.
4. Stir, stir, stir.
5. Microwave for another 60 seconds. Stir, stir, stir.
6. Add any mix-ins you want (she suggests vanilla extract, lemon zest, fruit, etc). I added fresh chopped strawberries (about 3) and 1/2 t vanilla extract.
7. Microwave for 60 seconds. Stir and then pop into the fridge to chill. Stir before eating.
Easy as that! :)
Time to make: 10 mins. flat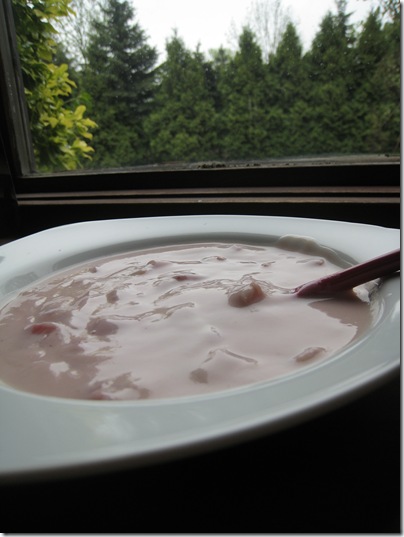 Makes: 1.5-2 cups
I made this last night before bed for a quick breakfast in the morning! My strawberry soy yogurt was waiting for me when I came downstairs this morning. It got all thick in the fridge overnight. :)
This breakfast took me all of 2 minutes to prepare:
– Add 1 T ground flax
– Add 1/2 T pumpkin seeds
– Add t raw cacao nibs (from Whole Foods)
– few dried cranberries
– Add fresh blueberries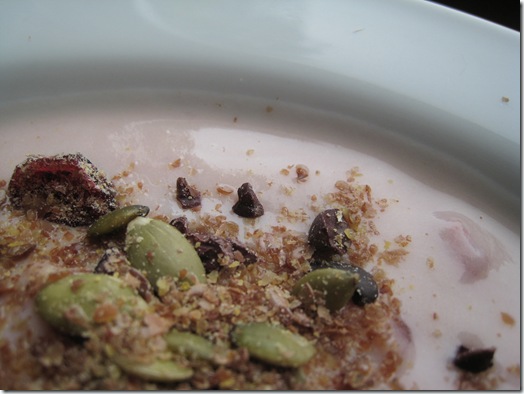 Here are the nutritional stats for the soy yogurt (Just the milk, cornstarch, 2 T agave, and lemon juice):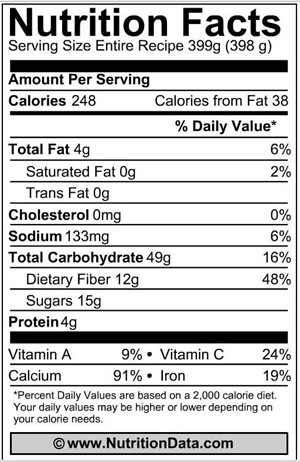 Note: That is for the whole recipe (almost 2 cups) and it is using 2 T agave (not 1 like I used). If you are only using 1 T agave, subtract 60 calories or so.
The taste?
I liked this much more than my unsweetened Solgurt! However, I don't think I am used to the taste of Agave all too much. I think I would have liked it better sweetened with something else. Next time I might try honey or raw sugar.
All and all this recipe is a winner. It is a quick and cheap alternative to store bought yogurt! Celine says it becomes addicting so I'm going to trust her on that one! :)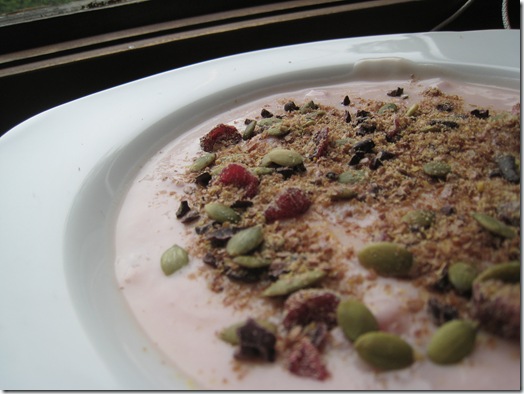 I also estimated this batch to cost under $1.00 CAD!!! I'm pretty sure the Solgurt I buy in the store is $3.99??
With my added nuts, seeds, cranberries, and blueberries this breakfast runs about 357 calories and packs tons of healthy fats, protein, and fibre! Check it out: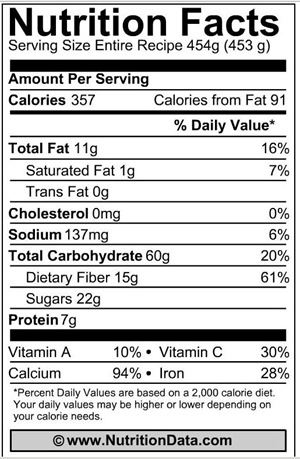 The wheels are already turning to use this in green monsters, baking recipes, and unsweetened spread over sweet potatoes, salads, or other meals! Wouldn't this be awesome in a taco salad??
The possibilities are endless!
Today's question: What is your favourite way to eat yogurt? What meals/recipes do you love that include yogurt?