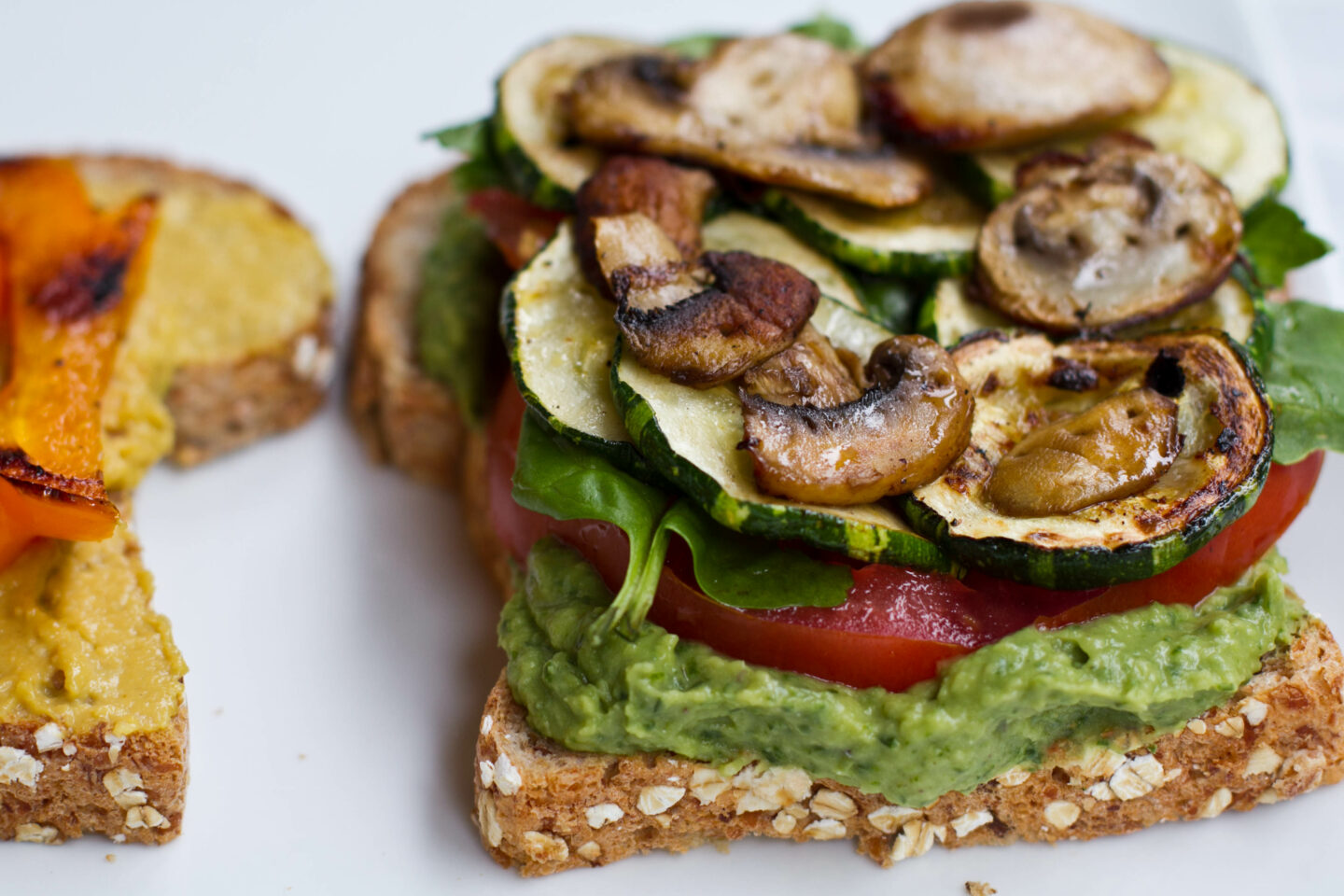 I'm a huge fan of anything that can be spread, drizzled, dipped, and of course, spoon fed from a bowl. Over the past couple years, I've found my favourite versions of the following:
I've had dinner guests beg for these recipes. I've had vegan skeptics go weak in the knees over this cheeze spread on a sandwich. I've had nephews eat 4 bowls of Mac n cheeze in a row!
I make these recipes again and again because they are quick, healthy, and I tend to have many of the ingredients on hand.
However, I would make pesto much more often (weekly? daily? Each waking hour?) if I didn't think I would consume a full cup of oil in the span of…4 minutes. I seriously can't control myself around that stuff. Until olive oil becomes its own food group, I tend to reserve classic pesto for those special occasions. Not to mention, organic cold-pressed olive oil is priced like liquid gold!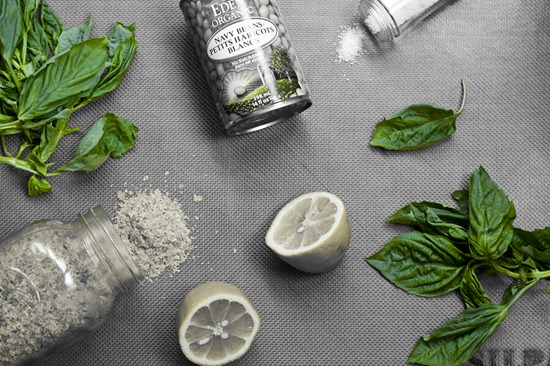 But, I'm impatient my friends. And let's be real, special occasions don't happen that often when you're stuck in the country and your only nearby friend is your weirdo cat. Clearly, I need an everyday pesto.
And new friends.
And navy beans in pesto.
Whaaa?
Before you think I've gone mad, hear me out. When navy beans are processed they add a lovely creamy and rich quality to recipes. I've used processed navy beans many times in recipes (like creamy soups!) and I've always been pleased with the result. I figured processed navy beans would provide this creamy quality to my pesto without missing the oil. Or so I hoped.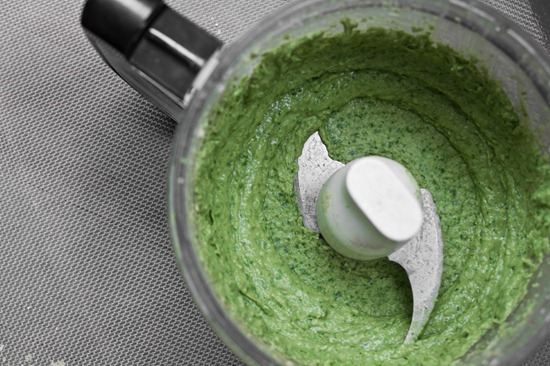 My week off must have been good to me because this pesto surpassed my expectations. Either that, or my standards have just dropped. I can't be certain.
It called my name from the fridge, only this time, I didn't have to fight it.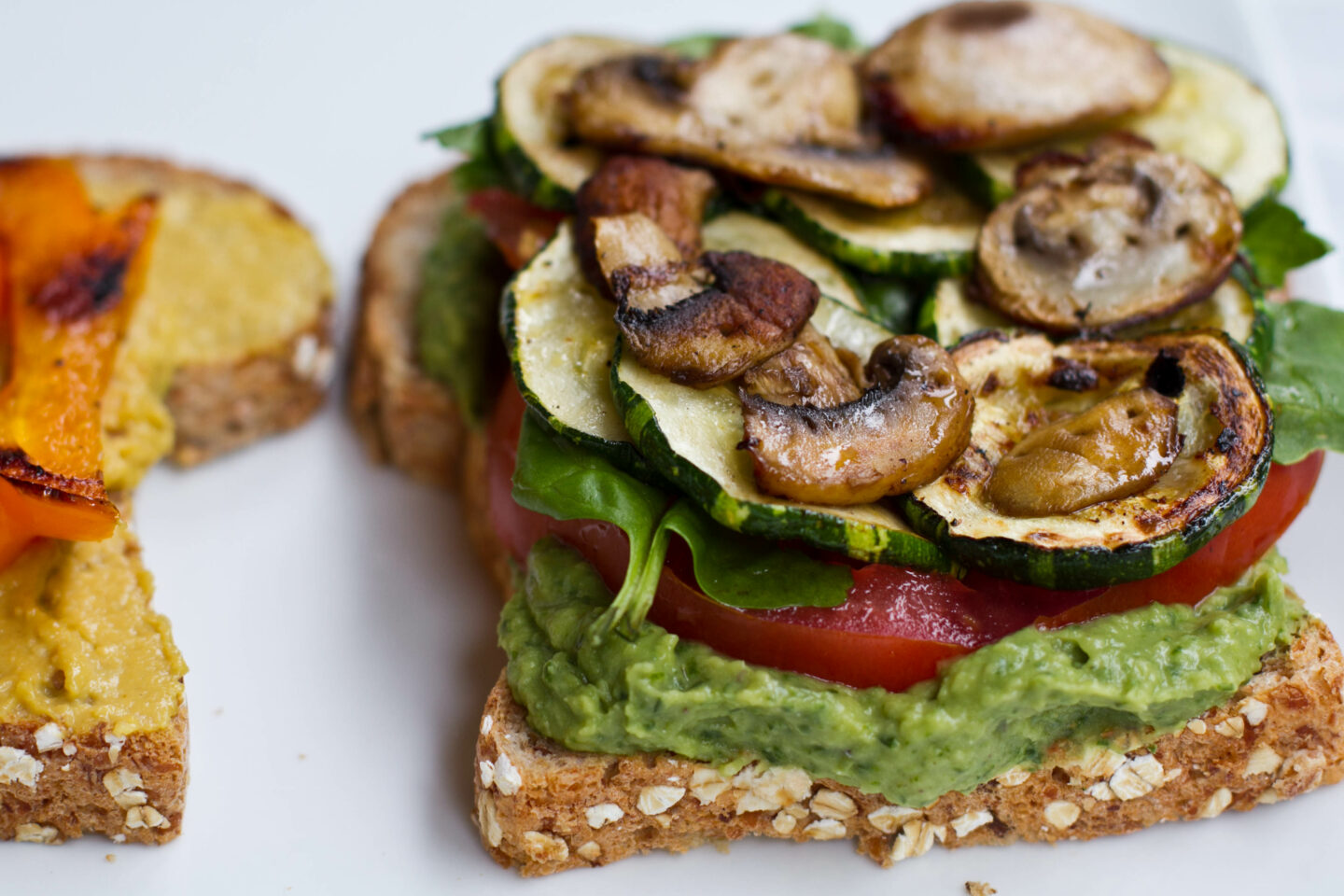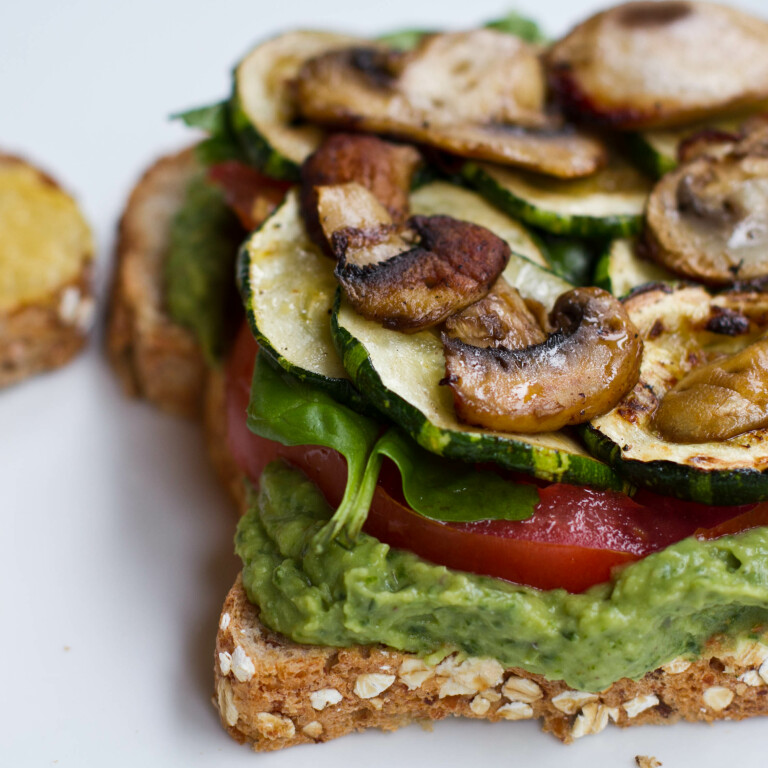 High Protein & Oil-Free Basil Pesto
Vegan, gluten-free, grain-free, no bake/raw, nut-free, refined sugar-free, soy-free

Yield

1.5 cups
Prep time

Cook time

0 minutes
Total time

This is far from a traditional tasting pesto, but it's so delicious I couldn't stop eating it! The navy beans replace the typical cup of oil in this pesto recipe, making it not only oil-free, but high in protein as well. Nutritional yeast adds a cheezy taste while packing protein and B12. Enjoy this pesto spread on sandwiches, pasta, or even use for a dip for vegetables or chips. Spoon feeding encouraged.
Ingredients
1 cup tightly packed fresh basil leaves (don't be shy- really pack it in!)
1 garlic clove
1 15-oz can navy/cannellini beans (1.5 cups)
1 tbsp water
2 tbsp nutritional yeast
2-3 tbsp fresh lemon juice (1/2 lemon) I used 3 tbsp
1/2-3/4 tsp kosher salt (I used 3/4 tsp)
You can add olive oil to taste if you prefer!
Directions
Add garlic clove to processor and process until finely chopped.
Now add in the rest of the ingredients to taste and process until smooth, scraping down the bowl as necessary.
Nutrition Information
(click to expand)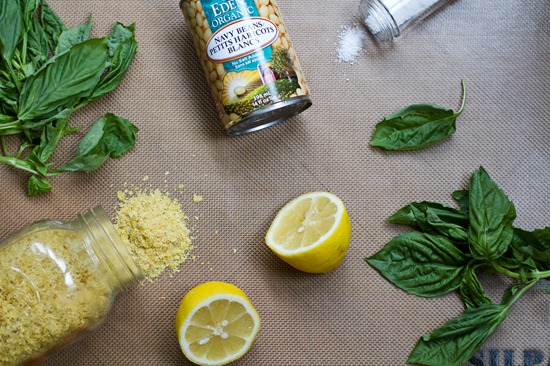 I kid you not, this stuff is addicting. And HEALTHY!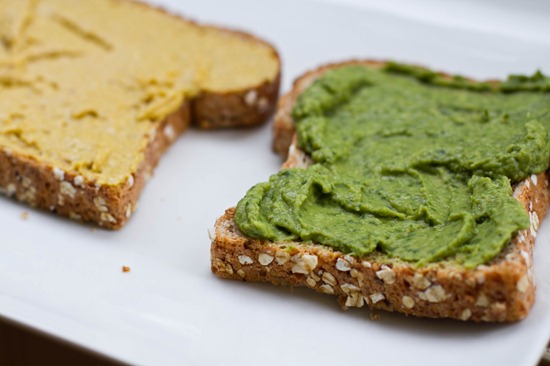 I spread it on bread, along with my favourite cheeze sauce on the other piece.
Now we're talking.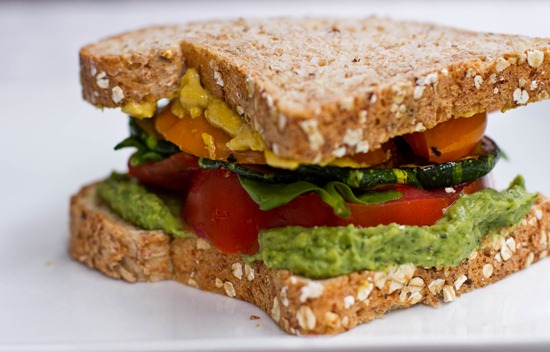 I grilled tomatoes, peppers, mushrooms, zucchini, and spinach for layering.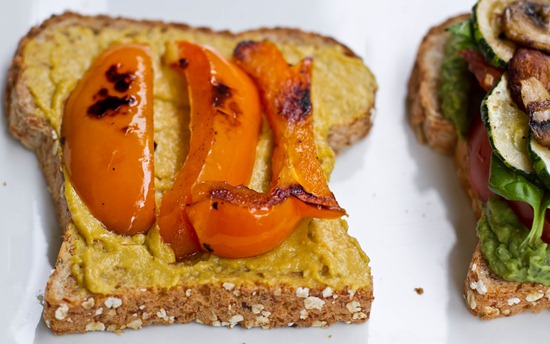 You can use this pesto as a sandwich spread, mixed into pasta, or as a dip for vegetables and crackers. Really, everything else is simply a vehicle for this pesto to get into your belly. Spoons work great too.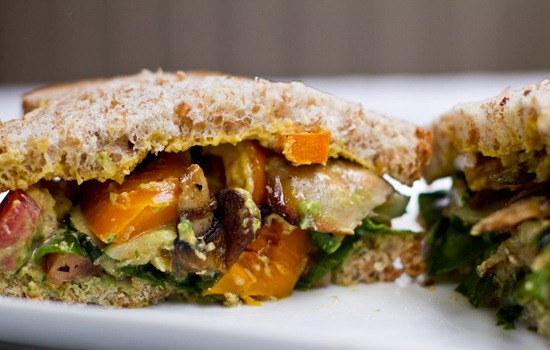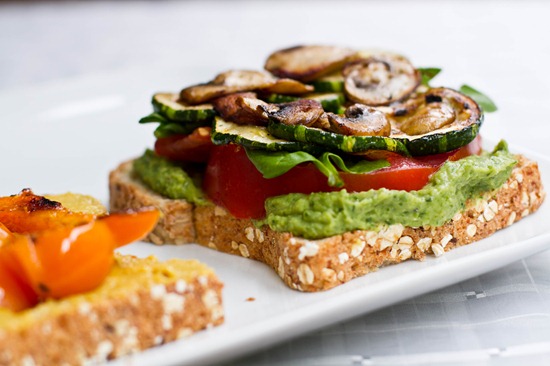 While it's not exactly like a traditional pesto, I just fell in love with it. Knowing that I was enjoying something naturally fat-free and high in protein made me eat eight times as much. Love that.
Updates:
1. Green Monster Movement was mentioned in O Magazine in this September's issue!! Whooo, rock on Green Monster fans!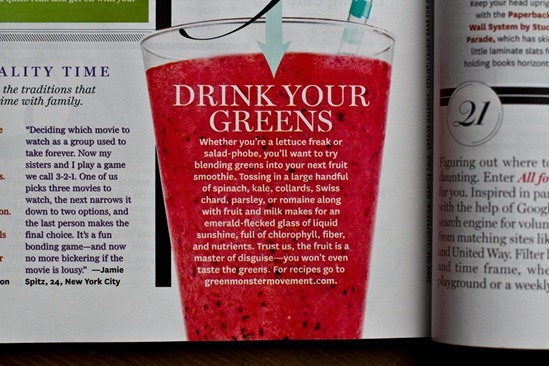 2. I'm a little late to the party, but I finally figured out how to make an Oh She Glows Facebook Page. Click the image to be taken to the page. Basically, it's me babbling on to myself…so in other words, totally lame fun. Stop over and say hi!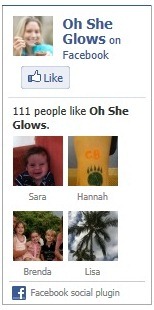 3. The winner of the Peas and Thank You Cookbook is Val! Congrats! I've contacted you this morning via email. Thanks to everyone who entered!