Morning!
I'm Alive!!!
First up today, I wanted to direct you to a super fun interview I did over at Health Blog Helper!
I answered questions like:
Lessons I have learned from blogging
How many hours a week I spend blogging
Tips for a successful blog
Why I started Oh She Glows
Mistakes I have made
and more!
Health Blog Helper is the newest website to hit the healthy living blogosphere. Matt, the author of Health Blog Helper (and also of No Meat Athlete) and Alison from Mama's Weeds teamed up to do the interview.  Matt created HBH to help health bloggers with the blogging aspect of their blogs and offer advice on what they can do to improve their skills, content, site set up and more.
I absolutely love Matt's approach to this blog. Matt gives you amazing tips on improving traffic to your blog, but he does it in a manner that is totally modest, caring, and humble. That is a really hard thing to do, but he does it well.
~~~~~
Thank you all for your congrats yesterday. Blew me away! :D
Remember: YOU all have the power inside of you to run too! Trust me, if a former 'hater of running' like myself can run a half-marathon, so can you! Or a 5k or marathon or whatever tickles your fancy. Go out there and go for it! (and then email me and tell me all about it! hehe).
After doing my half yesterday, I got to check off two things off of my fitness bucket list. I was chomping at the bit to check something off…finally!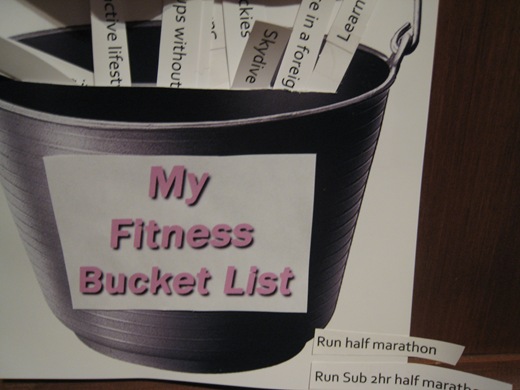 Each time I complete a goal, I remove it from the bucket and paste it on the side so I can see it daily. I reasoned that this was better than putting them inside the bucket once completed because then I wouldn't really 'see' them anymore.
~~~~~
Yesterday was also quite possibly the strangest day ever!!
I guess I was on a major high from my half marathon because I didn't stop all day. I was in some kind of manic cleaning, organizing, and tidying spree! So strange. I barely sat all day long aside from typing my post out. I cleaned the bathroom, closet, did laundry, did dishes, etc etc. Eric was like, are you going to sit down today??? lol. I was definitely running on endorphins. I didn't nap and I didn't go to bed until after 11pm. If I pass out at my desk this morning until 6pm you will know why!
We couldn't decide what to do last night, so I suggested Wal-Mart (I just realized how lame that sounds!).
My sister called and left a message Saturday saying I should have an Epsom salt bath soak after my race because they are so healing for sore muscles.
Of course, I couldn't find any in the house, so we made a beeline for Wal-Mart!
Here is our my random loot: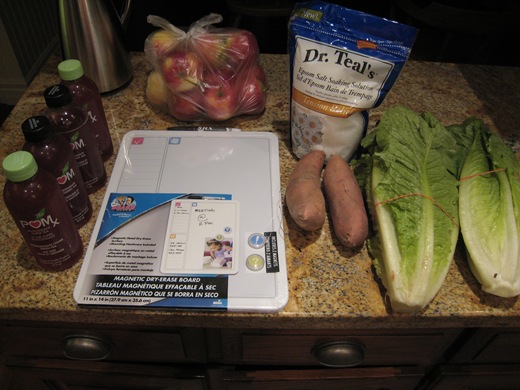 4 POM Antioxidant teas, magnetic marker board, 12 tiny Gala apples, Epsom Salts (Tension relief), 2 yams, and 2 romaine (77 cents each!).
POM sent me 4 coupons to try out their new Antioxidant tea and I was happy to find them at Wal-Mart. I also got a marker board for the fridge because I always think of grocery and bakery items that I need but never have anything to write it down on. This will be perfect…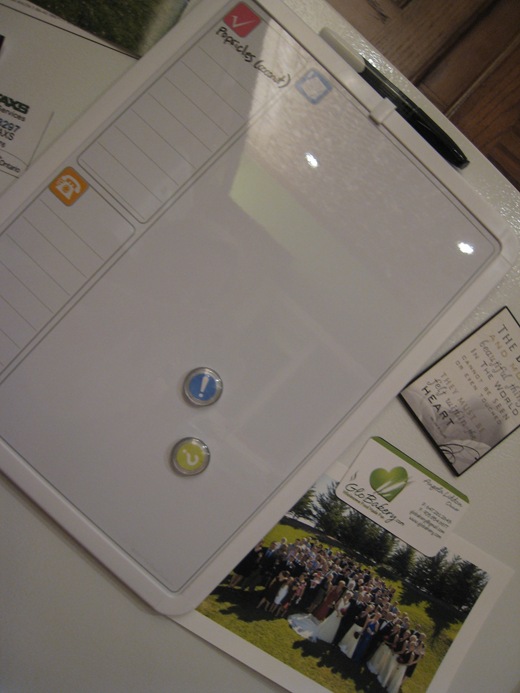 Hmm, what do I have written on there? Let's zoom in…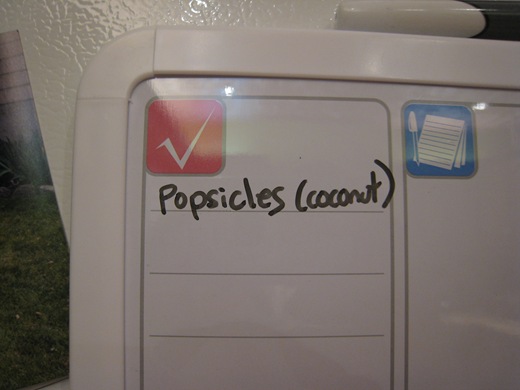 Popsicles!?!? haha. Can you tell I have an obsession with these Natural Choice Organic Coconut Bars? I keep forgetting to buy more.
Let me just say that Kristi is a genius!!! My bath was quite possibly the most heavenly thing I could have imagined.
I pulled out all the stops. Since I couldn't afford to go to an actual spa post-race, I decided to mimic the experience at home with candles, soothing music, and my flowers.
My muscles were singing with joy. fa la la la laaaaa la laaaa laaaa laaaaa.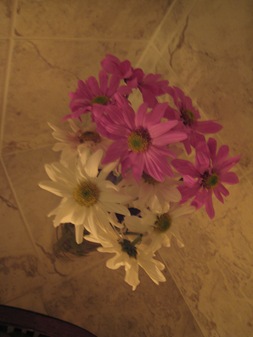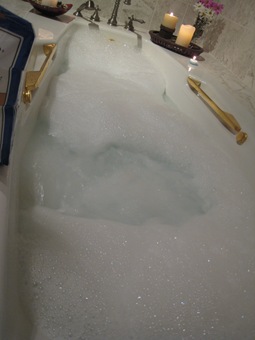 I added some of my Alba bath and shower gel, but then I forgot I was going to turn the jets on and the bubbles went CRAZY! It was hilarious!!! The bathroom looked like a soap bomb went off. The bubbles kept getting bigger, and bigger, and bigger…LOL!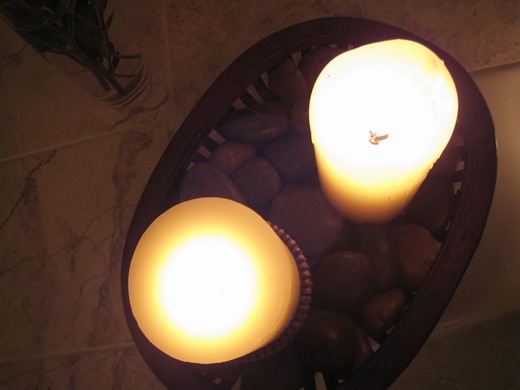 I felt like a million bucks. I truly believe in the healing powers of Epsom salt! Do any of you guys use them? I think a few of you have recommended them to me in the past!
Amazingly, I am not too sore today. My muscles are sore, but not in that 'I can't walk up or down the stairs' type of way.
I attribute this to a 6 things I did on Sunday:
1) Icing the legs for 10-15 mins

2) Lots of protein + veggies

3) Stretching

4) Epsom Salt bath

5) Lots of water (LOTS!!! Especially after that bath!)

6) Vitamins (Spirulina, Calcium/Magnesium, Vitamin D, Vitamin C)
My hunger wasn't really there yesterday. I finally had a good reason to buy a huge bag of Halloween candy at Wal-Mart, but I just had no desire for it. It was heart-breaking!!!
I did eat an insane amount of this though: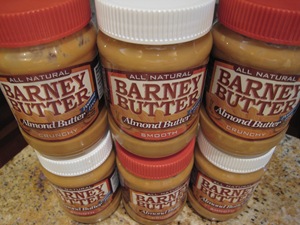 I've now polished of 1/2 a bottle in 2.5 days! Sounds about right. ;) This stuff is the best thing since sliced bread. 
When I know that I need to get calories in after a hard run like yesterday, I try to eat a lot of calorie dense foods. In other words, foods that pack a ton of calories for a small portion. The Barney Butter is about 100 calories a tablespoon so it is very easy to eat a lot of it. I had a snack of Mary's Crackers and BB that was probably about 600 calories (4 T of BB + crackers)! It was a 'sneaky' way to get in more replenishment, even when I wasn't that hungry. Almonds are a great post-run snack too.
I'm dying to make a Glo Bar with it. Thank you again Bree!
~~~~~
Well, it is back to reality now. I have a ton of work to complete if I am to get US shipping underway.
Luck was definitely on our side weather-wise yesterday, because it is absolutely pouring rain this morning. So glad yesterday held off!
OK, better get to it…
Have a lovely Moan-day!

"Perseverance is not a long race; it is many short races one after another." ~Walter Elliott
This trick helped me in my half: I broke the race down into how many water stations I had left. There were 6 total, so that made the race so much more manageable. I was simply running for the next water station. However, I drank strictly Gatorade. ;)