I saw something today that should just never happen.
I was in a grocery store and I saw a mother and her daughter, who looked to be about 7 or 8 years old. The mother was asking her daughter what she wanted for snacks this week, placing a box of granola bars into the cart.
The daughter picked up the box, looked at the label, and said:
"Mommy this has 5 grams of FAT in it!!!"
The mother, obviously used to this from her daughter, said, "Well what do you want to eat then?" and removed the granola bars from the cart.
The daughter said, "Nothing!"
My heart just broke for her and her mother.
And I knew immediately what tonight's post would be about.
So I must apologize for having to post-pone my baked goods and Part 2 of muscle soreness until tomorrow, but some things just take priority when I believe in it passionately!
Please watch this video that I put together tonight. It helped get my feelings out into something that I hope will be constructive for girls and women out there who are struggling with the obsession.
You can also check out Caitlin's challenge called Operation Beautiful! Caitlin is challenging all women to start leaving themselves sticky notes that have positive messages written on them like "I'm beautiful". She also encourages you to leave positive notes in public places, like public washrooms to help other women stop the fat talk.
I know I am already doing it!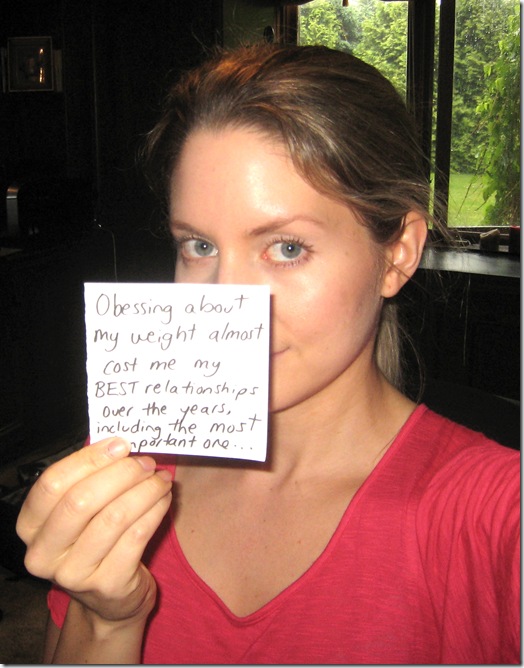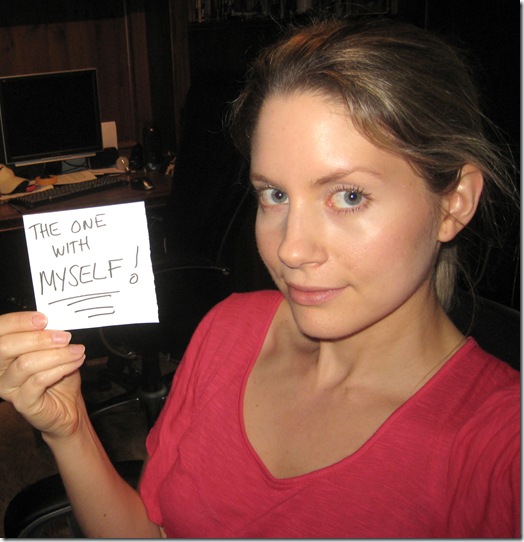 Tonight's question:
What would you write to yourself?