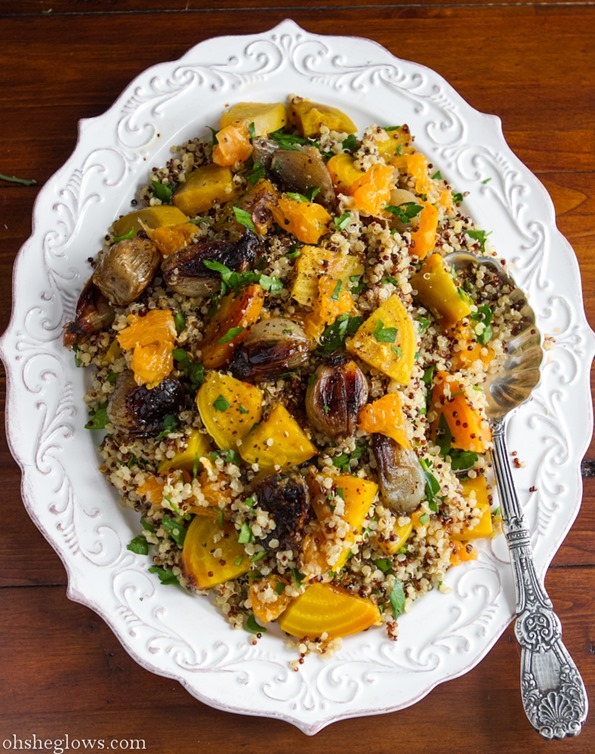 The first signs of spring are starting to show this week – buds on tree branches, Canadian geese migrating home, squirrels bouncing about, and birds chirping delightfully among the tree tops. It really is a beautiful thing to witness. One stroll through the park and it's clear that this renewal we feel during spring is common to all walks of life. I just want to soak it all in. On Sunday, we spotted thousands of geese migrating home, all in various v-shape formations across the sky. It was so fascinating to watch, I headed home and read up about Canadian geese online. I must say, they are pretty cool birds (even if I do have to dodge all their poop on walks). Not only do they typically mate for life, but they also tend to come back to the same area every year. Romantic and directionally savvy? Those females have it made!
I'm finally craving salads after a long stretch without giving them much room in my diet over the winter. I just don't crave salads in the winter no matter how hard I try. My body is now looking for fresh, lighter foods in hopes that the weather will follow suit. This week, it seems to be working…but I won't hold my breath. We all know how quickly that can change!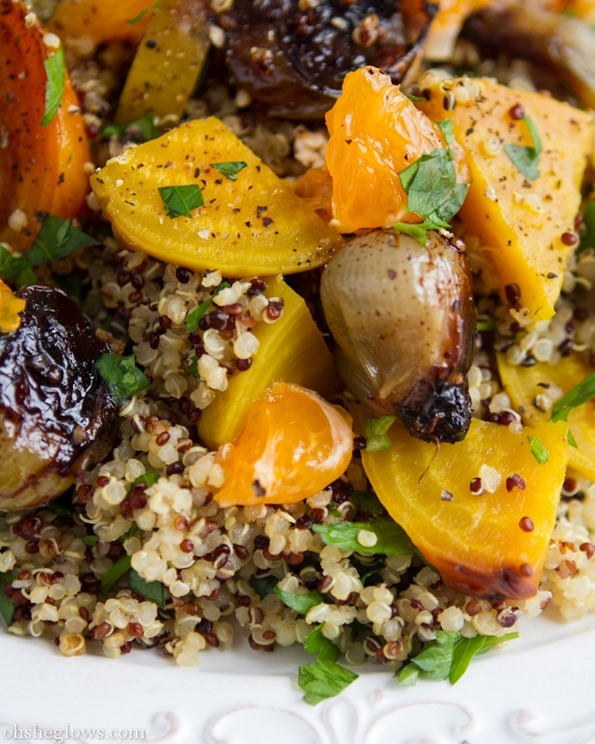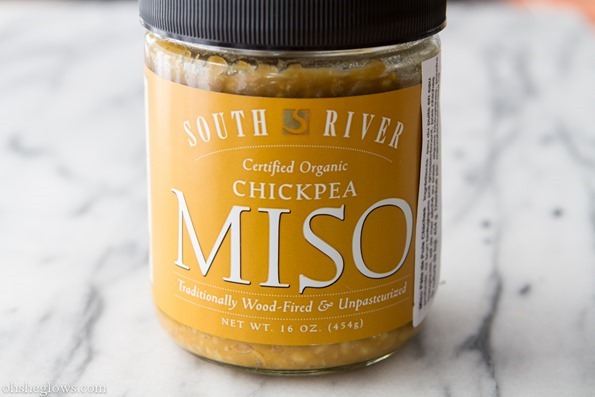 I recently started to play around with a new type of miso – Chickpea miso. Oh, it's good…real good. I'm avoiding soy right now as I try to figure out my recent allergic reaction and chickpea miso is a great alternative (I hear they also make a chickpea tamari too!). This one is pleasant and lightly sweet much like soybean light/white miso varieties. I couldn't find it anywhere nearby so I ordered it online via Upaya Naturals. Of course, feel free to substitute your favourite miso in this dressing or if you don't have miso why not play around with making an orange vinaigrette?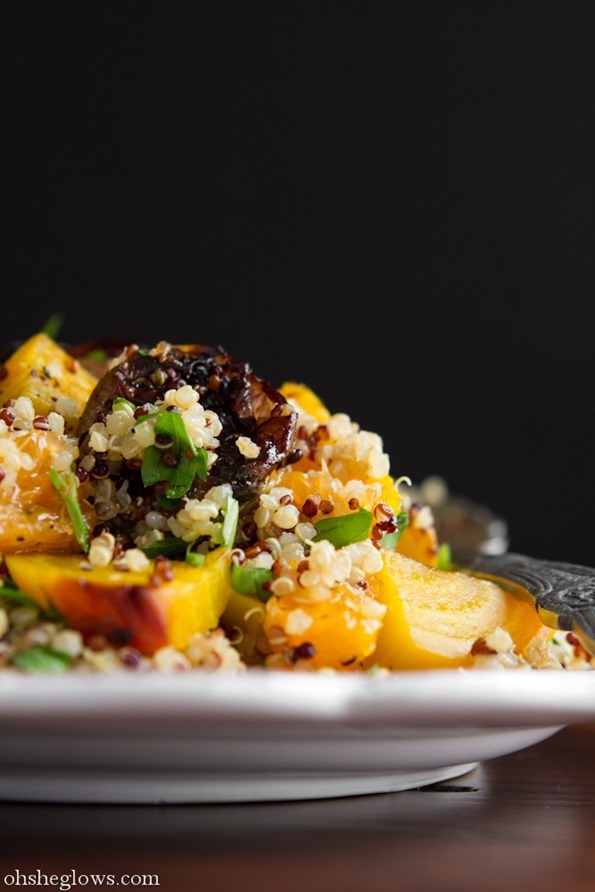 Golden Beet Salad with Shallots, Parsley, and Orange Miso
Vegan, gluten-free, soy-free

Yield

4 servings
Prep time

Cook time

Total time

This salad is a nice compromise for early spring; it's not too summery or light, but warm and hearty while still being refreshing. I combined roasted golden beets and caramelized shallots with warm quinoa, fresh parsley, and juicy orange segments all topped with an orange miso dressing. The steps for this recipe are a bit fiddly and there is a long roasting time, but if you find yourself with a lazy weekend morning, it really is a nice salad to pull together for lunch
Ingredients
For the salad
3-4 medium golden beets
10 small shallots
1 cup uncooked rainbow quinoa
1.5 cups vegetable broth
2 small seedless navel oranges, segmented and chopped (see note)
1/2 cup minced fresh parsley
handful finely chopped pistachios, for garnish (optional)
For the orange miso dressing (makes 1/3 cup)
1/3 cup orange juice
1 tbsp toasted sesame oil (or olive oil)
1-2 tbsp light miso dressing (I used 2 tbsp chickpea miso), to taste
1 medium garlic clove, peeled
1/2 tsp minced fresh ginger
1/2 tsp cane sugar (or maple syrup), or to taste
Directions
Preheat oven to 375°F and line a dutch oven or heavy-bottomed pot with a piece of parchment paper.
Trim beet greens, leaving 2-3 inches of the stem on the beet (this prevents the beet from drying out while roasting). Note: If you buy loose beets without stems this is fine too. Use what you can find. Reserve beet greens for sautéing, if desired. Wash beets, but do not peel them.
Place beets inside the pot. Drizzle on olive oil and sprinkle with salt and pepper. Roll around the beets to coat.
Soak shallots in a bowl of water for a few minutes. This helps to loosen the skin. Slice both ends off the shallots and then peel all the skin off each. Place a piece of tin foil on the counter (about 1 square foot) and place the shallots on top. Drizzle with olive oil and sprinkle with sea salt and pepper. Rub the shallots to combine. Gather the tin foil at each side and crinkle it upward to seal the top. Place shallots in the pot along with the beets.
Place lid on pot and roast beets and shallots for about 1 hour at 375°F.
Meanwhile, cook the quinoa. Rinse the quinoa in a fine-mesh strainer and place it into a pot along with 1.5 cups of vegetable broth. Bring to a low boil, reduce heat to low-medium, and cover with tight fitting lid. Simmer for 17-20 minutes covered, or until all the water is absorbed. Remove from heat and let stand for 5 minutes. Fluff with fork.
Prepare the dressing by processing together all the dressing ingredients. I like to use a mini processor for my dressings because the clean-up is minimal. You could also whisk everything together by hand too.
After 1 hour, remove pot from the oven to check on things. Remove the shallots and set aside on the counter (keep the tin foil on so they stay warm). Carefully, prick the largest beet with a fork. If it slides easily through, it's ready. If your fork feels resistance, it needs more time in the oven. I had to cook my beets for about 1 hour and 25 minutes, so don't be alarmed if it takes you more time.
Remove beets from oven, remove lid, and allow beets to cool until they can be handled. Trim both ends of the beet and discard. Run water over beets and peel the skin off with your fingers (the skin should slide off fairly easily) and then slice beets into bite-sized pieces for the salad.
To assemble the salad: Toss together the cooked quinoa, chopped parsley, Herbamare or sea salt, and a couple tablespoons of the dressing. Gently fold in the shallots, segmented oranges, and beets. Drizzle on the rest of the dressing, sprinkle on pistachios (optional), and serve immediately.
Tip:
Note: For how to segment an orange, see this You Tube demo.
Nutrition Information
(click to expand)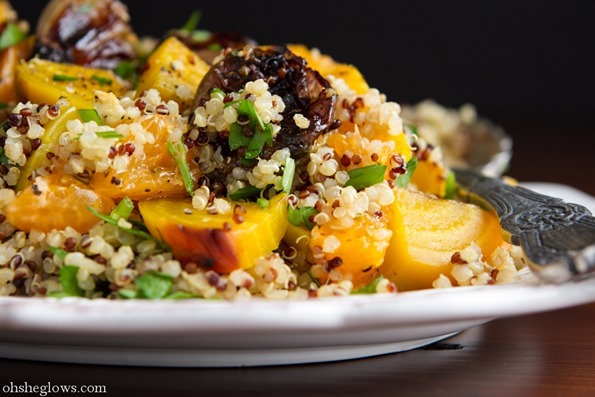 Happy, hoppy almost weekend!