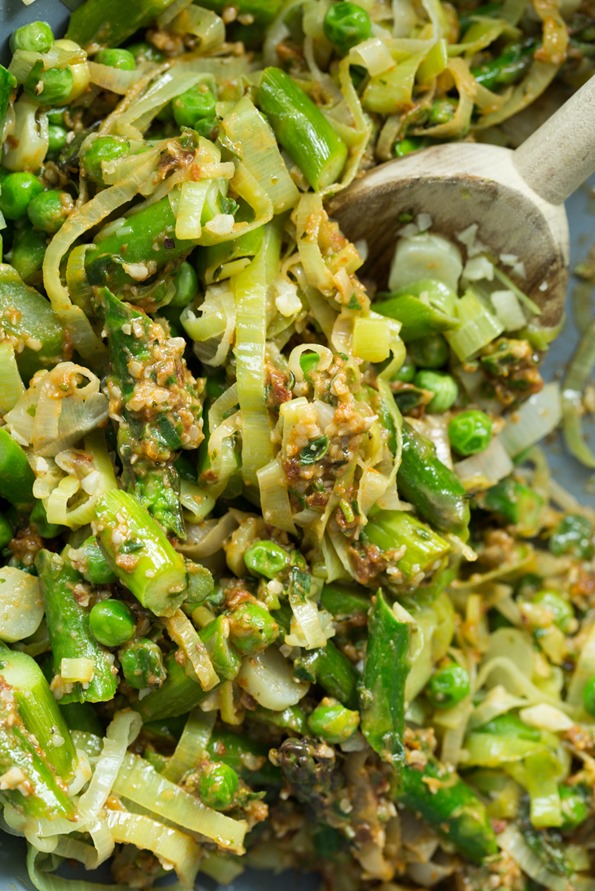 It's taken me a while to feel inspired to cook spring recipes due to the move/renos and the on-again, off-again spring weather (ahem, fresh blanket of snow last week), but now I can say it finally feels like spring. Today also happens to be Earth Day which is even more reason to eat some plants. I love this time of the year and it's been fun experiencing spring with a backyard again! Oh how I missed having a backyard. The tulips and daffodils are coming up, the frisky red squirrel is trying its best to take down our bird feeder, and Sketchie is sniffing the spring air through the screen door while the birds, bunnies, and squirrels drive him insane. It's a good time of year.
Now that we're starting to get settled into the new house, I'm finding my way back to the kitchen and away from the Indian food take-out menu (at least some of the time). The kitchen is slowly starting to feel like home, complete with fresh tea and vanilla extract stains on the laminate countertops (those were not designed for an avid cook, I tell you! ahhh) and the padded chef's mat underneath my feet. Every time I cook in there, I get a bit more familiar with my new space and I find myself cursing less and less as I search for misplaced kitchen tools. Rome wasn't built in a day, you know.  

This recipe is an ultra-fresh take on pasta primavera – a spring vegetable pasta dish. Rather than relying on heavy pasta for a spring recipe, I decided to lighten things up with a fresh carrot "pasta", which is simply julienned carrots. Obviously, the carrot pasta tastes nothing like actual pasta, but I promise you won't miss it one bit! You'll be feeling light and energized after eating this rather than sleepy and sluggish. I plan on making a seasonal summer version and a fall version to follow so keep your eyes peeled for those recipes later this year.
So what's in this delightful spring dish? As per my usual style, it's loaded with fresh vegetables. Leek, garlic, asparagus, and peas are sautéed with some pink salt, pepper, and olive oil. Ignore the snap peas in the photo above, I opted not to include them in this dish (but feel free to improvise if you'd like). Then I whipped up an incredible batch of pesto – my nut-free Sun-dried Tomato Basil Hemp Pesto adapted from the pesto in my cookbook. Kale can be used instead of basil if you prefer. It's packed with protein thanks to the hemp seeds and it's completely nut- and dairy-free without giving up that creamy, luxurious texture that makes pesto so great.
Once the vegetables are tender, I stir in the pesto. This is when things go from good to mind-blowing; a simple spring veggie sauté is transformed into something decadent. It's one of those I-can't-stop-eating-this-straight-from-the-skillet dishes. Hold me back! If you can share, it's the perfect amount for two veggie-loving people – decadent but light, simple to make, and packed with veggies. I swear I felt the baby bust out a flutter kick dance recital after I ate it.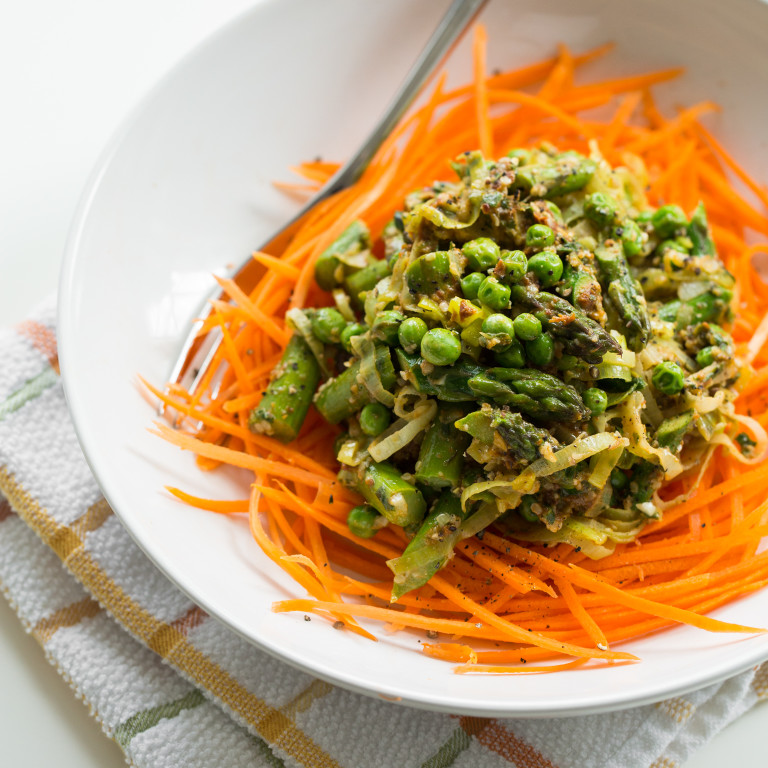 Glowing Green "Pasta" Primavera
Vegan, gluten-free, grain-free, nut-free, refined sugar-free, soy-free

Yield

2 servings
Prep time

Cook time

Total time

This is my take on a lightened-up version of pasta primavera - a spring vegetable pasta dish. Rather than using pasta, I opted for fresh carrot pasta which is simply carrots that are julienned into very thin strand-like noodles. This is the julienne peeler that I use. The vegetables are coated with a decadent, but nut- and diary-free sun-dried tomato hemp pesto and it transforms this dish into something decadent and special.
Ingredients
FOR THE PRIMAVERA:
2-3 large carrots, peeled and julienned
1/2 tablespoon coconut oil or extra virgin olive oil
1 leek, thinly sliced into rounds and rinsed off
3 garlic cloves, minced
1 bunch asparagus, ends broken off and chopped into 1-inch pieces
1 cup fresh or frozen peas.
SUN-DRIED TOMATO BASIL-HEMP PESTO:
1 small clove garlic
3/4 cup fresh basil leaves
1⁄4 cup oil-packed sun-dried tomatoes
1⁄4 cup hulled hemp seeds
1 tablespoon fresh lemon juice
2 tablespoons extra virgin olive oil
1 tablespoon water
Scant 1/4 teaspoon fine-grain sea salt or pink Himalayan sea salt, or to taste
Directions
With a julienne peeler, peel the carrots into thin, spaghetti-like strands. Cover with a damp tea towel or damp paper towel to avoid it drying out.
Add oil to a large skillet or wok, and preheat over medium. Add sliced leek and garlic and saute for 3-4 minutes, until soft and translucent. Add a couple pinches of salt and several grounds of pepper.
Add the asparagus to the skillet and saute for around 8 minutes more, until tender. Increase heat if necessary. Finally, stir in the peas and cook until heated throughout.
Meanwhile, make the pesto. Add the garlic into a food processor and process until minced. Now add in the basil and sun-dried tomatoes and process again until smooth. Finally, add the rest of the ingredients and process again until combined and smooth.
Stir all the pesto into the vegetable skillet mixture and cook until heated throughout. Season to taste.
Serve the vegetable pesto mixture on top of the carrot pasta.
Tip:
Note: If you'd like to add more protein to this dish, I recommend French green lentils. Edamame would work nicely too.
Nutrition Information
(click to expand)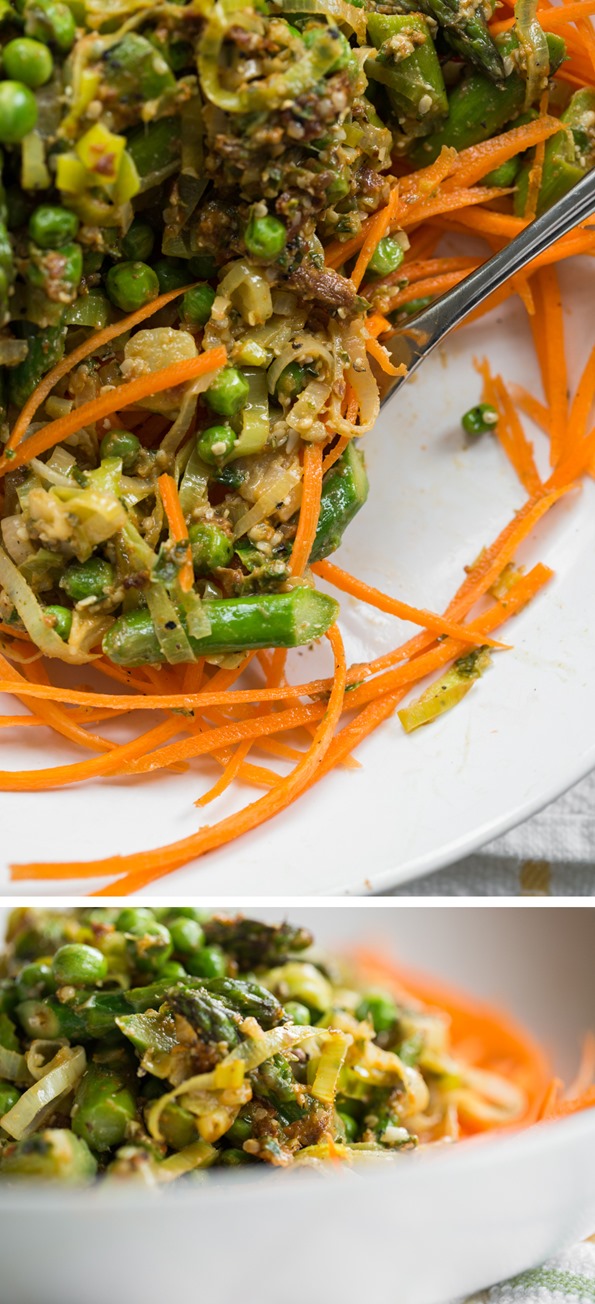 Lastly, I'd like to pass on some new cookbook reviews and interviews from these lovely bloggers:
Kim @ Our Fresh Kitchen (interview)

Valerie @ Vbouv (multiple recipe reviews)

Melissa @ It's Got Vegan In It (review)

Ari @ Abe's Market (interview)

Bianca @ Vegan Crunk (review, recipe)

Lauren @ Lauren Lives Healthy (review)

Alex @ Vegetarian Snob (review, recipe, giveaway)

Jess @ The Wellness Warrior (interview)

Richa @ Vegan Richa (review, recipe)
If I missed any of your reviews please let me know and I'll be sure to add them to my book page.