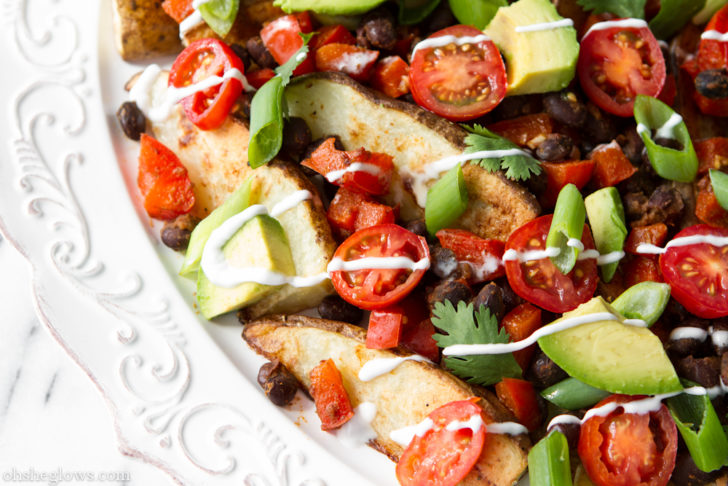 Mid-September already! Can you believe it? This week has been quite an adventure. From thinking I was in labour yesterday (and maybe freaking out just a little) to the renovation mayhem, I'm certainly hoping for a relaxing weekend. Today is a full moon eclipse though, so we're on high alert. *insert suspicious eyes emoticon*
Before getting to today's Friday FAQs, I'd love to pass along this week's roundup of #osgeveryday blog tour posts (last week's can be found here). Once again, a big thanks to these awesome bloggers for all their support. Be sure to check out the links below for recipe sneak peeks, giveaways, and fun Q+A's!
And last but not least, I'm winding down Friday FAQs until October as I gear up for baby's arrival. Please keep your questions coming, though, as we'll be plugging away at future FAQs!
Q1. This Crowd-Pleasing Vegan Caesar Salad looks delicious! I'm having people over for dinner Sunday and will definitely try it. It looks like it's probably not big enough to be a stand alone entrée though. What would you recommend as a gluten-free accompaniment or entrée to go with it?
A. Hi Christina, So happy to hear that you're going to try out this salad. I definitely have some suggestions for you! Soup and salad is always a classic pairing, and some gluten-free/gluten-free-option soups that I think would make particularly great accompaniments to the Vegan Caesar Salad include my Summer Harvest Tortilla Soup (The Oh She Glows Cookbook, p. 135), 10-Spice Vegetable Soup, and Cream of Tomato Soup (The OSG Cookbook, p. 141). My Favourite Vegan Chili would also work well—caesar salad and chili were always served together in my house growing up. Another lighter pairing option I'd recommend is my Crispy Smashed Potatoes with Avocado Garlic Aioli. For entrées, you could again go the classic route and serve the salad as a pasta accompaniment (for a killer tomato sauce recipe, I highly recommend my Fail-Proof Marinara Sauce, p. 175 of Oh She Glows Every Day) topped with my Cashew or Pepita Vegan Parmesan (OSG Every Day, p. 267).
Q2. Hi @ohsheglows, 1. If subbing sunflower seeds for cashew in cream sauce, is the process the same? And 2., would you recommend the sub in your All-Purpose Cheese Sauce (OSG Every Day, p. 251)? Husband can't eat cashews.
A. Hi Kate, Yes, I'd say that the process is the same for making sunflower seed cream as it is for making cashew cream! The only difference is that you'll need to use a bit less of the sunflower seeds (so if, for example, you're making my Golden French Lentil Stew [OSG Every Day, p. 145], instead of blending 1/2 cup of pre-soaked raw cashews with 1/2 cup of water, I've found that you'll only need 1/4 cup plus 2 tablespoons of pre-soaked raw sunflower seeds). I haven't tried substituting sunflower seeds for cashews in the All-Purpose Cheese Sauce yet. I think it would likely impact the flavour, though, so for a nut-free version I'd recommend simply omitting the cashews since the recipe only calls for a small amount. While the sauce won't be quite as rich, it'll still taste great. If you decide to experiment with swapping in sunflower seeds, please let me know how it goes! I'd love to hear how it turns out.
Q3. Hi Angela, I got your beautiful new book at the store, how exciting! I noticed the note in it that says nutritional information is listed on your website. Can you please point me to where to find it for the recipes in the book? Thanks!
A. Hey Jessie, Certainly! The nutritional info can be found here (a PDF will open). Just in case you misplace it, you can also find the link on page xiii of Oh She Glows Every Day under the "Nutritional Information" heading. I hope this helps!
Q4. These burgers look delicious and I can't wait to try them! My husband doesn't tolerate black beans very well, though. Is there another type of bean that I could try in this recipe? I've ordered your new cookbook and I'm counting the days until it arrives!
A. Hi Jane, I do think you could use another type of bean—kidney or cannellini beans come to mind as good options (although I have yet to try them out!). Please let us know if you try anything out and thanks for all your support!
Comment of the week:
"Love your new Oh She Glows Everyday! First recipe I tried was the Ultimate Flourless Brownies. Secretly, I could not imagine you possibly topping your previous recipe in your first cookbook! Wow! Was I mistaken! Amazingly delicious! Unfortunately, I ran out of cocoa to make a second batch (we are a family of 4) and had to improvise with the second batch using cacao powder. It turned out to be so delicious, very deep in flavor and not as sweet. I had my family, sister-in-law and niece try both brownies for a head-to-head taste test, and they love both brownies for different reasons. Wow, a home run both ways! Love your recipes and will continue cooking and baking away! Thank you for creating another successful cookbook!"
Lise, I love the "head-to-head taste test"! We've had many of those in this house (actually, we did during the testing of this very recipe!). I'm so happy the brownies worked with cacao powder and that both versions were such hits. Thanks for letting us know, and for your excitement for the book!
PS—The image at the top of the page is my Potato and Black Bean Nachos recipe! Hello, weekend comfort food.