Happy Friday of the long weekend!!! Wow, this week FLEW by didn't it???
As promised here is what I ate on Thursday…
What I ate: Day 3
Breakfast: 8am
Speaking of using up produce, I made my first hot elixir green monster yesterday. I tried to replicate the Fresh Flu Fighter elixir that I had. I was missing celery and Echinacea, but it's all good.
The mornings have been so cold here lately and I have had such a chill until about 2pm. I wanted something very hot to warm me up and this seemed like it would fit the bill. :)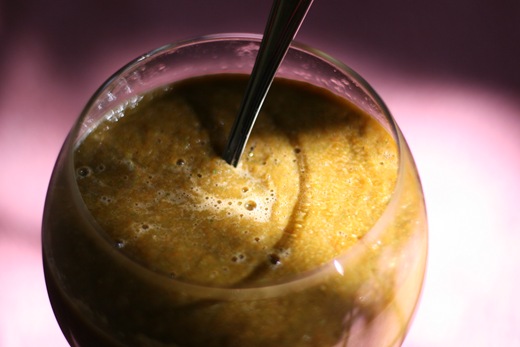 Don't Get [A] Cold Green Monster
3 organic kale leaves, microwaved 120 secs. in water
1.5 cups water
1 pinch cayenne pepper
1 T lemon juice
3 small organic carrots
1/2 organic tomato
Squirt Kyolic Garlic extract
Pinch ground ginger (wished I had fresh)
Scoop Manitoba Harvest Protein Powder
1 T chia seeds
Black pepper
Directions: Blend all ingredients together. Microwave for about 90 seconds on high. Stir to distribute heat evenly and carefully test the temperature. Enjoy with a spoon!
I came fairly close to replicating what Fresh makes although this is a GM and not a juice.
My advice is to not look down if you make one of these because it ain't pretty (especially first thing in the morning). I am definitely going to experiment with lots of hot green monsters this winter! They are so much fun.
Mid-morning Snack: 10:30am
I had some tea (fennel + green tea) and a small cup of Flax Plus cereal with hemp milk for my snack.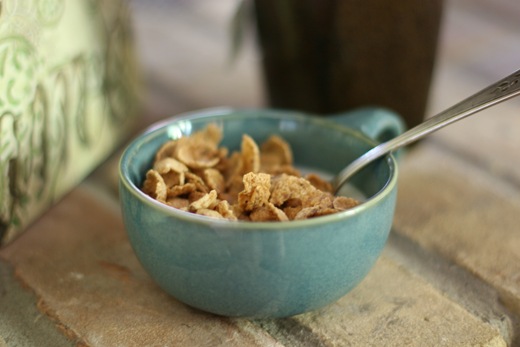 You may have noticed that I have been using tea bags again. Well, that is because my beloved loose leaf Japanese Sencha tea cannot be found anywhere near where I live. I have checked 4 grocery stores or more! I bought my loose leaf in the Asian section at Loblaws when I lived in Toronto, but the Loblaws around here don't have the same Asian sections. :( I hope I find some asap. It is my fav! Tea bags just aren't the same in terms of strength. I love my sencha very, very strong!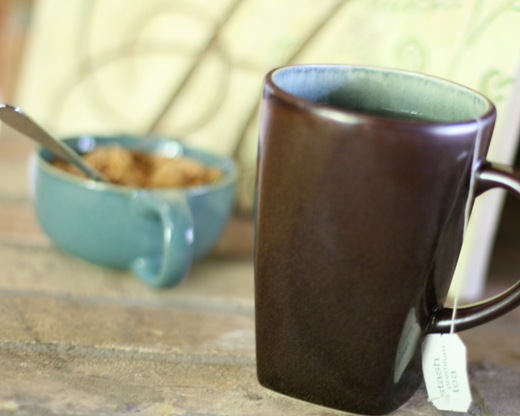 Lunch was very late again yesterday because I got caught up in paper work and receipt tracking…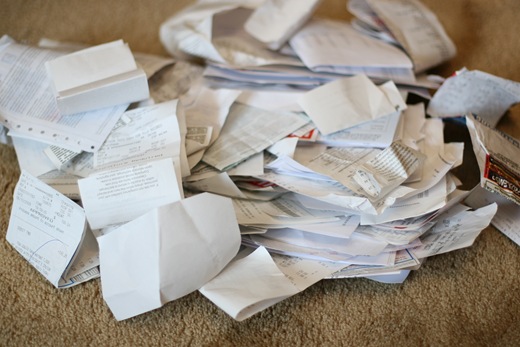 I also spent a good portion of the day speaking with the tax agency, co-op vendor, and also baking an order of Endure Glo Bars (my favourite flavour!) + shipping.
The day flew by!
Lunch: 2:30pm
I mixed up some of the same Sweet and Sour Brown Rice and Chickpea Faux Casserole from the other night and threw it into a pita with soy yogurt.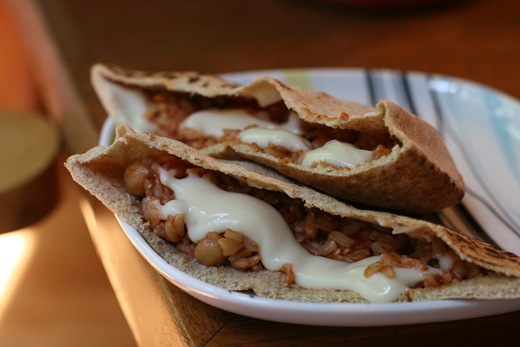 It was delicious, but unfortunately lasted about 1 minute. ;)
I was going to eat this apple, but then I thought to myself. That is a bit boring to write about.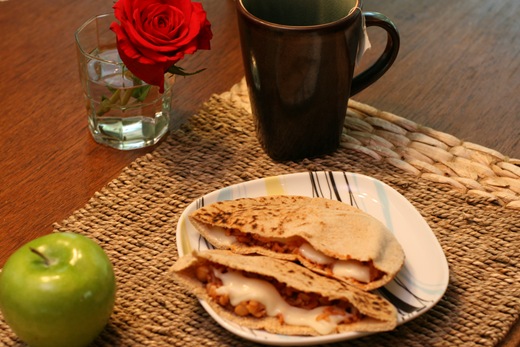 So Mr. Green Apple went from this…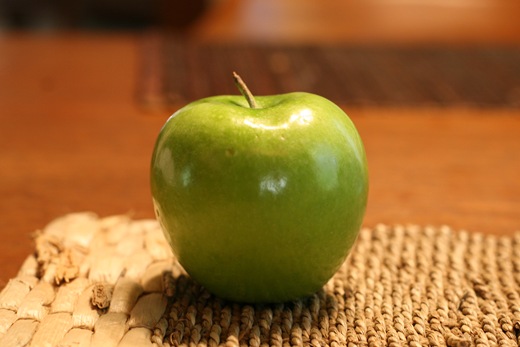 into something fabulous…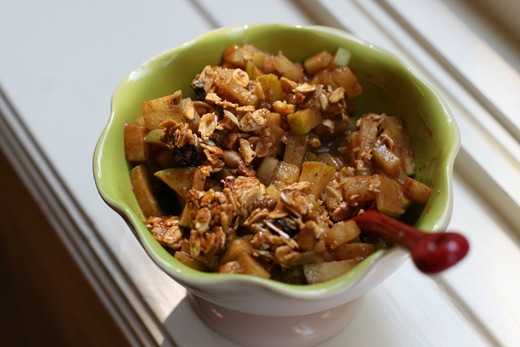 Power Me Up Apple Crisp
Ingredients:
1 granny smith, diced
1/2-1 t cinnamon
Pinch of nutmeg
Glug or two of Almond milk
1/2 cup Glo-nola 
Directions: Mix first 4 ingredients together and microwave for 60-90 seconds. Stir.  Add        Glo-nola, stir, and serve.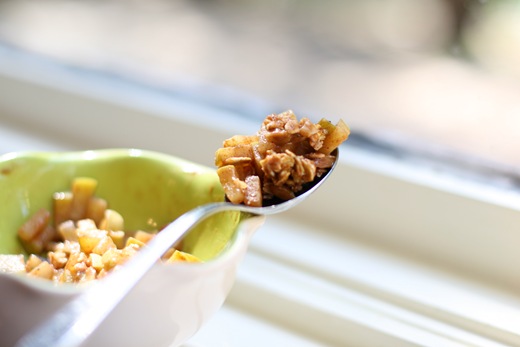 This apple crisp took literally 3 minutes to make and it was sooo gooey and delicious! Normally, I would add sugar to my apple crisps but this didn't need it at all. The almond milk was key- it really made a gooey sauce that tasted much more decadent than it really was.
This lunch held me over a good 4.5 hours!
Late afternoon Snack: 6:30pm
Delicious Mary's Crackers
x2…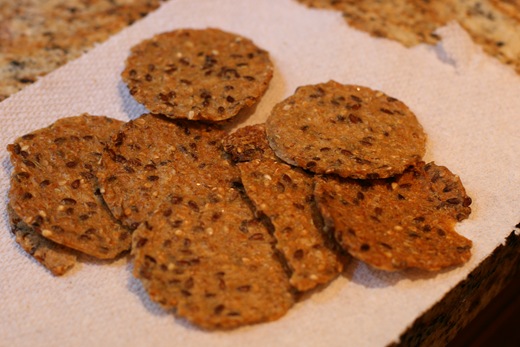 Dinner: 7:30pm
I dug deep into my cupboards and discovered that I had this: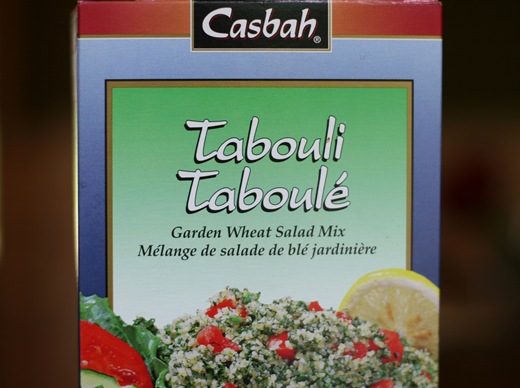 Can you believe I have never made Tabouli before? I'm sure the pre-packaged stuff doesn't come close to homemade, but I figured I would give it a shot. I made mine healthier by using just 1 T of Olive Oil instead of the suggested 1/3 cup.
I have seen the lettuce wraps all over the blogs lately and I have been meaning to make one for a while.
The Tabouli was a bit plain and dull tasting on its' own, so I spiced up the wraps with some minced garlic, lemon juice, balsamic vinaigrette, salsa, and soy yogurt. Much better!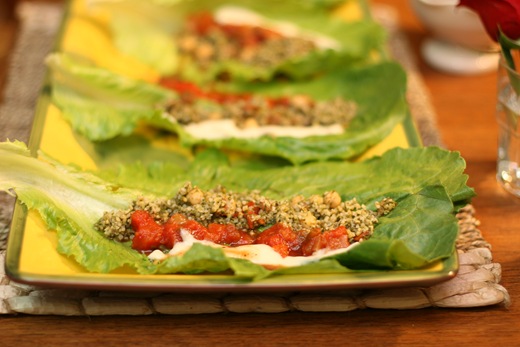 These wraps gave me a Mexican Fiesta in my mouth! Super fun!!!
I also broke out the Christmas Mug for the first time in a while: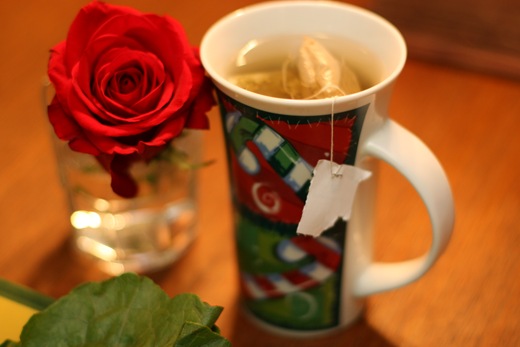 Christmas is right around the corner…hahaha!
I had a Fennel tea. I love this tea now.
I also had 8 Dar-Vida crackers for my grains (gotta have the grains!)
Dessert was a Spirit Glo Bar right out of the freezer. This was the first time I have had a frozen Glo Bar and I LOVED it.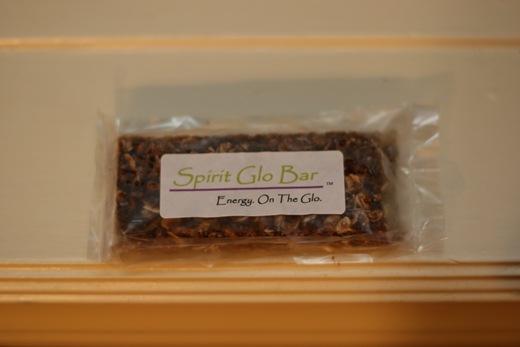 It was really chewy and took a long time to eat. Yum!
From 8-11pm Eric and I worked on Glo Bakery paper work. Not fun, but very productive! ;)
Around 11:30pm Eric and I were starving. I had my go-to emergency snack:
Late night snack:
1 English cuke + Balsamic dressing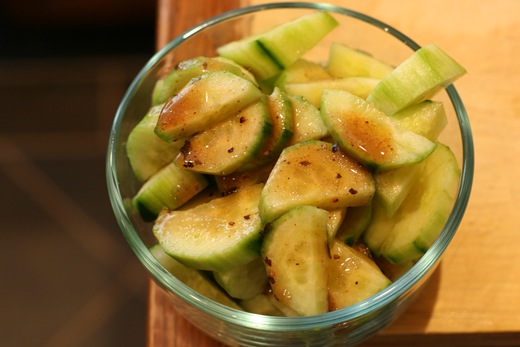 I always say this snack is like eating crunchy water. Very light and refreshing.
~~~~~
This afternoon, I will be telling you all about a fun chia seed giveaway, my next waffle experiment, and show you how I am saving 2 hours a week with a new gadget I am in love with.
Enjoy your Friday!
I'm off to enter in receipts for most of the morning and then squeeze in a run over my lunch break.
Love. To. Run.

"My decision to run my first marathon was very deliberate. After I made the commitment, I discovered I was being guided by an inside force that I never knew existed. When things got tough, I tapped into this force. I know now that I'll get through whatever life puts in my path." ~Cindy Pepler, Seattle (from Marathon book)