Good morning everyone!
I am so excited! This morning was my first morning getting out of bed pain free!!! I hope this is true, but I really feel like my body is doing an awesome job healing itself. Each day feels so much better. I even did some light stretching this morning. That felt really good. It must be all that wonderful food I am eating! Speaking of which….
Last night I set out to make super duper healing power muffins.
These muffins aren't for the faint of heart.
I call them a power breakfast muffin because they pack a huge, and I mean huge, nutritional punch, giving you a great start to the day.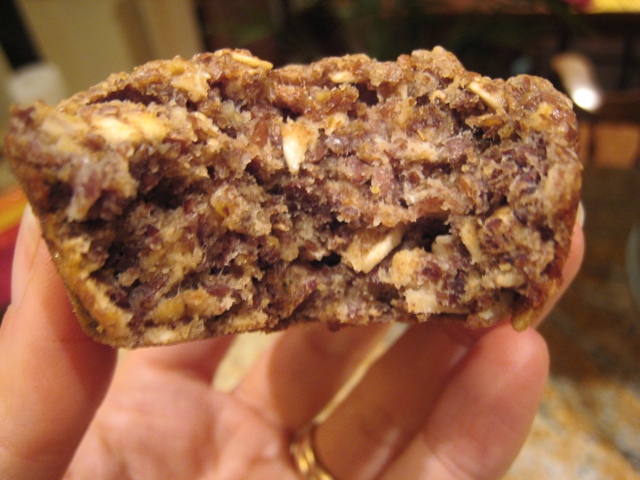 Flax & Oat Breakfast Power Muffins

Yield

6 power muffins
Prep time

Cook time

Total time

I call them a power breakfast muffin because they pack a huge, and I mean huge, nutritional punch, giving you a great start to the day. Just a heads up, these muffins were created before I dedicated to being plant-based only. They are not vegan.
Ingredients
1 ripened banana
2 tsp. Olive Oil
1 organic brown egg
1/4 cup non-packed brown sugar
1/2 cup freshly grounded flax seed
1/4 cup whole wheat flour
1/2 cup oats
1/2 tsp. baking soda
Directions
Preheat oven to 350°F and grease 6 muffin tins.
Mash banana into a medium sized bowl.
Beat in oil, egg, and brown sugar.
Grind 1/2 cup flax in a blender for a couple min.
In a separate bowl, stir together the dry ingredients (Oats, grinded flax, whole wheat flour, baking soda).
Add dry ingredients into wet and stir. Do not over mix.
Add nuts or dark chocolate chips if preferred.
Spoon into muffin tins. Bake for 15-20 min.
Nutrition Information
(click to expand)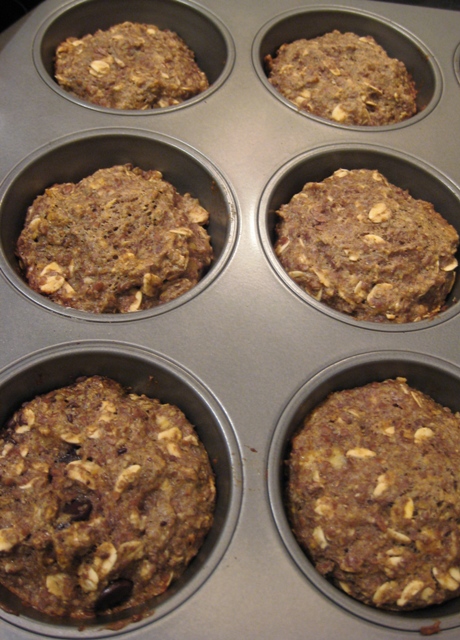 With Earth Balance oozing off the side: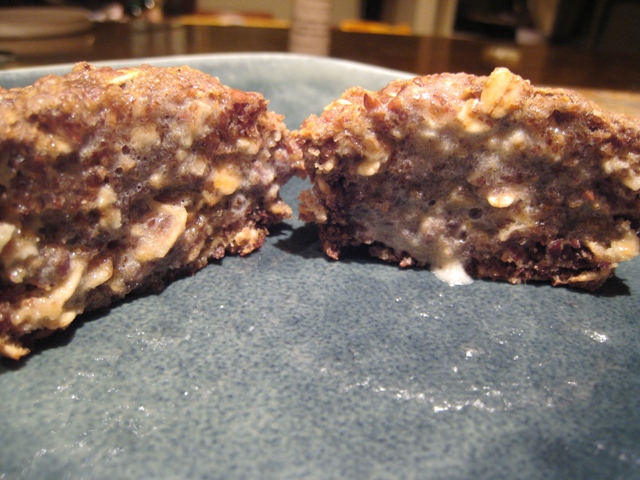 Eric's muffin with chocolate chips: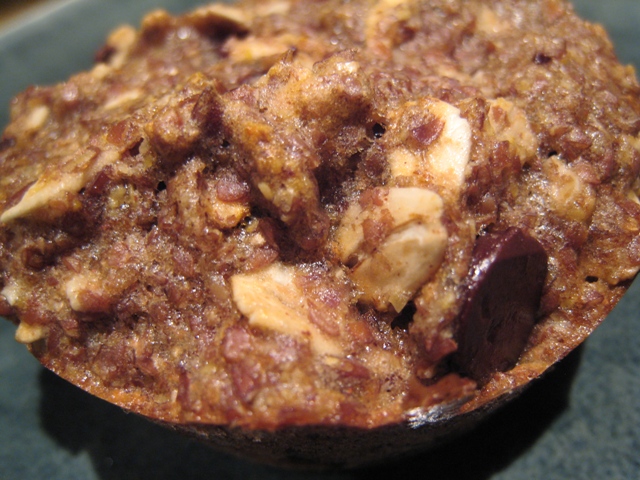 These are not your typical sugar-laden muffins! That is why I think they are the perfect breakfast muffin, because who really wants something super sweet in the morning? Not me.
Now for the good stuff:
Nutritional Profile (per muffin):
200 calories
9 grams of healthy fats (from flax and olive oil!)
6 grams fibre
6.5 grams of protein
WOW!!!! Awesome.
Did I mention there is over 1 Tablespoon of flax PER muffin? That is a whopping 2.5 grams of Alpha-Linolenic Acid (aka Omega-3's) per muffin!
I had two last night. :D
Maybe that's what healed me overnight??? lol.
~~~~~~~~~~~~~~~~~~~~~~~~~~~~~~~~~~~~~~~~~~~~~~~~~~~~~~~~~~~~~~~~~~~~~~~~~~~~~~~~~~~~~~~~~~
Looky what I had to do: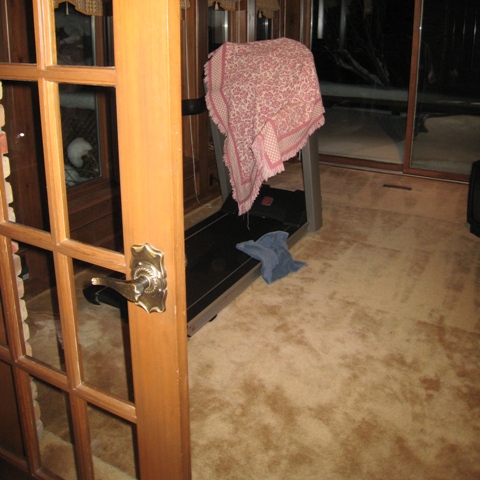 Normally having a workout machine in plain view is a good thing. This week, not so much. Poor treadmill. It's getting cold!! I feel like turning it on just to give it some love. haha. Sketchie likes sitting on it in the sun though.
(I can see this treadmill from my DESK! How is that for torture?!)
~~~~~~~~~~~~~~~~~~~~~~~~~~~~~~~~~~~~~~~~~~~~~~~~~~~~~~~~~~~~~~~~~~~~~~~~~~~~~~~~~~~~~~~~~~
Stay tuned for the Honest Foods contest giveaway at 4pm EST today!!!!! And the next contest announcement!
PS- We watched Gran Torino with Clint Eastwood last night. All I can say is WOW.
PSS- I am adding Honeymoon pictures to my wedding page. The honeymoon pictures are at the bottom of the wedding pics. Last night I did the first installment for Venice, and I will be adding cities over the next week or so. Check it out!
If you have only one smile in you, give it to the people you love. Don't be surly at home, then go out in the street and start grinning 'Good morning' at total strangers.
~Maya Angelou