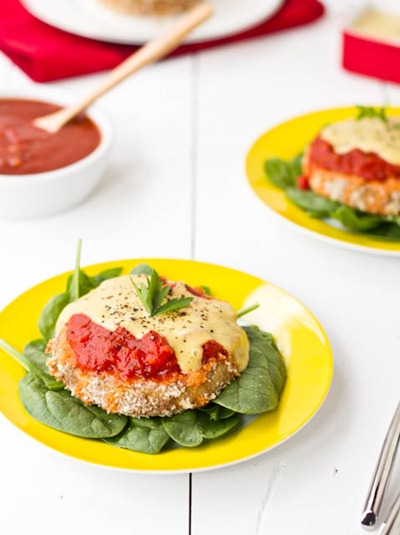 Before you tell me you hate eggplant and cast off this recipe, hear me out:
I'm not a big eggplant fan either.
I think Eggplant is pretty spongy and bland. In fact, it's probably one of my least favourite vegetables!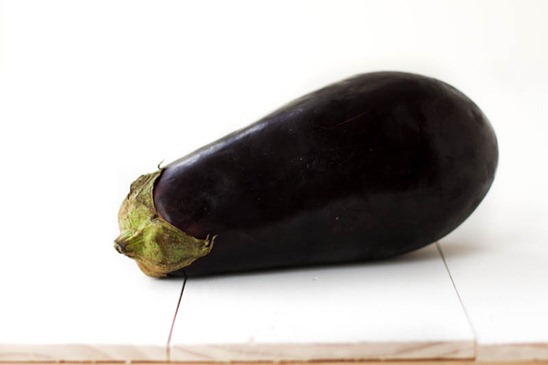 Poor 'lil Eggplant, right? :\
I decided to give Eggplant another shot when I came across this stunning Eggplant Parmesan recipe from Jessica. I knew immediately that I had to try it for myself.
It just looked so darn good…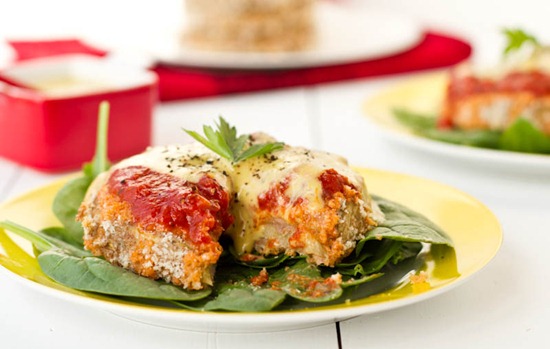 This recipe involves breading and baking eggplant slices until crispy. Think of a breaded chicken burger and that's what the breaded crust reminds me of. It's perfection.
Mind you, the eggplant itself tastes nothing like chicken and still has a bit of that strange eggplant texture, but I found myself enjoying it none the less!
The first thing you do is peel the eggplant and slice it into 8-10 pieces about 1/4-1/2 inch thick. Sprinkle each slice liberally with salt and let it stand for 30 minutes or so. The salt draws out the water and the slices will begin to "sweat"- it's pretty cool! A fun science experiment in the kitchen.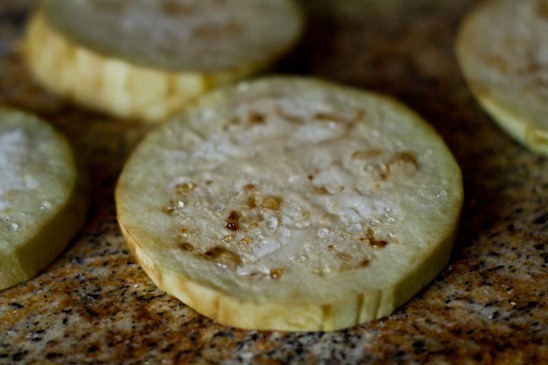 While the eggplant is working up a sweat, you can also get busy making your batter. I followed Jessica's batter recipe fairly closely, only I used Whole Wheat Pastry Flour instead of Brown rice flour. If you want it gluten-free use a gluten-free flour and GF breadcrumbs. It takes just a couple minutes to mix together. I'll also tell you what I would change below.
After 30 minutes, run cold water over the slices to wash off the water and salt and then pat dry with a towel.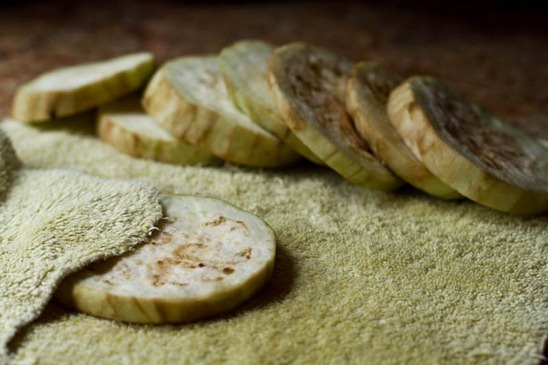 Dip each slice into the batter and then dip it into your breadcrumbs on both sides. The more breadcrumbs the better.
Place on a baking sheet and bake for 8-9 mins at 450F on each side until very golden and crispy. The crispier you make them, the better they taste! I used Panko breadcrumbs and they worked great.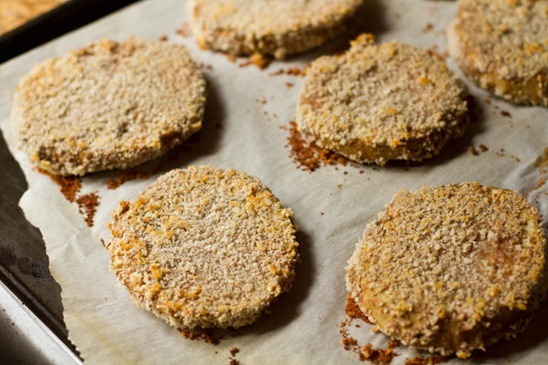 Jessica served her eggplant cutlets over pasta, but I decided to serve it over spinach greens for a lighter option as I wasn't feeling pasta after all the lasagna we've been eating. I topped it with heated pasta sauce and my homemade 5-minute low-fat cheeze sauce!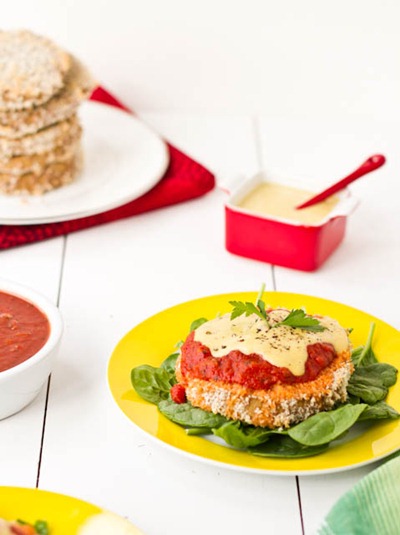 It really is a stunning dish. :)
My tips:
I really, really love the breaded crust. A++. I am already thinking about what else I could use this crispy batter on! Crispy veggie burgers? Sweet potato chips? Zucchini fries? Tofu?
The eggplant itself still has a bit of a spongy texture, but it wasn't that bad. The awesome texture of the crust really made the eggplant texture less noticeable. If you slice the eggplant thin it's even less noticeable. It reminded me of a breaded chicken burger, although didn't taste like one of course.
Next time I would definitely add more seasonings as the patties could use a bit more flavour, but with the pasta sauce and cheeze sauce it wasn't a big issue at all. Next time I would just amp up the seasonings a bit more.
I haven't tested this on Eric yet, but I will update this post when he tries it. He absolutely hates eggplant's texture, so that will be interesting!
I cut the eggplant into rounds, but realized Jessica sliced hers vertically. Vertically probably makes mere sense because you don't end up with tiny rounds when you get to the end. It's totally up to you though.
The cutlets get soft in the fridge so they must be reheated in the oven. The cutlets do not reheat well in the microwave, trust me I tried! To reheat: I baked them at 450F for 5 minutes on each side and they re-heated wonderfully and got really crisp.
I haven't tried it yet, but I suspect these cutlets would be awesome in a sandwich or wrap! I'm definitely trying that this week.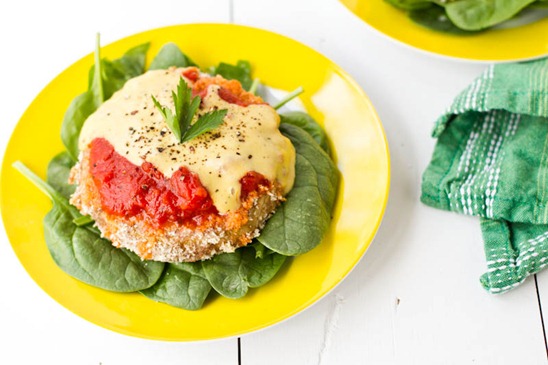 Eggplant Parmesan
A great way to make eggplant the feature of a fancy looking meal. This dish just tastes so healthy and light!
Lightly adapted from Jessica.
Yield: 8 servings
One large eggplant, peeled and sliced vertically into 8 cutlets
1 c. unsweetened/unflavoured almond milk (or milk of choice)
3/4 c. whole wheat pastry flour (or other flour of choice)
1 tsp apple cider vinegar
1/2 tsp salt
Freshly ground black pepper
1/4 tsp dried oregano*
1/4 tsp dried parsley*
1/4 tsp dried basil*
2 cups breadcrumbs (I used Panko)
Pasta sauce of your choice
Low-fat 5 minute cheeze sauce (makes 2/3 cup) or Daiya cheese (bake in oven if using Daiya to melt it)
Cooked spaghetti or greens, for the base
1. Peel and slice eggplant into 8-10 pieces. Sprinkle each slice liberally with salt (maybe about 1/4-1/2 tsp on each?) and spread it around with fingers. Let it stand for 30 minutes while the salt draws out the water.
2. Meanwhile, make your batter by whisking the milk, flour, vinegar, salt, pepper, and seasonings together in a medium sized bowl.
3. After 30 mins, preheat oven to 450F and rinse eggplant with water and pat dry with a towel. Dip each piece into the batter and then into the breadcrumbs on each side. Place on a lined baking sheet.
4. Bake for 8-9 mins at 450F and then flip and bake for another 8-9 minutes watching closely at the end. You want them very crispy and golden! Top with heated pasta sauce and homemade cheeze sauce and serve over a bed of cooked pasta or fresh greens.
5. To reheat: Bake for 5 mins on each side at 450F. They do NOT reheat well in the microwave. Note that cutlets will get soft in the fridge so reheating in the oven is essential to crisp them up again.
Note: Next time I will amp up the seasonings a bit more or try using fresh herbs too.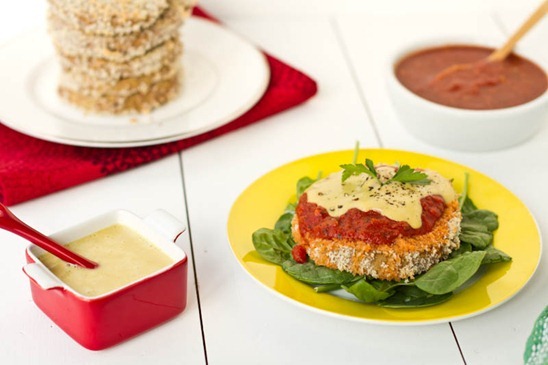 Take home message:
If you are an eggplant fan I would guess you will LOVE this recipe.
If you aren't an eggplant fan, I'd say there's a chance you could really enjoy it or really hate it. Make at your own risk!
As for me, I will probably make this again and experiment more with the flavours and seasonings. I can already see myself making a curry flavour cutlet with a delicious Indian dish! I'm going to try this in a sandwich for lunch with some pasta sauce and cheeze. It should be good.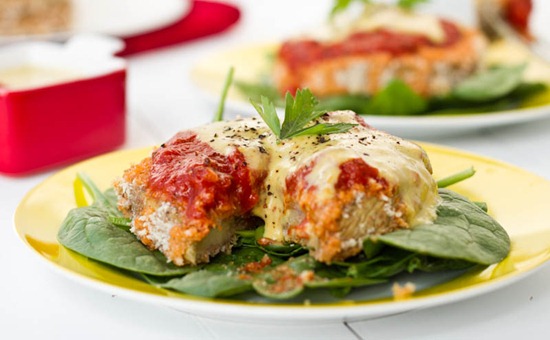 It's update time!
The winner of my 3-year blogiversary giveaway is #724- Megan… Congrats Megan! I have emailed you to collect your apron wishes and addy. Thanks to everyone for all your kind words on my 3 year blogiversary.
I found out on the weekend that I won "Best Overall Blog" and "Best Veg Blog" in the Foodbuzz Blog Awards! Thank you so much for your votes. It's thrilling to me that a vegan blog could receive such praise within the food community which is usually dominated by so many animal-based foods. Your support means more to me than you know!!