I was really hoping that my first day back to work post-Christmas was going to be fabulous, but unfortunately some bad news clouded over my sunny day! Hrmph!!!!!!
After not hearing anything from CTV News about my interview (which was almost a month ago), I decided to email CTV again to see what was going on.
Today, I was told that the story would likely not be aired. It was a holiday story and well, the holidays are now over.
I wish I could say that I picked myself up off the floor and carried on with my day, but I have been extremely bummed since I heard this news. I was also given no explanation why it did not air and I'm not even sure I would have been emailed had I not contacted CTV numerous times and bugged them about it.
The worst part of it is that I never even got to see my own interview. It is not online and I doubt I will ever get to see it! What the heck?!
In the grand scheme of things, this is a mere blip on the radar and I know it is not the end of the world. I have so many blessings in my life- my health, husband, family, friends, all of you- I will try not to waste another tear on this experience!!!!!
I ended up doing accounting all day, which didn't make things any more cheery…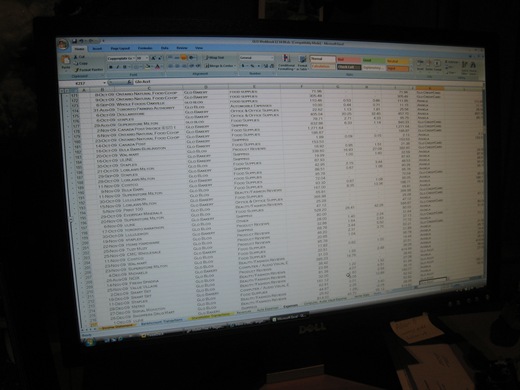 My Glo Bakery accounting information is due mid-January, so I have been working on that. I'd like to have all the loose ends tied up by the weekend.
I track all of my business related expenses, revenues, mileage, bank transactions, etc in one Excel spreadsheet. It is amazingly easy and efficient, much better than our QuickBooks experience.
Around 6:30pm, I started to think about dinner and I was craving comfort food like an 8 month pregnant lady craves dill pickles and peanut butter.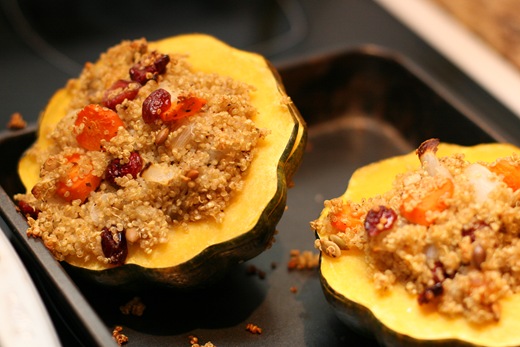 Baked Acorn Squash with Quinoa, Cranberry, and Apricot Stuffing
INGREDIENTS
2 cups quinoa
4 tablespoons unsalted butter (I used 2 T olive oil and 1/3 cup applesauce)
1 1/2 cups diced onion
sea salt 
1/2 cup diced carrots
1/2 cup diced celery
1 tablespoon minced fresh ginger
1 tablespoon chopped fresh sage
1/2 cup dried cranberries
1/3 cup dried apricots, chopped the size of raisins
1/4 cup dried currants (I didn't have any)
1/3 cup toasted pumpkin seeds
1/2 teaspoon freshly grated nutmeg
1/4 teaspoon ground cinnamon
freshly ground black pepper
4 medium Acorn squash, halved lengthwise, seeds and membranes removed
extra-virgin olive oil, for brushing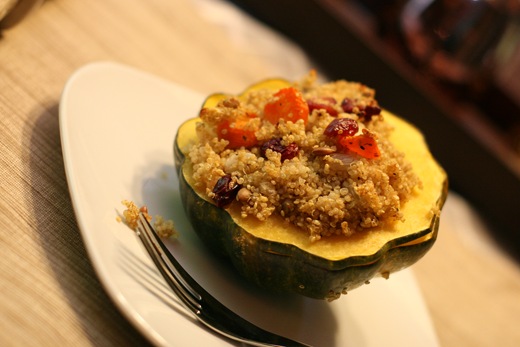 Then the squash started to sing a familiar tune to me:
Here's a little song i wrote,
you might want to sing it note for note,
don't worry, be happy
in every life we have some trouble,
when you worry you make it double
don't worry, be happy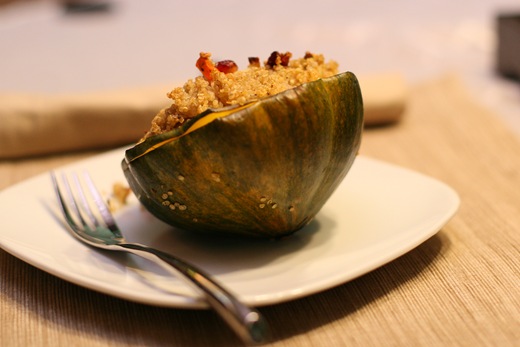 Directions:
1. Adjust a rack to the middle shelf of the oven and preheat to 350 degrees F.
2. Simmer the quinoa in 4 cups of water until fluffy, 15 to 20 minutes.
3. While the quinoa cooks, melt the butter in a saucepan over medium heat. Add the onions and 1/2 teaspoon of salt and cook until softened, stirring frequently, about 3 to 4 minutes. Stir in the carrots, celery, ginger, and sage.
4. Cover the pan and simmer until the vegetables are tender, 5 to 7 minutes (add a tablespoon of water, if necessary, to prevent scorching.)
5. In a large bowl, toss together the quinoa and vegetables. Stir in the dried fruit, pumpkin seeds, nutmeg, and cinnamon, season with salt and pepper.
6. Brush the skin of the squash lightly with oil. Place the squash, cut side down, in a baking pan large enough to hold them in a snug single layer.
7. Pour 1/2-inch of boiling water into the pan and bake for 20 minutes (you want the squash to have softened slightly, but not completely). Transfer the squash to a plate and let rest until cool enough to handle. [I put the squash in the oven as soon as I put the Quinoa on to save time]
8. Stuff the squash halves with the quinoa mixture, return them, stuffing-up, to the pan, and bake until the flesh can be easily pierced with the tip of a paring knife, 20 to 30 minutes more.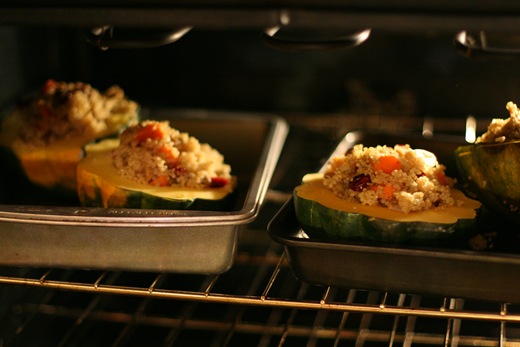 It was deelish.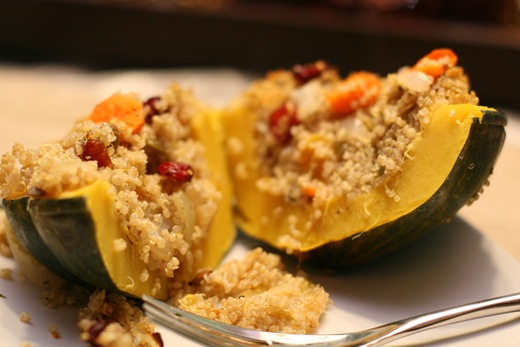 In The Blogosphere…
Do you need to spruce up your elliptical workout? Check out Kelly's Elliptical Challenge over at Red Sox Cap.
I'll leave you with one of the happiest songs ever…and quite possibly one of the funniest music videos of all time.