Morning everyone! :D
I wanted to say a BIG ~HAPPY THANKSGIVING~ to all of my US readers!!!
For those of you who are in Canada, like me, we've had our Turkey long ago! Now it's full speed ahead to Christmas!
Moving went well last night! My MIL was there and she showed us everything that they had moved out and gotten ready for us. She is so sweet. I am so lucky to have such a great MIL like her!
We are getting really excited to move! We are bringing another load tonight probably. I think bringing the small items/loose ends will help alot. Our goal is to just have boxes to move (and furniture) on Saturday so it will speed things up! I think we are moving a lot of the food tonight. It will be hard to decide what I can live without for the next couple of days!
Certainly not my Mara Natha RAW Almond Butter though! I had a wonderful, savory and sweet AB & J toast last night for dessert. I slathered the AB on the toast and topped it with all natural, reduced-sugar (but no artificial sugar!) strawberry jam. I thought I died and went to heaven! I think I had about 4 tablespoons of it last night! lol. I was starving from moving so it really kept my hunger at bay until the morning. :)
~~~~~~~~~~~~~~~~~~~~~~~~~~~~~~~~~~~~~~~~~~~~~~~~~~~~~~~~~~~~~~~~~~~~~~~~~~~~~~~~~~~~~
The workout was great this morning. In a moment of sleep-deprived desperation, I hit snooze this morning (I never hit snooze ever!), but I got up after 3 minutes.
I didn't get to bed until late, and probably won't the rest of the week with moving and whatnot. Once we are back on a regular schedule and settled I am going to really try the 'rising early' challenge that I blogged about last night. I LOVE mornings, but not when I am too sleepy to enjoy it (or the rest of the day!).
I really liked the tip about doing something pleasurable every morning when you get up. I instantly thought about Kath's fun oatmeal breakfasts that she looks forward to every morning. You have to have something to look forward to in the early morning!
I guess I have been doing it all wrong– my mornings are chaotic :( I set my alarm as late as possible (again sleep deprived), then I get up and rush down to the gym in 10 mins., workout, then rush to get showered, fed, and out the door to work! Something needs to change!
I think if I got into a habit of rising early I would have such a more relaxed morning and feel so much more peace in my life.
My workout:
I did interval running on the treadmill again today! Love doing intervals
2 min. warm up @ incline 7, 4.0mph
1 mile @ 6.0 mph and incline 7
walking at incline 7
1 mile @ 6.5 mph, incline 7
walking at incline 7
Mix of walking and running (7.0 mph) @ 7 incline- I got about a mile in running 7 mph
cool down
24 flights of stairs
Max heart rate: 173 bpm (89% of max)
Avg Heart rate: 151 bpm (77% of max)
Distance: 3.83 miles
Total duration: 44 mins.
Felt great as always!!!
This morning I really didn't want to go to the gym, but I just kept thinking about how good I would feel once it was out of the way- and it worked!
Sadly, my beloved ipod died half way during my workout (when I needed it most!). I must remember to charge it tonight!
~~~~~~~~~~~~~~~~~~~~~~~~~~~~~~~~~~~~~~~~~~~~~~~~~~~~~~~~~~~~~~~~~~~~~~~~~~~~~~~~~~~~~
I'm curious, what is on your Christmas 'Wish List'?
Here is my Christmas list:
Workout dvds (1 Minute Workout: Total Body Toning) http://www.amazon.com/Minna-Lessig-Toning-Minute-Workout/dp/B000E6EK1K/ref=sr_1_1?ie=UTF8&s=dvd&qid=1227664963&sr=1-1
Marathon training book (Marathon: The Ultimate Training Guide by: Hal Higdon)
Decorative Plates (crate and barrel,Yorkdale mall: http://www.crateandbarrel.com/family.aspx?c=335&f=30345 or http://www.crateandbarrel.com/family.aspx?c=385&f=13221 for examples)
Placemats, cloth napkins, napkin rings
Running gear from Sporting Life (eg, running gloves, friction-free running socks, sports bra (Nike in size small)
Spa gift certificate (massage!)
Magazine subscription to Runners World
Bake ware (tart pan, Bundt pan, mini muffin pan, flour sifter, lemon zester, rolling pin, Pie weights)
Multi level serving tray (http://www.crateandbarrel.com/family.aspx?c=385&f=5978)
Yellow Lamborghini (will also accept black) hehehe….!
As you can see lots of fitness stuff and baking stuff- my two passions!
~~~~~~~~~~~~~~~~~~~~~~~~~~~~~~~~~~~~~~~~~~~~~~~~~~~~~~~~~~~~~~~~~~~~~~~~~~~~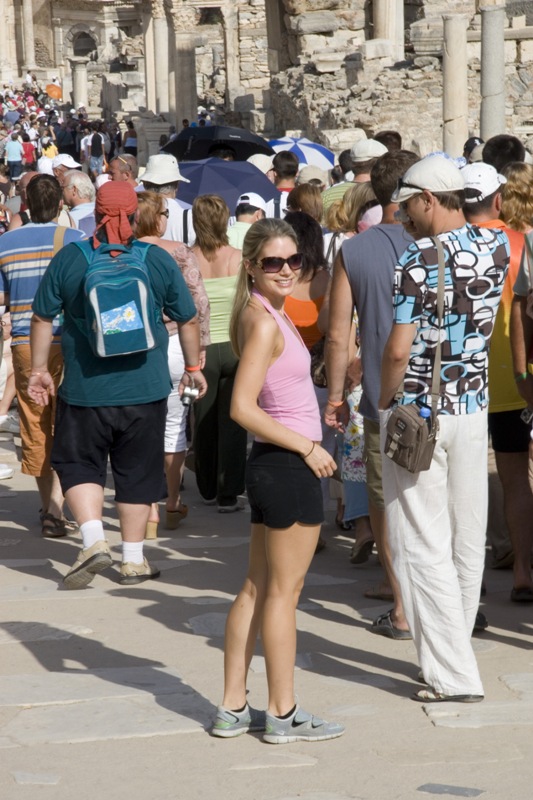 A couple of you asked where my photo was taken in yesterday's 'Road To Health' post. It was taken in Kusadasi, Turkey in Ephesus (same with the one above!). Really cool place.
Ephesus is the best preserved classical city of the Eastern Mediterranean, and among the best places in the world enabling one to genuinely 'soak in' the atmosphere of Roman times.
~~~~~~~~~~~~~~~~~~~~~~~~~~~~~~~~~~~~~~~~~~~~~~~~~~~~~~~~~~~~~~~~~~~~~~~~~~~~~~~~~~~~~
Hope you have a fun day filled with family, love, and good food!
The family. We were a strange little band of characters trudging through life sharing diseases and toothpaste, coveting one another's desserts, hiding shampoo, borrowing money, locking each other out of our rooms, inflicting pain and kissing to heal it in the same instant, loving, laughing, defending, and trying to figure out the common thread that bound us all together.

~Erma Bombeck