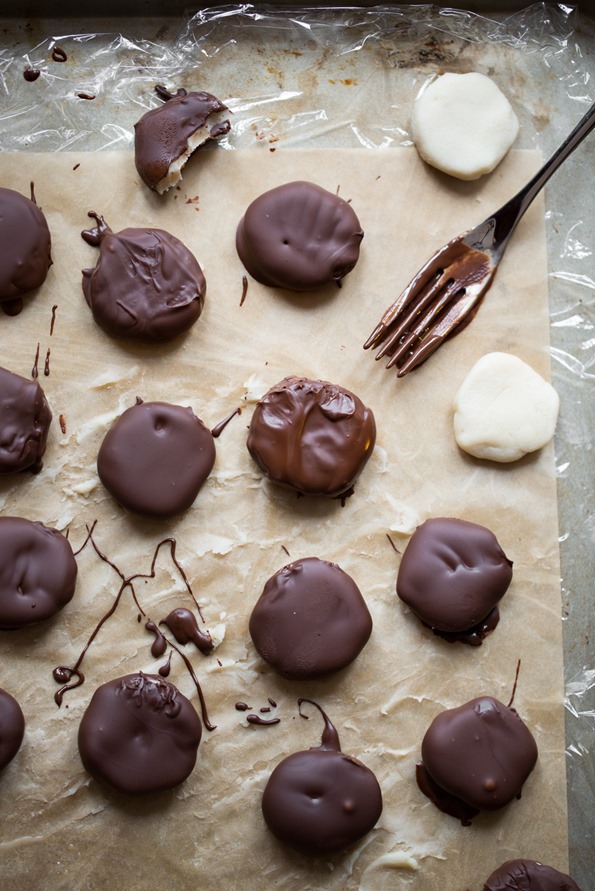 Welcome to chocolate and peppermint season!
It's one of my favourites, for sure. There's something about this combo that puts my taste buds in sheer ecstasy. So invigorating! So peppy! I feel like I can conquer the world when I'm eating peppermint and chocolate in the same bite. Strange, but true.
A few of my favourite chocolate and peppermint recipes on the blog are: No Bake Peppermint Patty Bars, Peppermint Patty Bars II, Peppermint Patty Green Monster.
Clearly, I have peppermint patty issues.
Despite all the peppermint patty themed recipes that I've shared with you, I don't actually have a peppermint patty recipe on the blog yet. Major oversight! The truth is, I tested some vegan peppermint patty recipes a few years ago, but I was never satisfied with the filling that I came up with. So the recipe was pushed aside for other things. This happens all the time in my kitchen. I have approximately 64752 unfinished recipes stuffed into a drawer or on my Google Drive recipe file. When I'm desperate for ideas, that's when I'll often sift through them all.
My previous trial involved powdered sugar and vegan butter, but I wanted to up my game. So, I started playing around with a coconut butter version which I've seen on many blogs, but it was too coconut-y for my liking. To be honest, I'm not a huge coconut butter fan to begin with so pairing it with my beloved childhood peppermint patty just seemed out of place.
I want a peppermint filling that melts in your mouth…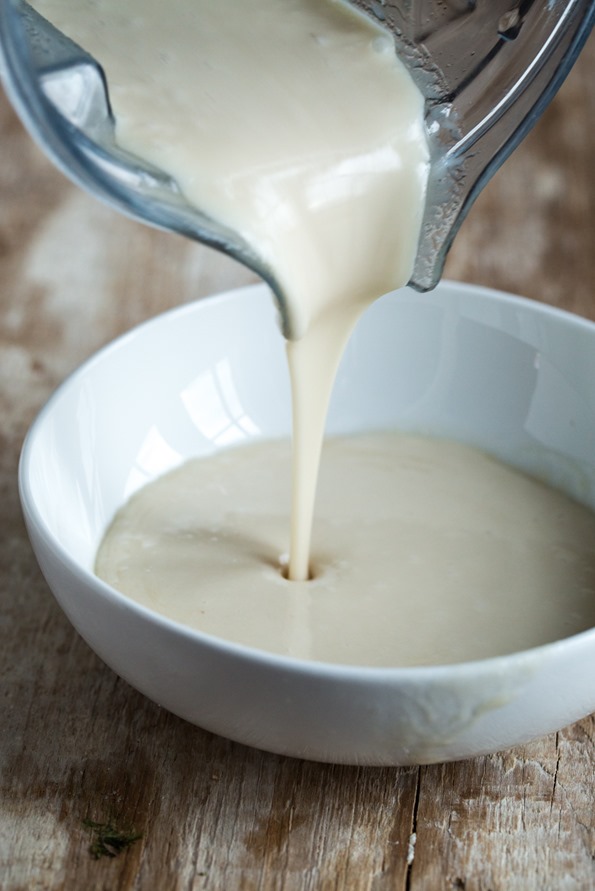 Yeah. Like that.
As it turned out, a totally different recipe inspired this patty filling. As soon as I tasted the squares I knew it would be the perfect filling for my beloved peppermint patties.
The secret?
I used a small amount of blended soaked cashews and almond milk to mimic that amazing creamy consistency and flavour. Coconut oil firms it all up when chilled (but doesn't give that over-powering coconut flavour like the coconut butter did), while allowing for that melt-in-your-mouth experience upon first bite.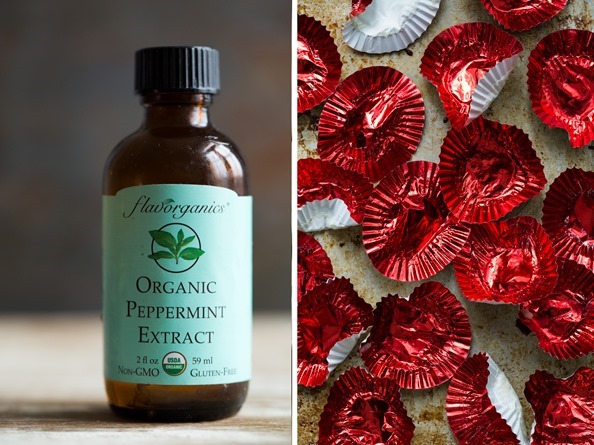 At first, I wasn't sure how to translate this liquid peppermint filling into solid patty form. One of the challenging parts about recipe creation is figuring out the most efficient process for the steps involved. Making it taste good is the easy part! Often I have to just make it and get my hands dirty before I can figure out which method will work best. I'm such a visual person. For the first trial, I decided to spread out the entire peppermint mixture onto a parchment lined baking sheet (see this photo) and then I froze it for over an hour. Once it firmed up, I scraped it off the sheet with a spoon and formed it into patties. The process was quite fussy and super messy, but it worked. Still, I knew there had to be a better way…
For my second trial, I poured the filling into mini candy liners (see above, right). I think I got these from Bulk Barn a couple years ago. Half a tablespoon of filling went into each liner and then I froze them for 20 minutes, popped them out of the liner, and froze for another 10 minutes before coating in melted chocolate. This worked much better and it took half the time. Score! I know that not everyone has these candy liners hanging around, so I tested it with paper cupcake liners too. The filling stuck to the paper liners more and was harder to pop out, but they should work OK in a pinch if it's all you have. I'm sure you'll find a way to make it work!
A photo from trial #1 after shaping the patties by hand: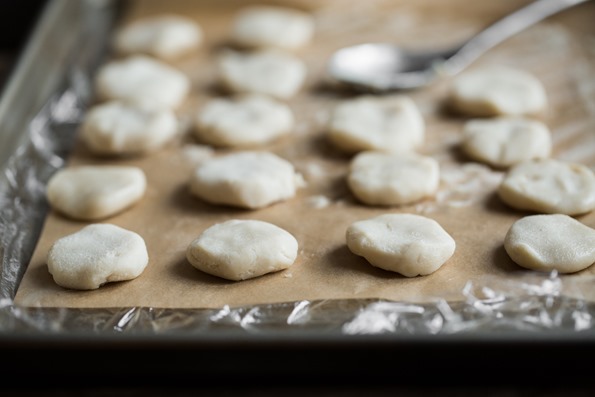 Trial 2 photo below – using the mini candy liner method. Oh, and you can make these into "Junior Mints" too (see the small one beside the spoon? could it be any more adorable?)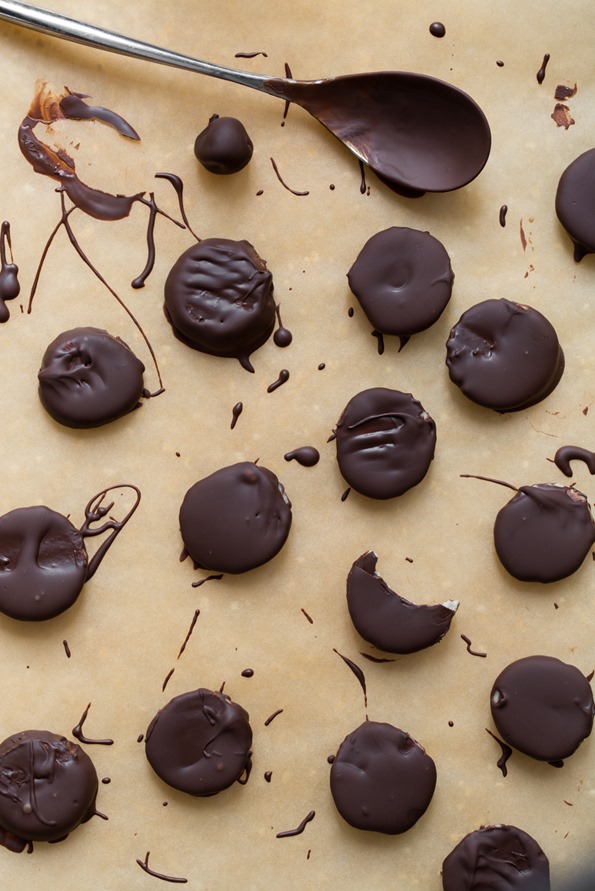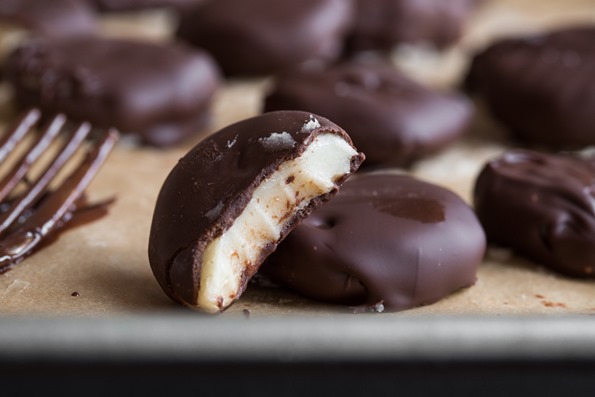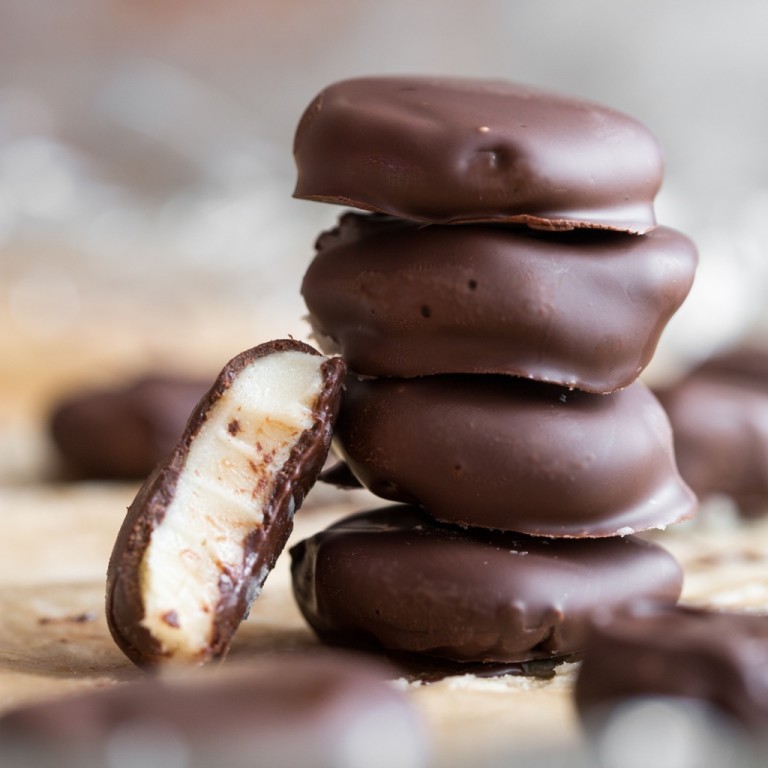 Creamy Dreamy Peppermint Patties
Vegan, gluten-free, grain-free

Yield

22-25 mini patties
Prep time

Cook time

0 minutes
Chill time

1 hour
Total time

Luxurious, invigorating, melt-in-your-mouth peppermint patties made from scratch! Even better than store-bought versions. I suggest keeping these in the fridge or freezer for the best texture. The chocolate coating gets all snappy which is a wonderful contrast to the creamy middle.
Ingredients
1/2 cup raw cashews, soaked (see note)
1/2 cup coconut oil, melted
3-4 tablespoons agave nectar, to taste (I used 4 tbsp)
2 tablespoons almond milk
1 teaspoon peppermint extract
3/4 cup dark chocolate chips
1/2 tablespoon coconut oil
Directions
Place cashews in a bowl and cover with water. Let soak overnight, or for at least 2-3 hours. If your blender isn't great at blending things smooth, I suggest soaking overnight for the best results.
Drain and rinse the cashews after soaking.
Add the cashews, melted coconut oil, agave, milk, and peppermint extract into a high-speed blender. Blend on the highest speed until completely smooth. This can take a couple minutes.
Line a baking sheet with parchment paper and grab mini cupcake/candy liners. Add a half tablespoon of filling into each liner. Place on the baking sheet. Repeat until you don't have any filling left (you should get about 22-25). Freeze, uncovered, for 20-35 minutes, or until firm to the touch.
After freezing, quickly pop the patties out of the cupcake liners and set each on top of their respective liner. Return to the freezer for 10 minutes to firm up even more.
Meanwhile, melt the chocolate and coconut oil in a small pot over the lowest heat. When half of the chips have melted, remove it from the heat and stir until all the chips are melted. Allow the chocolate to cool slightly for a few minutes before dunking the patties.
Remove the patties from the freezer and dunk them into the melted chocolate with a fork. Tap the side to shake off excess chocolate and place on parchment paper. Do this step as quickly as possible so the patties don't melt. Update: Some of you are having trouble with the chocolate thickening up as you do this step. If this happens, I suggest heating the chocolate again over low heat to thin it back out. The cold peppermint patties are probably causing it to thicken with time. Another option is to just drizzle the chocolate on top of the patties.
Return the patties to the freezer until set, for about 10 minutes, until the chocolate coating is firm. Store leftover patties in the freezer/fridge until ready to enjoy!
Tip:
1) you can sub in your favourite liquid sweetener for agave, if desired. Just know that the flavour will change depending on the sweetener you use. 2) See the bottom of this post for a nut-free version and more tips on making this recipe. 3) If you have melted chocolate leftover, spread it into a parchment paper lined plate and freeze it. This way nothing goes to waste!
Nutrition Information
(click to expand)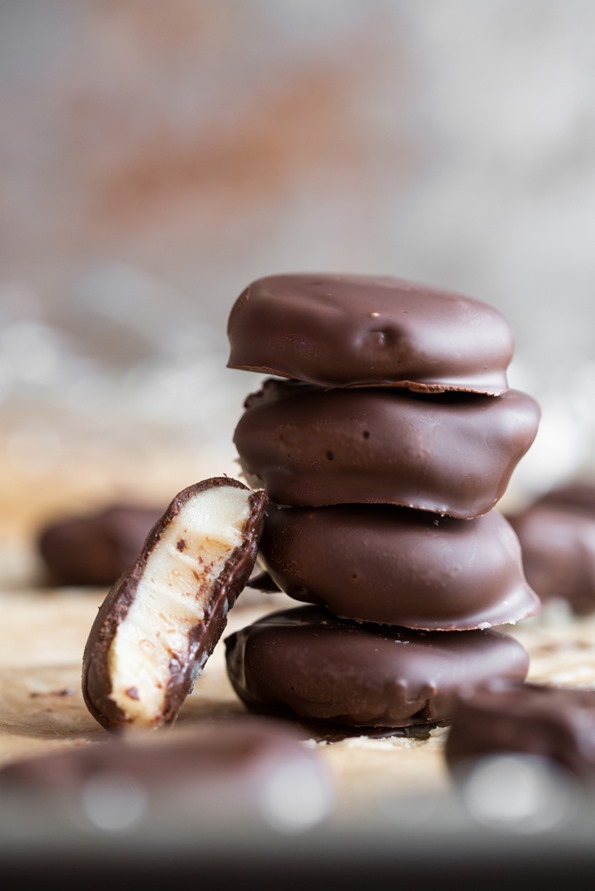 For an extra festive, crunchy patty, try sprinkling on crushed candy canes on top of the chocolate! I didn't get that far though. =)
Nut-free version?
Yes, I did test a nut-free version for you guys!! I used 1/4 cup raw sunflower seeds instead of 1/2 cup cashews. I soaked them overnight and followed the recipe as written, only using 2.5 tablespoons milk (use nut-free) since the filling was thicker. For some reason, I had trouble with the peppermint filling setting as well as the cashew version did, even after freezing the patties for double the time. I'm not sure why this happened. The taste, however, was fantastic!!! My advice if you want a nut-free version, is to not bother with popping the patties out of the liners. I would suggest using silicone liners and simply leaving the peppermint patty in the liner. Then add the melted chocolate on top and freeze as usual. Then you can eat it straight out of the liner without having to fuss! Or try serving it in a mini jar like my Peanut Butter Cups In A Jar. Just an idea…if you try anything let us know in the comments.
Nut-free Update: Ok, so the nut-free patties eventually set, but it took a good 2-3 hours! Keep this in mind if making the nut-free version.
I'd be lying if I said I wasn't dreaming up a totally amazing Peppermint Patty pie for the holidays. Am I nuts or would this be the best pie ever?
Clearly I could talk all day long about peppermint patties, but I'm going to stop now.
A big congrats to Kay for winning the $500 Tata Harper gift card!! Thanks to everyone who entered. Don't worry there are sooo many more amazing prizes up for grabs this month in my 12 Days of Giveaways! You don't want to miss out.