Good morning!
As I said in last night's post, I started Crap Free Week on Saturday! I have been following so many of you doing Crap Free Week, but I had to mentally prepare myself before I knew I was ready!
The truth is, I have been eating way too many sweets this winter, especially since my injury. I tend to still have this all-or-none approach to health at times which is still something I am working on.
I am much better than I used to be. In the past if I went over my calorie limit, it would likely lead to a binge or over-eating. Not good. Luckily, I have come a long way since then, however I still struggle with that all or none thinking.
Since my injury, some days I feel very frustrated because I think (subconsciously) "Well if I'm not exercising then I might as well not watch what I eat as much either."
I know it doesn't make sense, but if you've have been there you understand!
It is much easier for me to eat healthy when I am working out.
Does this make sense to anyone? Surely it isn't just me!
I know after a great workout I am much less likely to sabotage the workout with bad food. And research actually shows this too.
It is more logical perhaps to think, well if I am moving less, I will eat less. However, when emotions get involved, it complicates the picture much more so.
So that brought me to Saturday. I woke up after a Friday night of indulgences, and I decided that Crap Free Week had to start now.
If you recall, I had a Neon Green Smoothie.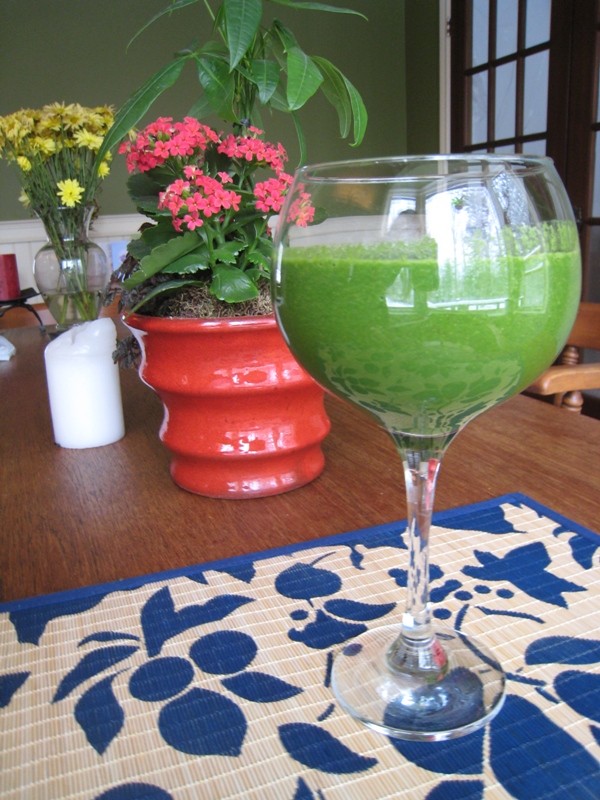 Here is what Other's have done with their Crap Free week:
Ashley from Daily Goods said,
"I have declared this week my CFW and can't wait to start feeling great. These are the rules that I have made for myself:

no refined carbs
no refined sugars
no frozen meals
lots of fruits/veggies
no dairy
no bars
no caffeine
no dessert

I will let you guys know how the week is going for me, i'm hoping it won't be tooo difficult, but i'm going to need to do a lot of meal planning and be prepared. I have really been relying on my bars to get me through the day and have been eating at least 1 a day for a while now. I want to try and wean myself off them a little so that they are more like treats and for emergency purposes rather than every day snacks. They're pretty expensive to have as daily snacks and i think this will save me a little money too. This is going to be the toughest part of my CFW I think for the week right along with DESSERTS."
Caitlin from Healthy Tipping Point said,
"a nutshell, Crap Free Week was a very interesting challenge. First, I want to review what Crap Free Week entailed:

Enjoy!Chicken, Fish, Eggs, Dairy Oatmeal, Fruits, Vegetables, Nuts, Canned Beans, PB, Quinoa, Rice, Lentils, EVOO, dried fruit, and similar
Avoid!Protein powder, bread, artificial sweeteners, deli meat, bars, cereals, maple syrup, ALCOHOL, butter, packaged pancake batter, granola, extra salt, canned soups, anything else processed, salted, or caffeinated.
Exceptions… I couldn't cut out caffeine right away. I switched to tea for the first 3 days and then went cold turkey. Also, I had my dad's birthday and Meghann's birthday on Sunday and I ate both meals out (and had dessert and drank a little champagne)."
Caitlin also stated the benefits of doing CFW:
I'm really pleased I managed to break my caffeine addiction. I just hope I can learn how to incorporate coffee back into my life (it's one of the world's best pleasures!) without getting re-addicted.
I became more creative in my meals and snacks and incorporated protein in new ways.
I learned I DON'T have to put table salt on most things I*think* I do.
This was NOT a point of Crap Free Week, but I do think Crap Free Week helped me shed the last two pounds of my

honeymoon weight gain

. I'm back at maintenance weight! Woo hoo!"

Oh She Glows' Crap Free Week
I will admit, I don't have much to avoid for crap free week because I have been very successful in eliminating caffeine and artificial sweetener from my diet for over a year now. I also don't eat much meat or dairy, and stick to mostly a vegetarian, if not vegan, diet. I don't eat processed foods much, save for my Tofurkey. And as you know, I eat low-salt products.
However, My big issue is SUGAR– at night time. This is when cravings hit for me. We all know how powerfully addictive sugar is. For me, one cookie leads to two, two leads to three, etc etc. I have always had a very hard time eating sugar moderately. For whatever reason, when I eat sugar it spikes cravings and they are really hard to reign in.
So my challenge for Crap Free Week is simple. Well, simple in that it only has one restriction. Extremely difficult if you are a sugar addict like myself.
NO SUGAR!
Zilch, nadda, none.
This is quite possibly the hardest challenge I have ever done because I am a HUGE sweet tooth.
As I mentioned, I started CFW on Saturday. Not a sprinkle of sugar has crossed these lips for 2 days now!
Please note. I am NOT cutting out naturally occuring sugars (duh fruit!) or foods that contain a small amount of sugar like soy milk or almond breeze (cane sugar) or whole wheat bread. However, I will be making every effort to make my own versions (for example, I am making another batch of organic spelt tortilla wraps this week- with no sugar!).
And I must say I feel F-A-B-U-L-O-U-S. I really do feel amazing. Eric has noticed an improvement in my mood as well.
As part of CFW, I am having 2 Green Monsters each day:
1) All Veggie Green Monster (Carrots, Kale, Spinach, etc) + Liquid (Soy or Almond Breeze)
2) Veggie + Fruit Green Monster (usually incorporates a single banana)
These green drinks make my skin glow and leave me feeling energized and happy. I also believe that they prevent my blood sugar from spiking, which helps prevent sugar cravings.
I hope you will follow me throughout this tough challenge! I will be updating each day on my progress, triumphs, as well as the challenges. I will talk about what benefitsI had from doing CFW as well.
Monday AM Veggie Smoothie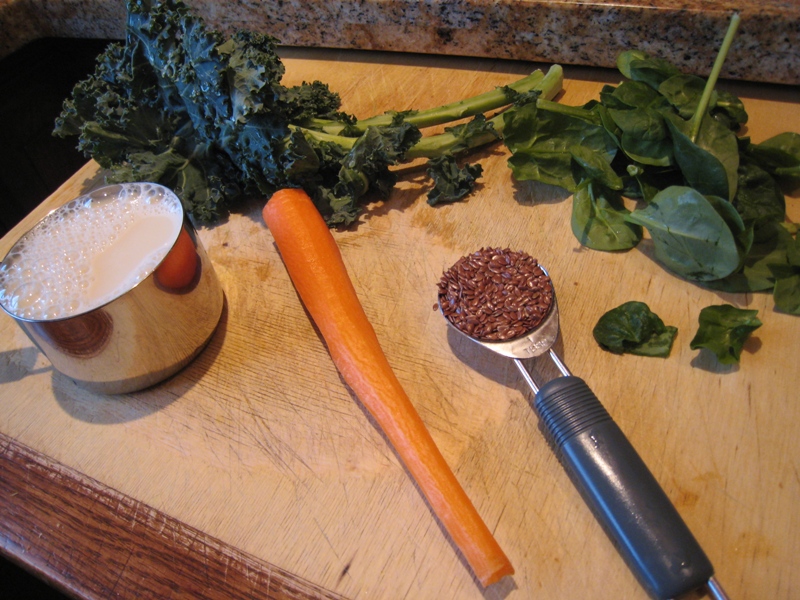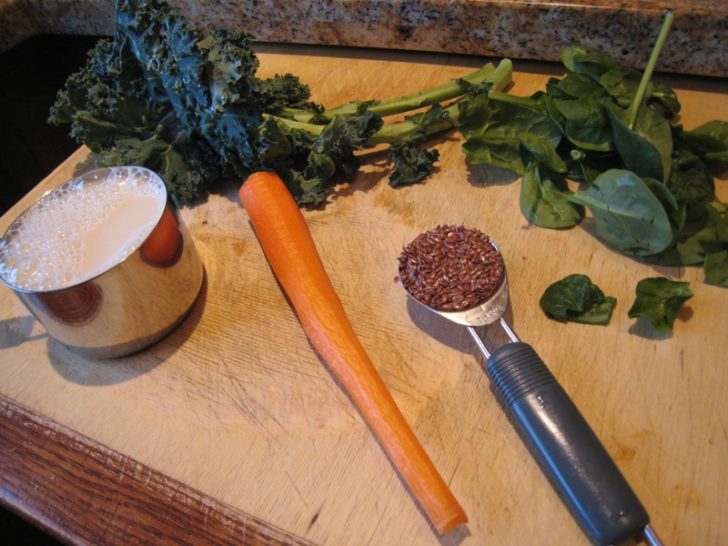 The goods:
1 cup Low Fat Soy Milk

1 Tbsp flax

1 handful baby organic spinach

2 organic kale leaves

1 medium organic carrot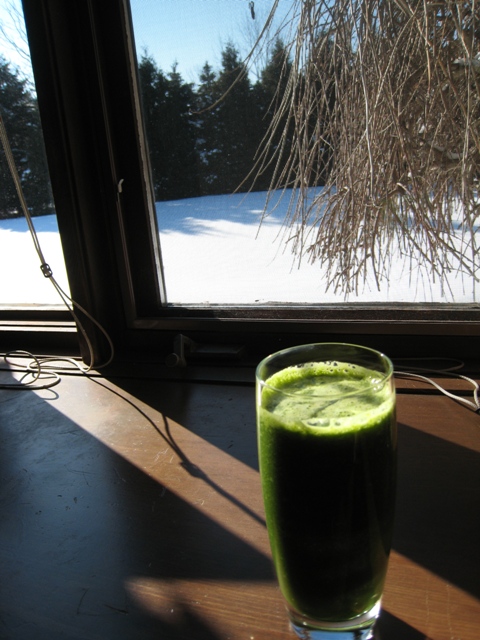 Neon Green Sunlight: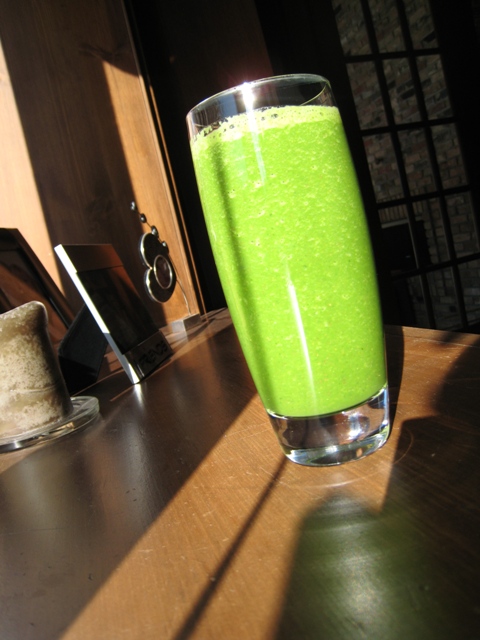 Delicious!
It's funny- I am actually used to these all veggie smoothies now! It is amazing how the taste buds adapt over time.
I hope this week will be the start of getting back on track. I have my bone scan Wednesday and I am praying for good news. My injury continues to improve, and I will be starting light exercise this week.
I did 7 mins on the treadmill at 1.5 mph (oh yea I was FLYING around that track!! LMAO) and I am so excited to just be moving again, albeit slowly.
Well, I have to tackle the to-do list! Have a great day everyone! See you this afternoon as always.
~~~~~~~~~~~~~~~~~~~~~~~~~~~~~~~~~~~~~~~~~~~~~~~~~~~~~~~~~~~~~~~~~~~~~~~~~~~~~~~~~~~~~~~~~~
Any change, any loss, does not make us victims. Others can shake you, surprise you, disappoint you, but they can't prevent you from acting, from taking the situation you're presented with and moving on. No matter where you are in life, no matter what your situation, you can always do something. You always have a choice and the choice can be power.
~Blaine Lee