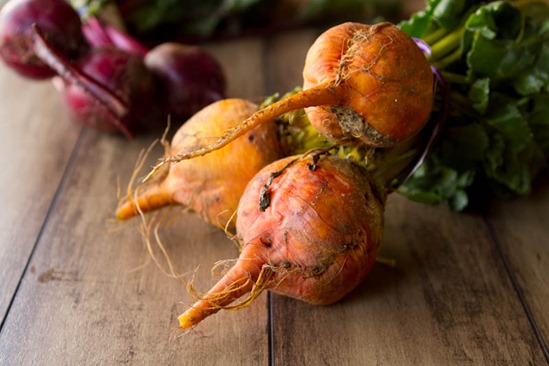 I'm a recent beet fan, however I can't say I've made much time to cook with them. They just always seem like such a pain in the butt to prepare and cook, don't they? The peeling, the red stains, the roots, the dirt. Bah. I used to pass them by for easier-to-prepare vegetables, even though I absolutely love cooked beets.
A while back, some of you suggested an easier way to prepare beets that has forever changed the way I look at them! I thought I would share that today, although I'm sure many of you know this little trick already…
I used to peel beets before roasting until some of you told me to do the opposite. Little did I know, after the beets are roasted, the skin just slips off when you rub it with your fingers! No peeler required.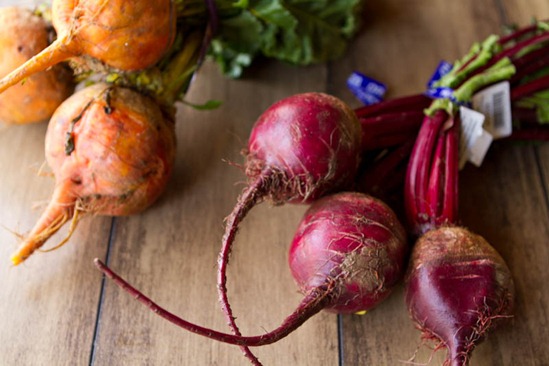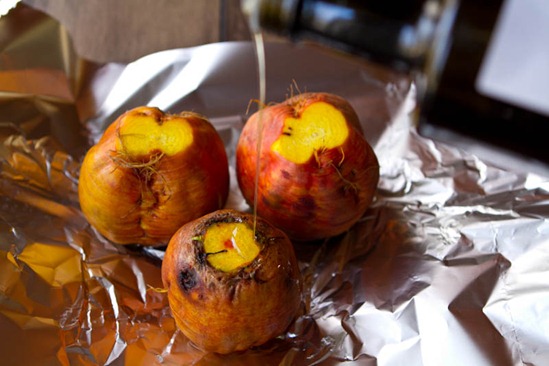 Roasting beets:
Preheat the oven to 425F
Trim the beets on each end, wash, and place on large sheet of tin foil.
Drizzle with oil and then wrap up the tin foil
Roast for about 45-75 minutes (depending on size of beets), checking every 15 minutes after the first 30 minutes or so.
To check for doneness, just prick beets with a fork. If it slides in fairly easy, it's ready
With oven mitts on (it's hot), unwrap the foil and allow to cool for about 5-10 minutes before handling
With bare hands or with plastic gloves, gently peel off the skin with your fingers (I do this over the sink). You may want to trim the ends a bit more too. Some parts of the skin will come off a bit easier than others, but not to worry as it doesn't have to look perfect.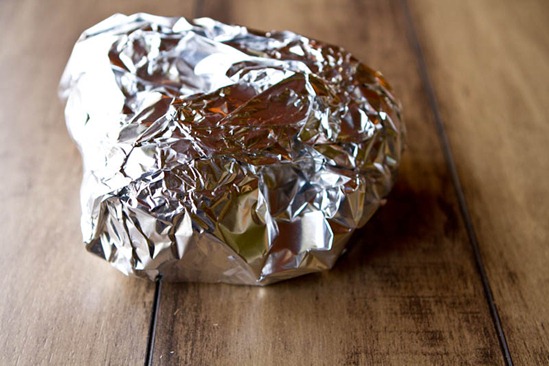 After peeling the skin, slice into wedges and you're good to go!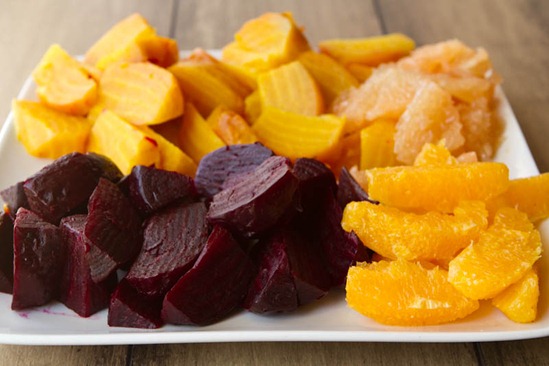 It's such a simple change in method, but for some reason it made the world of difference to me. I now roast beets once or twice a month…instead of…never. I like to roast at least 5 beets at a time so I have plenty of leftovers to throw into salads during the week. Like this glorious salad…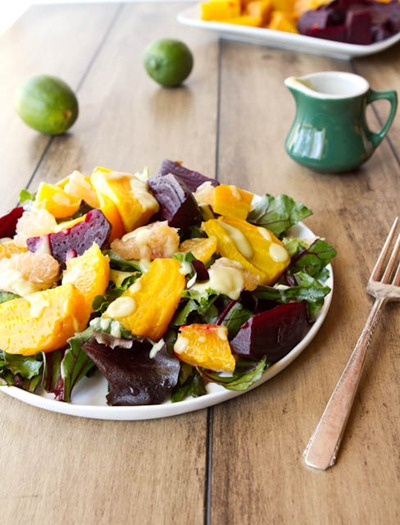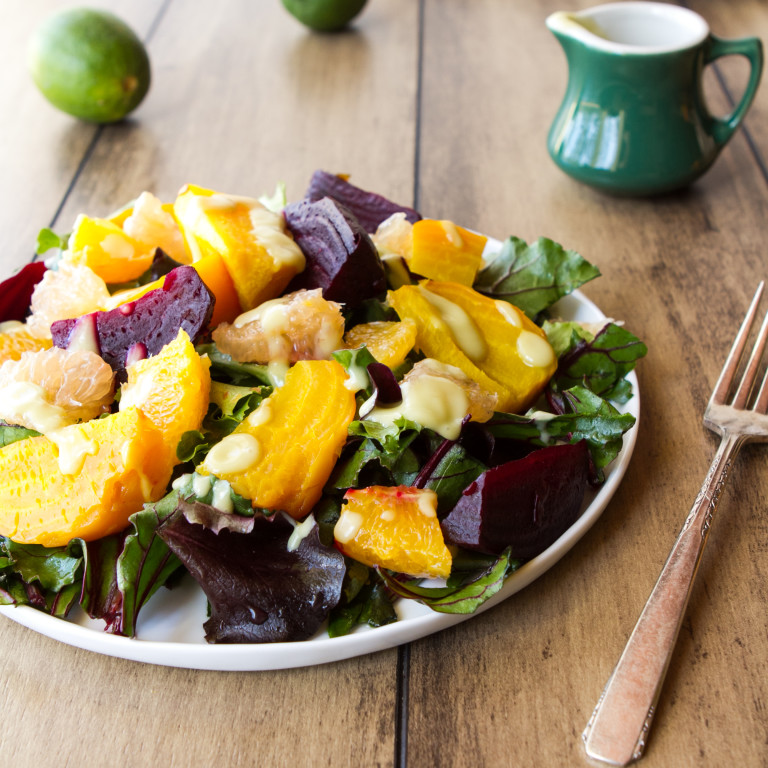 Citrus Beet Salad with Creamy Avocado Lime Dressing
Vegan, gluten-free, soy-free

Yield

4 servings
Prep time

Cook time

Total time

According to World's Healthiest Foods, beets are anti-inflammatory, rich in antioxidants, support detoxification, and are high in folate, manganese, fibre, potassium, vitamin C, iron, and more. A handful of reasons to dig in! Feel free to add nuts, seeds, grains, etc if you wish. I also suggest using a grapefruit on the sweeter side (such as a Ruby) or just leave out the grapefruit if you prefer
Ingredients
For the salad
3 medium/large red beets
3 medium/large golden beets
2 navel oranges (or any variety)
1 grapefruit (Ruby suggested), optional
Greens of choice (I used a mix of baby romaine and blanched beet greens)
Avocado Lime Dressing
For the dressing
1/2 cup avocado flesh
1/4 cup coconut cream (the cream from the top of the can)
5 tbsp fresh lime juice, or to taste
1 tbsp agave nectar (or other liquid sweetener)
2 tbsp fresh orange juice
1 tsp grapefruit juice (optional)
tiny pinch of salt
Directions
Preheat the oven to 425F. Trim both ends of each beet and wash well. Place a few beets on a large piece of tin foil. Drizzle with oil and wrap up. Do the same for the other 3 beets on another sheet of foil. Place on a baking sheet and roast for 45-75 minutes, until a fork pricks through fairly easy. Check beets after 30 mins of roasting, and every 15 minutes thereafter. Cooking time will depend on the size…mine took 60-75 minutes.
With oven mitts on, carefully open the tin foil and allow to cool for 5-10 minutes. Now peel off the skin and discard. Slice beets into wedges.
While the beets roast, prepare the citrus. De-pith and slice into segments (as shown in post). Set aside. Reserve the scraps of juicy flesh as you can use this to squeeze into your dressing.
Blend the dressing ingredients together in a processor. I used my mini processor and it worked well. Adjust seasonings to taste, adding more sweetener, juice, or salt if desired.
To assemble, add greens (I used a mix of blanched beet greens and baby romaine), followed by the beets and citrus segments, top with nuts, seeds, and/or cooked grains, and finally the dressing.
Tip:
Dressing makes 2/3 cup
Nutrition Information
(click to expand)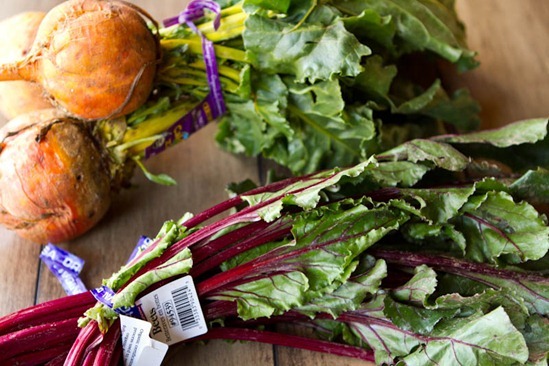 Here's something I hadn't done before…segment a citrus fruit. It's actually much easier than I thought it was, thanks to a little help from The Kitchn.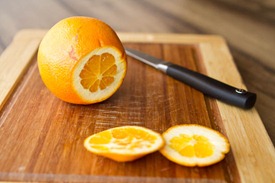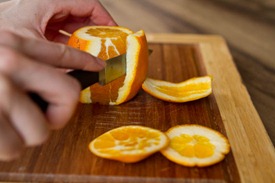 How to de-pith and segment citrus fruit
Chop off both ends of the citrus
With a paring knife, carefully slice off the peel, rotating your way around the fruit
Gently slice off any remaining pith (the white spongy part)
Slice the segments of the orange, being sure to slice around the thicker skin- you just want the juicy insides.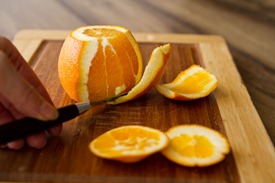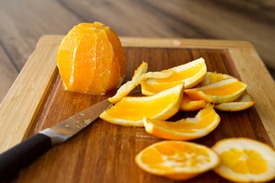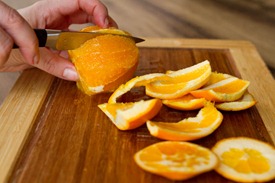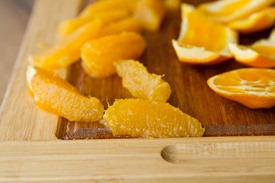 For the dressing, I used my mini processor (that came with my immersion blender)…it worked perfectly and I didn't have to dirty my big food processor. I use that mini processor so much these days.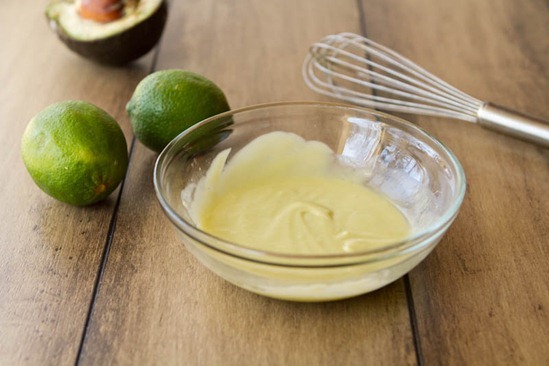 To build the salad, start with a bed of greens (I used a mix of baby romaine and blanched beet greens), then layer beets and fruit. Finally, pour on the dressing. Feel free to add on nuts, seeds (hemp seeds are yummy), and cooked grains if you wish.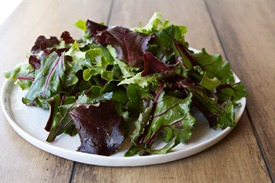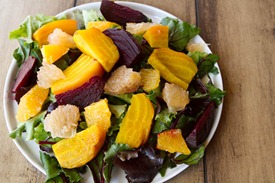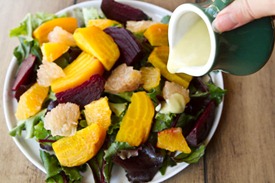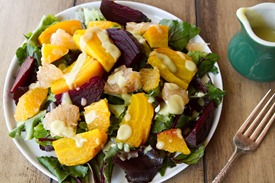 A delicious, energizing salad when you're feeling in a spring clean mood.
If you roast the beets ahead of time, this salad won't set you back more than 20 minutes and you can enjoy the healthful benefits of beets all week long.
Now who is ready for spring? It's supposed to be 11C and sunny here tomorrow…bring it!
What's your favourite way to prepare beets?