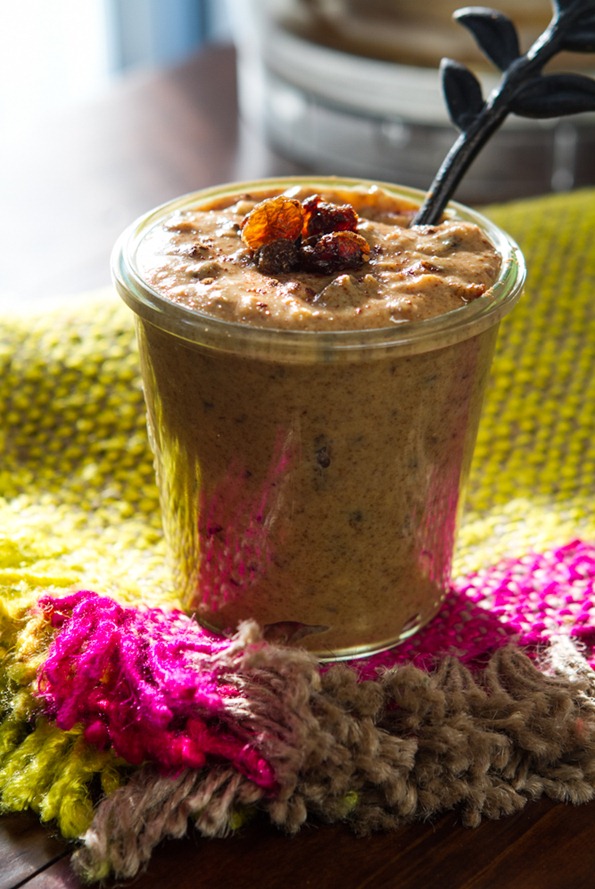 I've been on a total nut butter gifting spree lately. By the time I'm finished rattling all these nuts in my food processor, I may need a very strong hearing aid. Eric is convinced I'm slowly going deaf, so I guess covering my ears for dear life while processing nuts isn't helping much. These things should come with ear protection, don't you think?
Mind you, this is coming from the guy whose subwoofer and surround sound used to blast me out of the house when he played his beloved Counterstrike game on his computer. He also likes to watch movies so loud, you feel like you're sitting in an IMAX theatre and the floor is about to fall out from under you. Yes, I'm pretty sure he's lost more hearing than I have.
Despite the noise, I love making nut butter – it just feels so gourmet and fancy, not to mention once you get the hang of it, it's quite easy. Without a doubt, it has to be made in the right processor though. In the wrong processor, making nut butter can be a complete nightmare with engines blown out, powdery nuts, and even melted processor parts. I've experienced all of these in the past, which is why I don't recommend making nut butter unless you have a high-powered, heavy-duty processor that can handle the task. I have a 12-cup Cuisinart processor and it works very well for making nut butter, although the lid can be a pain to clean at times.
There just so happens to be a lot of nut-butter crazed people in my life, all of whom are female. Coincidence? I made this Maple Cinnamon Raisin Peanut Butter for my sister Kristi, the peanut butter fanatic. I'm pretty excited for her to try this because I don't think she's ever been around to sample any of my homemade nut butters before! It's currently traveling across the Canadian prairies and will soon be on her doorstep any minute now…that is, unless someone else gets to it first. Did I mention a customs dude once ate half a box of my Glo bars before proceeding with the shipment? I'm kinda paranoid now.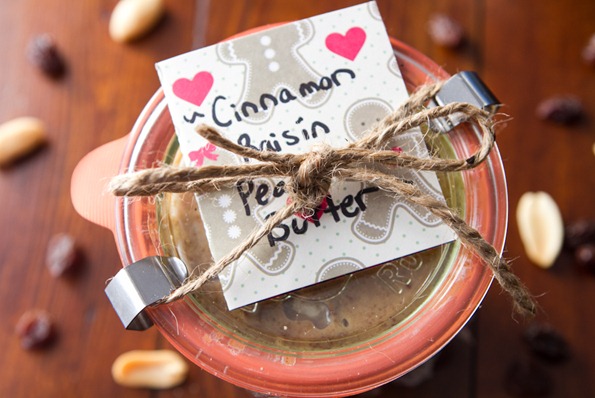 Chunky Cinnamon Raisin Peanut Butter
Vegan, gluten-free, oil-free, soy-free

Yield

1 cup plus 6 tbsp
Prep time

Cook time

0 minutes
Total time

One of my all-time favourite homemade nut butters, if not the favourite!
Ingredients
2 cups unsalted roasted peanuts + 1/3 cup for later
1/2 cup raw unsalted macadamia nuts

*

3/4 tsp cinnamon, or to taste
1/4 tsp fine grain sea salt, or to taste
5 tbsp Sucanat sugar

*

1/2 tsp pure vanilla extract
1/3 cup raisins
Directions
Place 2 cups of peanuts and macadamia nuts into food processor and process until the mixture resembles peanut butter, stopping to scrape down the side of the bowl if necessary. This can take up to 10 minutes.
Process in the cinnamon, salt, Sucanat, and vanilla, adding gradually. The sweetener will at first thicken the peanut butter quite a bit, but keep processing and the heat will eventually melt the sugar and smooth out the nut butter once again. If it still looks too thick, keep processing!
Pulse in the raisins and 1/3 cup of reserved peanuts, leaving it very chunky.
Tip:
Macadamia nuts, thanks to their high oil content, create a super silky and decadent nut butter, however this recipe should work without it. It just might come out a bit thicker.
I do not recommend subbing the dry granulated sugar for a liquid sweetener like maple syrup. Maple syrup has ruined batches of my nut butter in the past because it can thicken and create a strange texture in nut butter. If you don't have Sucanat, brown sugar may work but you probably won't need to use as much.
Nutrition Information
(click to expand)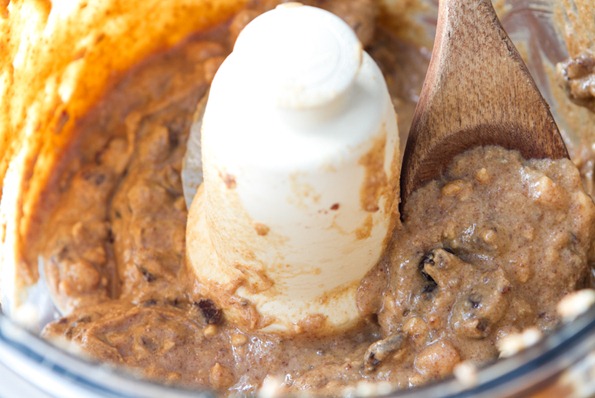 Still to come – the double cookie dough balls and cookie dough nut butter I made for my sister Kerrie.
I'd love if some of you could share below if you've had success – or not – with your particular food processor brand (or blender) when making nut butter. I think this would be really helpful for those wondering if their machine will fit the bill! Share your horror stories and successes….
I'll start with one of my own stories. Minutes after opening a brand new Kitchenaid food processor a few years ago, I decided to process some pitted honey dates. Did I mention they were dry as a bone? Yeah, bad idea. After only seconds of processing in my sparkly new machine, I managed to melt part of the plastic on the processing blade and overheat the machine rendering it useless. I had to send it back to be repaired (which luckily they did), but my processing confidence never fully recovered…