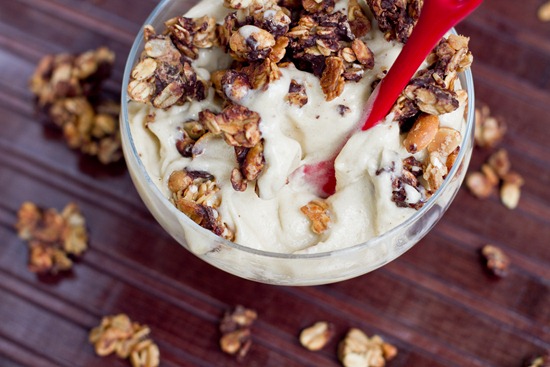 Deep into Reno-cation week, the idea of this dessert granola came to me. I was sore, I was weak, and I was needing a major pick-me-up at the end of a long day of painting intricate wood trim.
Chocolate sounded like the answer.
Eric said it was my best idea all week.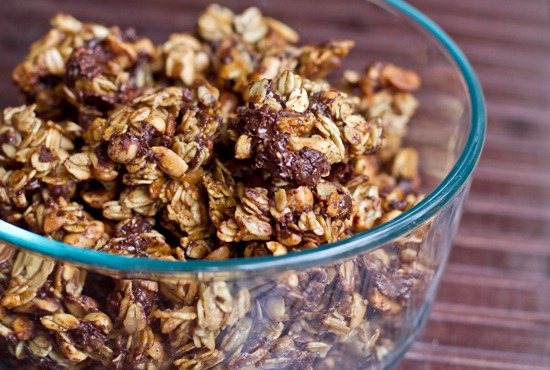 I dreamed of crunchy and clumpy, warm, chocolaty granola cascading over the top of a bowl of cold Banana Soft Serve. It was just the thing to give me hope that renos would some day come to an end.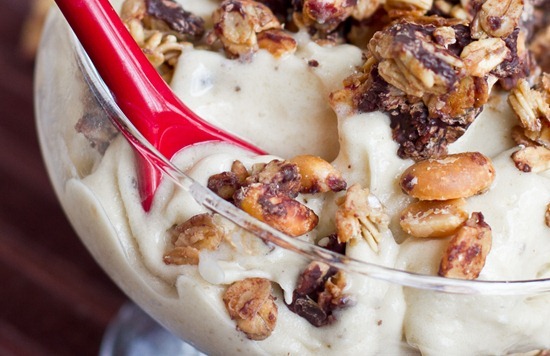 Because when you've been wearing red plaid PJ's and clogs for a week straight, hope is all you have!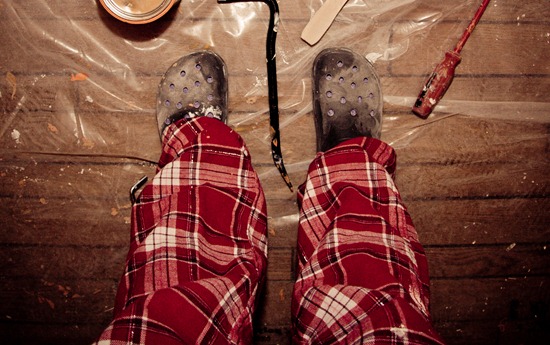 [print_this]
Chocolate Crunch Dessert Granola
Yield: ~6 cups
Ingredients:
2 & 1/4 cup regular oats
1/2 cup peanuts (or whatever nuts you prefer)
1/2-3/4 tsp kosher salt, to taste (I used 3/4 tsp)
2 tbsp peanut butter (or other nut butter)
1 tsp pure vanilla extract
1/3 cup + 2 tbsp brown rice syrup (this gives the clumpy factor)
3 tbsp coconut oil
1 & 1/4 cup dark chocolate chips
Directions:
1. Preheat oven to 325F and line a baking sheet with parchment or a non-stick mat.
2. In a large bowl, mix together the dry ingredients (oats, salt, peanuts). In another smaller bowl, stir together the oil, brown rice syrup, and peanut butter. Heat in microwave for about 45 seconds. Stir well and stir in vanilla.
3. Add wet to dry and stir very well until oats are coated. Spread on baking sheet and bake at 325F for 20-25 minutes, flipping once half way through (it will be very sticky, not to worry!). Allow to cool on baking sheet for about 30 minutes before transferring into a container. I store mine in the fridge to keep the chocolate firm. Makes 6 cups.
Note: You can probably substitute other liquid sweeteners for BRS and other light-tasting oils for coconut oil. The Brown Rice Syrup makes it quite clumpy though, so I prefer to use that sweetener in granola!
[/print_this]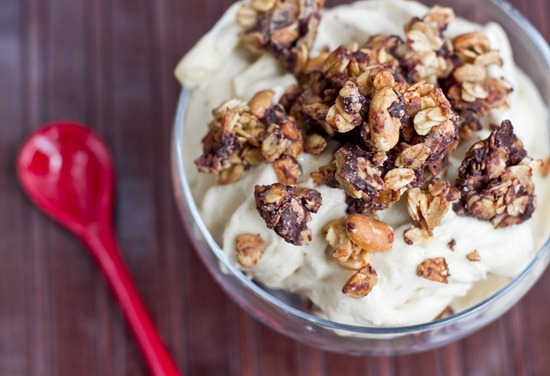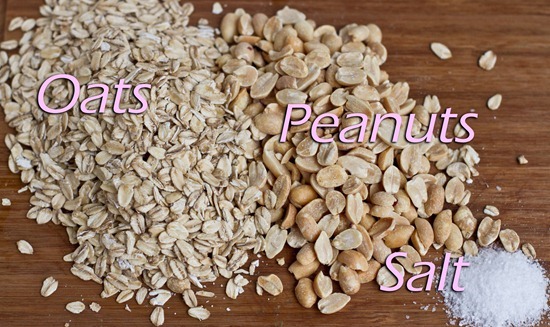 Luckily for me (and my sore arms!), this recipe was quick and easy. It only takes 5 minutes to throw this together and pop it into the oven.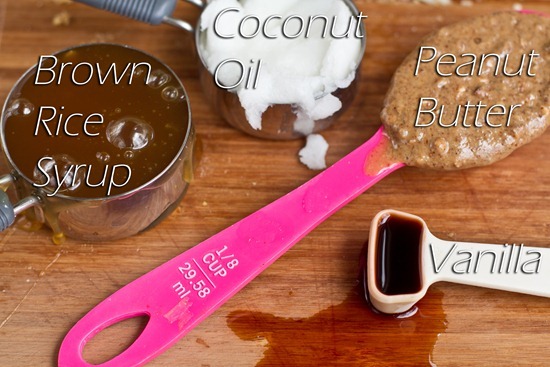 The most important ingredient to your dessert granola: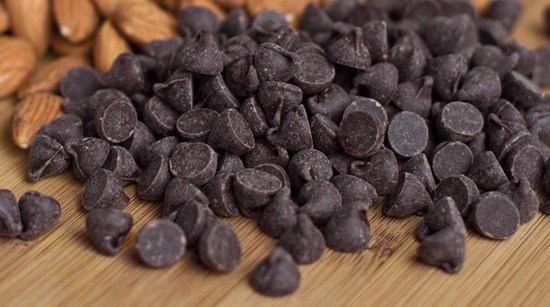 You know the drill by now…mix the dry ingredients in a large bowl. Then mix the wet (heat up in microwave), and then add wet to dry and stir well.
Add in chocolate chips…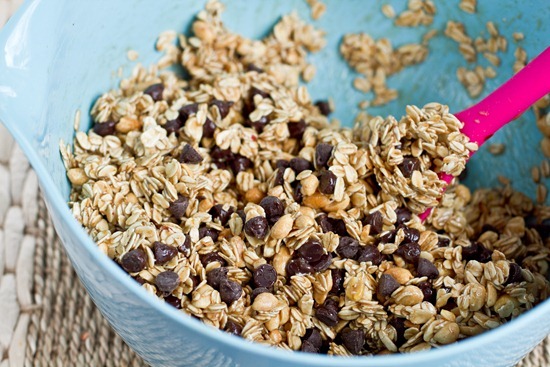 Spread onto your prepared baking sheet.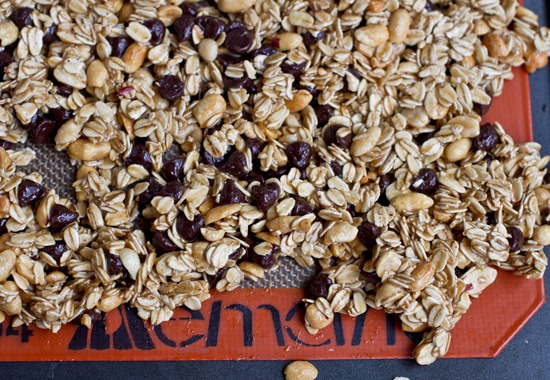 Bake for 23-25 minutes at 325F, flipping once half way through. Cool for 30 minutes (if you can!)
This is what I'm talking about!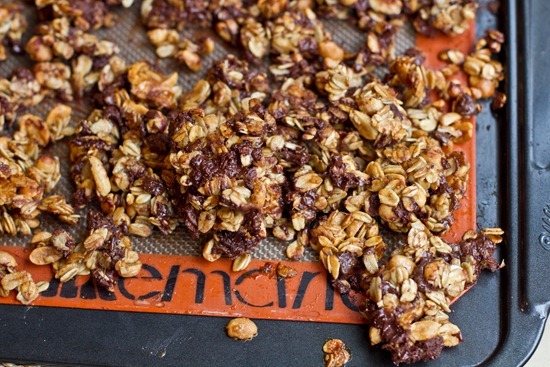 The result is a super clumpy and chocolaty dessert granola….without being too sweet.
I served some granola warm over Banana Soft Serve and it was to die for! It is also really good on cereal and VOO.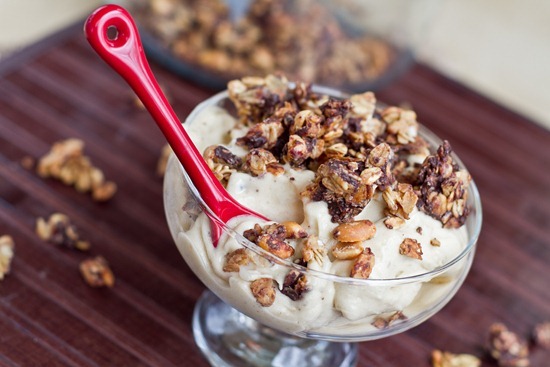 As for those renos, we did 3 coats of paint yesterday and also installed the wainscoting. The room is looking awesome! We now have to paint the wainscoting and finish up a few details. I'm going to wait to show you the rest of the pictures until we are done! It will be a fairly dramatic before and after, I'm hoping… :)
I also have an 11-mile long training run to tackle today…after skipping a few workouts for renos. Something tells me this isn't going to be easy!