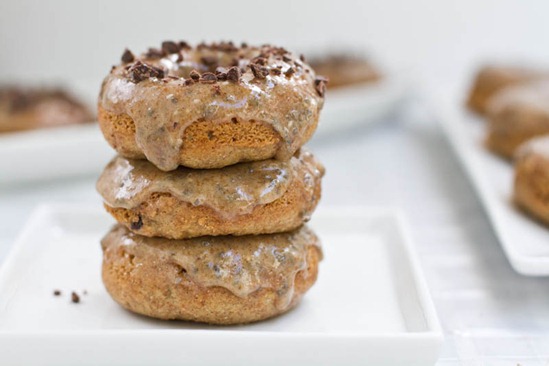 So, I couldn't stop after the pumpkin doughnuts.
You know I can't stop at just one when I make something that tickles my fancy. The wheels got turning yesterday and before I knew it, the most insane doughnut appeared before my eyes.
This is what you get when you combine a delicious whole wheat doughnut + chocolate chips + mouth-watering cookie dough glaze…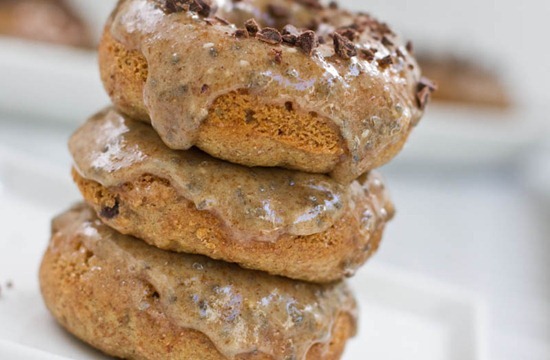 Key words being: Cookie Dough Glaze!
[print_this]
Chocolate Chip Whole Wheat Doughnuts
If chocolate chip cookies were in doughnut form, these are the ones. The cookie dough glaze is like raw cookie dough batter, only silkier, dreamier, more tempting. I can imagine these being served for a birthday dessert because they are a luxurious and rich dessert to celebrate! Be sure to make the cookie dough glaze to go with it (see below)…you won't be sorry!
Ingredients:
1/2 cup non-dairy milk
1/4 cup Earth Balance, melted
3 tbsp applesauce
1 tsp vanilla extract
1/2 tsp apple cider vinegar (or white vinegar)
1 cup whole wheat pastry flour (or all purpose)
1/2 cup organic cane sugar (or white sugar)
1/2 tsp kosher salt
1/4 tsp baking soda
2 tsp baking powder
1/2 tsp cinnamon
1/3 cup chocolate chips
Cookie Dough Glaze (see below)
1. Preheat oven to 350F and grease doughnut pans with Earth Balance. Set aside.
2. In a large bowl, whisk together the wet ingredients (milk, Earth Balance, applesauce, vanilla, vinegar). Sift in the dry ingredients and stir until just combined.
3. Fold in chocolate chips.
4. Bake for 12 minutes or until doughnuts gently spring back when touched.
5. Meanwhile prepare the cookie dough glaze (below). Remove the doughnut pan from oven and cool in pan for 10 minutes. With a butter knife, carefully remove the doughnuts and place on cooling rack for another 10 minutes.
6. Dip doughnuts into the glaze and serve immediately. Doughnuts keep for 2-3 days. I suggest not putting the glaze on until just before serving.
[/print_this]
While the whole wheat doughnuts were baking, I whipped up this easy cookie dough glaze that is so mouth-watering I almost forgot about the doughnuts in the oven.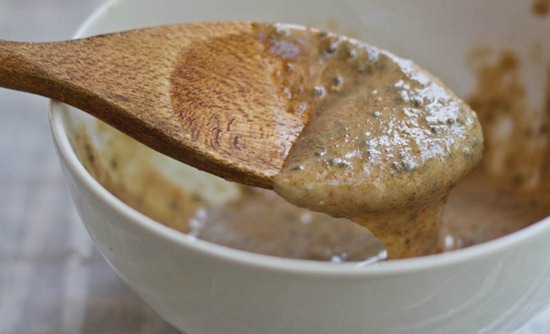 [print_this]
Chocolate Chip Cookie Dough Glaze
Like raw cookie dough in a glaze form. My goal for this glaze was to take my beloved raw cookie dough and thin it out, while making it even more luxurious and silky at the same time. The outcome was so mouth-watering, I almost jumped for joy when I tasted it.
Inspired by How Sweet It Is and Chocolate Covered Katie.
Ingredients:
1/4 cup + 1 tbsp non-dairy milk
1/4 cup cashew butter
2 tbsp Earth Balance, melted
1/4 cup whole wheat pastry flour
1/4 cup organic cane sugar (or just use white sugar)
1/4 tsp kosher salt
1/4 tsp cinnamon
1 tbsp chia seeds (optional, but thickens it up a bit)
1 tsp vanilla extract
1. Add all ingredients into a food processor and process until smooth. Makes 1 cup.
[/print_this]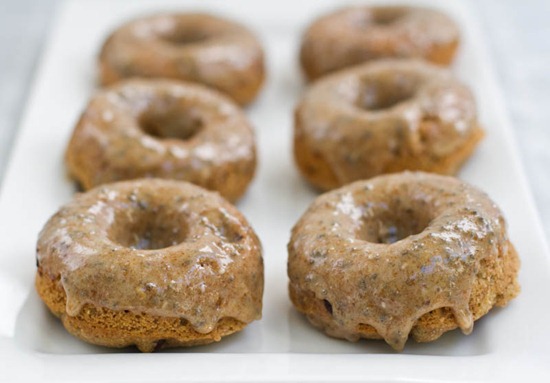 The outcome = chocolate chip cookies + cookie dough in doughnut form. Definitely a winner!!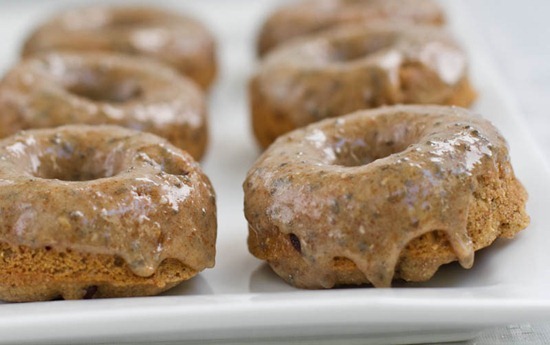 Stick a few candles in there and you have yourself a fun birthday dessert.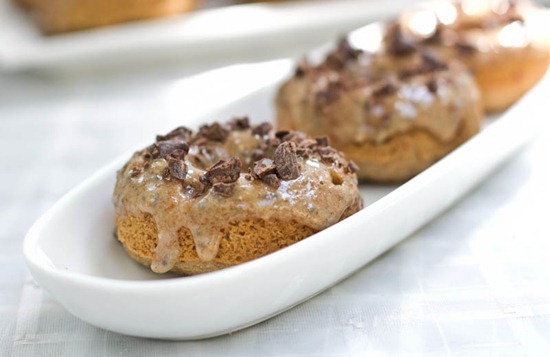 Eric loved these doughnuts so much he jokingly suggested I sell the recipe to Tim Horton's or Dunkin Donuts. ;) I'm not sure if they could handle all this vegan goodness, but I know you guys can!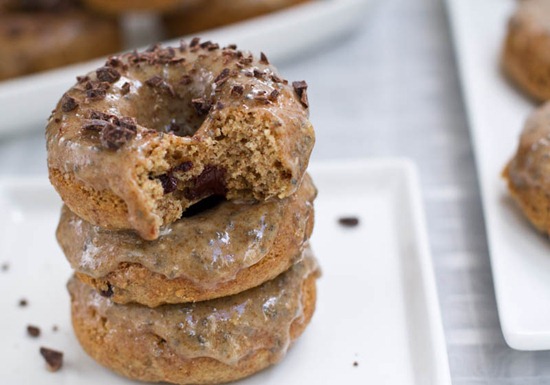 Blendtec Giveaway Winner!
A huge congratulations to Kayla! You are the lucky random winner of the amazing Blendtec machine.
Kayla wrote, "Oh my. So many comments already! But I really need a blender as I can't afford one and I love the taste of green monsters! I want to have them everyday it's just a matter of getting a blender for myself.."
I have emailed Kayla this morning to collect information and I will ship this out ASAP. Thanks to everyone for participating and making this the biggest giveaway ever on Oh She Glows!