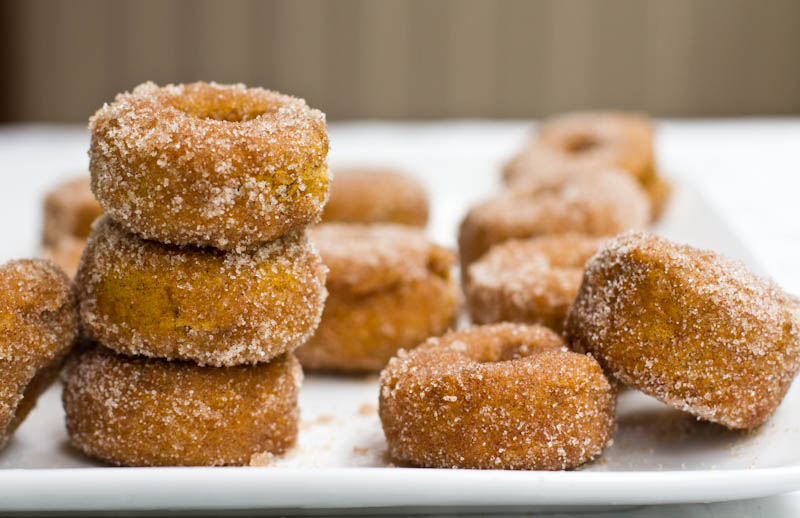 Back in the day, I used to do everything in my power not to cook.
Bagged iceburg lettuce with dried out carrot shreds? I can learn to love it.
Microwave dinners with rubber chicken? A bit time consuming (4-5 mins!), but doable.
Skillet Sensations? Gourmet, romantic meal for two (Eric would make these for me in university! swoon)
Grilled cheese? Eric's fav. 'meal' that I made. I'm not sure what this means.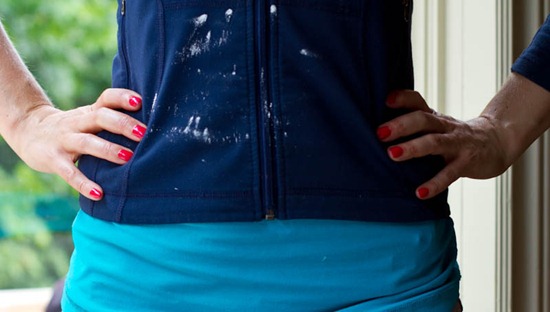 There was a lot of love in those meals, but not much…quality. I feared the unknown with cooking, so I never really ventured out of my comfort zone.
Plus, I had crap to do. Always crap to do. Books to read. Classes to skip. MSN to chat on. Bars to hop. Heels to break in. Thanks to my sweet tooth I always enjoyed baking, but cooking never called out to me like the Betty Crocker Cake Mix in the pantry.
I was the girl who used to mix cake mix with milk and eat the raw batter straight up out of a mug. I wouldn't make this stuff up. It was awesome.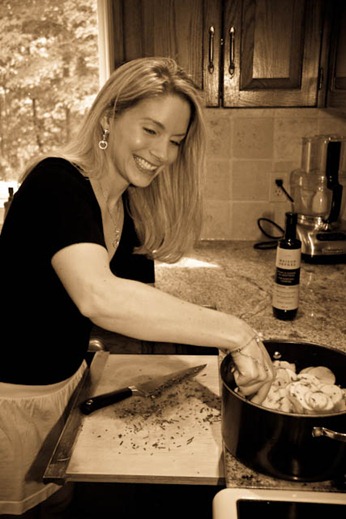 It's funny though, when I'm really challenged, a fire is lit inside me! Eating a vegan diet forced me to learn how to cook, enjoy the process (not just end result), and use my creativity whenever possible. When I first stopped eating animal products I lived off fake meat like veggie dogs, but that got old quickly and left me yearning for unprocessed meals made from scratch. Vegan cuisine opened my eyes to many different types of foods and ingredients and ignited a passion for cooking, dare I say, as much as baking.
If I can go from eating Lean Cuisines and bagged salad to cooking meals made from scratch, I think there is hope for every fearful cook out there! The more I cook, the less intimidated I feel; especially when it comes to cooking for others.
Which brings me to our family gathering on Sunday celebrating Eric's birthday!
Mary (left) and Brendon are visiting us from Ireland. Brendon is my mother-in-law Margaret's brother (one of her 10 brothers!)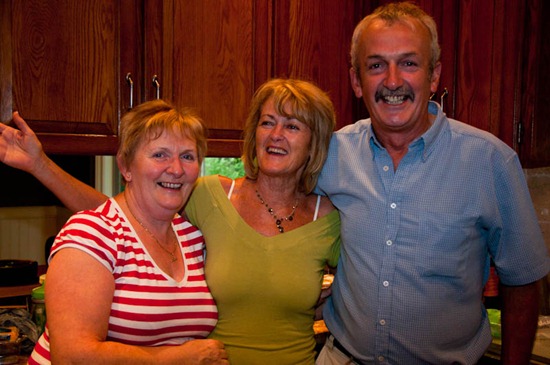 Every time Brendon curses he says, "Pardon my Irish"
Love this crazy man. heheh.
Let's see, I made…Vegan Cheeze Burgers.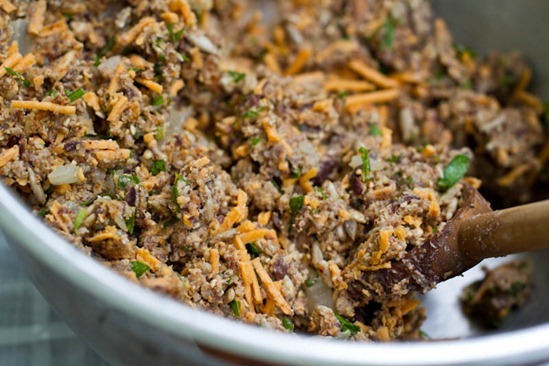 I made a spin-off of Our Perfect Veggie Burger using Daiya cheese.
Changes I made to the original recipe:
I used one entire 15-oz can black beans instead of 1 cup of beans
I used 1.5 cups Daiya cheese instead of 1 cup grated carrot
I used 1/4 cup chopped almonds instead of 1/3 cup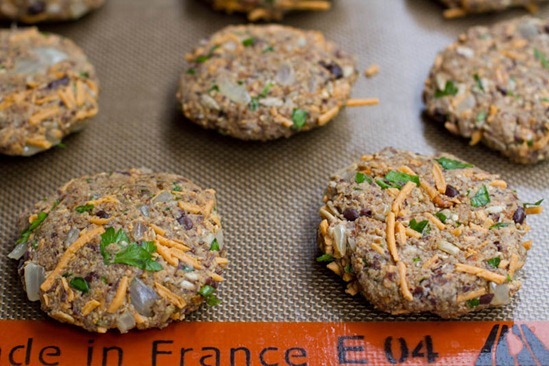 The Vegan Cheeze Burgers turned out just how I was hoping! Cheezy and delish.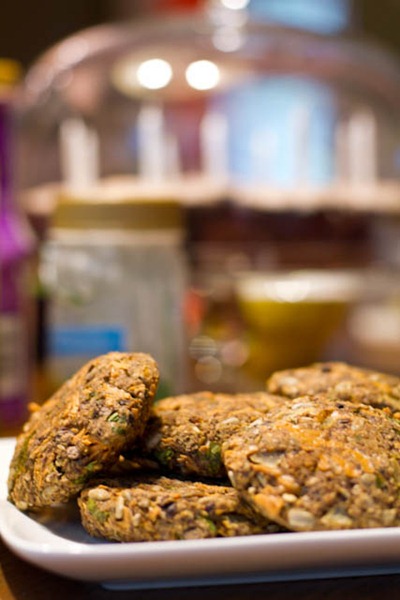 I pre-baked the burgers for about 20 minutes in the oven and when Eric BBQ'd the meat, he added the veggie burgers on for the last 5-10 minutes of grilling.
I also sautéed some Crimini mushrooms to go with the burgers…my all-time fav burger topping! With a sprinkle of Herbamare of course.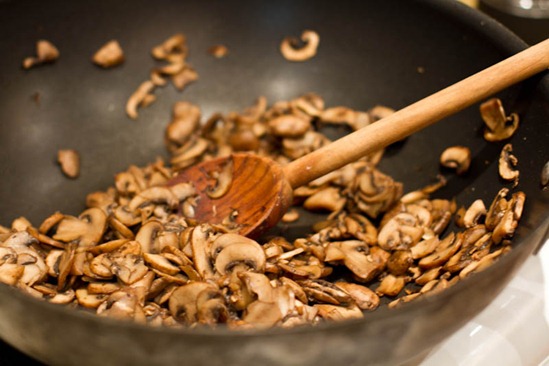 Next, I made an old favourite- Pumpkin Spiced Doughnuts! Oh yes, I broke out a can of pumpkin. I can't be tamed.
Do any of you remember when I went through a vegan doughnut baking phase back in 2009? I was obsessed with making these things!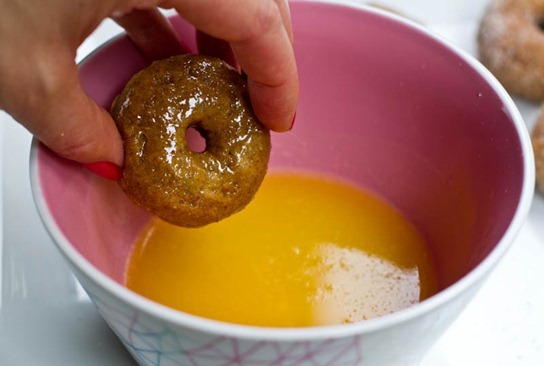 I fell off the wagon for a couple years, but it was fun to make them again and use those doughnut pans that have been collecting dust. The mini and regular pans are from Golda's Kitchen.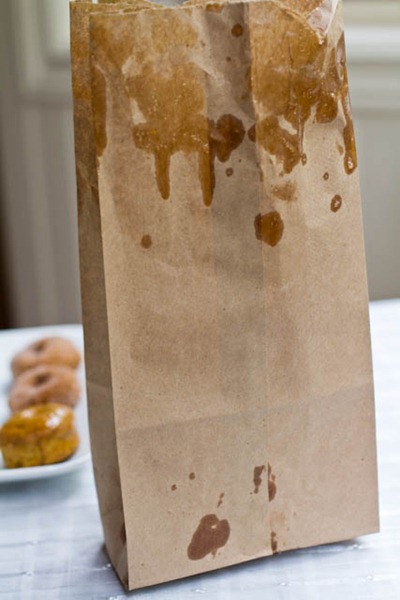 A pumpkin doughnut isn't a pumpkin doughnut until you cover it in melted Earth Balance and cinnamon sugar! True fact.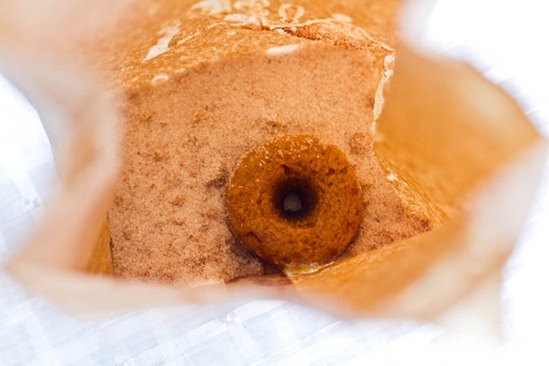 I tested them again with icing sugar glaze, but the Earth Balance and cinnamon sugar mixture was by far the best! The Earth Balance added a bit of a savoury, buttery quality which was a nice contrast with the sugar.
Drooling inevitable. Eating inevitable. Breakfast? Obviously.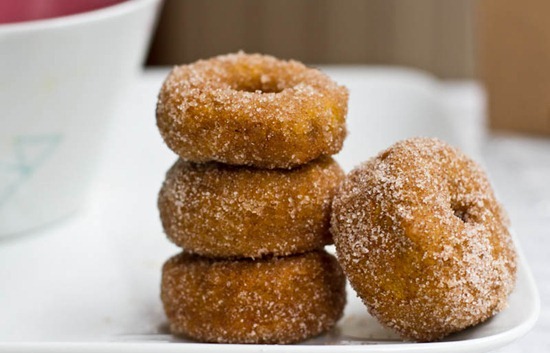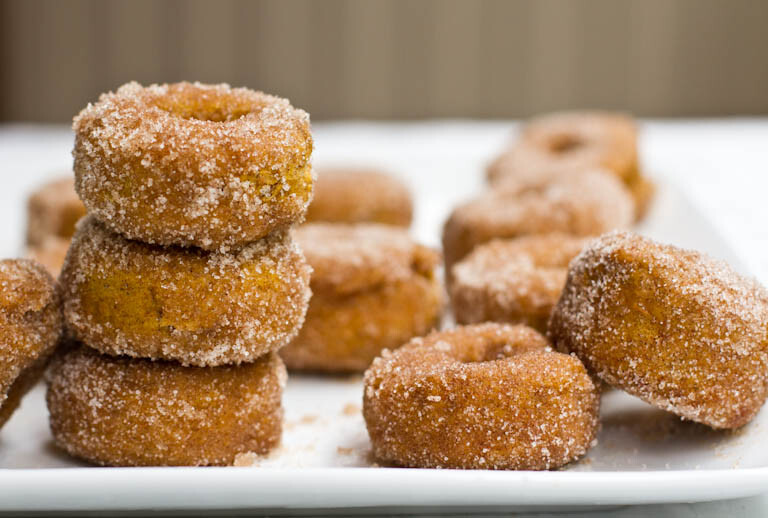 Cinnamon Sugar Pumpkin Spiced Doughnuts

Yield

24 mini or 12 regular-sized doughnuts
Prep time

Rest time

15 minutes
Cook time

Total time

Ingredients
For the pumpkin doughnuts:
1/2 tsp apple cider vinegar (white vinegar may work)
6 tbsp non-dairy milk
1/2 cup fresh or canned pureed pumpkin
1/4 cup organic cane sugar (or white)
3 tbsp unsweetened applesauce
2 tbsp lightly packed brown sugar
2 tbsp Earth Balance (or other non-dairy butter substitute), melted
2 tsp baking powder
1/4 tsp baking soda
1 tsp cinnamon + 1/2 tsp ginger, + 1/4 tsp nutmeg (or 1.75 tsp pumpkin pie spice)
1/2 tsp kosher salt
1 cup all-purpose flour
1/2 cup whole wheat pastry flour
For the cinnamon sugar
1/4 cup Earth Balance (or other butter sub), melted (approx estimate only)
1/2 cup sugar
1/2 tsp cinnamon
Directions
Pumpkin Doughnuts: Preheat oven to 350°F. Grease two mini doughnut pans or two regular sized doughnut pans with Earth Balance (or other butter substitute).
In a large bowl, whisk together the vinegar, milk, pumpkin, sugar, applesauce, brown sugar (sift if clumpy), and melted Earth Balance (or other butter sub).
Sift in in the dry ingredients (baking powder, baking soda, spices, salt, and flours). Mix until just combined. I didn't sift as I was lazy.
Using a 'zip-lock' baggie or pastry bag, spoon the batter into the bag and then secure it with the zip lock or rubber band. Twist the bag slightly and then cut off a hole at the corner to 'pipe' out the batter. Pipe the dough around the circle and gently flatten down with slightly wet fingers to smooth. Repeat.
Bake for 10-12 minutes at 350°F or until they gently spring back when touched. Cool in the pan for 10 minutes before carefully using a butter knife to remove. Place on cooling rack for another 10-15 minutes.
Cinnamon Sugar: Melt Earth Balance in a small bowl and dip the cooled doughnuts into butter one at a time. Transfer the dipped doughnut into a bag with the cinnamon sugar and shake until coated thoroughly. Doughnuts keep for 2-3 days.
Nutrition Information
(click to expand)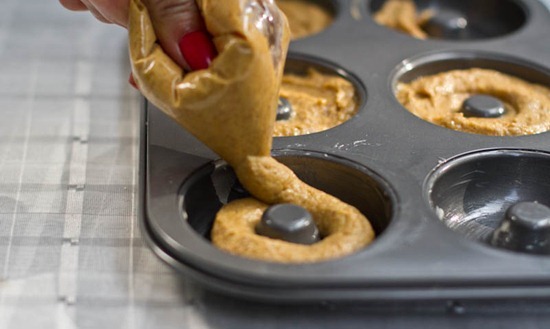 These doughnuts were a hit at the party! Everyone seemed to love them.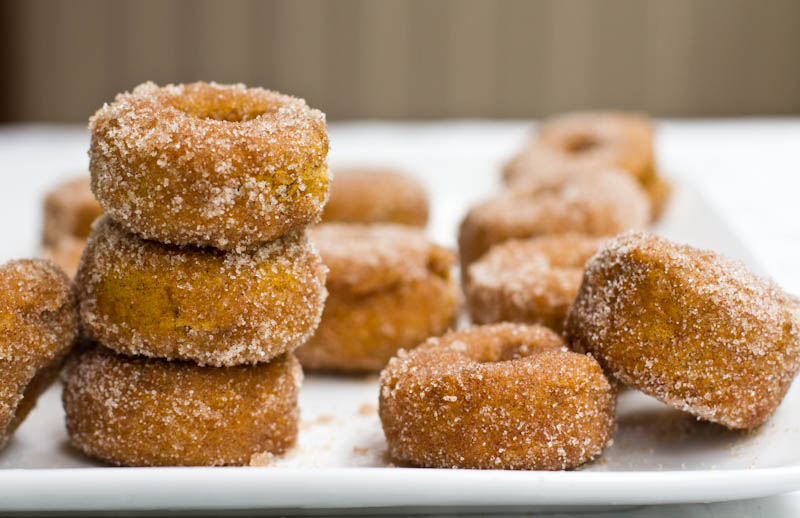 Of course, you can leave the cinnamon sugar off, but I highly recommend it. ;)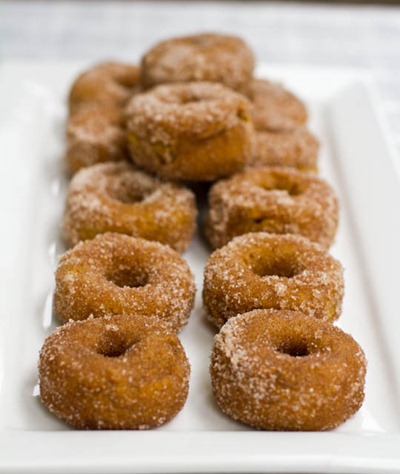 This is the post that never ends…
Next up, my all-time favourite vegan chocolate cupcake recipe made another appearance! Everyone always requests these when we have a family get together. I added a little POM juice and almond extract instead of almond milk and vanilla to give the frosting a bit of fruity flavour. It was decent, but I definitely prefer my Spiced Buttercream over this one.
Then I made my go-to Pico de Gallo and Guacamole. Went fast!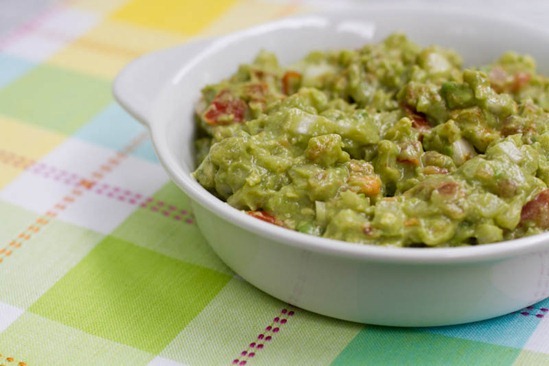 Appetizers (with a cheese plate from Ewa and Dave)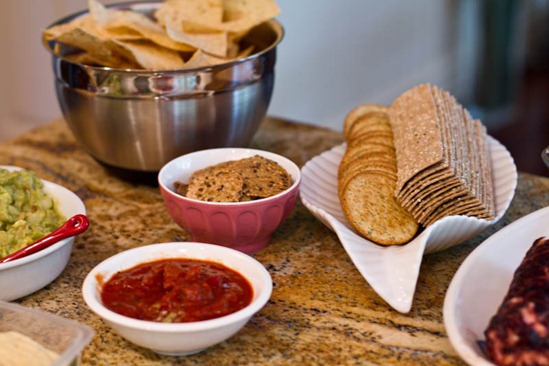 Finally, I made baked potato CHIPS!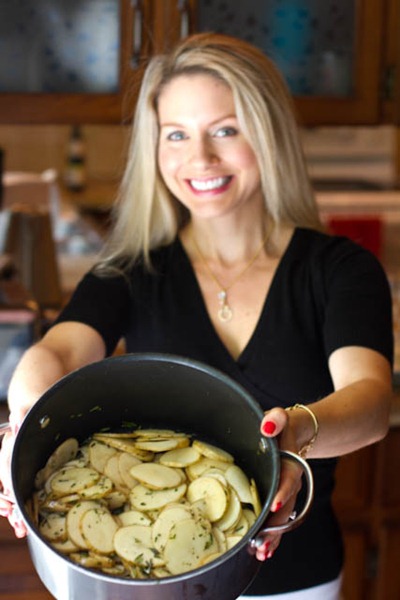 Rosemary, Olive oil, and sea salt flavour. I was going to make my favourite Salt and Vinegar chips, but I wasn't sure if everyone else enjoyed S&V, so I opted for the safe flavour. If I was making them for just myself, I would have made the salt & vinegar by a landslide! They really do taste like salt & vinegar chips.
The rosemary-olive oil-sea salt chips were the biggest hit of the night and there was not a chip to be found after we made our round.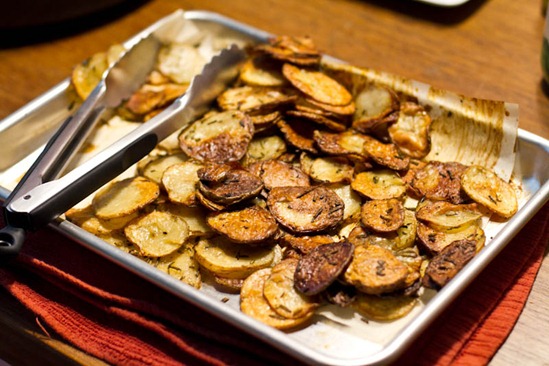 Rosemary Olive Oil Sea Salt Chips
Ingredients:
10 medium potatoes (estimate only)
4-5 tbsp minced rosemary
2 tbsp olive oil
Sea salt (I used Herbamare) and freshly ground black pepper, to taste
1. Preheat oven to 400F and line two large baking sheets with parchment paper.
2. Slice potatoes into thin 1/8-1/4 inch rounds (I did not peel first).
3. In a large bowl, coat sliced potatoes in 2 tbsp olive oil, 4-5 tbsp minced fresh rosemary, and salt & pepper.
4. Bake for 30 minutes at 400F. After 30 minutes, flip, and bake for another 10-20 minutes (watch closely) until crispy and golden. Season to taste (they were better with even more Herbamare, don't be shy!).
For my Salt and Vinegar chips, see this post.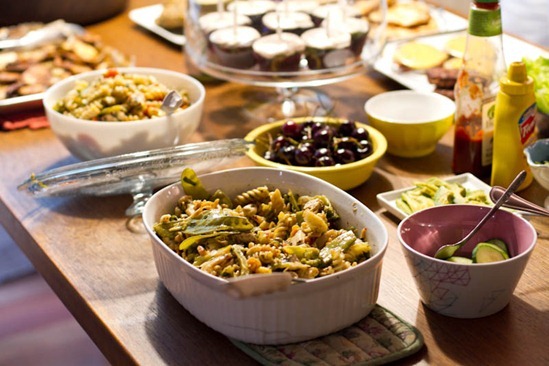 My mother-in-law made her famous chicken pasta (with a vegan one for me), Dave & Ewa brought appetizers, and Mary and Gerry brought a salad. We had so much great food.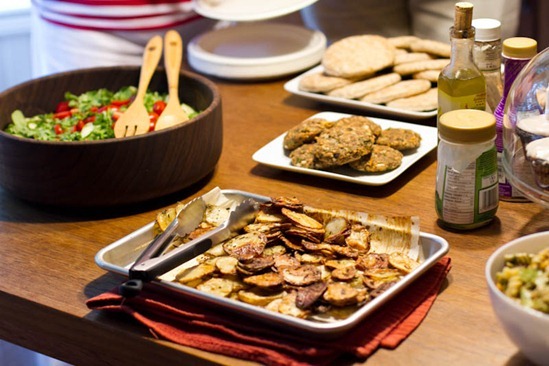 My plate: Vegan Cheeze burger with tomato, cuke, avocado, rosemary chips, sautéed mushrooms, salad, and I went back for some vegan pasta after I cleared my plate.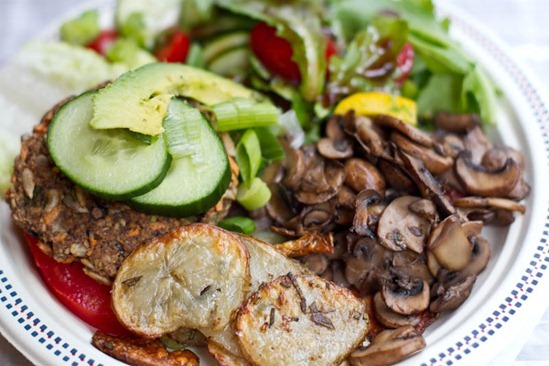 For dessert, I had a doughnut, half a cupcake, and lots of fresh cherries.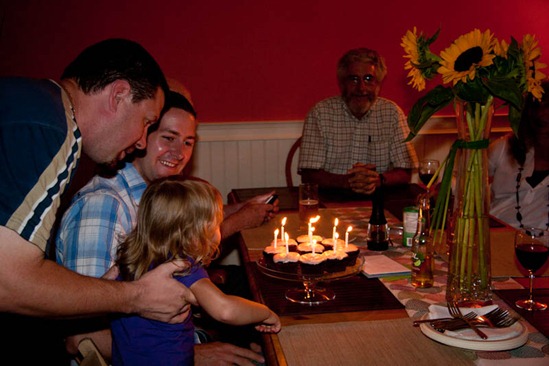 Our niece Gabriela helped with Eric's birthday candles. :)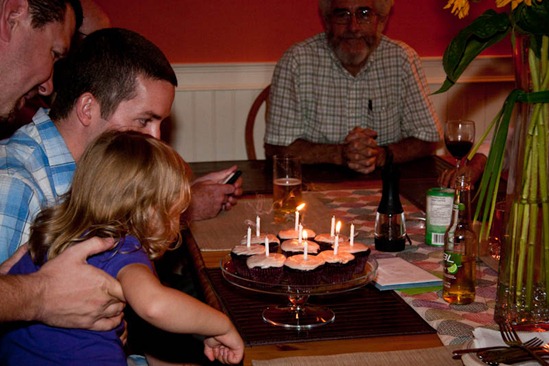 After gifts, we Skyped with some family in Ireland!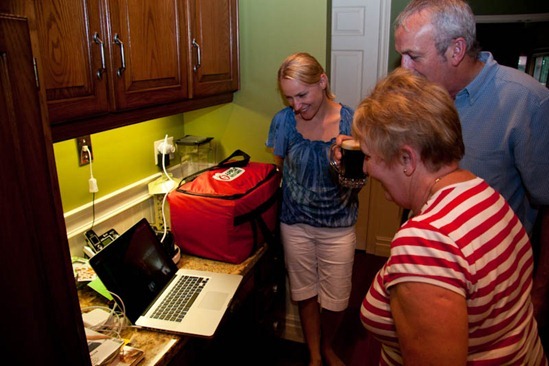 And then Brendon broke out the shots! and more shots. and more shots. ;) I could not partake as the Baby Guinness shots weren't vegan. I was a bit bummed about that because I love doing shots (I'm weird)…so I drank my wine like a champ instead.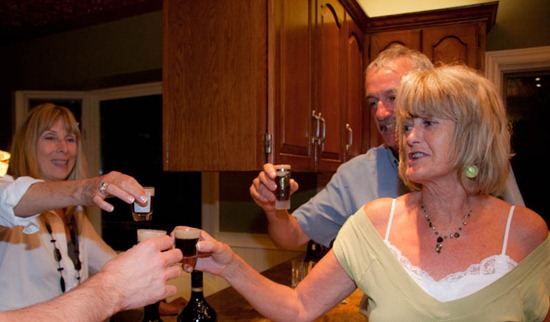 Eric and I currently have an invitation to go to Ireland and stay with Mary and Brendon for as long as we want. They even said they'd give us a key to their house!
(I doubled checked this statement Monday morning after the alcohol wore off and it still stands.) Whew.
Ireland, here we come?