Good morning!
Our good weather has come to an end. The weatherman is saying that we are supposed to get rain all weekend long! What a mood kill!! Thankfully I have some fun indoor shopping plans on Saturday with Krissy. We are going to a huge outlet mall and I hope to snag a couple of deals for our trip. Shopping is so much better when it is raining outside, isn't it?
I started my morning off with some Bootaaaay! I did about 20 minutes of the cardio quickie from the Booty Camp Fitness DVD. Love, love, love this DVD.
I have done about 5-6 weeks of the booty camp now and I have noticed a lot of great changes in my body and I have built a ton of muscle. When I started the DVD back on Feb. 1st it was a sad sight. I could barely crank out TWO full push-ups! Now I am happy to say that I can do about 8-10! I have yet to wear my knee sleeves this season because my legs just feel all around stronger now as compared to last year. It is pretty exciting what strength training can do.
I used to be a huge cardio junkie. I would only do cardio day in and day out. I never saw any changes with my body which wasn't too surprising!
I will be bringing the DVD with me on our trip to Florida. The great thing about it is that the exercises require no equipment, so I can do the DVD anywhere. Just pop it in my suitcase and go. The Booty Camp DVD might be available for purchase online in upcoming weeks, but this has not been verified. I will let you know when I find out any info! :)
Following the booty camp I did a 20 minute Hip Opening Flow yoga class from Yoga Download. I have been doing about 5 minutes of yoga a few times a week, but today I felt like doing something a bit longer. Plus, running and strength work make my legs reeeeeally tight!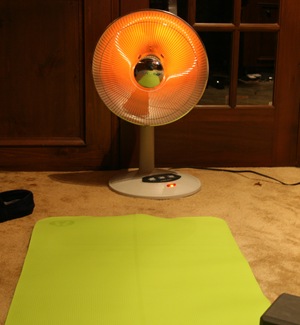 By this time, I worked up an appetite and had an awesome post-workout green monster: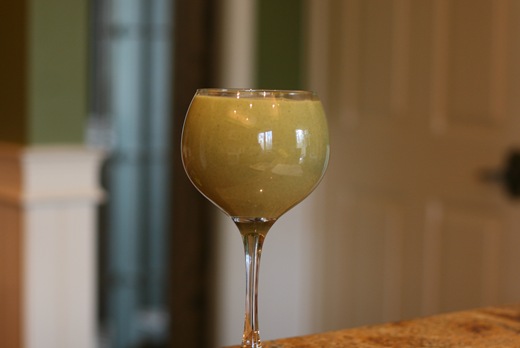 Post-workout
GM
:
1.25 cup almond milk,
.75 cup spinach (ran out!)
1 scoop Amazing Grass chocolate meal,
1 frozen banana,
ice,
chia seeds,
1/4 cup oats,
1 tablespoon cashew butter
A meal in a glass!
This GM is about 450-475 calories and packs a ton of protein, fibre, vitamins, healthy fats, and minerals!
And now it is time to share with you some of my favourite health links of the week…
Health News Round Up
Is hooping the next big fitness craze? – NY Times
A vertical marathon? One woman is climbing all 7 continents for women in the Congo – That's Fit
Secret of success: Sneak in more exercise – Daily Spark
Running: How to transition from the treadmill to the road – Fit Sugar
Hydrolyzed Vegetable Protein: What it is and where it is found: – CBC
Running Gear you don't need according to some runners – That's Fit
I'm working out, so why am I not losing weight? – Vitamin G
Raw Lemon Blueberry Scones – Fitnessista
Top 25 cardio workouts – Fitness
Currently drooling over: Mediterranean Black Bean Quinoa Burgers – The Voracious Vegan
All is right in the world: Sid the Kid's equipment is found – Hockey Canada
Is a thin body celebrated more than a fit one? – Daily Spark
Today's questions…
– What is your favourite health link from above?
– Do you do strength workouts on a regular basis or do you focus on cardio?
Have a great end to your week!