Greetings!
Luckily my mother-in-law warned me of an impending storm today (we might get a tornado tonight!), so that was inspiration to get in the run I was procrastinating all morning. I had a great 4.5 mile run in about 38 mins and a balmy 18C temperature. We are having a heat wave this week and it was so nice to run in the warm weather, even if it was raining.
As for the tornado warning, I'm hoping it doesn't get that ugly! Right now, it is quite windy and rainy and seems to be picking up…
In other news, I'm madly in love with these Healthy Strawberry Oat Squares.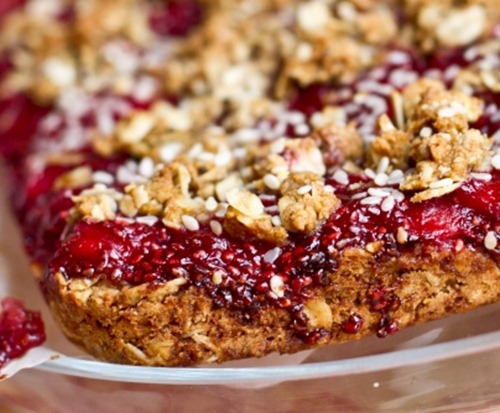 Crazy, in that I had to put them in the freezer immediately so I didn't eat them all and I should probably be committed or better yet, in a straitjacket.
Eric and I have been enjoying a square after dinner each night and we arm wrestled over the last square.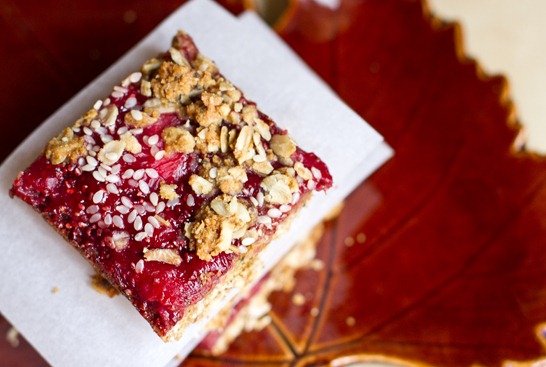 It wasn't pretty, but in the end he split it with me. ;)
As soon as I made the strawberry jam squares, my mind was flooded with ways that I could adapt them…
Apple
Pear
Pumpkin butter
Figs
Sweet Potato or butternut squash
Chocolate banana
Blueberry jam
Up second: Apple Streusel.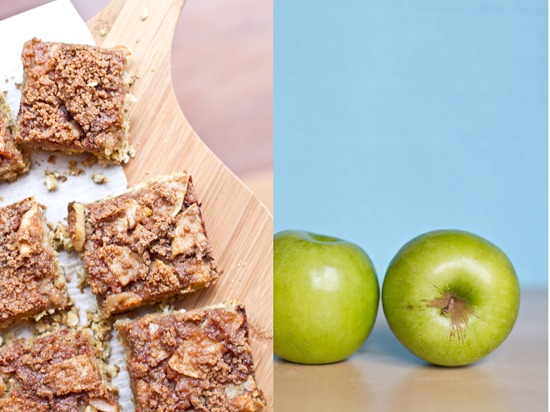 Yummy.
Ashley made the oat squares into a lovely apple variety, so I decided to follow suit and used her topping as a guide. I decided to make an apple streusel topping as well, adapting the topping from one of my favourite muffin recipes of all time.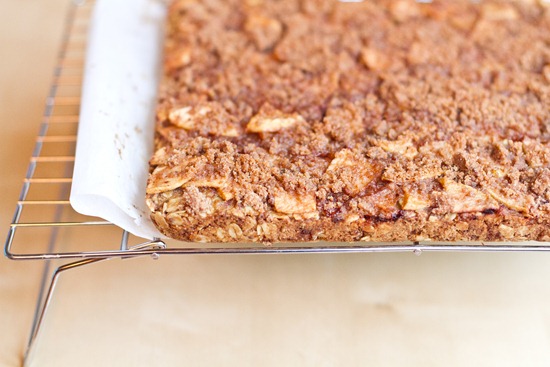 Buttery Apple Streusel Oat Squares
Adapted from Strawberry Oat Squares and pumpkin apple streusel muffins.
Ingredients:
For Oat Base:
1.5 cups regular oats
1 cup whole-grain Kamut flour (or whole wheat pastry flour or white/whole wheat)
1/2 tsp baking soda
1/2 tsp sea salt
1/2 cup Sucanat sugar (or brown sugar)
1 chia egg (1 tbsp chia seeds+ 4 tbsp warm water, mixed well and set aside for 5 mins)
1/2 cup + 2 tbsp Earth Balance, melted
1/4 cup pure maple syrup
1 tsp pure vanilla extract
2 tbsp almond milk
For Buttery Apple Mixture:
Ingredients:
3 granny Smith Apples, peeled, thinly sliced, chopped (makes approx 3 cups, chopped)
2 tbsp Earth balance or butter
1 tbsp maple syrup or brown rice syrup
1 tbsp Sucanat (or brown sugar)
3/4 tsp cinnamon
1/2 tsp ginger
1/4 tsp nutmeg
Pinch sea salt
Apple Streusel Topping:
Ingredients:
2 tbsp Sucanat (or brown sugar)
1 tbsp Earth Balance or butter
2 tbsp flour
1/2 tsp ground cinnamon
Directions: Preheat oven to 350F. Line a square pan (I used a 9×9) with parchment paper and oil the sides of the pan and base. In a medium sized pot, add the apple mixture ingredients (chopped apples, Earth Balance, brown rice or maple syrup, spices). Heat over low, stirring frequently for about 10 minutes, until the apples soften and mixture thickens up.
In a small bowl, mix the chia or flax egg and set aside. In a large bowl, mix the oat base dry ingredients: oats, flour, Sucanat/brown sugar, baking soda, salt. In a small bowl, mix the melted earth balance, maple syrup, almond milk, vanilla, and chia egg. Stir well.
Add the wet mixture to the dry and mix well, using hands if necessary. Set aside 1/2 cup of the oat base mixture if desired. Pour the oat mixture onto the square pan and press down with fingers. Use a pastry roller to smooth out if desired. Pour on cooked apple mixture and smooth out. Make the apple streusel topping by mixing all ingredients together with a fork or fingers. Now sprinkle on the reserved 1/2 cup oat mixture and apple streusel topping and sprinkle over top.
Bake at 350F for approximately 30 minutes. Allow to fully cool for at least 30-40 minutes before gently removing from pan. You can firm them up in the fridge before slicing into squares or bars. The bars also freeze very well (I place them into a container in the freezer).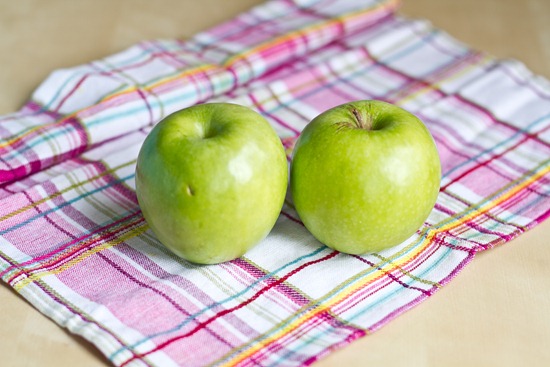 I ended up using three large Grannies when I decided that two wasn't enough for the topping!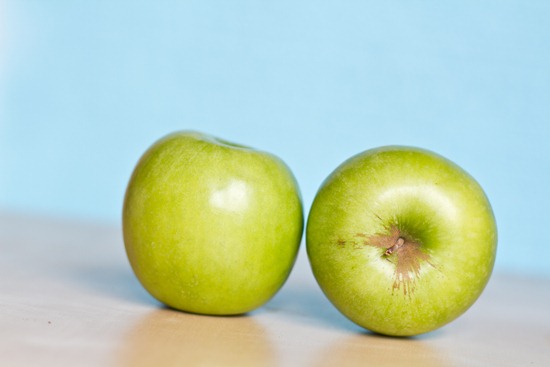 Peel the apples and slice, slice, slice and chop, chop, chop.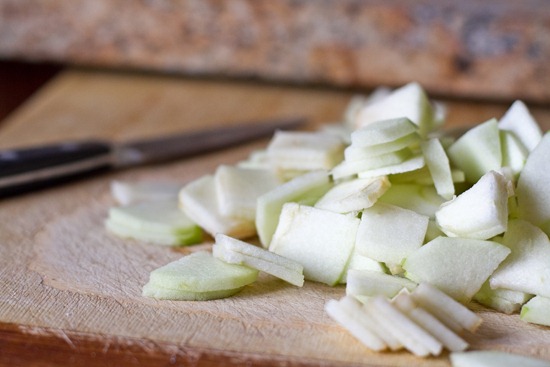 and eat the peel with some cinnamon sprinkled on with a bit of maple syrup. Keep that doc away! ;)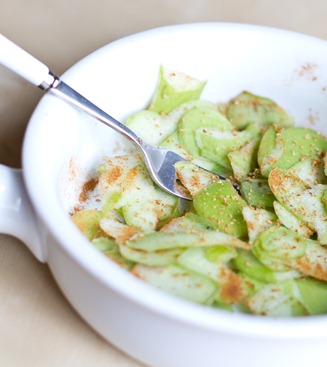 Make the apple mixture on the stove top.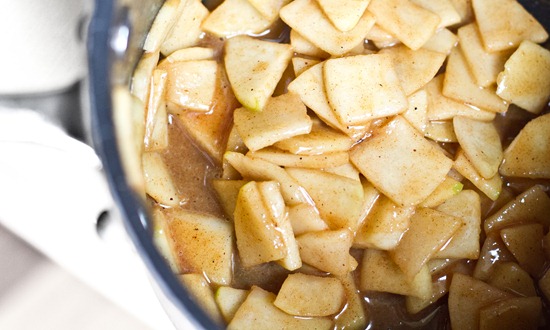 Mix dry ingredients.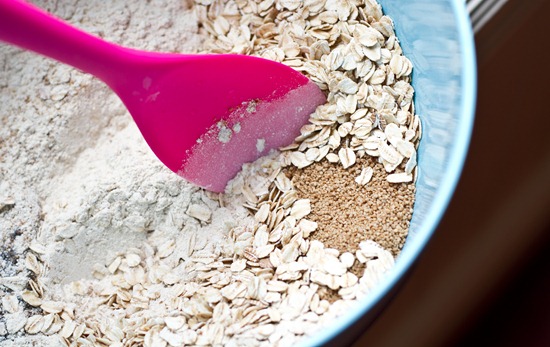 By mistake, I added the chia egg to the dry ingredients without thinking, but it technically should have been in the wet ingredients below. Rest assured if you do this too, it will still turn out! :)
Add wet to dry.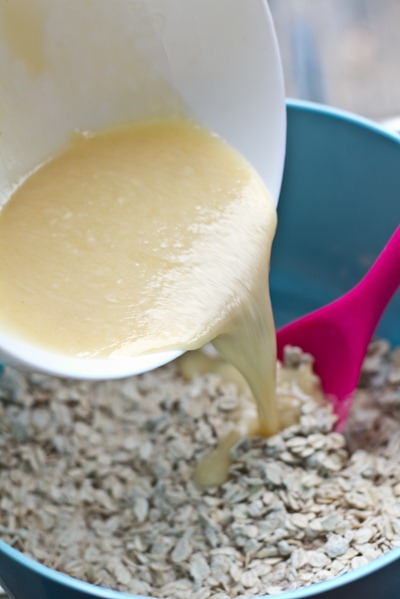 Mix it up!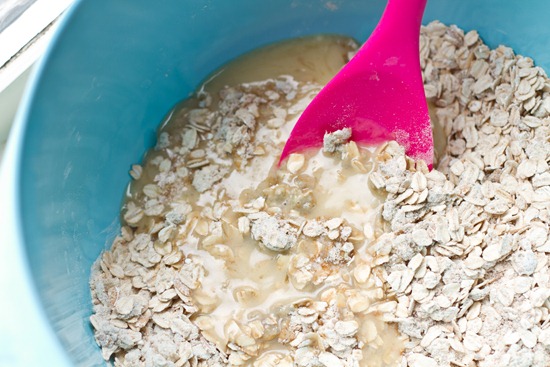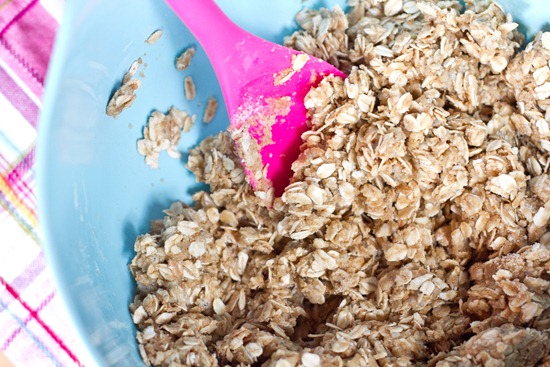 Spread and roll.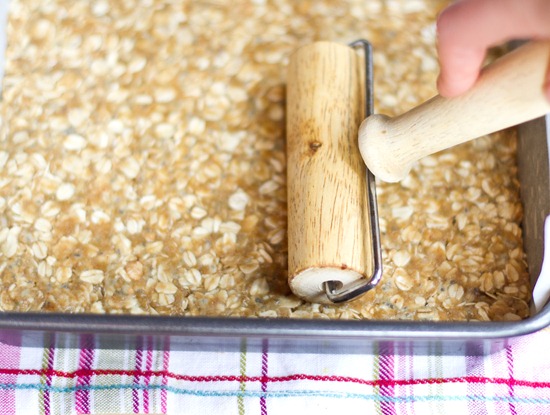 Add on Apple Mixture.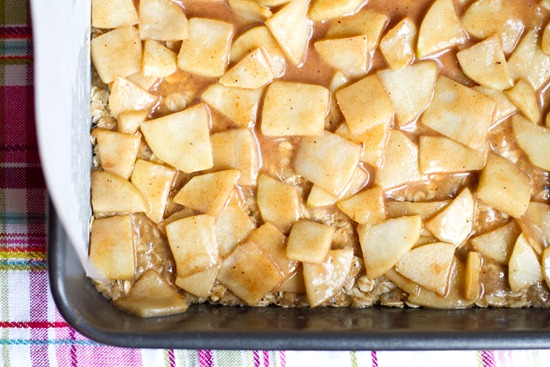 Admire the beauty before you.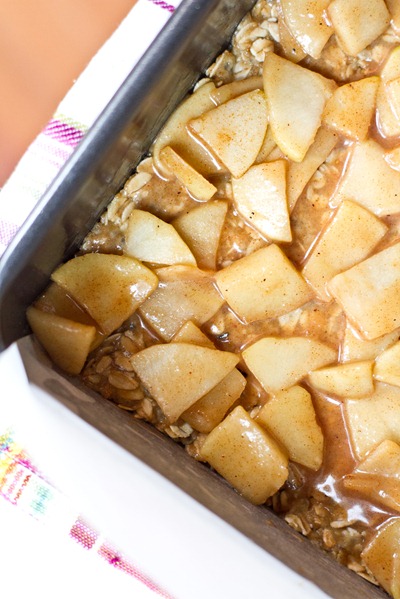 Make the cinnamon streusel topping.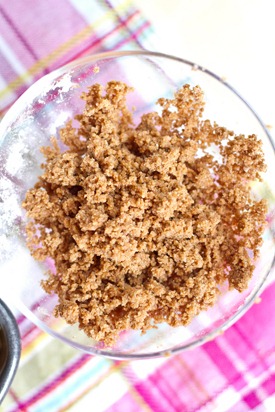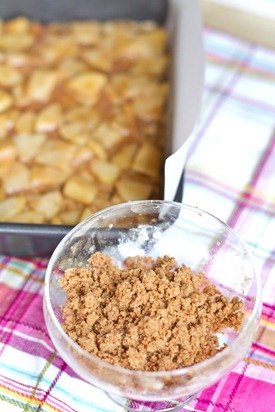 And cover the top.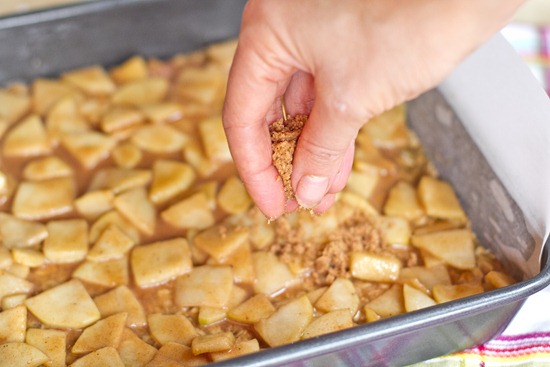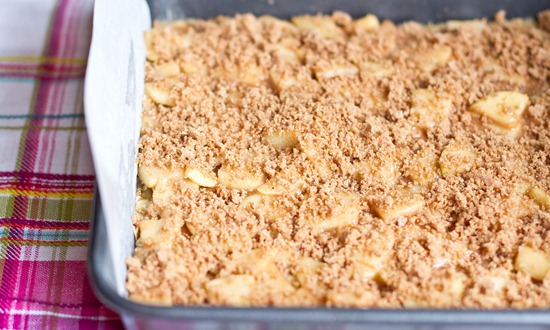 Freshly grated cinnamon on top, if desired.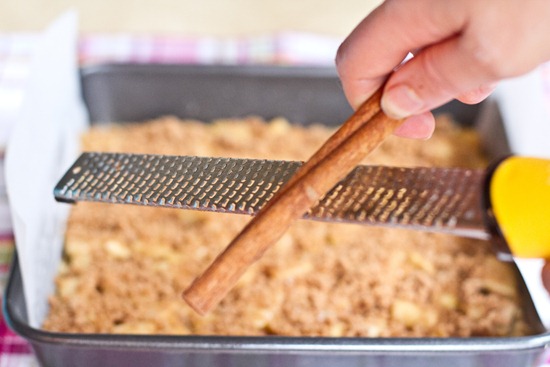 Bake for 30 minutes at 350F and then allow to cool for at least 30 minutes. You can also firm them up in the fridge before slicing as they will be crumbly.
You can make them into squares….triangles…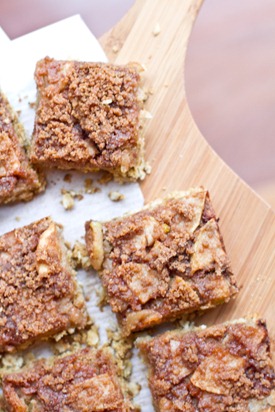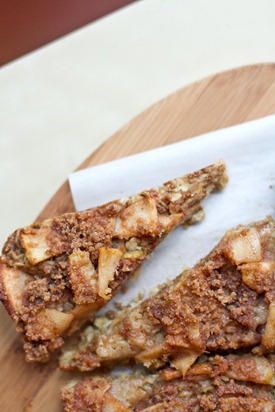 and even bars!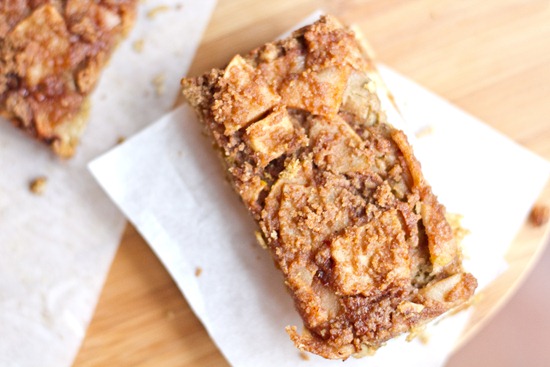 The verdict?
Delicious. Seasonal. Rustic. Not too sweet.
I forgot to reserve 1/2 cup of the oat mixture to sprinkle on top and I missed it. Next time, I would definitely do that again as it added a fun texture on top. They would also be delicious served with some vanilla ice cream or banana soft serve!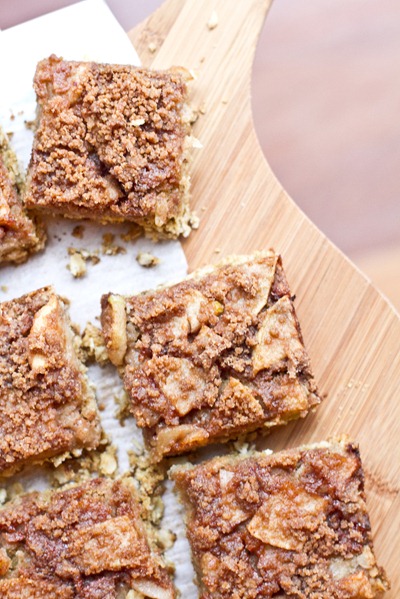 I think I still prefer the strawberry jam variety, but it is a tough call. Other votes shall be placed tonight during Hockey Night in Canada.
If you don't hear from me tomorrow, the tornado came for my baked goods. You will come looking for me, right?