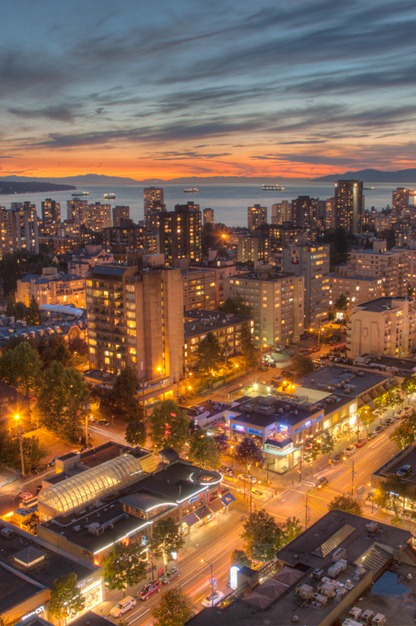 Eric and I agreed to a laid back celebration for our wedding anniversary a couple weeks ago. Homemade cards and a home cooked meal sounded perfect, we had said. I whipped up a killer meal and we were just about in heaven stuffing ourselves silly.
Eric kept asking me when we could open our cards.
"How about at the end of the night?"
"You don't want to just open them now…? I can't wait for you to see my card!!!"
"Really? Mine is nothing to write home about…"
After dinner, and more pestering by Eric, we finally opened the cards.
My card was taped closed and it read: "TOP SECRET! Do not open!!!"
Amused, I carefully pulled off the tape so I could open the card. Eric watched in anticipation. The inside of the card read: "We're going to British Columbia!!!" along with printed pictures of Vancouver, Victoria, and Whistler pasted all over the card. There was a road map with dates and everything all plotted out!
It was just about one of the best surprises I've ever had. Tears welled up in my eyes as I lurched across the couch to hug him silly.
We talked about going to B.C. earlier in the summer, but we were both too busy to take time off. I just gave up on the idea and hoped we'd make it next year. Little did I know, Eric was planning this trip for weeks, staying up late at night to plan while I slept. He researched, booked the hotels, read up on restaurants, and planned a few things to do in each city.
"Wait, there's one condition!! You have to agree to a few things I've planned…"
"Ok?"
"Zip-lining, cliff walking, and suspension bridges!"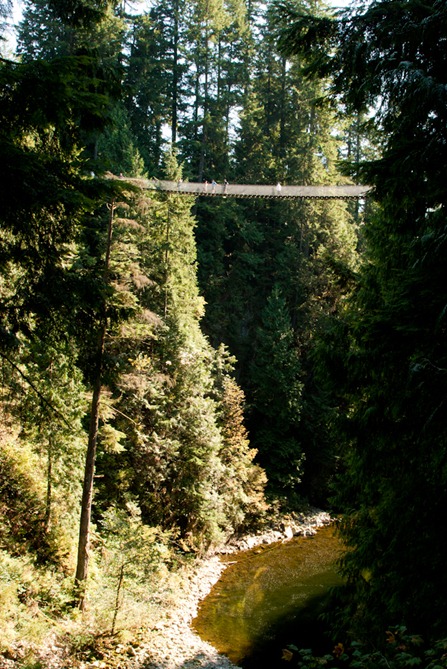 There's always a catch!
So here we are, two weeks later, enjoying a wonderful time in the beautiful British Columbia. Can you believe it's my first time in BC? Eric has only been to Vancouver once on a business trip, but didn't get to explore much at all. We're staying in Vancouver first, and soon off to Victoria and Whistler. I've passed two challenges with flying colours, although I'm quite scared for the 5 zip-lines I'll be flying down in Whistler!! If I live to tell you about it, you'll be hearing about it soon!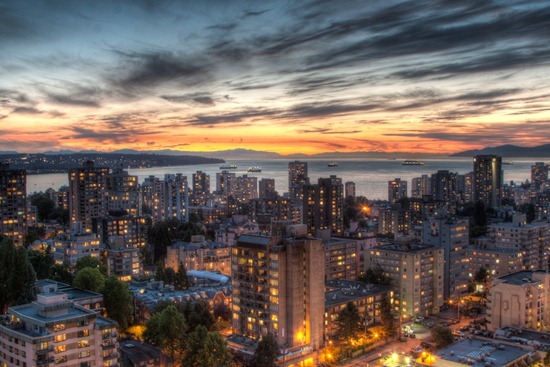 Here is a short summary of what we've been up to in Vancouver:
1. Hotel: Carmana Plaza
– Condo-style. Comes with complete full kitchen. Great if you like making breakfast or lunch in your own room before heading out. We're on the 29th floor in a premium suite and have a great view (see above pics). Free wi-fi. Cons: The bed isn't very comfy, it takes a long time for things to be brought up to the room, and parking is expensive and difficult to locate. The location of the hotel is great though and we're literally steps from all the shopping on Robson. See detailed room pics in album.
2. Capilano suspension bridge and park
A fun, touristy park that features a suspension bridge, cliff walking, treetop walking, and gorgeous scenery. I have a ton of pics from the trip – so be sure to check them out in the album!
3. Granville Island
This is a must-see! There are all kinds of artsy shops, including a large indoor public market. It was absolutely packed when we went on a Friday, off-season, so get there early as parking can be tricky to find.
4. Shopping
Our hotel is steps to a lot of great shopping on Robson and surrounding areas.
5. Exploring Gastown, Kitsilano, Yaletown districts. Be warned – navigating the city is tricky for a tourist!!
6. Food highlights include Nuba (a lovely Lebanese restaurant), Naam (a 24 hour vegetarian restaurant with huge portions and line-ups), Samosas at Buddha-Full, smoothies and juices throughout the city. Acorn restaurant is still on the list too.
Still planned?
Lynn Canyon Suspension Bridge
Photography of cityscapes
Stanley Park
Anything we're missing?
If you're interested in seeing what we've been up to so far in Vancouver, here's an album I put together below! [Apologies in advance for the uneven formatting – something wonky is going on.]
More to come soon…