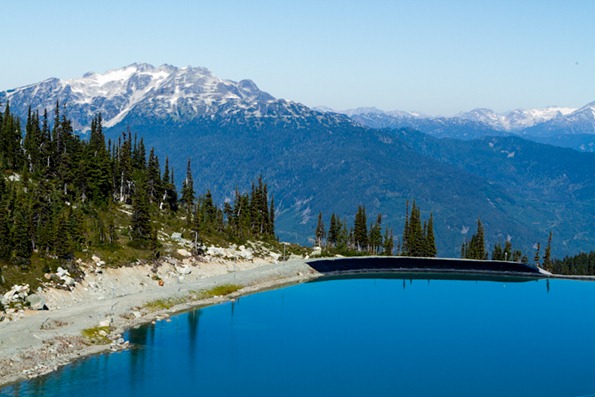 I've dreamed of visiting Whistler since I was a little girl. My best friend Allison used to tell me about her Whistler ski adventures and I knew one day I had to get there myself. Let me tell you, it was so worth the wait! While we only had a mere taste of what Whistler has to offer (as much as one can fit in 1.5 days), it was one of my most memorable travel experiences to date. Hopefully, we can go back sometime for a longer visit – maybe to experience the winter season next time.
To our surprise, Whistler was the hottest spot along our trip! It was 28 – 29C. Such a powerful, dry, glorious heat, it was. The mornings and evenings dipped down, but quickly warmed up by mid-morning. We were told there's usually snow on Whistler mountain this time of year, so we really lucked out. I just wished I packed more summer clothes!
My mom and John also happened to be visiting Whistler at the same time, so we were treated to some great company to share the experience with, as well as our last night in Vancouver before flying home. :)
Here are some of my favourite pictures below. This post may self-destruct. Food, hotel, and to-do highlights follow!
What we did: Zipling with Zip Trek (so much fun w/ knowledgeable, funny instructors!), Peak 2 Peak gondola, chair lift to Whistler Peak, hiking, photography, exploring the village, a dip in the hotel's outdoor pool. I breathed deeply in Whistler. The air is magical.
Where we stayed: The Westin – steps to the main village area, small galley kitchen, fireplace (which we actually used in the morning as it was chilly!), lovely view of pool and driving range from 7th floor. The hotel was virtually empty this time of the year (3rd week of Sept).
Food highlights: Royal taste of India (Amazing service. Owner will accommodate any vegan request and was so helpful. Killer veggie samosas), Lucia's Gelato stand on Whistler mountain for vegan mango & berry gelato, Moguls Coffee House for banana bread and a raspberry choc chip muffin (very sugary). We also made some meals/snacks in our kitchen. Check out Nester's grocery store, just outside of the village for groceries/snack items.
And, last but not least, a cool HDR photo by Eric :)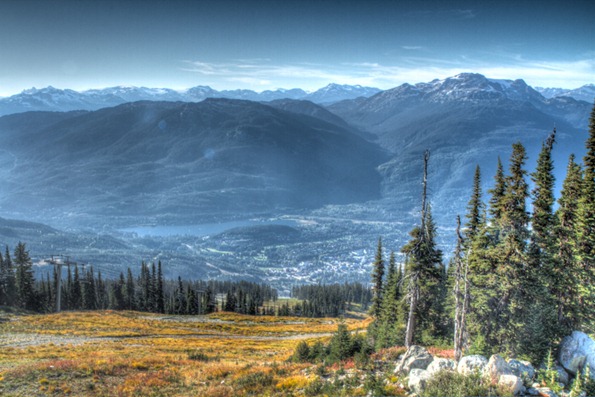 Can you believe it's our Canadian Thanksgiving this weekend? It crept up so soon this year. I'll be back to cap the week off with a tasty main course Thanksgiving recipe.