Bring May Flowers?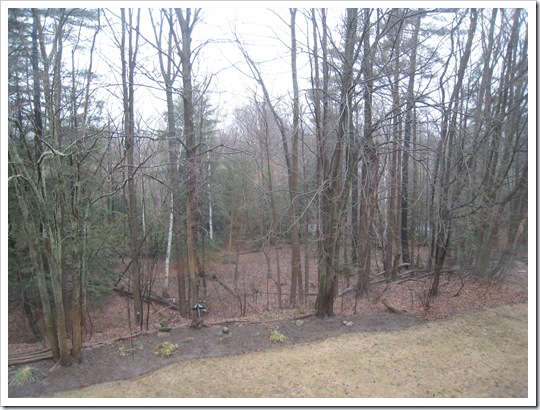 Happy Friday!
Only 1 more day til I get to see Leah! :)
Last night I spent a few hours working on Glo Bakery stuff and I needed a break from the computer! I told myself I would only do 5 mins. on the treadmill, and that turned into 30!
Last night's workout:
30 mins. treadmill
Incline 10%, speed 3.8 mph
Max Heart rate: 143 bpm
Avg heart rate: 124 bpm
Feel the burn: 183 kcals
After my cardio I decided to hit the floor for some yoga poses!
I did the Camel Pose: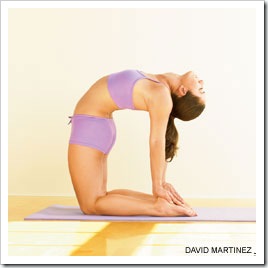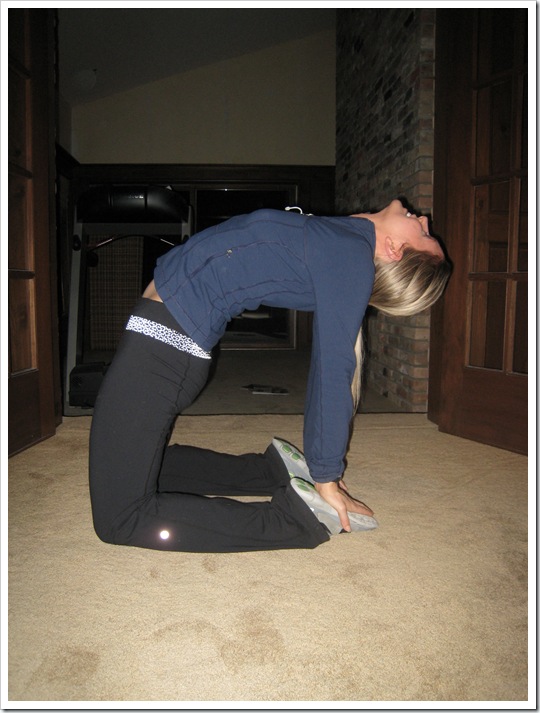 As well as the Bow Pose: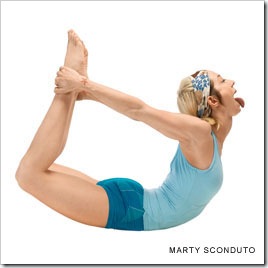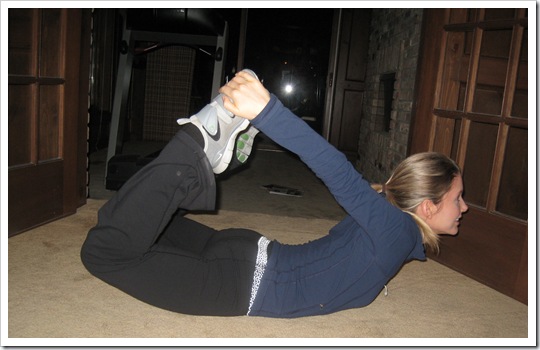 Taking pictures is a great way to see your form and where you need to improve!
Also:
I think my favourite pose out of all of the ones I have done so far is the Camel Pose. It just feels sooo good on the back!
I also discovered last night that I enjoy yoga much more when I am NOT following along with a DVD. Weird, huh? When I have poses to pick and choose from I enjoy it much more. I guess that is because I have more freedom to follow my heart instead of doing things that I may not enjoy.
Today's Question: What is your favourite Yoga Pose? What is your least favourite?
I absolutely hated the downward facing dog when I started. I am slowly starting to like it more as I get more flexible. I still can't put both feet on the ground though!
I do think I am getting more flexible slowly but surely though.

Day 8 (April 3rd): I want you to try 3 Yoga poses from Yoga Journal. Extra bonus points if you have never done them before! Even if you despise the ground that yoga walks on I want you to give this challenge a shot. If anything it will be a great stretch that you normally wouldn't have done!
Also pick 2 exercises featured on my post here and do 2 sets of each as many reps as you can do!
How is everyone doing with the OSG BBBC Challenge? Drop a line and let me know! Also, if you have any suggestions for daily challenges I would love to hear them!

FYI: I have updated the nutritional information on all of my bars in Glo Bakery. The nutritional info is no longer in a link, but I included it directly on the page. I think it is better this way!
I'm off to try to make a Jocolat bar! :)
Also coming up today a chocolate cake made with…BEETS!
See you later!