'There are two types of people: Those who bake their own crackers and those who do not.'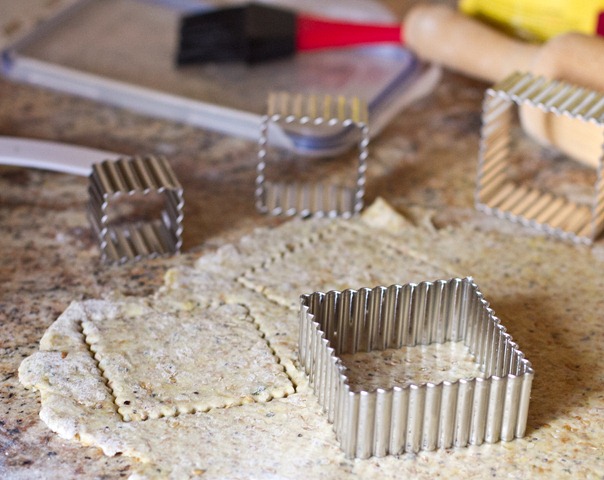 I read that quote the other night and it made me chuckle! And then I thought, 'Pfffft…Cracker snob.' as I reached into my box of Mary's Crackers. ;)
However, I want to be that person who makes her own crackers (and bread!), but sadly, my grocery receipts tell me I am not…and have not been for months and months.
Back in the day, I used to make my own crackers in an effort to cut back on our grocery bill.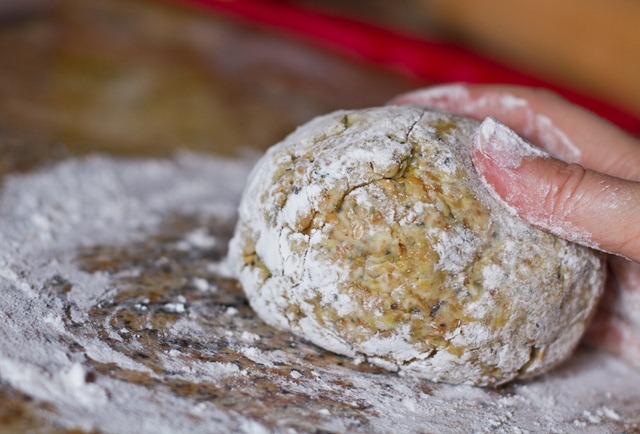 I will do whatever it takes to find that girl inside of me. I know she is hiding in there somewhere. Probably buried under a heap of flour and jam somewhere.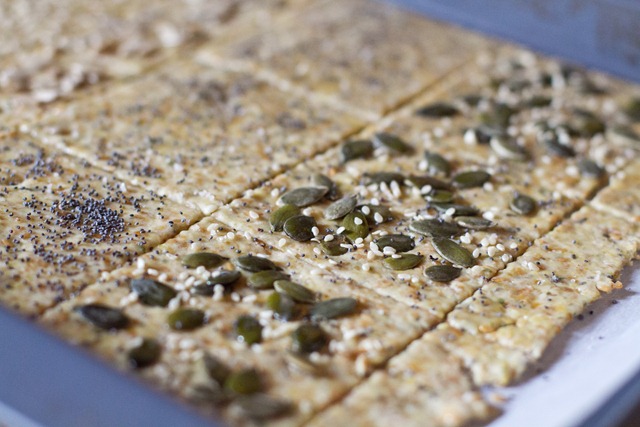 When you think about it, crackers are basically glorified bits of baked flour and are quite cheap to make. The best part is you can dress them any way you like them. Rustic, classy, sweet, fancy pants, crunchy, fru-fru, salty, simple, savoury, all-dressed.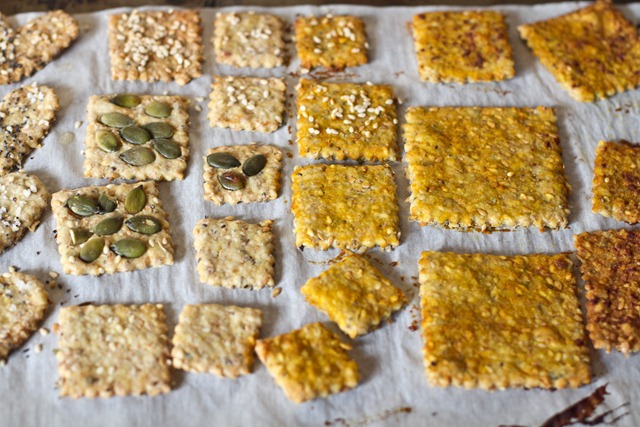 Any Way You Want 'Em Crackers
Ingredients:
1/2 cup whole wheat flour
1 cup all-purpose flour
1/2 tsp baking powder
1/2 tsp kosher salt
1 tbsp brown sugar, not packed
Herbs of your choice: I used a couple pinches each of basil, parsley, thyme, Italian seasoning
2 tbsp nutritional yeast (probably optional, but gives them a bit of cheesy flavour)
1/4 cup ground flax
1/4 cup whole flax seeds
2 tbsp sesame seeds
3/4 cup almond milk
1/4 cup olive oil, extra virgin
1 clove garlic, minced
4 tbsp Earth Balance, melted (with 2 tbsp pumpkin, optional), for spreading onto cracker before baking
Pepita seeds, poppy seeds, sesame seeds, salt, for garnish
Directions: Preheat oven to 350F. Line two baking sheets with parchment or a non-stick mat. In a large bowl, mix the dry ingredients very well (flours, baking powder, salt, brown sugar, herbs of your choice, nutritional yeast, ground flax, flax seeds, sesame seeds). In a small bowl mix the almond milk, minced garlic, and olive oil. Dump this mixture into the dry mixture and stir well. Now grab your hands and mix the dough well until a ball forms. Once you have a nice ball, break apart into two balls and set one aside. Flour a surface and roll the ball a bit to get it a bit covered in flour. Now roll out the dough into a large rectangle. Gently lift and place onto baking sheet. Trim sides where necessary, With a pastry roller or butter knife, cut the shape of crackers you desire. You may also use cookie cutters. With a pastry brush take your melted Earth Balance/butter and spread onto cracker. If you want to make a pumpkin twist, add in pumpkin and spread on cracker (see above and below). Sprinkle with desired seeds and salt and then roll the seeds into the crackers with a pastry roller so they will bake into the cracker and not fall off as much. Bake for about 25-28 minutes at 350F. The crackers around the edge will cook faster so you can rotate them if desired, but I didn't bother. Crackers will firm up once cooling out of the oven.
The first batch I made last night was a flop. Too much flour and not enough moisture. I also didn't add herbs so they were bland. This second batch turned out quite tasty.
Form your dough into a ball.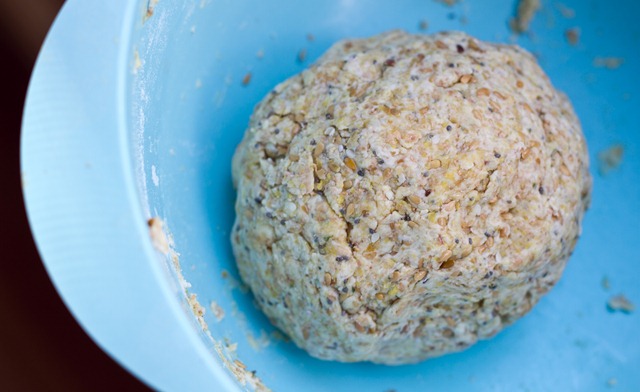 Split into two balls and roll out into rectangles!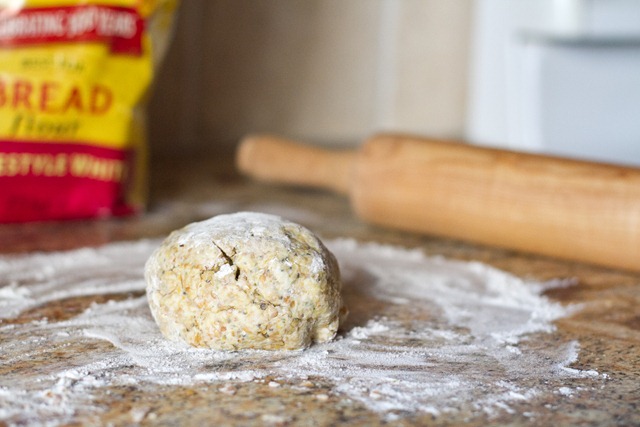 Or something that you pretend looks like a rectangle.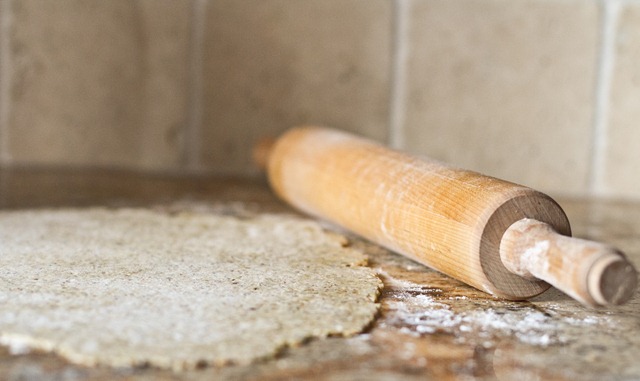 Carefully place onto baking sheet and trim sides so you can pretend you made a rectangle and then pat yourself on the back.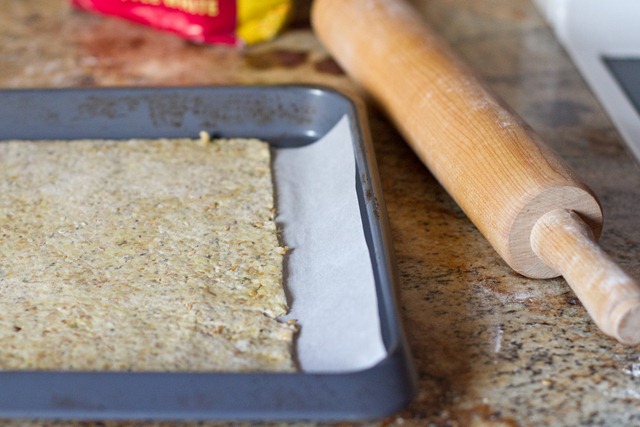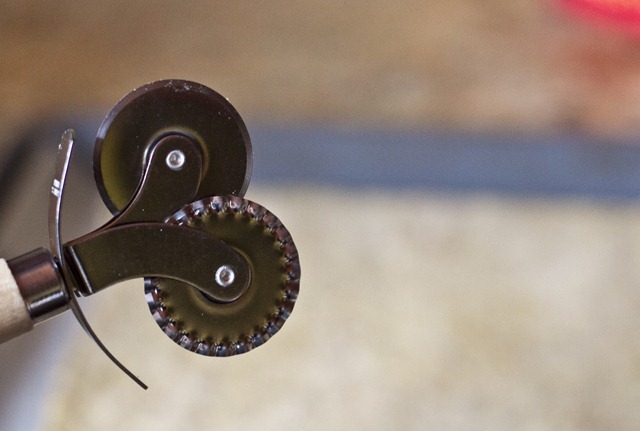 Why am I so obsessed with pastry gadgets? Is it because they are tiny and doll-like and I miss my Barbies?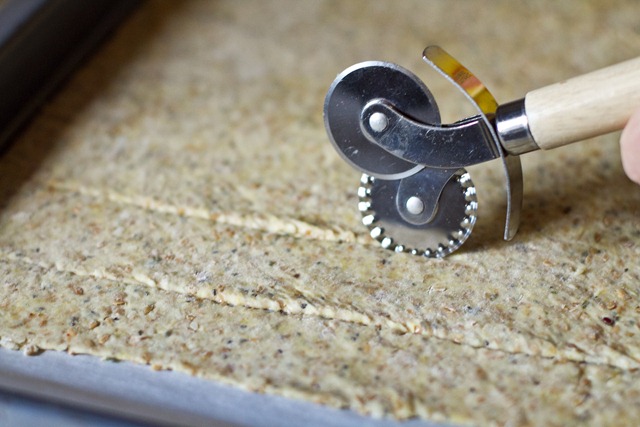 I like using the scalloped edge for a rustic look.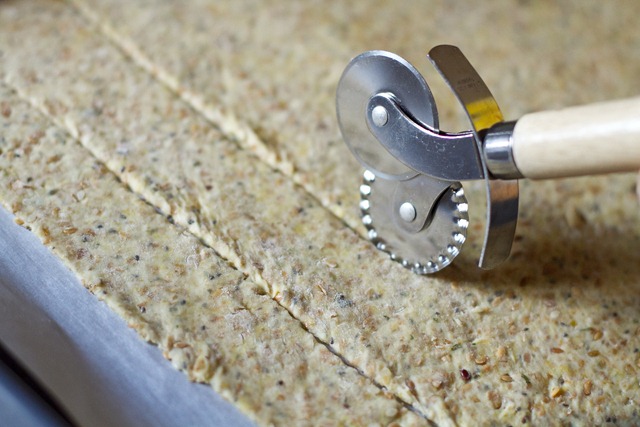 Any size you want!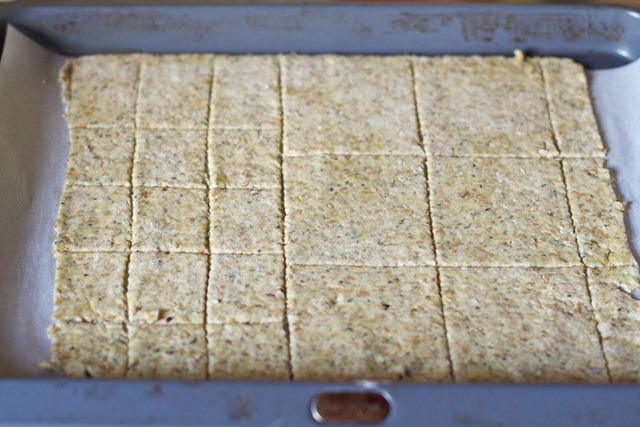 Brush with melted Earth Balance or butter. This step is KEY. I made the crackers without it, and they just weren't as delicious. I will never make them any other way from now on. It gives them that melt in your mouth taste.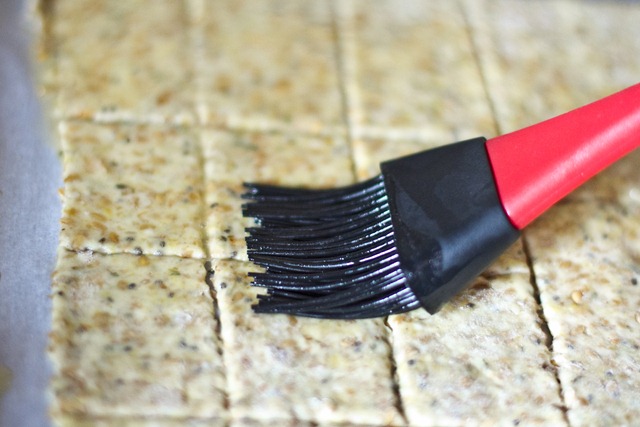 Sprinkle a generous amount of salt.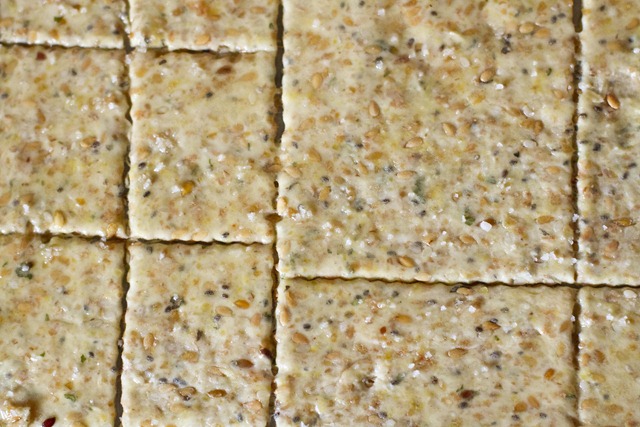 Add on your seeds of choice!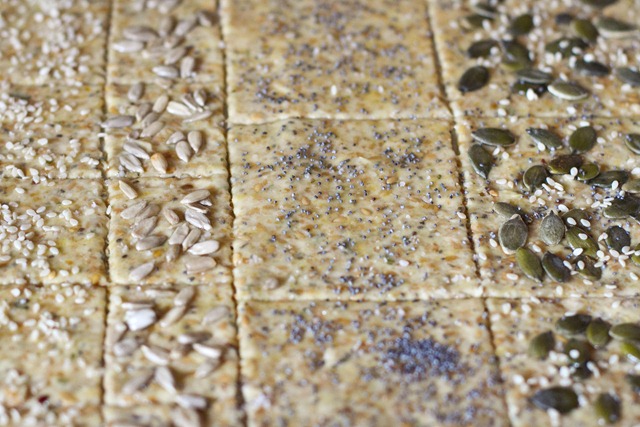 I had a problem with my first batch. The seeds didn't stick and fell right off. For the second batch, I pressed the seeds into the dough and then I used my pastry roller and rolled over the seeds to press them in. This seemed to work better.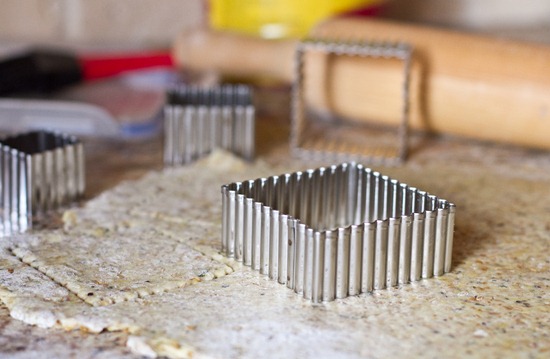 Then all hell broke loose.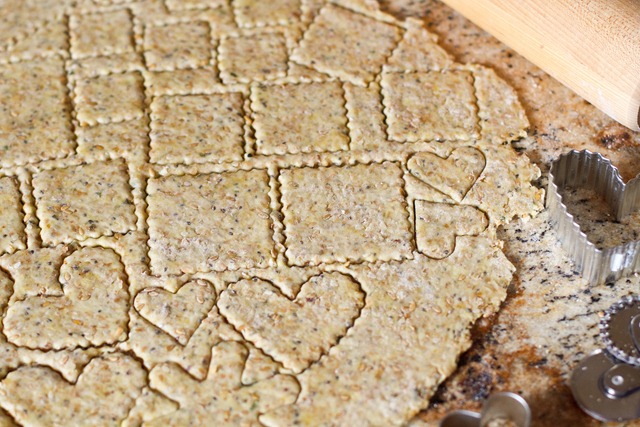 I thought about how cute it would be to make Eric heart-shaped crackers and then I realized he would probably laugh at me and dip them in chocolate.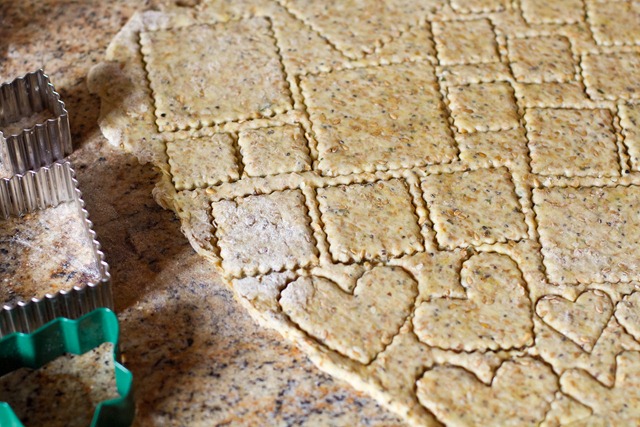 See that snowflake in the bottom right corner? That's what I'm talking about.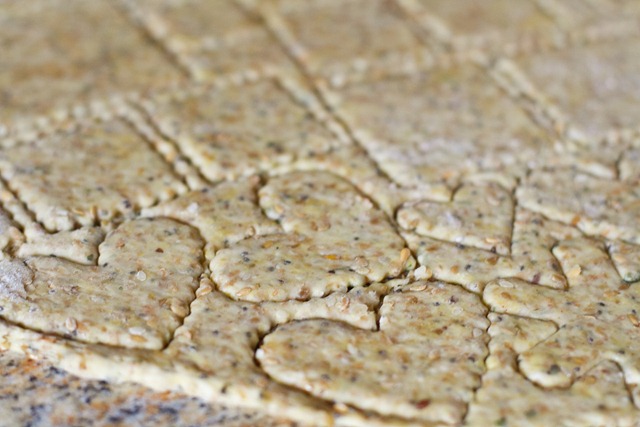 Lots of salt please. The snowflake needs snow.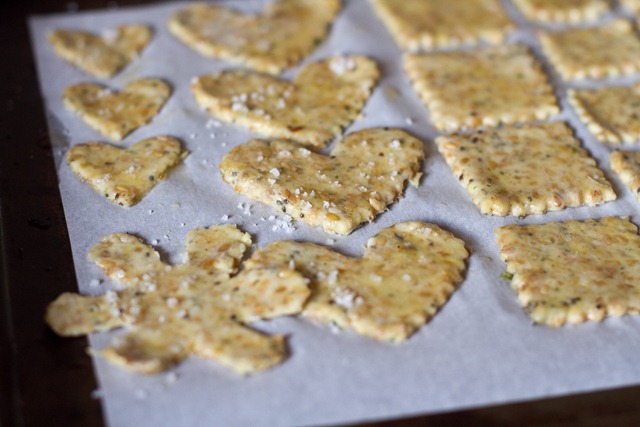 Now this is when the fun really got out of control. I came up with a pumpkin glaze.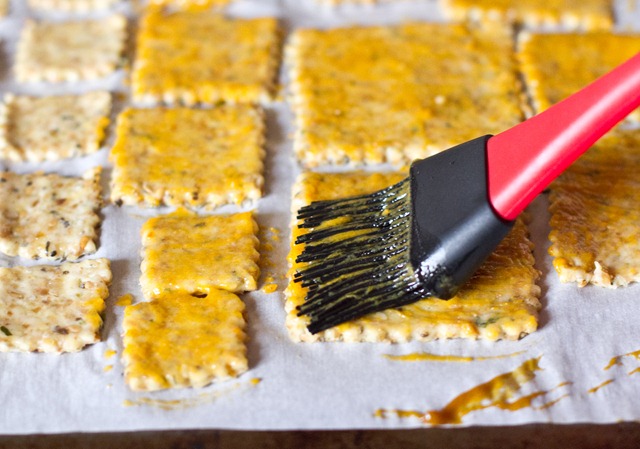 Check out the huge BBQ Baster brush. I stole it from Eric. For some reason I cannot find my pastry brush anywhere! I think the dishwasher ate it.
I mixed 2 tbsp of melted Earth Balance with 1 tbsp of canned pumpkin + pinch or two of cinnamon and magic happened.
PUMPKIN CRACKERS.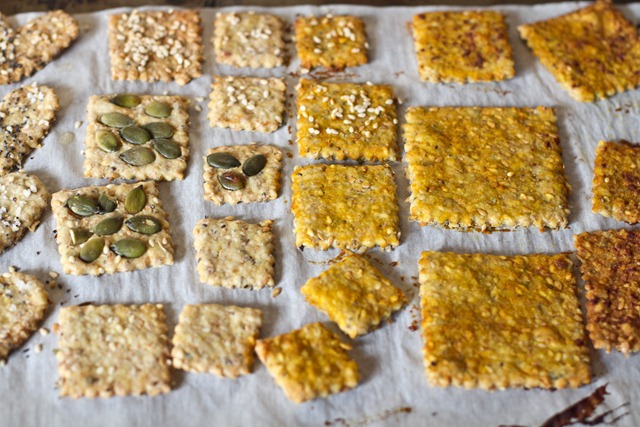 They weren't overly pumpkin-y tasting, but when I sprinkled some with cinnamon (far right) before baking the flavour really came out. I wonder if next time I could mix some pureed pumpkin right into the dough? Or make pumpkin rosemary crackers…
When I used to make crackers, I found that they tasted the best after sitting for about a day. I am guessing that these will be the same too. They are good right out of the oven, but I find they need to settle a bit first.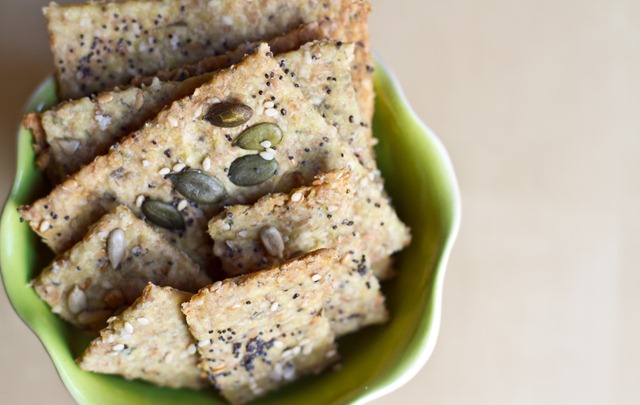 After I finished making these crackers, I started to think about my next attempt. Do you think peanut butter mixed into the dough would work somehow? Peanut Butter flavoured crackers. Imagine them dipped into apricot-fig jam. Delish. Or even salt & vinegar crackers might be yummy.
Have you ever made crackers? What flavours do you like?