This weekend we were packing to go away to our friend's place and I almost forgot that I promised I'd bring something sweet for our potluck breakfast.
What's a girl to do when she only has minutes to spare?
And what the heck do I bring for a potluck breakfast that would last for a 3 hour car trip and overnight?
And also please the non-vegan crowd?
Clearly, vegan overnight oats would have worked (for me!) but I'm not so sure everyone else would be down with my craziness. I wanted to avoid that awkward moment of silence as I try to explain to them why I packed a Tupperware full of mushy oats. No one wants an awkward potluck breakfast. Certainly not me.
So I stuck to my plan and I made something sweet that would be the perfect fit for a breakfast…
5 Ingredient No Bake Vegan Dates Squares!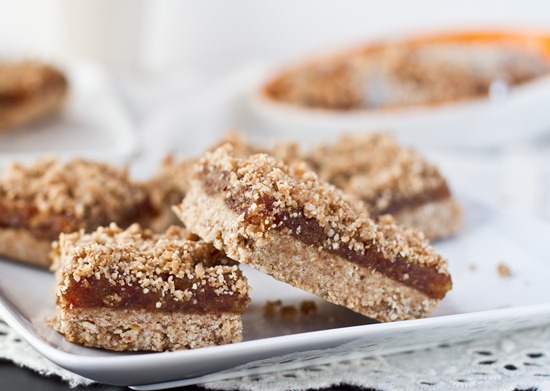 In a moment of total clarity, I remembered Raw Vegan Date Squares that I spotted from Karen. They seemed like the perfect treat that I could whip up in minutes, no oven required. I was a bit worried that they wouldn't turn out, but I was soooooo happy with the outcome!
I'm not sure if I will ever go back to 'normal' date squares after trying this simple version. I loved them, my friends loved them, and there wasn't a crumb to be found after breakfast. I'd say they went off pretty well!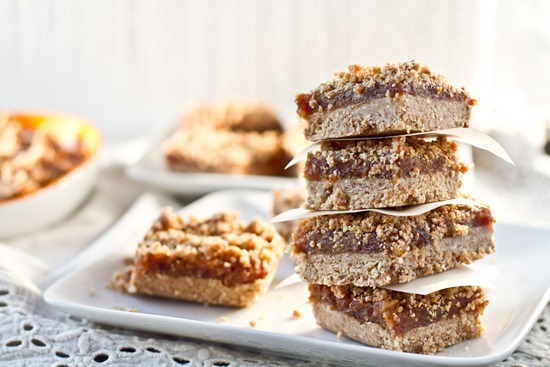 5 Ingredient No Bake Vegan Date Squares
Adapted from KB Blissologist.
Crust:
1.5 cups whole raw almonds
1.5 cups regular oats (for Gluten-free, use GF oats)
1/2 tsp kosher salt
10 Medjool dates, pitted and roughly chopped
1/4 cup coconut oil
Date filling:
25 Medjool dates, pitted and roughly chopped (~2.5 cups)
1/2 cup water
Directions:
1. Line a square pan (I used 8in x 8 in) with two pieces of parchment paper going opposite ways. In a food processor, process the almond, salt, and oats until a fine crumble forms. Now add in the dates and process until crumbly again. Melt the coconut oil and add to the mixture and process until sticky. You can add a tiny bit more oil if the dough is too dry. I didn't need to though! Remove from processor, set aside 3/4 cup of the mixture for later, and press the rest of the mixture very firmly and evenly into the pan.
2. Grab your pitted and roughly chopped dates and water and process in the food processor until a paste forms. You will have to stop and scrape down the sides of the bowl often. You can add a tiny bit more water if needed, but you want the paste quite thick. Scoop out the date mixture onto the crust and gently spread with the back of a wet spatula until even.
3. Sprinkle on the 3/4 cup of mixture you set aside and gently press down with fingers. Refrigerate in the fridge until firm for at least 1 hour, preferably overnight. Cut into squares and serve. Store in the fridge or freezer.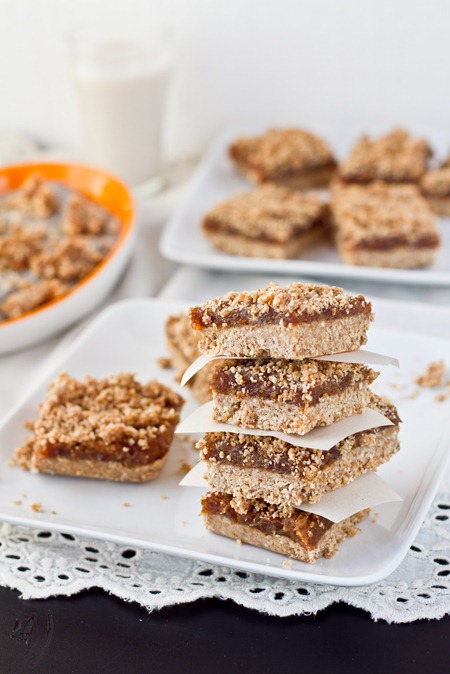 I am happy to report that these were enjoyed by all and there were no awkward moments during the potluck. Love that.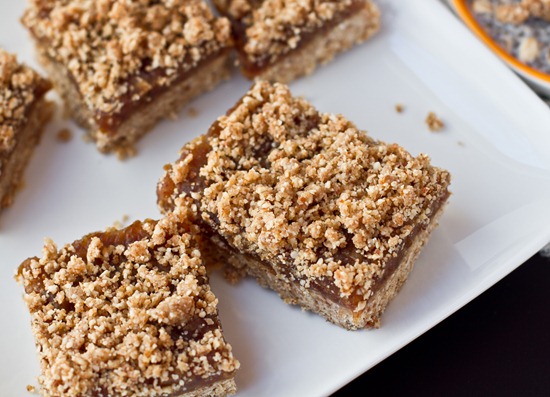 Have a great Monday!