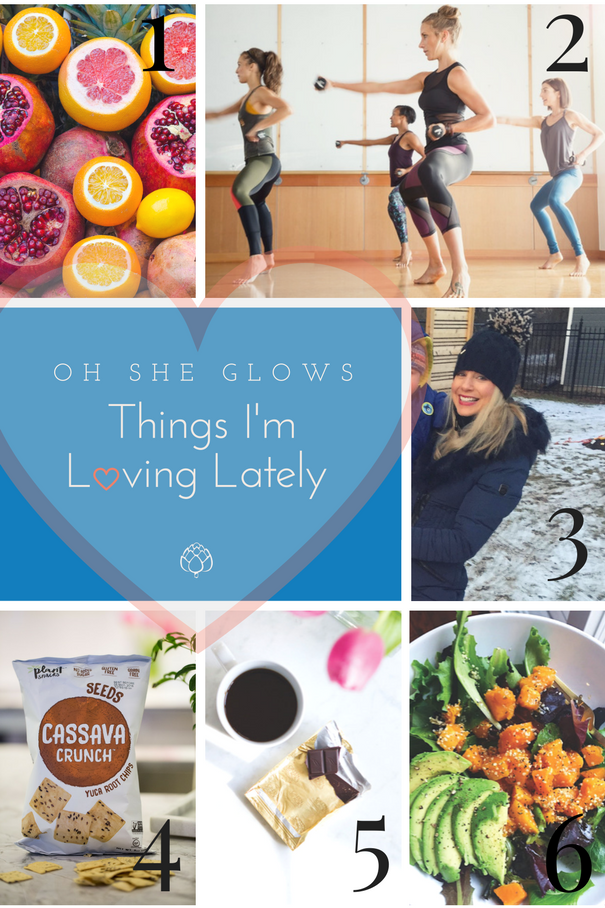 Some longtime blog readers may remember my Things I'm Loving Lately series, which I started waaaaaay back in 2012 to share some of my favourite food products and lifestyle odds-and-ends. I've had a lot of requests to start it up again, and I'm thrilled to get this series rolling once more in 2018! It's a fun way for me to share the things I'm loving in my life right now, and I hope to put together one of these posts every month.
As always, these posts are never sponsored, but you'll often see an affiliate link or two in the list. I have no relationship with any of the brands featured, and all of the products you see below I've purchased out of pocket. I simply enjoy sharing things I love in my own life with you and want to spread the word! Don't forget to share things you're loving right now below in the comments.
1. Grapefruit
I started eating one grapefruit a day near the end of last summer (it's often my go-to evening snack!), and I love the boost of vitamin C this citrus fruit offers throughout the fall and winter seasons. I haven't had nearly as many colds this season as I did last (knock on wood!), but that could also be due to my diligence in taking vitamin B12, iron, zinc, and vitamin D regularly over the last several months. Either way, it's a refreshing way to satisfy my sweet-and-sour tooth in the evening.
While my workout of choice is usually a sweaty, heart-and-music-pumping spin class, I've realized it's important I take time to strength train regularly too. I've been a fan of barre3's online workouts for years now, and recently renewed my commitment to make the easy-to-follow videos a regular staple in my exercise routine. Since my workout time tends to be short, I'll often combine two to three 10-minute videos over the course of a day. So convenient!
3. Noize coats
It became my mission this past fall to find a cruelty-free winter coat that I adore. After a lot of searching online, I came across a Canadian-owned brand called Noize. Have you heard of them? I've been so impressed with the two coats I purchased (the Gigi and the Brooklyn)—they're both super warm and stylish as well as totally vegan, including the faux fur hood trim, vegan leather, and filling.
4. Cassava Crunch Yuca Root Chips (Seeds flavour)
When I first came across these grain-free chips at the grocery store, I was skeptical. Could a cassava-based chip really pass for a corn chip? Come on! Well much to my surprise they are quite good in their own way. Not only do I love that they're made from Yuca root (and the "Seeds" flavour contains a whole slew of healthy seeds), but they actually remind me a lot of corn tortilla chips. Full disclosure: they do have a detectably starchy flavour, but I find when paired with salsa, hummus, nut butter, or guacamole, they're a great healthy stand-in for my favourites!
5. My go-to chocolate bars
There's no doubt I'm a total chocoholic. I've tried almost every vegan chocolate bar I've come across, and consider myself to be a bit of a chocolate connoisseur (totally joking). Well, I'm happy to report all of my research has been worth it! In the past several months I've settled on my go-to chocolate bar brands. My "everyday" chocolate (anybody else have an everyday chocolate?! Haha) is Green and Black's Organic 85% Chocolate, which I picked up after a couple blog readers kindly hinted that the 85% was even better than my previous go-to, the 70%. When I'm craving milk chocolate, I reach for the Zazubean "Sassy" Coconut Milk Chocolate with Pomegranate and Hazelnuts (so fun!).
6. Warm salads
In the winter it can be challenging to convince myself to enjoy a raw lettuce and veggie salad (I just don't crave them that much!), so one thing I like to do to trick myself is to build a warm salad. I'll take leftover roasted or steamed veggies, heat them up in a skillet, and top my salad with them. It creates such a comforting salad that's still just as nutritious…only dressed for winter! I recently shared this 5-minute warm salad bowl on Insta Stories: mixed greens, hemp hearts, walnuts, sliced avocado, Hilary's Organic Chili-Lime Vinaigrette, and leftover roasted butternut squash heated up on with a bit of olive oil, salt, garlic powder, and pepper.