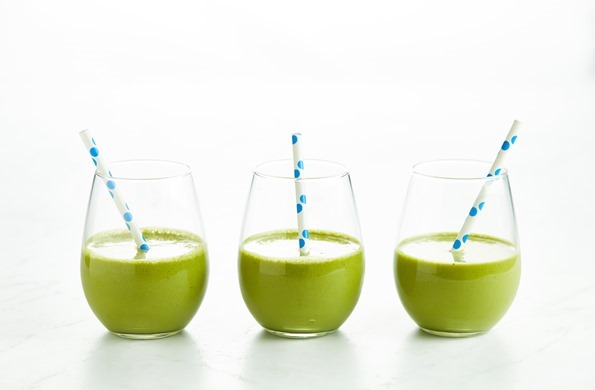 Last weekend I ended up coming down with Adriana's cold (my immune system is simply non-existent during pregnancy…anyone else?!), so this week has been all about recovering, eating tons of healthy food, taking a break from workouts, and trying to rest as much as possible. I'm looking forward to feeling back to normal, and enjoying the weekend (poolside, with any luck). I hope you have a great one in store, too!
Q1. I made your Speedy Veggie Noodle Bowl for lunch this week and it was very good! This was the first time I ever had soba noodles. My only issue I had was julienning the carrots. Is there an easy way to do this?
A. Hey Tonya, My favourite way to julienne carrots and other veggies like zucchini is with a spiralizer! I use this one by World Paderno Cuisine. Another tool I've had success with is this Kuhn Rikon Julienne Peeler. It takes up less counter (or cupboard) real estate, but it's not quite as fast as using a spiralizer. When I only need to julienne a single carrot, I'll reach for the peeler, but when I have a bigger job to do I always prefer the spiralizer.
Q2. Hi Angela, I wonder if you can answer a question for me please? I have made many of your fab recipes and own your cookbook. Often you state 2 tablespoons of chili powder in your recipes (such as chili). I live in England and such a quantity would make the food inedible! This is no problem as I just adjust accordingly. I wonder if your chili powder is much milder than ours or something totally different?
A. Hi Shiri, You're right; there's definitely a difference between the products we're each respectively talking about. In North America, chili powder typically refers to the blend of spices, usually cayenne, cumin, garlic powder, paprika, and oregano, traditionally used to season chili—as in, the dish. Chili-as-in-the-dish powder has got some kick to it (more or less, depending on the blend), but it isn't hot; it's much milder than chili powder—that is, chili-as-in-the-pepper powder (or sometimes chile powder, with an e, or what I refer to as "cayenne powder or cayenne pepper") that consists only of pure, ground dried chili peppers. The latter is what I suspect you may be more used to having in your kitchen (as many of my readers in other countries possibly are, too!), and it packs a lot more heat. So yes, I can imagine 2 tablespoons of chili (pepper) powder would be quite a lot! I would recommend making a chili powder blend at home—it's so easy!
Q3. Hi Angela! I am going to summer camp soon. I was hoping you had some snack ideas. I won't be able to use a microwave, oven, or fridge while I'm there. Thank you so much for doing what you do, you have been so helpful in my vegan journey! :)
A. Thank you for the kind words, Juliana! The thing about most homemade vegan snacks is that, because there aren't really any preservatives in them, for most recipes it's best if they can be kept refrigerated. Even foods that don't necessarily need to be kept cold short term should be placed in the fridge or freezer if they're not going to be consumed within a few days—especially in the hot summer weather. (Food poisoning would definitely put a damper on the camp experience!) Depending on how long you'll be away (if it'll be, let's say, just a week or so), you might find some helpful suggestions in this previous Friday FAQ (see question number three). But, since you don't have a fridge, I think your best bet is to stock up on store-bought snack items (such as energy bars and roasted chickpeas)—they'll be a lot less perishable. Dried fruit, either store-bought or homemade, is another great option for you. I hope this helps a little, and wish you a great time at camp!!
Q4. Hi, Angela! I have a question for next week. I just started a demanding job, and I'm feeling uninspired with cooking lately because of it. Do you have any ideas for lunches to pack for work and quick dinners I can make during the workweek? Thank you!
A. Hey Sarah, Congratulations on the new job! A busy workweek can definitely take its toll when it comes finding cooking motivation. I think a delicious repertoire of quick and easy dinners that leave enough leftovers (and pack well enough) that you can bring them for lunches the next day (or, even better, the next couple days!) are going to be your new best friends. To start off, I'd recommend my Glowing Spiced Lentil Soup, Favourite Vegan Chili, Quick & Easy Chana Masala (The Oh She Glows Cookbook p. 163), and Luxurious Tomato-Basil Pasta (p. 181) or Quick and Easy Creamy Tomato Mushroom Pasta. These dishes all come together so fast, make multiple servings, and are just the perfect comfort foods after a long day. Veggie and noodle bowls are going to be another great option for you, too. They're so easy to put together, and work well for both lunches and dinners! Try my DIY Burrito Bowl, Speedy Veggie Noodle Bowl with Homemade Teriyaki Sauce, Enlightened Miso Power Bowl (p. 177), or Protein Power Goddess Bowl (also in The Oh She Glows Cookbook, p. 175). Last but not least, I find hearty salads always make wonderful and easy-to-pack lunches. They're one of my favourite go-tos. I'd suggest my Cumin Lime Black Bean and Quinoa Salad (which I also like to jazz up as a  Feel Good Lunch Bowl), and Chickpea Salad. If you have time on the weekends, you could also make some big-batch, freezer-friendly recipes that can be stored well as single-serving portions, such as my Next Level Vegan Enchiladas and Perfect Veggie Burgers. Then, all you have to do when you get home is pop them in the oven to reheat!
Q5. Hi Angela, I'm wondering if Oh She Glows Every Day will be available in the UK?
A. Hi Helen, I'm happy to say that yes, it will be published in the UK, but unfortunately I'm not sure of the exact date yet (last I heard, possibly early 2017). If you don't want to wait that long, you can purchase through an international retailer, such as The Book Depository (they have free worldwide shipping). Hope this helps!
Comment of the week:
"Love the question about the chocolate chunk cookies! I can actually add that I've used honey instead of maple syrup and it worked great and it tasted delicious. I've included you in my list of 9 Inspirational Blogs to Bookmark on my site today, by the way! I've been a long-time reader of yours, and really look up to your incredible food photography and your authentic voice that comes through in your posts. I also used to struggle from an eating disorder, and have loved reading about your journey to recovery. I also love that you share my passion for plant-based food. In fact, you were huge influence in inspiring me to start my own plant-based food blog. I'm so excited to get your site in front of my readers, who I know will love it as much as I do :) Thanks for giving me something to look forward to reading each week!"
I can't tell you how much I appreciate your heartfelt words, Julia! And I'm beyond touched you included me on a list of so many truly inspirational bloggers that I, myself, admire. Your blog is beautiful, and I can't wait to read more.