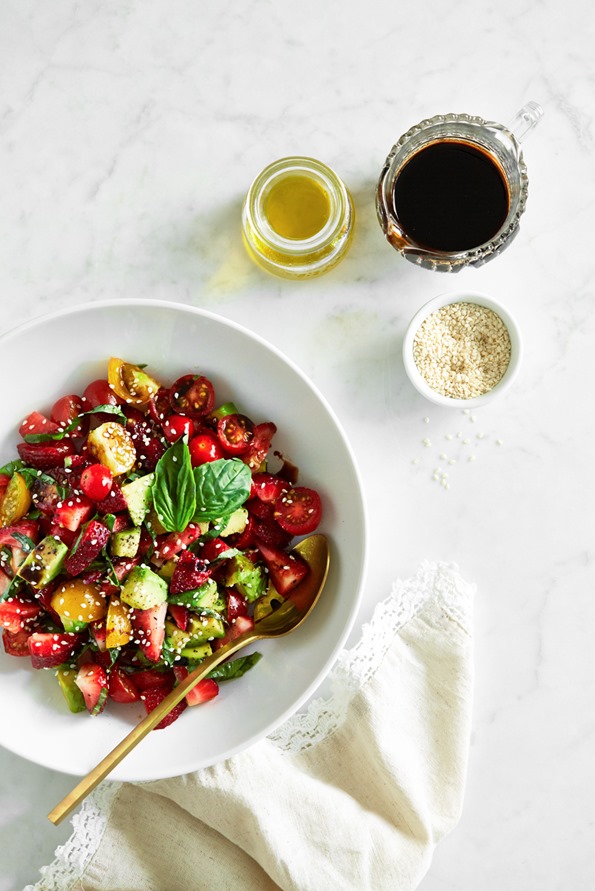 I absolutely love the work I do each day; given the choice, I wouldn't pick any other field, which feels pretty awesome after following an unexpected, winding path to get here. (When I started the blog way back in 2008, I had just graduated with a Master's degree in Social-Personality Psychology and was working as a researcher.) If I could take on a few more big projects right now, I would in a heartbeat because lately the inspiration never stops! It seems like Eric and I discuss new ideas every week. If you're curious, some of the ideas include: creating cooking videos, redesigning the blog, opening a cafe or juice/smoothie bar and delivery service, creating a meal plan service, writing a children's book (seriously!), starting an apparel line, growing our recipe app, taking food photography courses, and the list goes on and on. But then reality sets in and I know my priority has to be keeping my head above water, and not biting off more than I can chew. So lately, I feel like I'm in this confusing place with my career. I'm decent at judging how much I can take on, but still find myself yearning to do more and lagging behind the speed of my dreams. This passion makes it easy to feel like there isn't enough time in the day. Throw motherhood into the mix, and it's even more of a juggling act; my parenting and self-employed roles are 24/7, always on call, with problems popping up just when I think things are going smoothly. There are big highs and lows, often in the same day. This is part of what makes life so rewarding though, and it fuels me to want to improve—or at least on the worst of days, to work on my patience and practice a bit more self-compassion.  
As I mentioned in a recent post, Eric and I have talked a lot about whether we should take the next step and grow—such as by hiring a small team—although it feels almost as daunting as it does exciting. That said, I hired an editorial intern earlier this year, and it's worked out very well! Part of me now realizes that a whole team of inspiring minds would be something absolutely amazing, but I guess I don't know how to make that happen with a second baby, book, and renovations all happening this year. When is the right time, and is there ever a right time? Or, do I simply accept what I often read: that my career is destined to be in "maintenance mode" for the time being as a new parent? Do I dive in headfirst or start small and take baby steps along the way? I've been following the latter approach for years; even though it feels right to my practical mind, I get impatient at times.
There's no real point to this thinking out loud today, other than to share what's on my busy mind, and to remind myself that this journey is a work in progress. And it will always be. Maybe you are struggling with similar questions or wondering how to juggle various priorities in your life, too. We're all doing the best we can each day, trying to make good decisions; they don't always work out, but some will exceed our wildest expectations. It often feels like other people are doing more or growing more (a feeling that the internet seems to multiply a million times over!), but they're probably feeling just as confused and taking it one day at a time like most. At least, that's what I like to tell myself! Plus, I'm a firm believer that life isn't a competition; we can build each other up to achieve success, no matter how we personally define it.
"But if you don't have the courage let's try to get you some. Because creative living is a path for the brave. We all know this. And we all know that when courage dies, creativity dies with it. We all know that fear is a desolate boneyard where our dreams go to desiccate in the hot sun."
Elizabeth Gilbert, Big Magic (2015)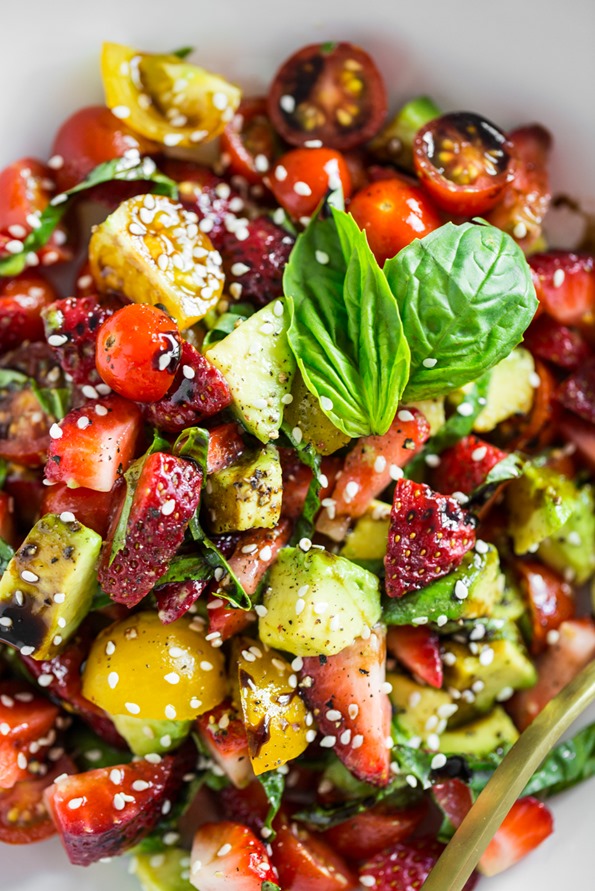 When my brain is running a mile a minute, simple meals are where it's at. Especially in the summer. That's why I'm so excited to share this easy salad from the Love and Lemons Cookbook. I made a few small changes (such as omitting the mozzarella, increasing the balsamic vinegar, and swapping toasted pecans for sesame seeds). This salad is right up my alley, and I think it'll be a new favourite for you as well!
I'm a big fan of Jeanine and Jack's blog and their simple approach to cooking with seasonal produce. You can't help but be inspired to eat more veggies when you visit their site. Their first cookbook, Love and Lemons: An Apple-to-Zucchini Celebration of Impromptu Cooking, was released earlier this year, and it's an absolute stunner from the design and layout to the food photography. Since the book is divided into chapters by vegetable (or fruit category like berries, citrus, and stone fruit), it provides plenty of vegetarian cooking inspiration when you just don't know what to cook with that on-the-brink-of-death eggplant or giant bag of sweet potatoes you just impulse-bought at the store. Big congrats Jeanine and Jack!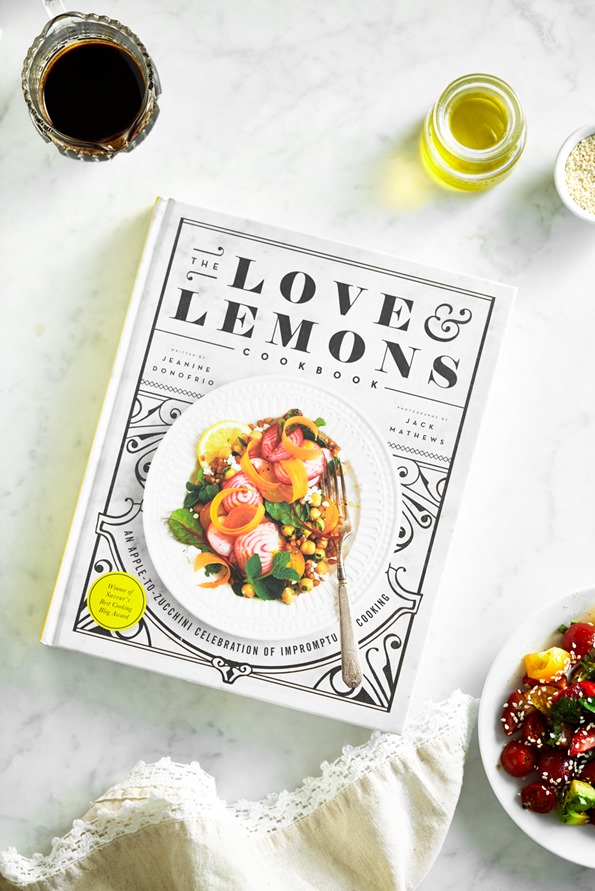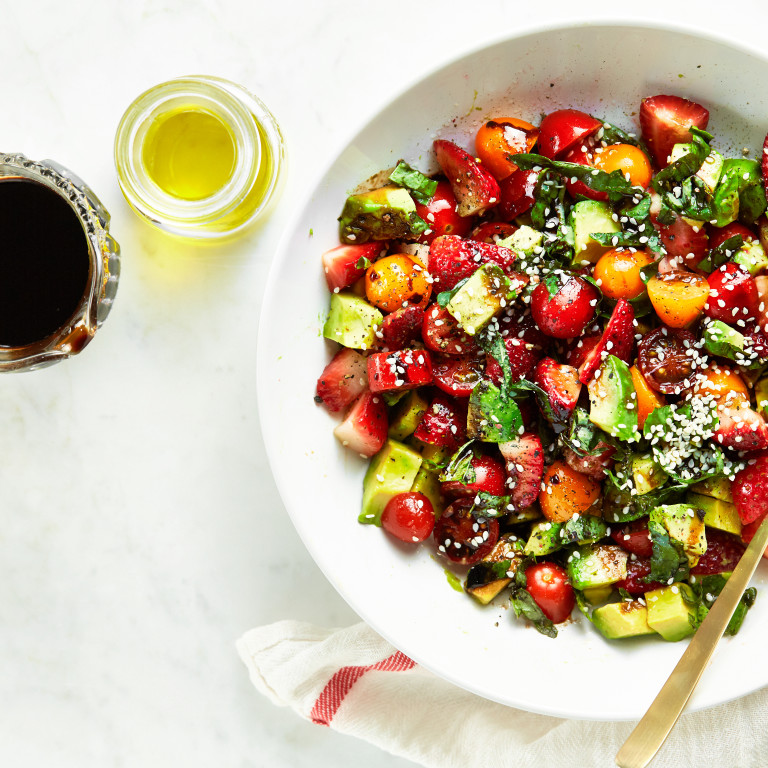 Avocado Strawberry Caprese
Vegan, gluten-free, grain-free, nut-free, refined sugar-free, soy-free

Yield

Serves 2
Prep time

Cook time

Total time

Meet your new favourite summer salad! This delightful combination of strawberries, avocado, basil, and tomatoes is tossed with a touch of extra-virgin olive oil, and drizzled with homemade balsamic reduction for a refreshing, lightly sweet salad that's great on a hot day. This recipe is lightly adapted from the Love and Lemons Cookbook (2016).
Ingredients
1/3 cup (80 mL) balsamic vinegar
1 cup (135 g) hulled and sliced strawberries
1 cup (160 g) grape or cherry tomatoes, halved
1 medium ripe avocado, pitted and diced
1/3 cup (8 g) loosely packed basil leaves, chiffonade cut
1 1/2 teaspoons extra-virgin olive oil
Pink Himalayan salt or fine sea salt, to taste
Freshly ground black pepper, to taste
Toasted sesame seeds or chopped pecans, for serving
Directions
I

n a small saucepan, bring the vinegar to a simmer over medium heat.

Once the vinegar starts to simmer, reduce the heat to medium-low, and simmer for 6 to 10 minutes, uncovered, until the vinegar thickens, and reduces in volume by half. Set aside.

Meanwhile, add the strawberries, tomatoes, avocado, and basil into a large shallow bowl.

Drizzle on the oil and gently toss until the veggies are coated. Season generously with salt and pepper and toss again just briefly.

Scatter on your desired amount of toasted seeds or nuts. Drizzle on all of the balsamic reduction.

Serve immediately. This salad is definitely best enjoyed fresh, but leftovers can be stored in an airtight container for a few hours if necessary.
Nutrition Information
(click to expand)