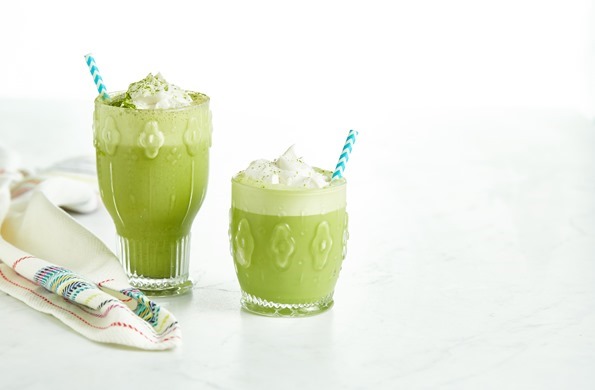 I've had a lot of requests for my go-to iced matcha latte recipe since I first posted pictures of it on Snapchat last month. I uploaded it to the app a few weeks ago, and today I'm sharing it on the blog!
I love that matcha gives me loads of energy without any jitters whatsoever. During the first trimester, I didn't want anything to do with tea or coffee—the thought of it absolutely turned my stomach and I couldn't even be around it. I made the mistake of drinking a coffee one day after a random craving and I was so sick afterwards. But sometime well into the second trimester, I started to crave matcha tea, and found that I could stomach it just fine. Shortly after, this amazing iced latte recipe was born!
Here are my favourite tips for making the very best iced matcha green tea latte:
– My preferred method, by far, is to blend everything up in the blender. Matcha green tea powder has a tendency to clump very easily, so the blender ensures a super smooth end result!
– My favourite twist? I love to incorporate frozen wheatgrass juice for an extra boost. (I buy the Evergreen brand of frozen wheatgrass cubes.) But not to worry if you don't have any—it's still delicious without!
– Vanilla bean makes a lovely pairing with matcha. I love adding 1/4 teaspoon of pure vanilla bean powder into this drink. A bit of pure vanilla extract will also work in a pinch!
– Since matcha has a grassy flavour, I find it needs a bit of sweetener to bring all the flavours together. My preferred sweetener is pure maple syrup—1 to 2 teaspoons, to me, is perfect.
– I always keep a stash of almond milk ice cubes in my freezer now, just for this very drink! The almond milk ice cubes not only keep it super cold, but prevent the drink from getting too watered down, like regular water ice cubes can do.
– A side note: I avoid taking vitamins within 1 to 2 hours of drinking matcha because it can hinder absorption.
– If you want to make it fancy, feel free to add a bit of Coconut Whipped Cream on top. Though usually, I just blend up the latte, pour, and drink!
– I'm often asked which brand of matcha I use. You can find my favourite Do Matcha brand here.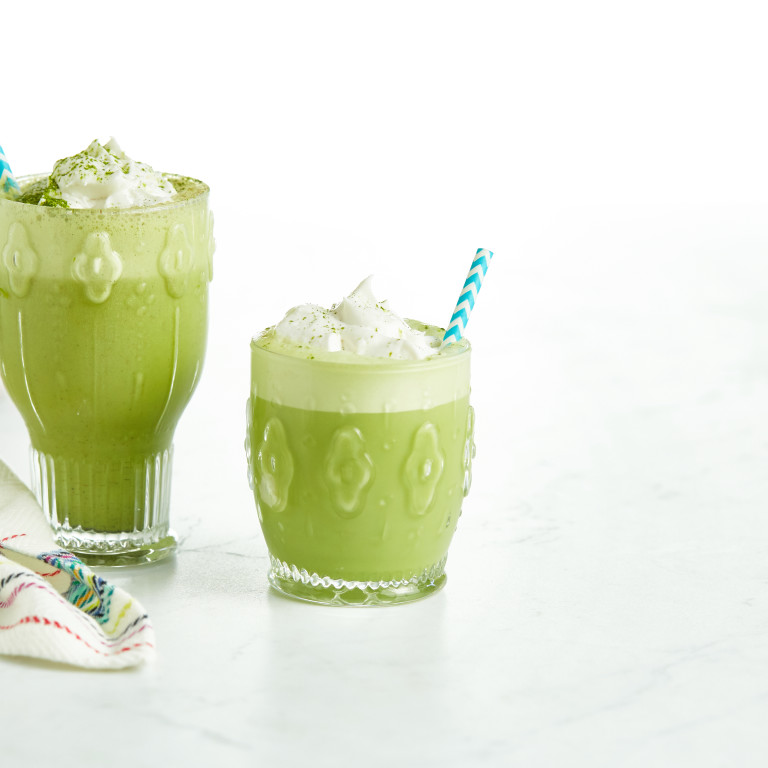 Iced Vanilla Bean Matcha Latte
Vegan, gluten-free, grain-free, no bake/raw, oil-free, soy-free

Yield

1 1/2 cups (1 serving)
Prep time

Cook time

0 minutes
Chill time

4 to 6 hours (ice cubes only)
Total time

This is a fun way to get a healthy matcha fix when the temperature starts to rise! Rather than using regular ice cubes (which tend to water down lattes), I like to keep a stock of almond milk ice cubes on hand. Blending a couple almond milk cubes into this latte ensures it gets cold without the flavour being compromised! Vanilla bean adds a gourmet feel to an already luxurious cold drink.
Ingredients
2 almond milk ice cubes (60 mL), plus more for serving
1 cup (250 mL) unsweetened almond or coconut milk
1 teaspoon matcha green tea powder
1/4 teaspoon vanilla bean powder or 1 vanilla bean

*

, seeded
2 teaspoons (10 mL) pure maple syrup, or to taste
1 to 2 frozen wheatgrass cube(s)

*

*

(optional)
For Serving:
Directions
Pour almond milk into an ice cube tray and freeze until solid. I recommend using a silicone mold if possible,

a

s they're easy to pop the cubes out

of

. I also try to keep a stash on hand in the freezer so the cubes are ready to go at all times.
To make the latte: Add the cup of almond milk into a blender along with 2 almond milk ice cubes, matcha powder, vanilla, maple syrup, and the optional frozen wheatgrass cube(s). Blend on high for around 20 seconds to ensure it gets nice and frothy.
Pour into a glass, along with more almond milk ice cubes. You can also add a spoonful of coconut whipped cream and a sprinkle of Matcha on top to make it ultra fancy-pants!
Tip:
*

 I like to keep pure vanilla bean powder on hand, so it's super quick to add a quarter teaspoon into the blender for a decadent vanilla flavour. If you don't have any vanilla beans or powder on hand, not to worry! You can use vanilla almond milk and/or a half teaspoon of pure vanilla extract in a pinch.

*

*

I love the Evergreen brand of frozen wheatgrass cubes. You can find them in the freezer section of some grocers like Whole Foods and Organic Garage.
Nutrition Information
(click to expand)
Happy iced latte drinking!