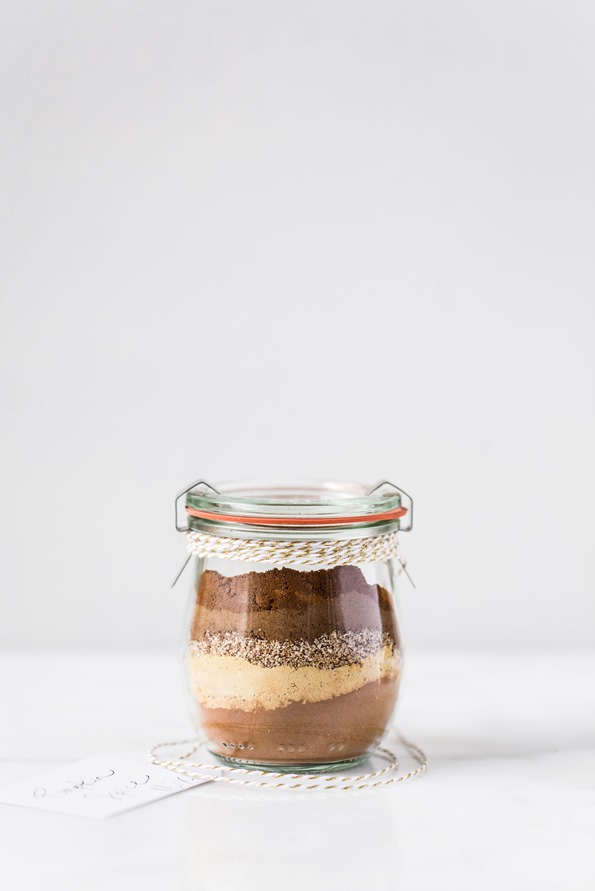 For the past couple seasons, I've been on the hunt for pumpkin pie spice mix. And I've been slowly going crazy not being able to locate it in any local grocery stores. Don't they know how many they would sell from me alone?! I longed for the day I would cross paths with it, making a mental note to buy 10 if I ever did. Only that day never came and I went about my life smiling on the outside, but secretly feeling like a piece of me was missing. Until that beloved day when a recipe just fell into my lap!
I feel like fellow bloggers and cookbook authors, Nicole Axworthy and Lisa Pitman, get me. They know that vegan staples aren't always offered in grocery stores (yes, I just called pumpkin spice mix a "vegan staple"…let's go with it), and sometimes we want or need to make things in our own kitchen. In their new book, DIY Vegan, you'll find more than 100 vegan recipes showing home cooks just how easy it is to create knock-offs of common store-bought staples, only without the sometimes scary ingredient lists. For the most part, I try to limit the amount of prepared foods that I purchase due to the unpronounceable ingredients many contain. And really, these foods don't always leave me feeling my best. Yes, more and more brands are coming out with simple, whole-foods ingredient lists (hooray), but sometimes these brands aren't accessible or they're just plain old expensive. So, I enjoy making my own staples when time allows; especially if I can make a huge batch and store it for several months, like with this pumpkin pie spice mix. Major kitchen win!
As Nicole and Lisa say, "Seriously, are you going to pay extra for someone else to stir your spices? We didn't think so. Make your own in seconds, make some for your friends, start a business selling your own spice-stirring services. And then eat pie."
In DIY Vegan, you'll find vegan recipes like Buttermilk, Cashew Coffee Creamer, Simple Sour Cream, Coconut Yogurt, Cultured Nut Cheese, Whole-Grain and Seed bread, Cheesy Crackers, Taco Seasoning, Spelt Pizza Dough, and many more. I went straight for the Pumpkin Pie Spice Mix of course, and after falling in love I made a triple batch to keep on hand. It's just so easy and flavourful, and now I never have to go without. If you noticed that super cute jar at the top of this post, you'll see that it also makes a fun gift for the pumpkin pie spice mix lover in your life. Just place the spices into a tiny jar (you can layer it for fun), add some baker's twine, and loop on a homemade tag. Wouldn't this be a cute idea for a housewarming gift or a party favour? Or maybe I'm just weird. Rest assured, if you ever brought me this I would light up like a Christmas tree.
Coming up soon, I'll be sharing a baked good that I created using this very pumpkin pie spice mix. You don't want to miss this one, folks. It's the seasonal baked good I promise you'll want to whip up all season long. So go on and make this spice mix then meet me back here for Part 2! Deal?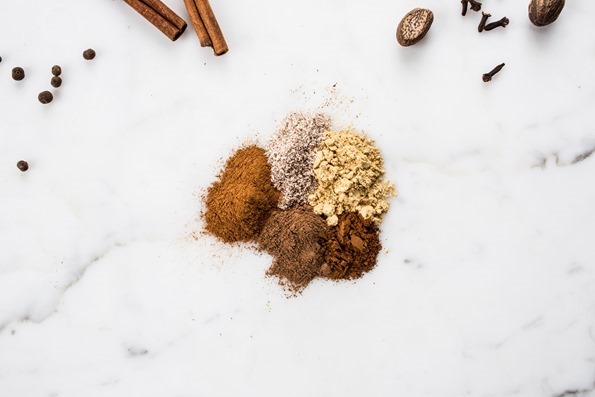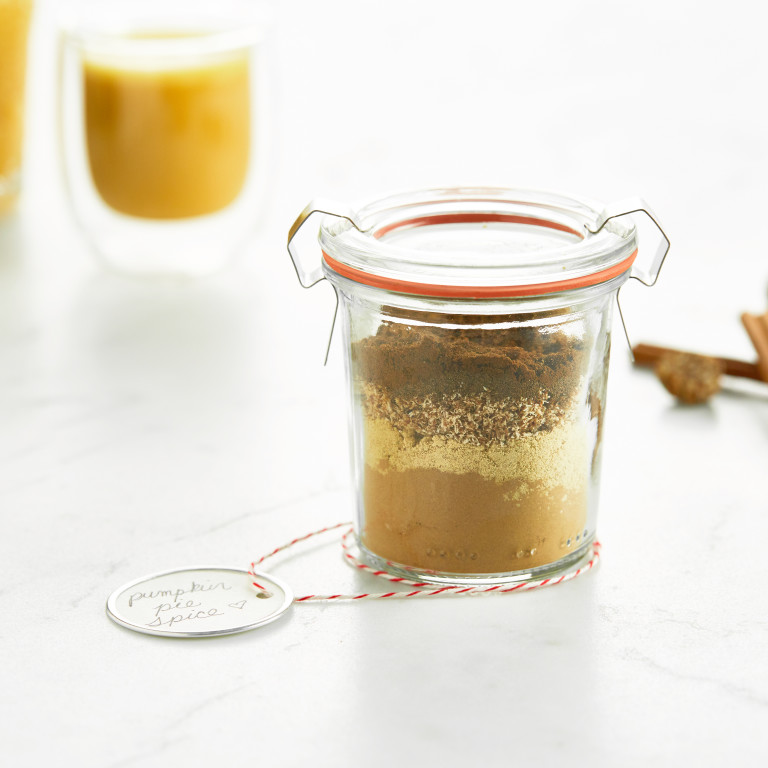 Pumpkin Pie Spice
Vegan, gluten-free, grain-free, no bake/raw, nut-free, oil-free, refined sugar-free, soy-free

Yield

2 1/2 tablespoons
Prep time

Cook time

0 minutes
Total time

Use this pumpkin pie spice mix in cakes, cookies, bars, oatmeal, smoothies, lattes, chia seed pudding, and more! I like to keep a large batch of it on hand and I find myself using it in just about everything. This recipe is reprinted with permission from DIY Vegan. Copyright © 2015 Nicole Axworthy and Lisa Pitman. Published by St. Martin's Griffin.
Ingredients
4 teaspoons cinnamon
2 teaspoons ground ginger
1 teaspoon freshly grated nutmeg (I pack it in the teaspoon)
1 teaspoon ground allspice
1/2 teaspoon ground cloves
Directions
Combine all the ingredients in an airtight container or jar. Attach lid and shake to combine. Store at room temperature for up to 6 months. Shake jar before each use.
Nutrition Information
(click to expand)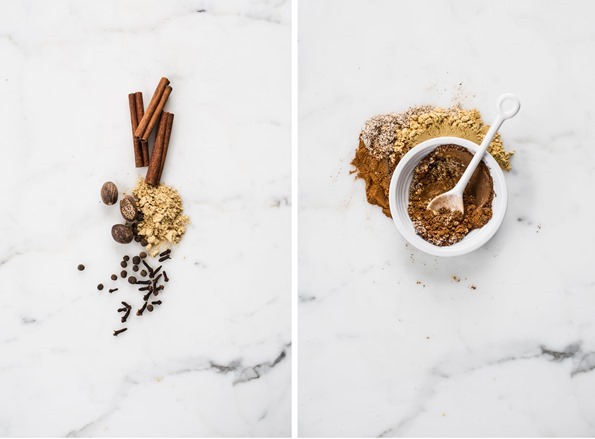 Photography credit: Ashley McLaughlin Photography
A big congrats to Nicole and Lisa on this beautiful cookbook, and for allowing me to share this recipe with you today! DIY Vegan is hot off the press this Tuesday, October 27th so be sure to check it out online and in bookstores!