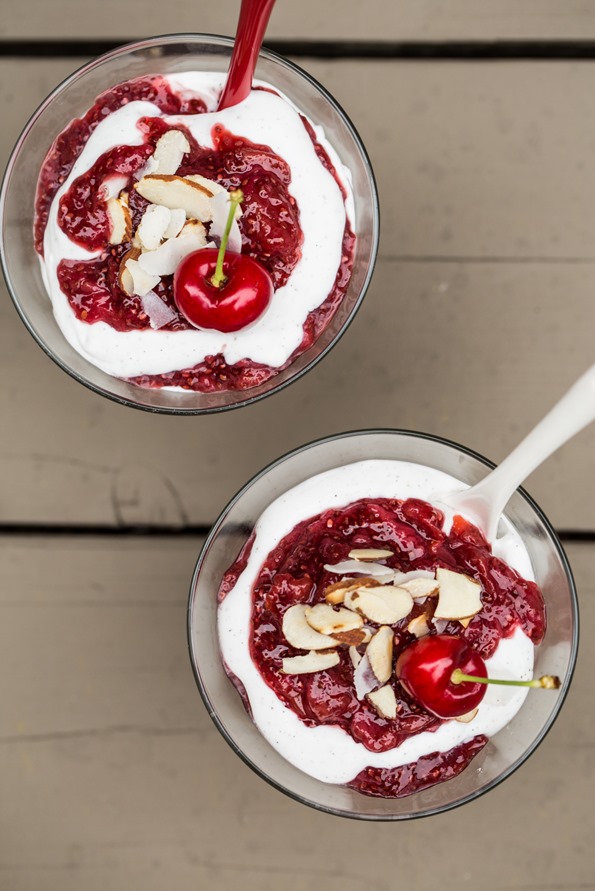 My sister and family are here visiting this week and they brought us about 10 pounds of freshly picked cherries from my brother-in-law's parent's house (they have about 7 cherry trees…jealous!). It was like Christmas morning when this loot arrived. I'm eating these beauties by the fist full. Adriana is going wild over them. It's a good, ahem berry good, week. We pitted and froze a bunch to make 1-ingredient cherry sorbet in the Vitamix (my nephews loved it) and I'm dreaming up other ways to use them before they go bad!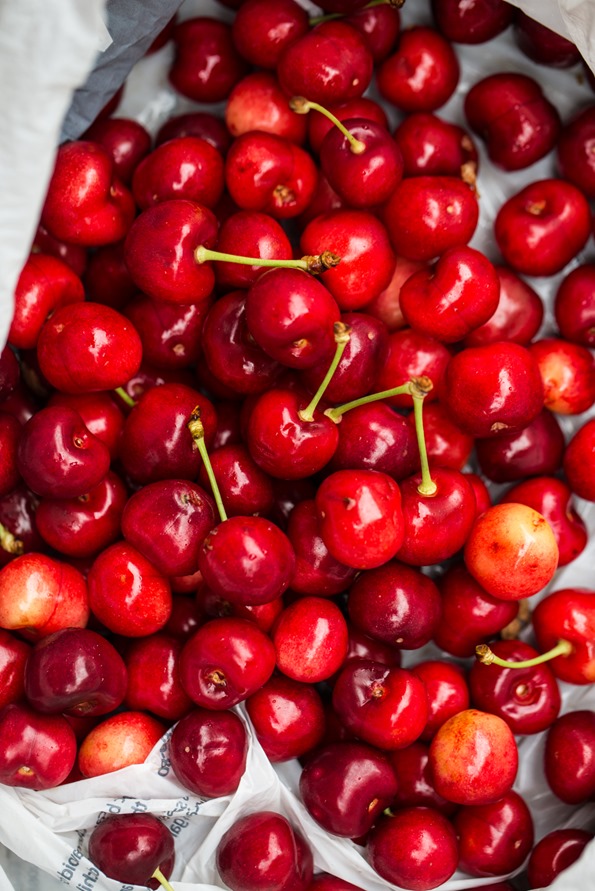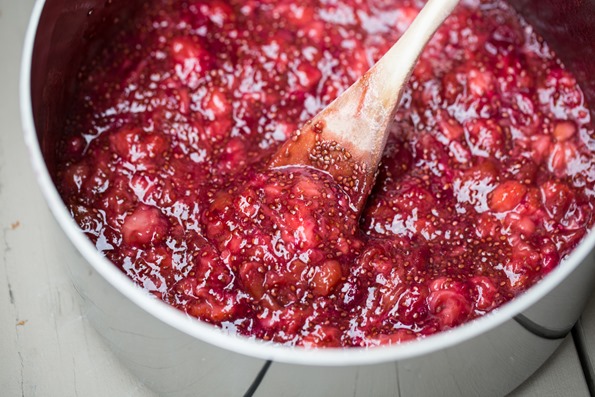 This gorgeous Cherry-Strawberry Chia Seed Fool is a festive dessert I came up with for Canada Day tomorrow. I actually thought of it in the middle of the night last night and by some stroke of luck I remembered the idea this morning. In lieu of heavy dairy cream, I used full-fat coconut cream and whipped it with a touch of cane sugar and vanilla bean powder. So incredibly simple and delicious. For the berry part, I made a cherry-strawberry chia seed jam with maple syrup (does it get anymore Canadian?), vanilla bean, fresh lemon juice, and a secret ingredient – a teaspoon of finely grated beet for a bolder red color (but that's totally optional). It turned out so lovely layered in parfait glasses. Many traditional fool recipes that I came across fold the berries into the cream until it's pretty uniform in color, but I prefer the layered look so I did it my way. Then you can swirl it all together as you eat it. Total bliss! I also added some toasted sliced almonds and flaked coconut on top for some crunch. A little lemon zest would be nice too.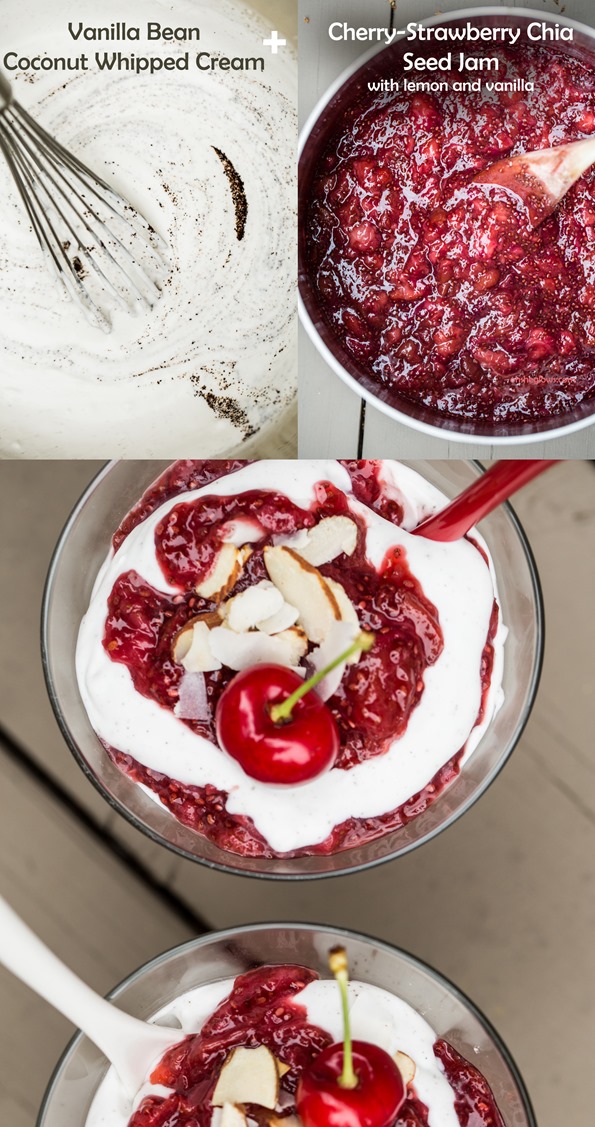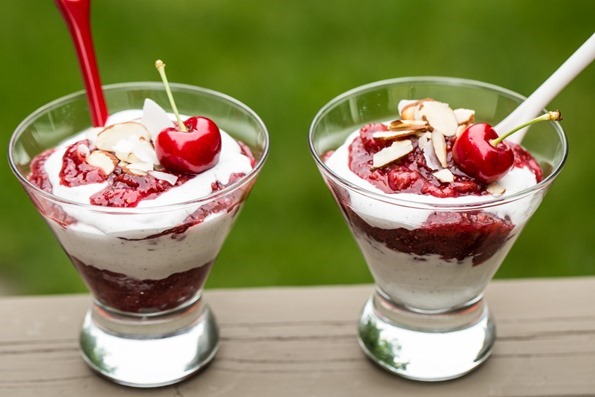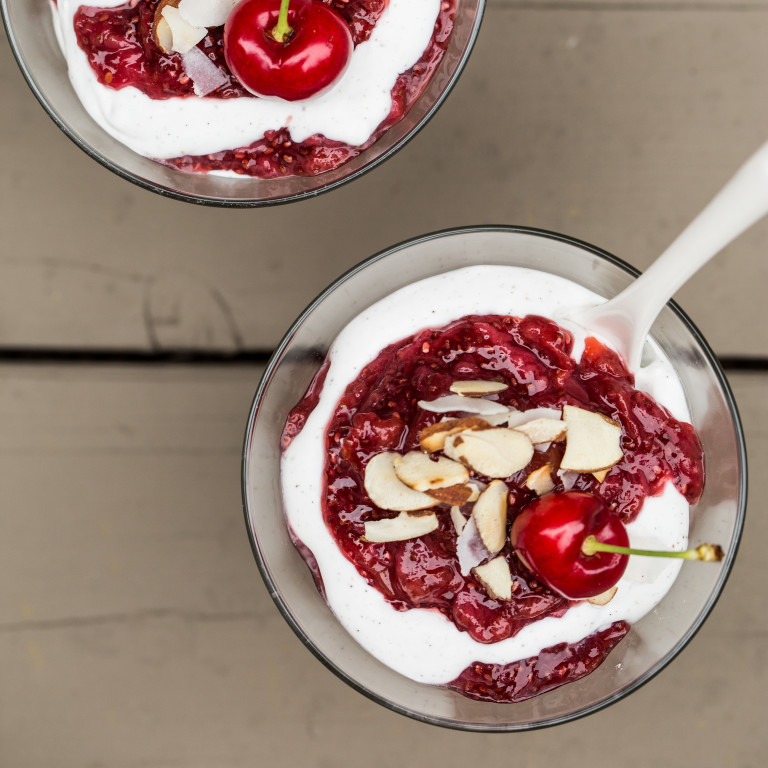 Cherry-Strawberry Chia Seed Fool
Vegan, gluten-free, grain-free, oil-free, soy-free

Yield

6 parfaits
Prep time

Cook time

Chill time

overnight + 3 hours
Total time

A vegan twist on the classic berry fool! I used whipped vanilla bean coconut cream and paired it with a delightful cherry-strawberry chia seed jam with lemon and vanilla. This dish requires some advance preparation so be sure to put the cans of coconut milk in the fridge the day before so the coconut cream can solidify. The jam also requires cooling, so you'll need at least 2 hours to chill it in the fridge before layering the dessert.
Ingredients
For the Coconut Whipped Cream
2 (15-oz) cans full-fat coconut milk, chilled overnight
2 tablespoons natural cane sugar, or to taste
1/4 teaspoon pure vanilla bean powder or 1 vanilla bean, seeded
For the Cherry Strawberry Chia Seed Jam (makes 2 1/3 cups)
2 heaping cups fresh or frozen strawberries (hulled if using fresh)
3 cups fresh or frozen sweet cherries (pitted if using fresh)
3-4 tablespoons pure maple syrup, to taste
2 tablespoons chia seeds
pinch fine sea salt
1 teaspoon pure vanilla extract or 1/2 teaspoon pure vanilla bean powder
1-2 teaspoons fresh lemon juice, to taste
1 teaspoon peeled and finely grated red beet (I use a microplane lemon zester), adds bolder red hue
Optional garnishes:
Toasted sliced almonds
Coconut Flakes
Lemon Zest
Fresh cherries
Directions
Chill the cans of coconut milk in the fridge for 12-24 hours so the coconut cream can solidify before use.
For the chia seed jam: Add the berries and maple syrup into a medium saucepan. Stir to combine. Increase heat to medium, and simmer until the berries release their juices and soften, about 10 minutes. After the berries release water you can increase the heat even more to cook off the water. Watch closely and stir frequently. When the berries look a bit soft, stir in the chia seeds. Keep cooking over medium heat until the chia thickens the mixture slightly, about 5-10 more minutes.  Reduce heat if necessary to avoid burning. Remove from heat and stir in the salt, vanilla, lemon, and optional grated beet. Pour into a glass container and let it cool on the counter for at least 30 minutes before covering and chilling in the fridge for at least 2 hours, preferably longer.
Chill a medium bowl in the freezer (this helps the coconut cream stay thick while whipping).
Open the chilled cans of coconut milk and carefully scoop off the white coconut cream from each can and place it into a medium bowl. You should have 1.5-2 cups worth of cream. You can reserve the leftover coconut water for another use, such as a smoothie or you can freeze it into coconut water ice cubes (also great in smoothies).
With electric mixers or a whisk, beat the cream and the cane sugar in the chilled bowl until smooth. Whisk in the vanilla.
Layer the coconut cream and the chia jam in parfait glasses. Top with optional toasted sliced almonds, flaked coconut, lemon zest, and a cherry on top! Enjoy immediately or cover and transfer to the fridge until ready to serve. The chia seed jam will keep for up to a week in the fridge in an air-tight container, and I expect the coconut whipped cream will keep for at least 5 days.
Tip:
Tip: If for some reason your chia seed jam didn't thicken enough after chilling (this might be the case if the water wasn't cooked off enough), stir in another tablespoon of chia seeds and chill it for another hour. That should do the trick!
Nutrition Information
(click to expand)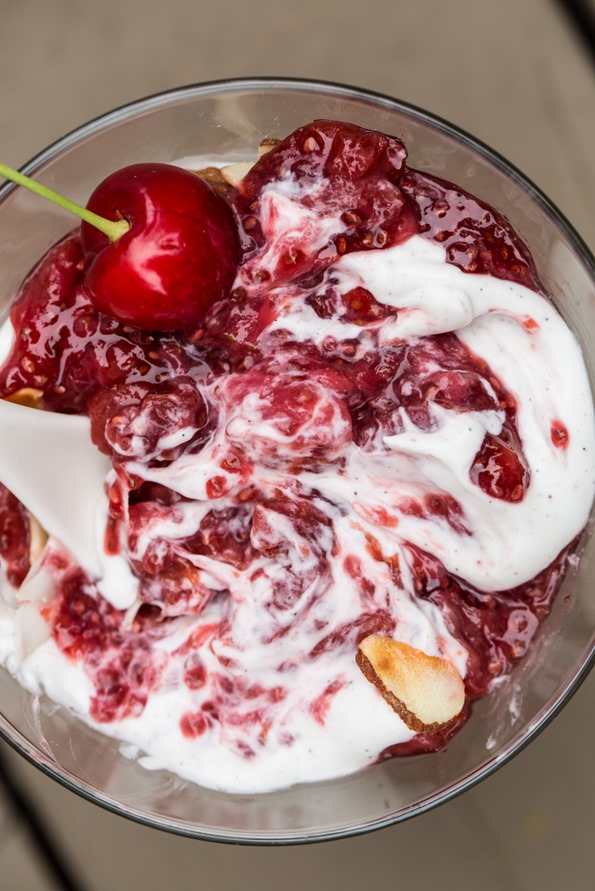 I'm keeping this short and sweet today because I have a big cookbook deadline looming. Thank you so much for your patience with my infrequent blog posts lately. I am dying to get back into it!
Wishing my fellow Canadians a very happy Canada Day tomorrow. Also, happy 4th of July to our friends south of the border. (By the way, you can easily turn this into a red, white, and blue dessert by adding blueberries.) I hope you have a fun and safe week filled with all the goodness summer has to offer!