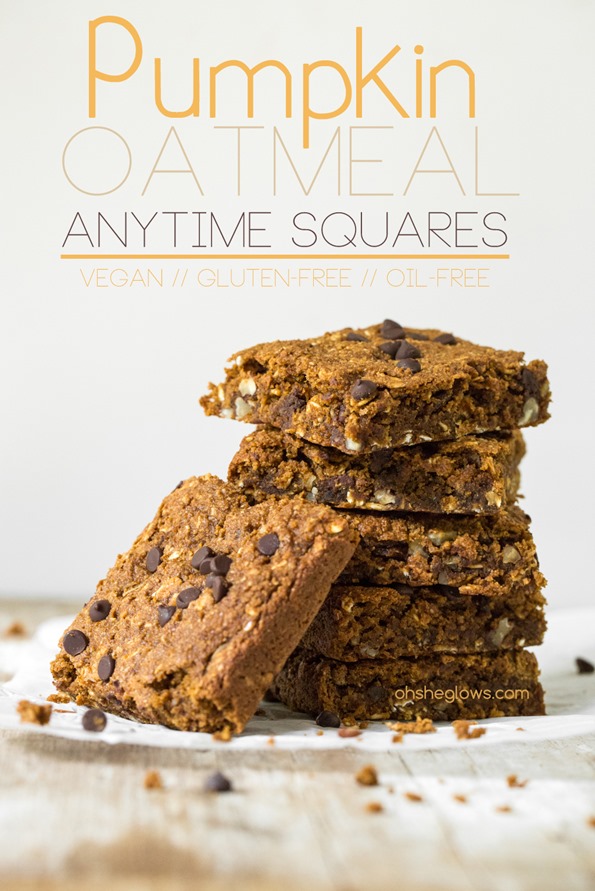 My Toffee Cinnamon Oatmeal Cookie Bar recipe seems to be the hit of the season so far on the blog. I've had quite a few questions about how to make the bars oil-free, so I figured it was a good opportunity to play around with the recipe. Pumpkin naturally lends moisture to baked goods and I'm happy to say it worked well as an oil replacement in this recipe. I'm also guessing the same amount of mashed banana might work too, but when in pumpkin season…#pumpkinallthethings! I added some pumpkin pie spices to enhance the pumpkin flavour. The result is a much lighter and softer/cake-y bar compared to the original recipe, but the upshot is that these feel light enough for a morning snack. Or at least I sure hope so because I've been nibbling away at them each morning when I try to decide what to make for my actual breakfast.
I know some of you also asked about a nut-free option, so I tried a couple versions subbing the almond flour. I didn't create anything worthy of sharing yet (my trials using oat flour + arrowroot powder and sorghum flour were both drier than I would have liked). Maybe I would have better luck adapting the original recipe with coconut oil? Be sure to leave a comment and let us know if you had any success. I'll also let you know if I test a nut-free version worth sharing!
My favourite way to enjoy these pumpkin bars is to spread some vegan butter on top (similar to how I love freshly baked muffins!). I guess that defeats the whole oil-free thing, but it sure is tasty. They would also be awesome with my Lightened Up Pecan Pumpkin Butter. I stashed a bunch of the squares in the freezer and found that they freeze well too.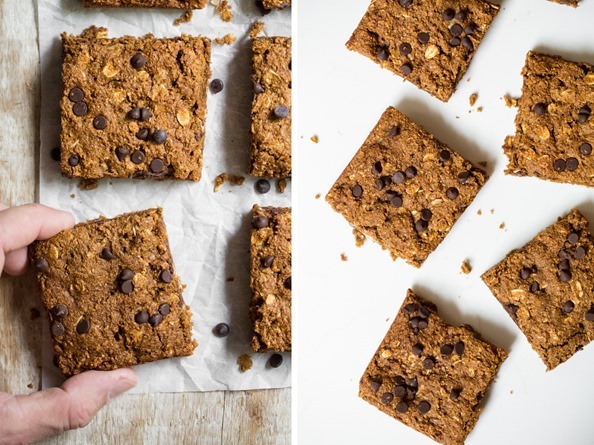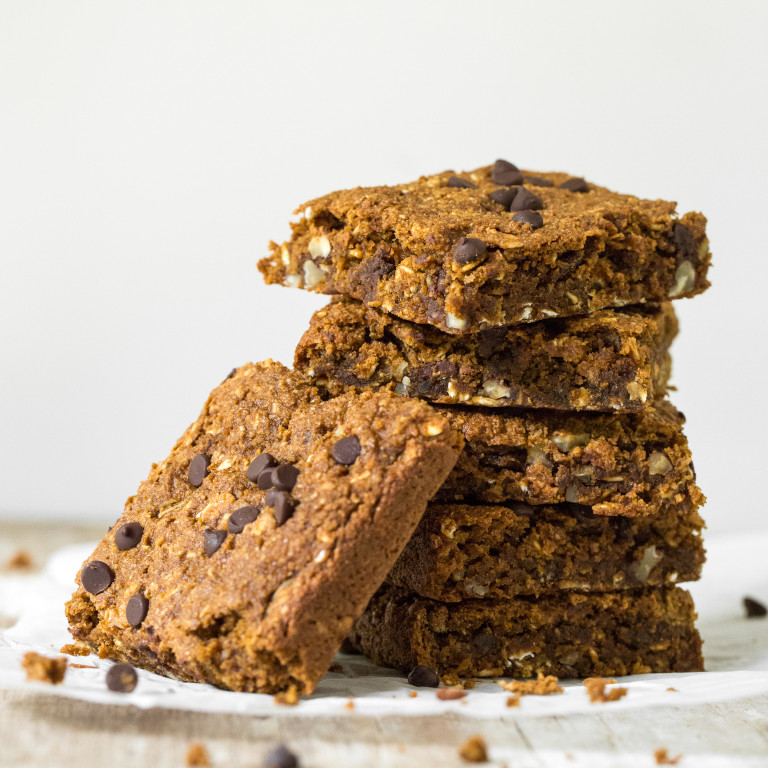 Pumpkin Oatmeal Anytime Squares
Vegan, gluten-free, oil-free

Yield

9-12 squares
Prep time

Cook time

Total time

Soft and muffin-like in texture, these oil-free pumpkin oatmeal bars are light enough for breakfast and all your snacking needs.
Ingredients
1 flax egg: (1 tablespoon ground flax mixed with 3 tablespoons water)
1/2 cup unsweetened canned pumpkin purée
3/4 cup coconut sugar
1 teaspoon pure vanilla extract
1/2 teaspoon baking soda
1/2 teaspoon fine grain sea salt or pink Himalayan sea salt
1 1/2 teaspoons cinnamon
1/2 teaspoon ground ginger
1/8 teaspoon ground nutmeg
3/4 cup gluten-free rolled oats, ground into a flour (Or use 3/4 cup + 1 tablespoon oat flour)
3/4 cup gluten-free rolled oats
3/4 cup almond flour (not almond meal)
1 tablespoon arrowroot powder (for enhanced binding)
1/2 cup pecan halves, chopped
2 tablespoons mini non-dairy chocolate chips, for garnish
Directions
Preheat oven to 350F and line an 8-inch square pan with parchment paper.
Mix flax egg in a small bowl or mug and set aside to thicken for about 5 minutes.
In a large mixing bowl, beat the pumpkin and sugar with electric beaters until combined.
Pour in the flax egg and vanilla extract and beat until combined.
Add the baking soda, salt, cinnamon, ginger, and nutmeg and beat again.
Finally add in the oat flour, rolled oats, almond flour, arrowroot flour, and pecans. Beat until combined.
Spoon dough into prepared pan and spread out until smooth and even. The dough will be very sticky, but this is normal. I like to cover the dough with a piece of parchment paper and roll it with a pastry roller. Sprinkle the chocolate chips on top and press down.
Bake for 15-19 minutes (I baked for 18 minutes), until lightly golden and firm to the touch. Be sure not to overbake.
Place pan on a cooling rack for 10 minutes. Then, lift out and place square directly on cooling rack for another 10-20 minutes, until cool. Slice and enjoy! The bars will crumble slightly if sliced warm, but they firm up nicely when cooled.
Tip:
Tips: 1) Instead of coconut sugar, you can try using Sucanat or natural cane sugar. Also, if you'd like a less sweet square you can try reducing the sugar a bit. 2) To make the freshly ground oat flour, add 3/4 cup rolled oats into a high speed blender. Blend on high until a fine flour forms. You can also simply use store-bought oat flour (3/4 cup + 1 tablespoon should do it).
Nutrition Information
(click to expand)