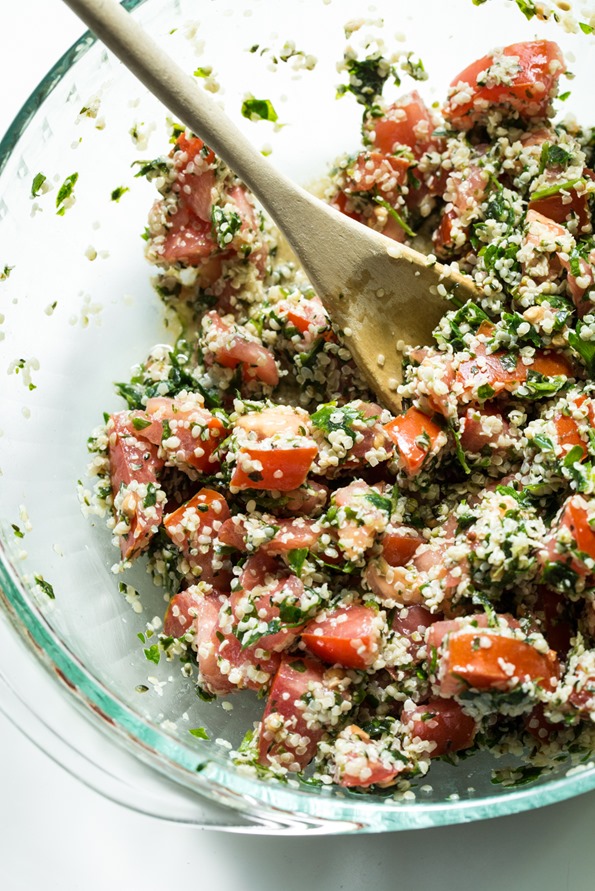 Don't you love when you come across a recipe and it's made in a way that has never occurred to you before? Culinary discoveries are one of my favourite things about vegan food creation. Before I started experimenting with a plant-based diet, I had no idea there were so many exciting ways to change up traditional animal-based recipes. Almonds make milk? Coconut Cream makes whipped cream? Avocados make chocolate pudding? Lentils make meatloaf and taco meat? Cauliflower makes alfredo sauce? Buckwheat makes raw porridge? GET OUT.
Almost 6 years later, I'm still discovering new twists on classic recipes and often find they taste even better than the real thing. Just when I feel like I can't possibly come up with a new recipe, I'm inspired by talented bloggers, restaurants/bakeries, and cookbooks just to name a few.
One such talented blogger who has become a dear friend over the years is Gena Hamshaw from the blog, Choosing Raw. She's been a constant source of inspiration since my early days of blogging (waaaaay back to 2008), so I was naturally excited to be offered a copy of her first cookbook. Her writing is evocative, thoughtful, and informative and her recipes are uncomplicated, full of plants, and always satisfying. If you've ever thought that raw recipes require too many steps or hard-to-find ingredients, Gena's recipes prove just how simple and unfussy they can really be.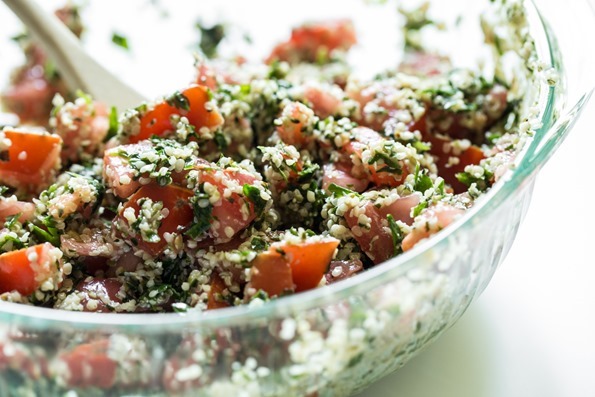 Case in point: This Hemp Seed Tabouli straight from Gena's new cookbook, Choosing Raw: Making Raw Foods Part of the Way You Eat.
Rather than using bulgur in her tabouli recipe, Gena uses hulled hemp seeds. I don't know why I hadn't thought of using hulled hemp seeds as a base for tabouli before (cauliflower and quinoa variations were as crazy as I got), but it's a brilliant swap. This easy switch packs in loads of protein and healthy omega fatty acids, while doing without any cooking. Just chop, mix, and serve. Isn't that what summer meals are all about? It's the perfect recipe to whip up for a quick lunch on a hot day and even better if you are without an oven during a renovation. Pair this tabouli with some hummus and crackers (I served it with my Endurance Crackers made in the dehydrator instead of the oven!) and you have yourself a fine summer lunch packed with fresh summer veggies, protein, healthy fats, and more. Fresh, fresh, fresh!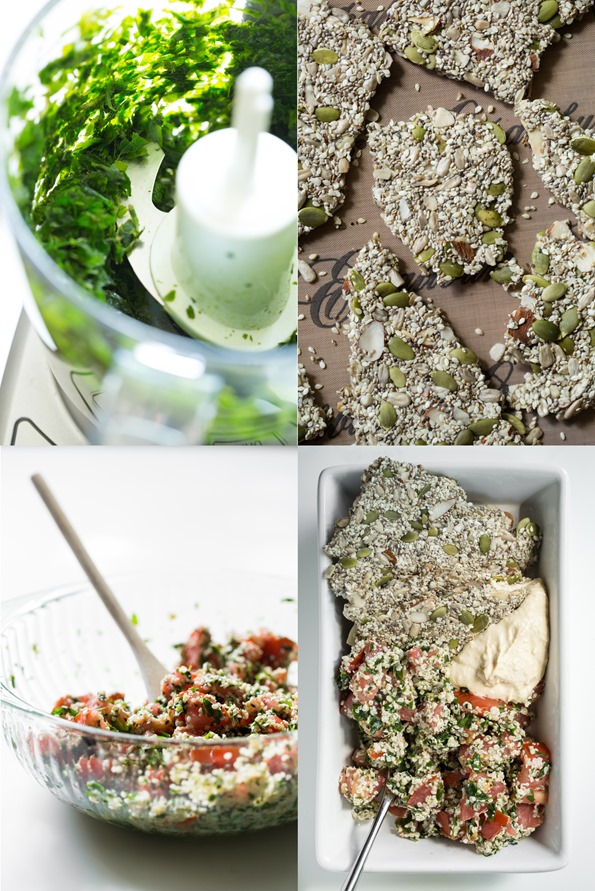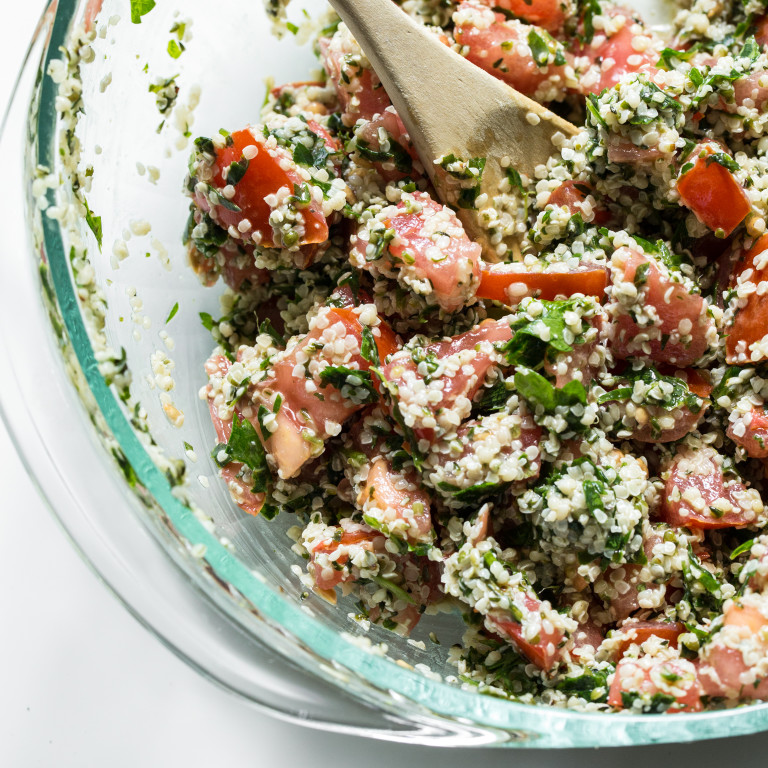 Gena's Hemp Seed Tabouli
Vegan, gluten-free, grain-free, no bake/raw, nut-free, refined sugar-free, soy-free

Yield

4 servings
Prep time

Cook time

0 minutes
Total time

Tabouli with a high-protein twist! A tasty raw summer dish that doesn't require any cooking and comes together in less than 10 minutes. Try serving it with my Endurance Crackers and hummus for a fun mezze platter. Recipe from Choosing Raw by Gena Hamshaw. Reprinted with permission from Da Capo Lifelong, © 2014.
Ingredients
1 cup fresh parsley
1/2 cup fresh mint leaves
1/4 teaspoon sea salt (I used 1/4 + 1/8 teaspoon)
4 medium yellow vine or Jersey tomatoes, chopped (I used 2-3 large red tomatoes)
1 cup shelled hemp seeds
2 tablespoons hemp oil (I used olive oil)
2 tablespoons freshly squeezed lemon juice
Directions
1. In a food processor fitted with the "S" blade, process the parsley, mint, and sea salt until minced.2. Transfer the herbs and salt to a large mixing bowl. Add the tomatoes, hemp seeds, hemp oil, and lemon juice. Mix well, and serve.Stored in an airtight container in the fridge, the tabouli will keep for 2 days.
Nutrition Information
(click to expand)
Choosing Raw is packed with 125 fresh and easy recipes (many of which don't even require an oven), in addition to a few opening chapters on vegan nutrition, myths and misconceptions, and how to get started. I have several of her recipes bookmarked during our kitchen renovation. The other night I made the Raw Gazpacho and it was lovely too. I threw in some fresh dill and hemp hearts for fun.
For dessert, I tried out Gena's Raw Key Lime Pie. This is a fun treat to stash in the freezer during the summer.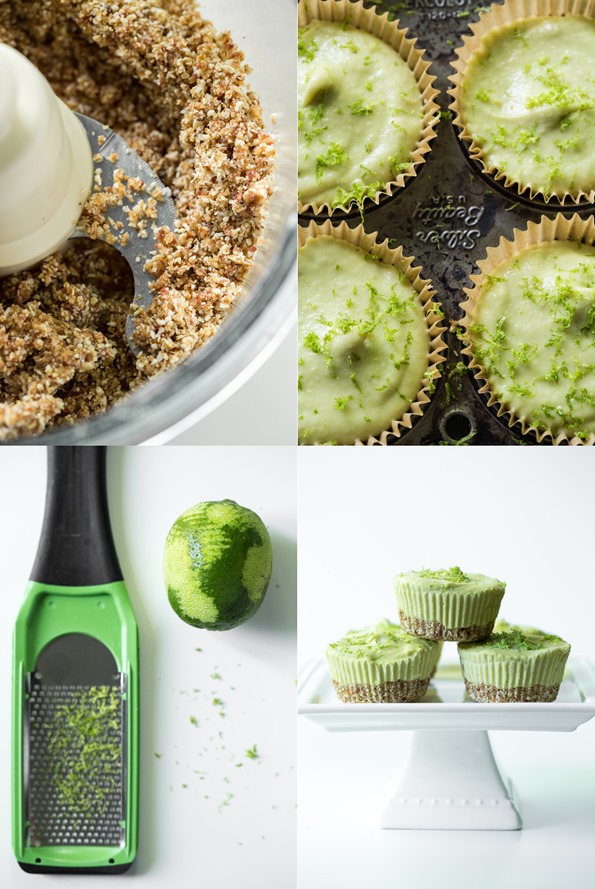 I made cupcake-sized tarts instead of one 9-inch pie. We just love eating these straight from the freezer. I should also note that I changed up the crust. I cut the cashews down to 1 cup (from 2 cups) and then used 1 cup of rolled oats in its place to save some money. Then I just added a tablespoon of water to make the dough stick together nicely. Worked like a charm!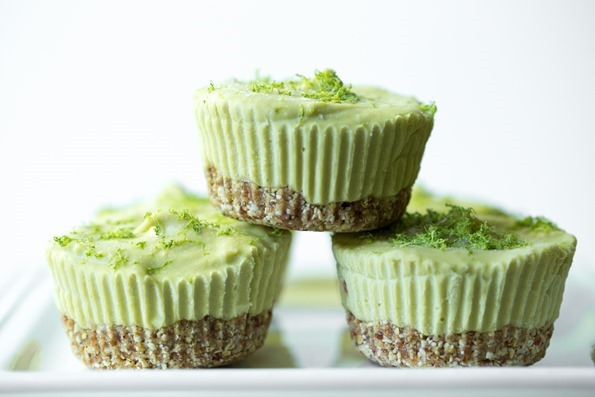 Be sure to check out Gena's cookbook: Choosing Raw: Making Raw Foods Part of the Way You Eat if you are looking for easy ways to incorporate more raw (or just veggie-centric) foods into your diet.