I'm sitting down on a Friday night writing this first entry and I'm currently 18 weeks pregnant. Suddenly, the first trimester feels like ages ago. I meant to start writing earlier, but with everything that's happened since January, well, here we are. I seriously can't believe how quickly it's flying by! I'm sure I won't be saying this when I'm in the final weeks though…hah.
January 11th was the day I found out that we're expecting our first baby. I think it took me about 4 different pregnancy tests (from different brands) before I actually believed it. When I found out, I started a pregnancy journal so I could keep track of pregnancy experiences and cravings. I can't say I've been super diligent about updating the journal, but I did try my best with everything going on! My due date is Sept. 22, 2014 and it feels so close already.
Jan 11th: I took a first response pregnancy test the day before I was supposed to get my period and it was positive! On the test, the second line was quite faint and I wasn't sure it was a true positive result. After some reading online, the consensus was "a line is a line!" so I immediately spent the entire morning (I was wide awake at 5am) trying to plan how I was going to surprise Eric.
Note: You can read how I surprised Eric in this post.
Did I have any signs that I was pregnant? Yes, a few hints. A few days after ovulating (I can't remember how many days after it was) I remember getting some brief cramping in the pelvic area which seemed much too early to be PMS cramps. I later read this could be called implantation cramping. A couple days before I took the pregnancy test, I also felt nauseous in the morning. In the back of my mind I knew something was different in my body. It's not like me at all to feel nauseous or not to be able to eat all my food (hahah), so I knew something was up. I was also really, really tired and going to bed early all week. I figured it was just PMS because the symptoms were similar, but in the back of my mind I did wonder if this was something different.
Jan 13th: Still feeling nauseous. I fought back tears through parts of The Bachelor tonight (which is hilarious because it's the worst season ever), so I thought that was pretty damn funny! Recently, Eric and I booked a trip to visit my mom and stepdad in February. I will only be 7/8 weeks pregnant on the trip, but I really want to tell them the news while we are there. Plus, if I didn't my mom might figure it out anyway! In other news, I can't get enough of pineapple!!! Eating it nonstop for days.
Jan. 14th: Up at 5:30am once again. I can't sleep lately. Hot cocoa and chocolate muffins are very appealing this morning for some reason, but I'm way too lazy to do anything about it. Still taking all of my vitamins (more on this in a future post). I ordered custom onesies from Etsy for the grandparents-to-be last night! The onesies say "I love grandma and grandpa: coming September 22, 2014". A side effect from pregnancy I never expected – my skin is finally clear and blemish-free (spoiler alert: this did NOT last).
Jan. 17th: I am soooo angry and irritable today. It's like the worst PMS ever. I don't even want to be around myself. Serenity now!
Jan 18th: So it all ended up working out ok (yesterday's problems) and I'm happy for that. I'm still waking up at all hours of the night and I have a very hard time staying asleep consistently. I hear this is called first trimester insomnia? I will blame the hormones once again!
Jan 22: Nausea comes on stronger at night time, especially after eating dinner. I have no appetite and zero desire to make recipes. Eric is missing all his usual treats. I'm also so tired this week! All I want to do is stay on the couch! This has been very challenging as I'm someone who likes to be on my feet as much as possible. I'm going a bit stir crazy up in here.
Jan 23: I met the girls for lunch today and it was really hard not telling them I'm pregnant. It still feels a bit early. I'll wait until end of February though. My prenatal blood tests came back normal! yay! That includes my iron which was the highest it's been in years. Good news all around.
Jan 28 (6 weeks):Still feeling like poo on a stick (whatever that is) and trying my best to function with everything going on with the upcoming book launch and house renovations (we just bought a house this month). It takes all of my energy to do my plank workout each morning. That counts as a solid workout right? hah. Cardio will have to wait until I'm feeling better because I couldn't even imagine trying to work out right now. Nope, you couldn't pay me to workout while feeling like this. Today, I bought a bag of salt and vinegar chips and I demolished the entire bag. It's been so long since I ate a bag of chips and it was so necessary. Salt, salt, salt…that's all I'm craving these days…oh and PINEAPPLE! pineapple for DAYS!
A peek of the house renos: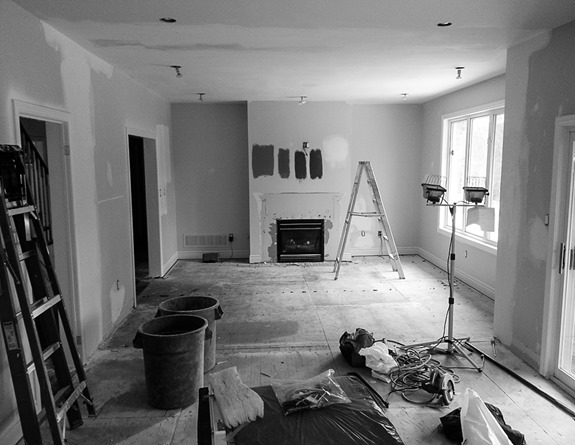 Jan 30: Cravings of late: Salt and vinegar chips, pico de gallo (I think I demolished 3 containers in 3 days), pineapple, and this incredible kale salad at the WF salad bar. I have an appetite mid-afternoon so I have to eat a lot then because I don't have much of an appetite in the morning or evening when nausea peaks. Going to bed by 9pm seems to be a theme this week…I can't even stay up for my favourite shows!

Feb 2 (7 weeks): Found out my dad had to have an emergency surgery procedure after a routine medical procedure went horribly wrong. I'm so worried about him…his recovery is going to be challenging. We'll have to wait to surprise him with the news since he's on some strong medications right now.

Feb 8: We're visiting my mom and stepdad this week and I'm full of nerves about surprising them. The day we arrived we gave my mom a gift with the onesie that read "I love grandma and grandpa – coming Sept. 22, 2014" My mom's reaction was priceless! It took her a couple moments to let it all sink in and then we both burst into happy tears! My sister Kristi also Skyped us while on the trip so we told them the news too. I love my nephew's comment, "I vote for a girl. Will this make me a big brother??" hah! The trip was nice and the weather was beautiful, the only problem was that I was very sick most of the trip (morning sickness and I got a cold near the end) and Eric was sick as well. Oh well, we will get 'em next time! I'm just happy we got to surprise them in person.
Feb 15th: Back from trip and I came down with a horrible flu…I feel miserable! I can't remember the last time I was this sick. I'm also feeling depressed, hormonal, anxious, and emotional all of a sudden. I'm having all these doubts that I can do this and pregnancy books are freaking me.the.hell.out. so I'm just avoiding them for now. I sure hope this passes soon. I'll mention it to my OB at the next visit. [Update: The anxiety and depression lasted for a few weeks – I guess it's pretty common in the first trimester, and I'm relieved to hear this. I'm so grateful that it eventually passed!]
Feb 26 (10 weeks): Sketchie had exploratory surgery last week for his bowel issues and today we found out he has lymphoma. I'm absolutely heart broken and uncertain of what the future holds for him. I don't want to lose him. This has been a very, very sad week with lots of tears.
March 3 (11 weeks): My book launches this week. So much excitement and nerves going on. I almost threw up before my morning TV spots on Canada AM and Steven and Chris. That would not have been cool. It didn't help that I had to get up at 4am I guess. They both went well though so it's all good. :) I'm really glad I pushed myself to do it because it was a great experience and everyone was super friendly!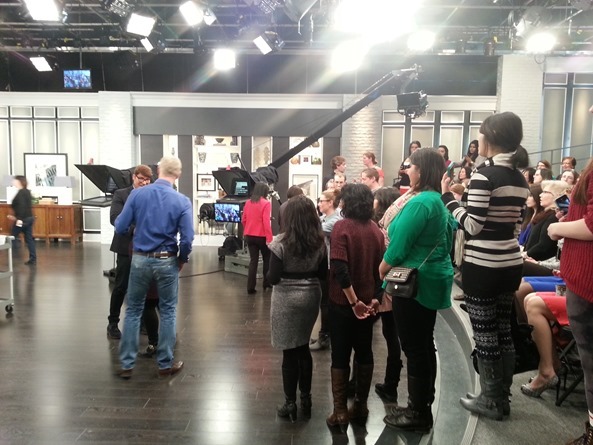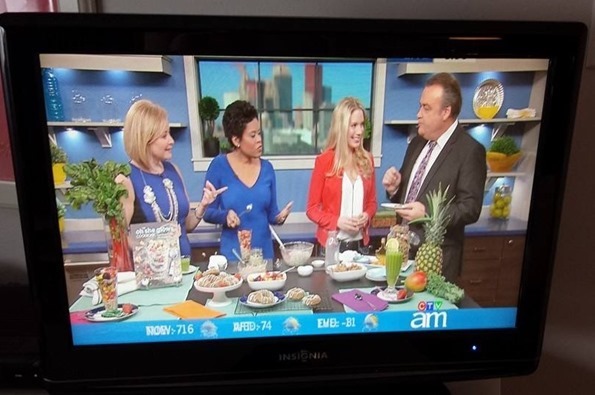 March 8: I ATE ALL THE DRIED CHERRIES! Dried sweetened cherries taste just like fruit rolls ups. Are you guys aware of this? Seriously. I'm obsessed. They are my sweet snack of choice right now.
March 10 (12 weeks): Ultrasound today! The baby wasn't moving much at first (and of course I was worried) and then the tech finally realized that I had a super full bladder. I think I overdid it on the water front! After emptying my bladder baby had more room and the wiggling began! I still can't believe this baby is inside me…it's so surreal.
March 11-12: got a really horrible migraine and was throwing up. I can barely function right now, but I'm trying my best to keep up with the cookbook media, Sketchie's recovery, and the move. I'm still not feeling like myself at all.
March 13: I've been all about romaine lettuce and popsicles this week. I guess it's safe to say that I definitely haven't had an aversion to greens because I'm eating salad everyday. Also, apples and chickpeas are high on the craving list! Many times though, nothing sounds appetizing. I open the fridge, look around, and I can't think of one thing I want to eat. It's so weird. I also have a very strong aversion to meat…if I see a hamburger on TV I almost gag.
March 14: had a very vivid dream that I had a baby boy and he had this adorable big smile and was laughing in my arms. Is this a sign of the gender?? We'll have to wait until week 19 to find out! Eric thinks it's a girl. I initially did too, but after having that dream I'm now thinking boy…
March 16: We told my BIL and SIL, Steve and Joanne, the big news today! We were giving them a tour of the new house and when we got to the future nursery Eric said, "And this will be the baby's room…" Joanne was like, "Sketchie's room??" and I said,  "no, a BABY!" And they were confused for a second but eventually they clued in. It was funny.
March 17 (13 weeks): We told Eric's parents the big news today! We mailed them a package that said do not open until St Patrick's day [on Skype with us]. They had a few days of curiosity. So we booked the Skype call on St Paddy's Day because it's a special day for them. Margaret opened up the package (and my father-in-law was there beside her) and when they saw the onesie that said "world's best grandparents: Coming soon Sept 22" Margaret started screaming oh my gosh…and got teary (so did I!). Ken was very excited too. It was a great moment!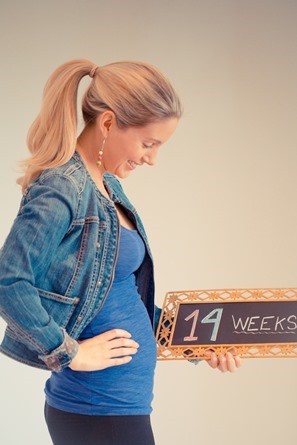 March 24 (14 weeks): Today I blogged about my news. I felt so nervous hitting publish, but I also feel relieved that it's not a secret anymore. :) Craving: GRAPEFRUIT – I'm eating 2 a day, sometimes 3 and peeing is a full time job.
Ok, so I went into the 2nd trimester a little bit, but there you have it in a nutshell. It was a crazy few months with a lot of ups and downs. I can't even begin to tell you how much better I feel in the second trimester! I'm so much happier and I feel much more like myself. One thing is for sure, it's all for a great cause. This little baby is already loved so much.
Thanks for indulging me in my random first trimester rambles. More soon… =)