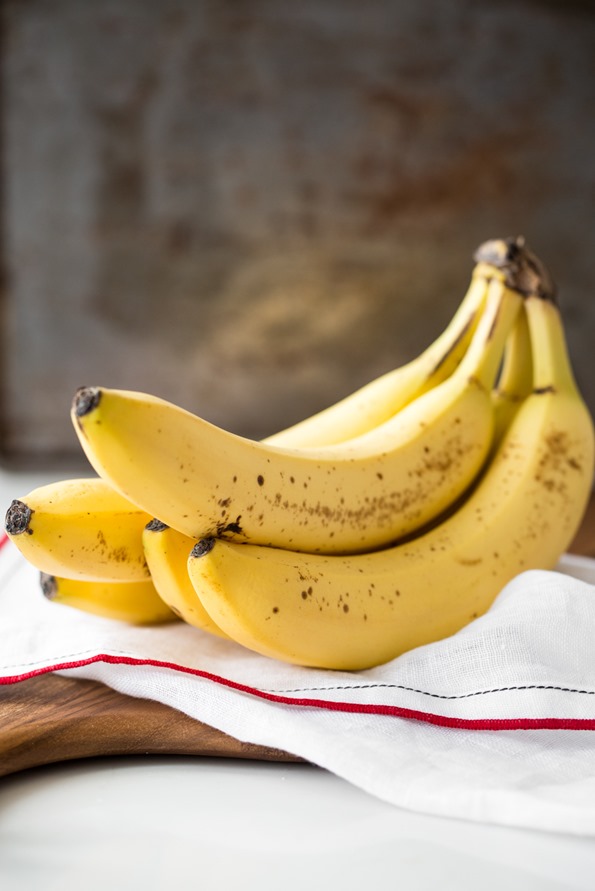 I have a couple recipe "blogging rules" that I always try to follow: If I don't feel a recipe in my heart, it doesn't go on the blog. I'm true to that, especially over the past few years. Sometimes I drive myself a bit nuts (like the multiple recipes I tested this week and did not post). Also, if I can't imagine myself (honestly) making the recipe again in the future, it doesn't get posted. Eric gives me the low-down too. No sugar-coating.
It's not that the recipes are horrible or that we don't eat the leftovers (I will pretty much eat anything that I make!), but sometimes they just lack a certain je ne sais quoi. When you know it, you know it.
Anyway, after one bite (and 2, 3, 4, 5…) of these muffin tops, I knew it was going on the blog. No second guessing. My heart, mind, body, taste buds all screamed OH HECK YES.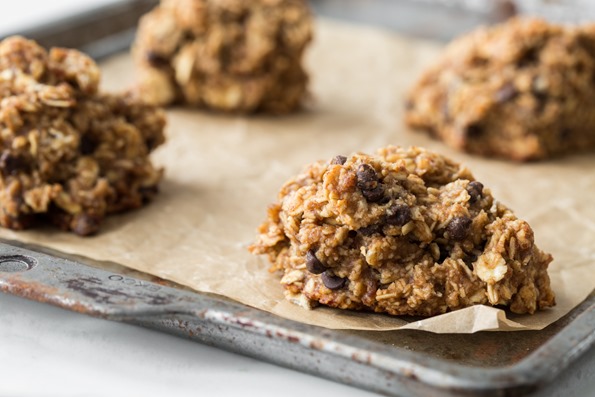 Granted, these fall under that unfortunate category of "tastes much better than it looks" – why do the homeliest foods always taste the best? This photo shoot was…interesting, to say the least. But really who cares what they look like? If you love chewy, gooey, dense, and naturally sweetened muffin tops you will adore these. These are not fluffy like a muffin. This recipe is simple to make (if you can throw things in a food processor you are golden!), uses common pantry ingredients, and the banana bread flavour is just heavenly – especially when served warm with a pat of vegan butter. I tested a batch the other night and we happily enjoyed some cuddled up on the couch watching our favourite shows. Sketchie curled up in my lap on a blanket…always.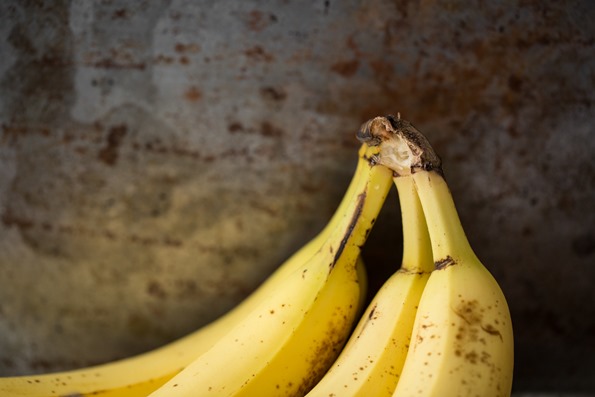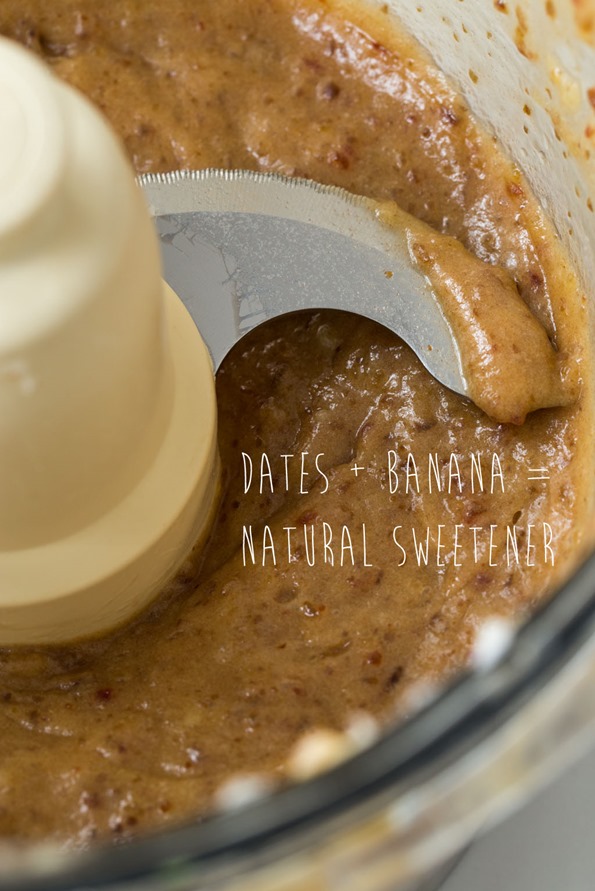 Even better, there's no added sugar (thanks to the banana and date purée), unless you count the chocolate chips (covering my ears and singing la la la la laaaa) which you can easily replace with walnuts.
Actually, I think my favourite part about this entire recipe is that I didn't dirty a single muffin pan! I don't know what it is, but I would rather climb Mount Everest than clean out a muffin tin.
Anyone?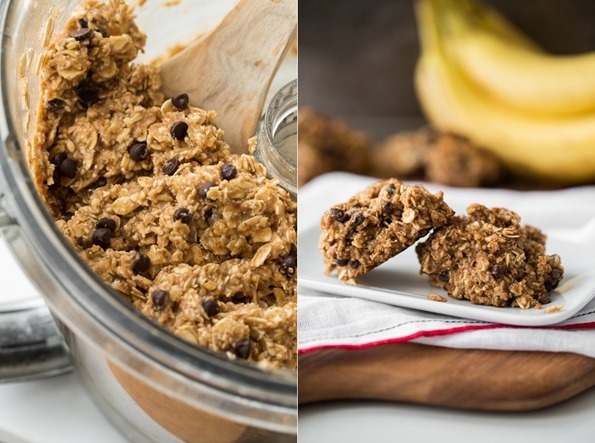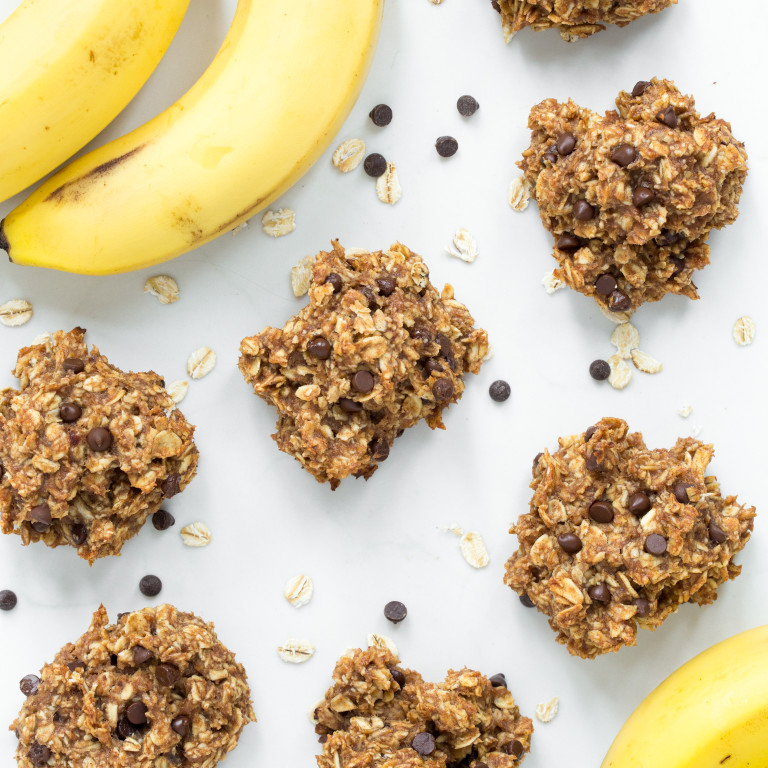 Banana Bread Muffin Tops
Vegan, gluten-free, nut-free, refined sugar-free

Yield

9 large cookies
Prep time

Cook time

Total time

Ultra dense and chewy, these banana bread muffin tops make a great running-out-the-door breakfast or snack. Sweetened with banana and dates, there are no added sugars (and the chocolate chips can be easily swapped for walnuts). Try them warm served with a pat of vegan butter, nut butter, or coconut oil.
Ingredients
2 large ripe bananas, peeled (230 grams banana without peel)
1/2 cup packed pitted Medjool dates (125 grams pitted dates)

*

1/4 cup virgin coconut oil
1 teaspoon pure vanilla extract
1 teaspoon cinnamon
1 teaspoon baking powder
1/4 + 1/8 teaspoon fine grain sea salt
2 cups gluten-free rolled oats, divided
3-4 tablespoons non-dairy chocolate chips (or chopped dark chocolate)
Directions
Preheat oven to 350F and line a large baking sheet with parchment paper.
Add the peeled bananas, pitted dates, coconut oil, and vanilla into a food processor. Process until smooth. I let it run for a minute or so.
Add in the cinnamon, baking powder, and salt and process again until combined.
Add in

1.5 cups

of the rolled oats and process for only 4-5 seconds, just long enough to roughly chop the oats.
Remove processor from the base and then remove the blade and set aside. Carefully stir in the remaining 1/2 cup rolled oats and the chocolate chips.
Spoon a large portion of dough (about 3-4 tablespoons or so for each) onto the parchment. Do not press down on the dough to flatten - simply leave it in a mound on the baking sheet.
Bake cookies for 10 minutes, rotate the pan, and bake for another 7-9 minutes until golden brown on the bottom.
Immediately transfer the baking sheet onto a cooling rack for 10 minutes. Then lift off muffins and place on the rack to cool completely.
Tip:
Make sure you use very soft Medjool dates. If you are using firm dates, be sure to soak them in water until softened before proceeding with recipe.
Nutrition Information
(click to expand)
PS – We're looking into why some of you didn't receive the first newsletter (be sure to check your "social" and "promotions" folders if you use Gmail, by the way). I will most likely post the info on my book page in the near future in case you did not receive it. Stay tuned!