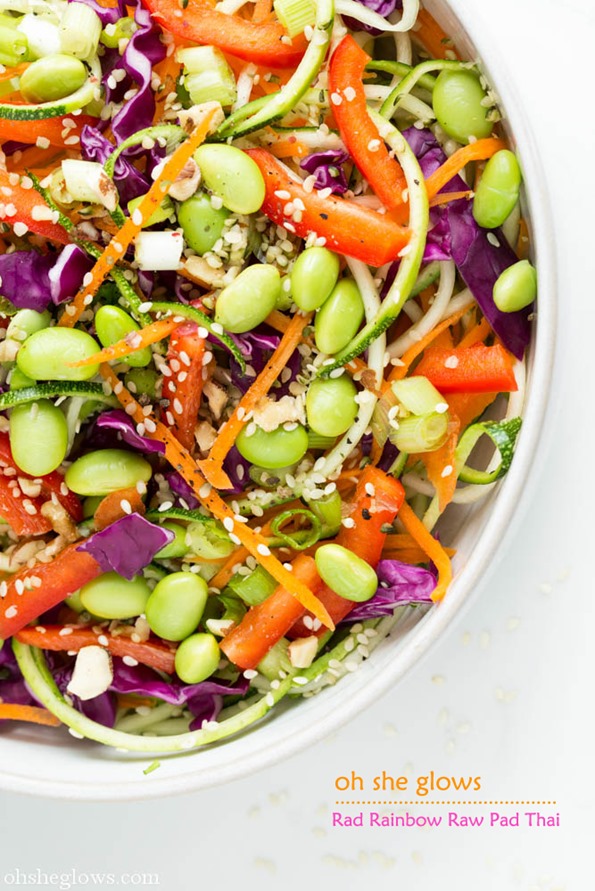 Say this recipe title 10 times fast and…you WIN!
Happiness and energy in a bowl. What more could you want on a Monday?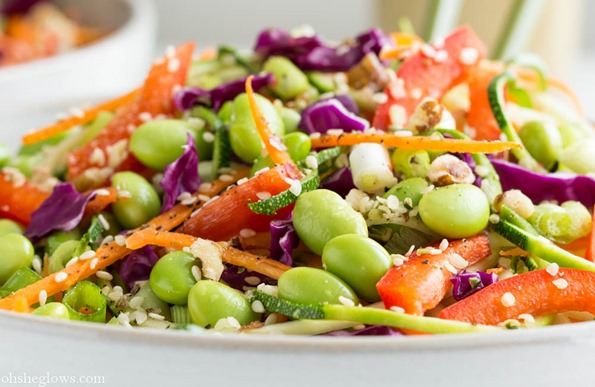 If I could summarize in a single recipe what a healthy vegan diet means to me, this bowl might just be it. It's fresh, crisp, vibrant and heavy on the veggies with plant-based proteins throughout and a creamy and indulgent almond butter dressing. In other words – the perfect balance of this-tastes-freakin-amazing and this-makes-me-feel-freakin-amazing. I was bouncing off the walls with energy after I ate this….actually I still am. I swear it has nothing to do with overnight coffee concentrate.
Ok, maybe a little.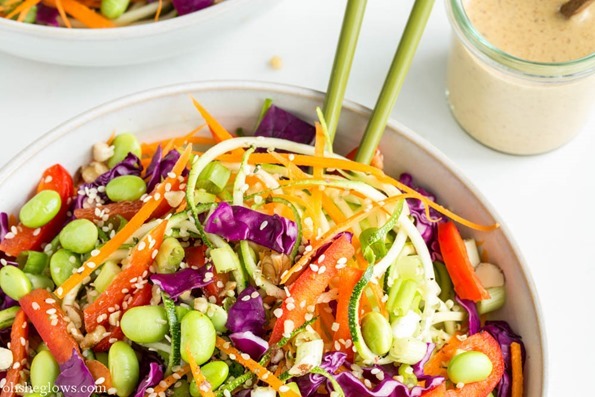 I know we're only 1 week into summer, but this might just be my favourite salad of summer 2013. We'll have to see if I can top this bad boy.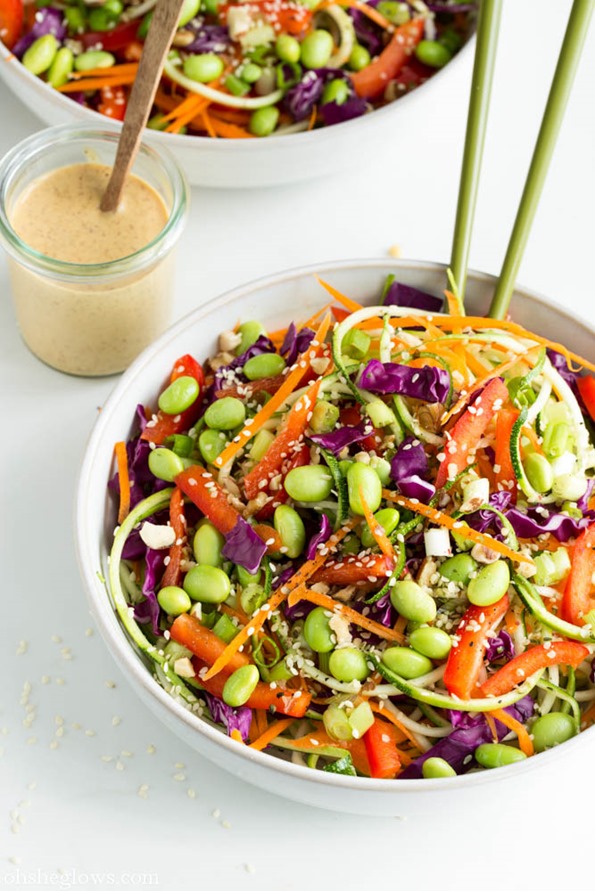 This salad is inspired by a raw Pad Thai dish I enjoyed at a restaurant called Marbles in Waterloo with my buddy Ange a couple years ago. I ended up recreating the recipe shortly after our visit, but I used glass noodles and I just wasn't a fan. I don't usually have texture issues with food, but those noodles were way out of my comfort zone. It's strange because I've enjoyed them before in a couple restaurant dishes, but for some reason when I try them at home it's creepville. Anyway, I decided to dig out this recipe again, this time using raw zucchini noodles. A very good decision, indeed. No creep factor. All goodness!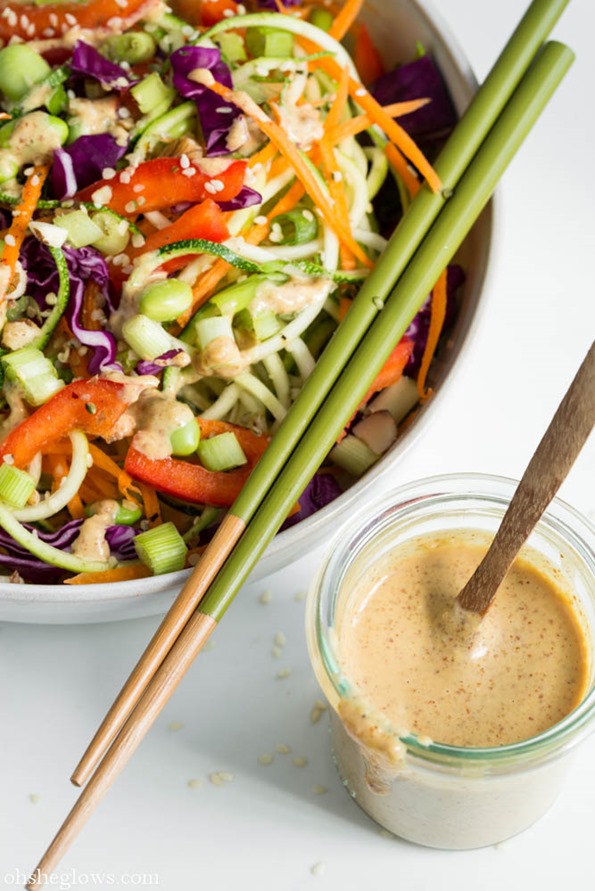 I decided to purchase a Veggie Spiralizer
several months ago. This hand-powered device turns zucchini into a huge pile of cascading noodles in less than 1 minute flat. The device itself is quite small and compact, not taking up much room to store (which was my main concern) and it's extremely light weight. The downside to this spiralizer is that it's plastic and to be quite frank, it feels pretty cheap. However, I didn't know how much I would use it so I went for one of the cheaper spiralizers on the market which only set me back about $25-30. It comes with a few different blades so you can make ribbons and what not, but I haven't ventured that far yet. I like that there is very little waste leftover and the noodles aren't as watery compared to using the hand peeler. Either way, you can use a julienne peeler (or a Y peeler to make ribbons) or a spiralizer for this recipe today. If you really wanted to, you could chop everything by hand the old fashioned way!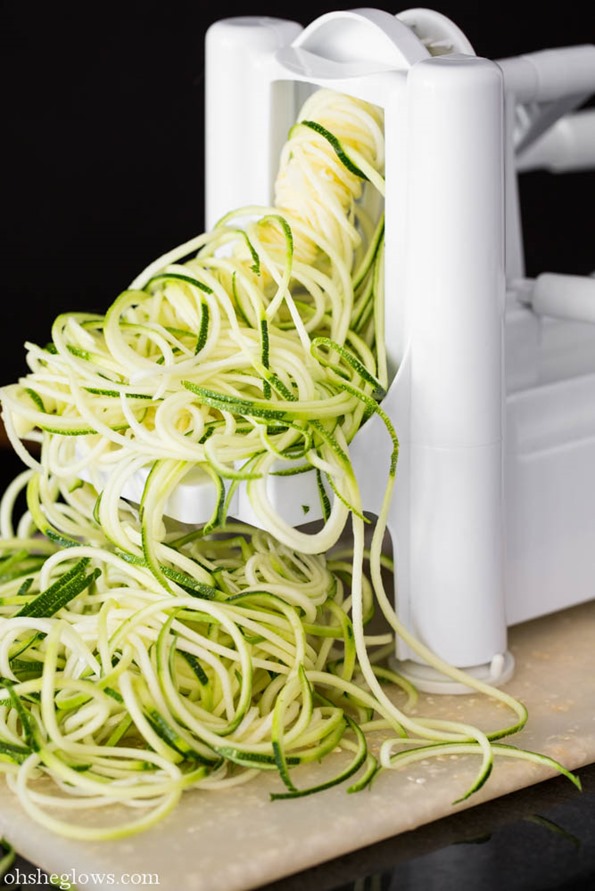 The almond butter sauce I made is very light – using only 1/2 tablespoon of oil – but it's still creamy and indulgent at the same time. It makes just under 2/3 cup and I found it was the perfect amount for 2 large salads. We sure didn't have any dressing leftover.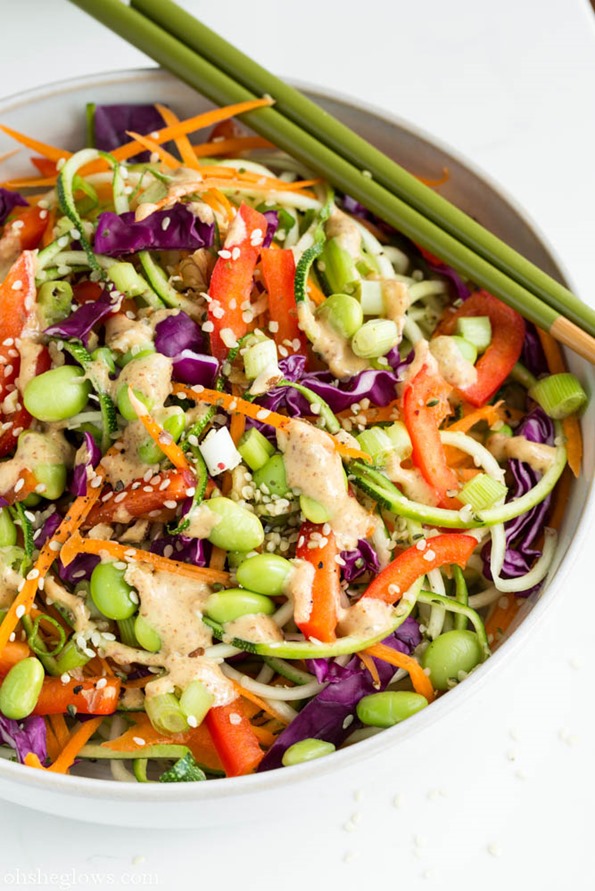 Rad Rainbow Raw Pad Thai
Email, text, or print this recipe
Yield: 2 large servings + scant 2/3 cup dressing
1 medium zucchini, julienned or spiraled
2 large carrots, julienned
1 red pepper, thinly sliced
1 cup thinly sliced red cabbage
3/4 cup frozen edamame, thawed (or try tofu)
3 green onions, thinly sliced
1 tablespoon hemp seeds
1 teaspoon sesame seeds
For the dressing (adapted from my Spicy Peanut Lime Sauce):
1 garlic clove
1/4 cup raw almond butter (or try peanut butter)
2 tablespoons fresh lime juice
2 tablespoons low-sodium tamari
2 tablespoons water
2.5 teaspoons pure maple syrup (or other sweetener)
1/2 tablespoon toasted sesame oil
1 teaspoon freshly grated ginger
1. Prep vegetables. Add the zucchini, carrots, pepper, and cabbage into one or two large bowls. Toss with hands to combine.
2. Prepare the dressing by processing all dressing ingredients in a mini processor (or simply whisk by hand). The dressing may seem a bit thin at first, but it thickens as it sits.
3. Top bowls with edamame (or tofu), green onion, hemp seeds, and sesame seeds. Pour on dressing and enjoy!
~~~~~~
Last but certainly not least, Happy Canada Day to my fellow Canadians! This post was supposed to be a red & white strawberries 'n cream pie, but of course when you plan on a themed recipe working it rarely does. I'm sporting my red & white all day regardless. I hope you have a great holiday! Oh and happy (almost) 4th of July to those of you in the US.