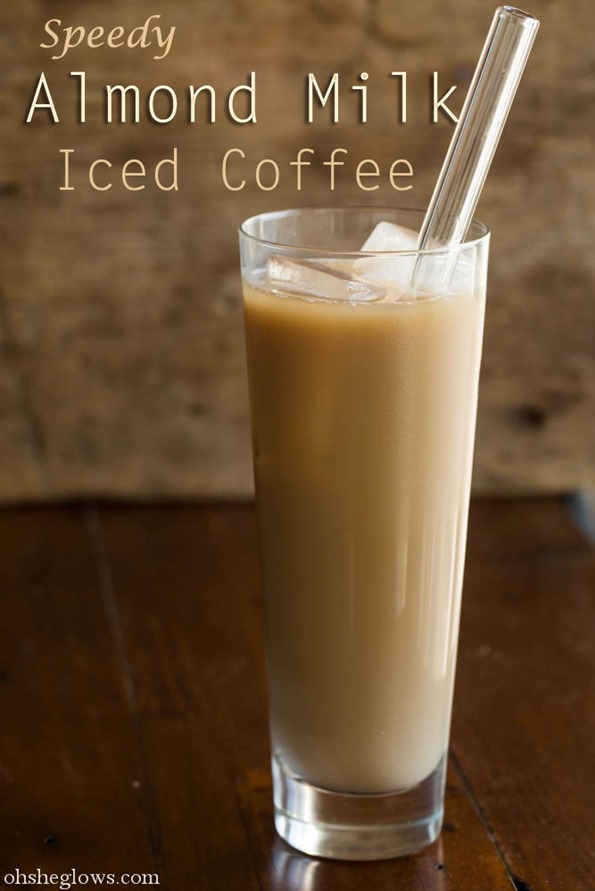 In my mind, the arrival of summer necessitates iced coffee. Add homemade almond milk into the mix and it's just about one of the best drinks to come out of my kitchen! And of course, cheaper than what the high-end coffee shops charge. I don't drink much coffee year round (I've always been a tea drinker), but when the weather gets hot and steamy iced coffee just seems so right. Mind you, iced tea is great too and I'll be experimenting more with that this summer.
The problem is, I've always been a bit lazy when it comes to coffee making. I don't like to drag out our big coffee maker just for myself (Eric doesn't like coffee) and I find using the grinder and single serving French press a drag in the clean up department. [Why do the damn coffee grinds have to get everywhere?] If I wasn't washing 6 billion dishes everyday it might be a different story, mind you. This method I'm sharing today will forever change the way that I enjoy my iced coffee, not to mention save me time and dish washing. I really can't argue with that!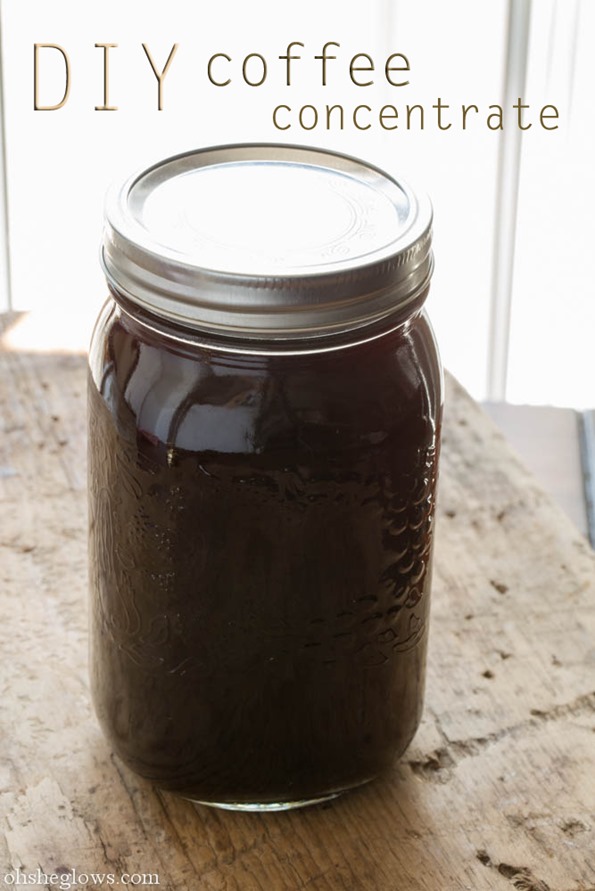 DIY Cold Brew Coffee Concentrate
Cold Brew Coffee has been around for a very, very long time and it seems to have made a recent comeback, at least from what I've seen popping up online in recent years. A recent Kitchn post reignited my interest in making it at long last.
Thankfully, making coffee concentrate couldn't be easier. All you do is soak freshly ground coffee beans in water for 12 hours or so. The coffee concentrate develops overnight – sans heat! – and after straining, you can use this concentrate to make iced coffee or even mix it with boiling water to make hot coffee. Since there is no heat used in the process, it produces a smoother and less acidic coffee. Some argue that the end result is less complex tasting (or even bland) compared to traditionally brewed coffee, but I personally find it perfect for iced coffee.
When I first heard about this idea, I thought it was genius because I could make a big batch of concentrate on the weekend and enjoy coffee during the week without the daily clean up! Brilliant if you ask me. The concentrate will keep in the fridge for around 1.5 weeks too, so you don't have to make it that often.
What's the perfect ratio?
The coffee beans to water ratio depends on how concentrated you want it and how much you want to make. I looked at NYT and The Kitchn for inspiration and I ended up using an amount somewhere in the middle. I didn't want just a single serving nor did I want a huge batch for a crowd. Depending on how strong you like your coffee, feel free to play around with the ratios to suit your own needs. I found a 1 cup coffee to 4-4.5 cups water ratio produced great results for iced coffee.
As for using the concentrate to make hot coffee, I'm still experimenting with it. I found that I needed a 1:3 ratio of coffee concentrate to boiling water for it to be hot enough (when adding a splash of almond milk), but that was using the chilled concentrate. Some people suggest using room temp concentrate, but I can't see myself waiting in the morning for it to warm up. Others suggest a 1:1 or 1:2 ratio of concentrate to boiling water, but I didn't find that produced a piping hot cup. However, if you drink your coffee black a 1:2 ratio is probably perfectly hot enough. Further experimentation is required! Have fun fiddling around with your perfect cup.
Yield: Around 4 cups concentrate
Ingredients:
1 cup coffee beans, ground (medium-coarse grind) *use decaf if desired
4-4.5 cups water
1. In a large pitcher or jar, stir together the ground coffee and water. Place in the fridge for 12 hours, or overnight. I actually left mine for about 24 hours by mistake, and that worked fine too.
2. Strain out the ground coffee using a fine mesh sieve and a cheesecloth or a nut milk bag. You might have to strain it a couple times.
3. Use this coffee concentrate to make iced coffee (dilute with milk, see my drink below) or hot coffee (dilute with boiling water). If drinking black coffee, a 1:2 ratio of concentrate to boiling water is probably sufficient, but play around with the amounts to suit your needs.
Other uses for coffee concentrate:
Freeze it into ice cubes and add it to smoothies or iced coffee. Or just pour some concentrate straight into a smoothie.
Use it for baking – I can see myself using some of this in my chocolate cupcakes, for starters. Oh yea!
Camping!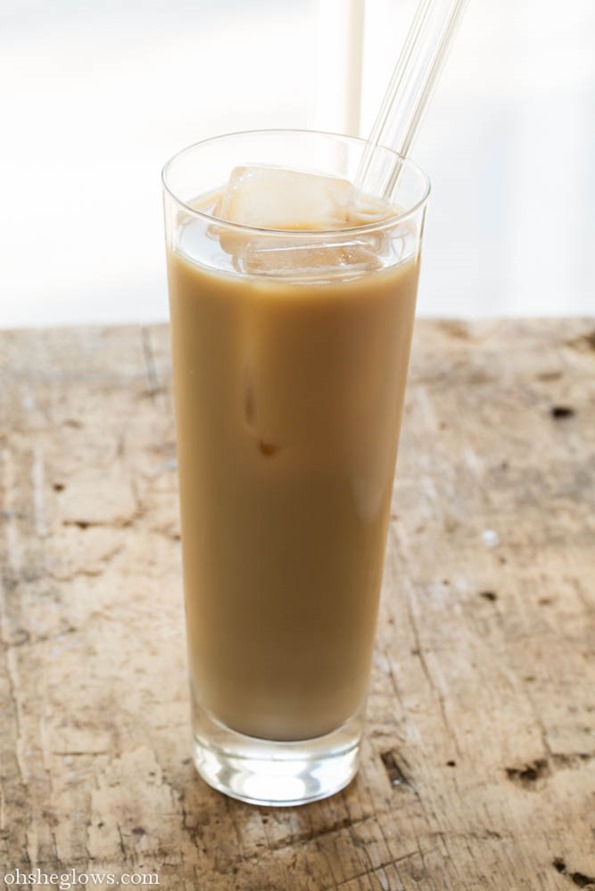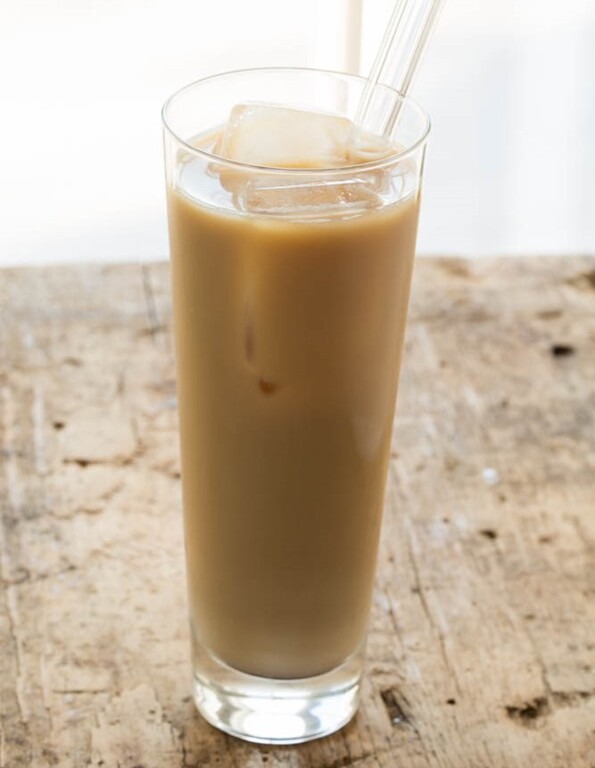 Speedy Almond Milk Iced Coffee
Vegan, gluten-free, no bake/raw, nut-free, oil-free, soy-free

Yield

1 serving
Prep time

Cook time

0 minutes
Total time

This is my go-to homemade almond milk iced coffee. I find a 1:1 ratio of coffee concentrate and almond milk is really tasty. Feel free to adjust this to your own taste buds depending on how strong you like it!
Ingredients
1/2 cup coffee concentrate (from above)
1/2 cup homemade or store-bought almond milk
Liquid sweetener, to taste (I use a drizzle of maple syrup)
3-4 large ice cubes
Directions
Stir together the coffee concentrate and almond milk. Add sweetener to taste if desired. Add ice cubes and enjoy.
Tip:
Tip: You can also make coffee ice cubes to use in your iced coffee so it doesn't get watered down by regular ice. I personally drink it so fast the ice cubes don't really have a chance to melt, so I don't bother with the coffee cubes! Coffee ice cubes would be ideal if serving to a large crowd in a pitcher though.
Nutrition Information
(click to expand)
~~~~
I didn't want to end this post without mentioning the horrible flooding in the Calgary region (and beyond) over the past several days. I have a lot of family in the area and I'm so thankful that they are ok, however there are tens of thousands of people who are still evacuated from their homes or are going back to find their house (or business) completely destroyed by water damage. A Facebook group has been set up to help pet owners reunite with their pets in the Calgary area. Stay safe everyone.