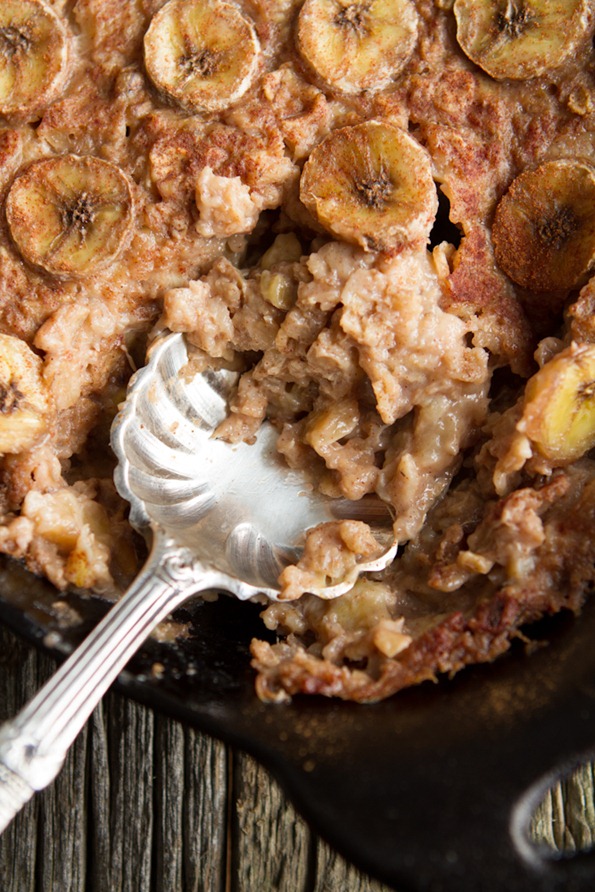 Tell me if this always happens to you too…
Whenever you need the perfectly ripe (or even overripe) bananas, you arrive at your grocery store only to find green-as-grass bananas. Every time! Then on the days when you don't need bananas, you see rows and rows of perfect yellow bananas. It's a major conspiracy, don't you think?
Since I was planning on testing a banana recipe this week, I knew I had to plan well in advance. Two huge bunches of greenish-yellow bananas went into my cart a week ago and then promptly into a brown paper bag to expedite ripening. The evil grocery store conspirators were not going to get me this time.
As it turned out, my testing went better than expected and I only went through about 6 bananas leaving me with an embarrassing amount of bananas on my counter. I guess that still beats running out mid-testing. Some of the leftovers were peeled and popped into the freezer for smoothies and then I went on a bit of a banana bender with the rest. First, Bananas Foster. Second, Bananas Foster Baked Oatmeal. It was one tasty weekend.
Traditional Bananas Foster recipes involve a lot of butter, sugar, and rum which create a syrup around the banana slices. Many recipes also flambé the bananas. Since fire + me don't mix in the kitchen (especially first thing in the morning), I simply chose to sauté the bananas instead. Phew. I also swapped the butter for coconut oil and the refined sugar for sweeteners like coconut sugar or maple syrup and then I cut down the oil and sugar by more than half. So you can say this version is inspired by Bananas Foster, but it's certainly not a classic version.
Most recipes use rum in the syrup, but since I didn't have any plain rum on hand I used Kahlua (which also happens to be vegan). The alcohol cooks off in the syrup leaving just a very light caramel flavour mingling nicely with the bananas. Add a scoop of coconut ice cream and you'll have yourself a lovely dessert that seems much more fancy than it really is.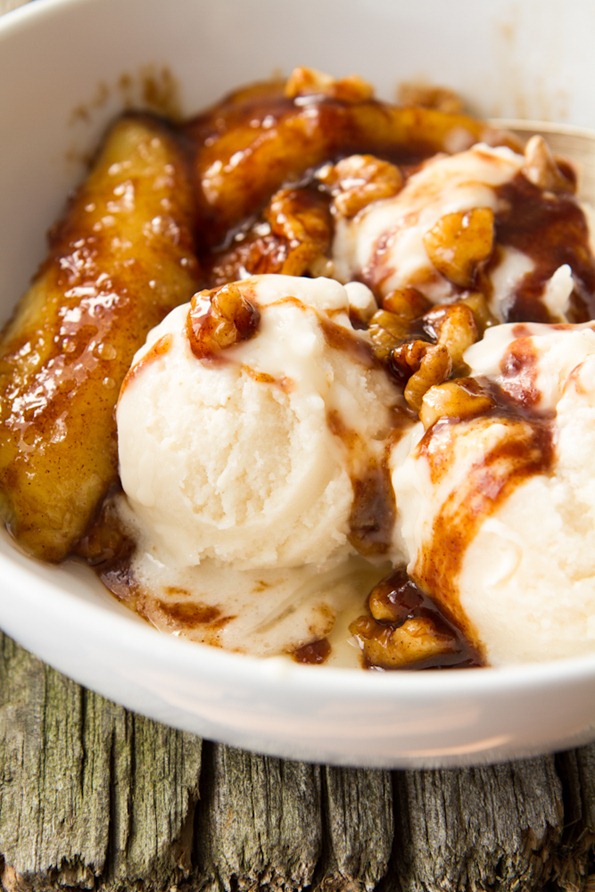 Just be sure not to sauté the heck out of the bananas like I did. No one wants a limp banana.
For the recipe above, I used 1 tbsp coconut oil, 2 tbsp maple syrup, 2 tbsp Kahlua, 2 bananas sliced lengthwise, a handful of chopped walnuts, and a pinch of cinnamon.
Of course, you can also turn Bananas Foster into breakfast!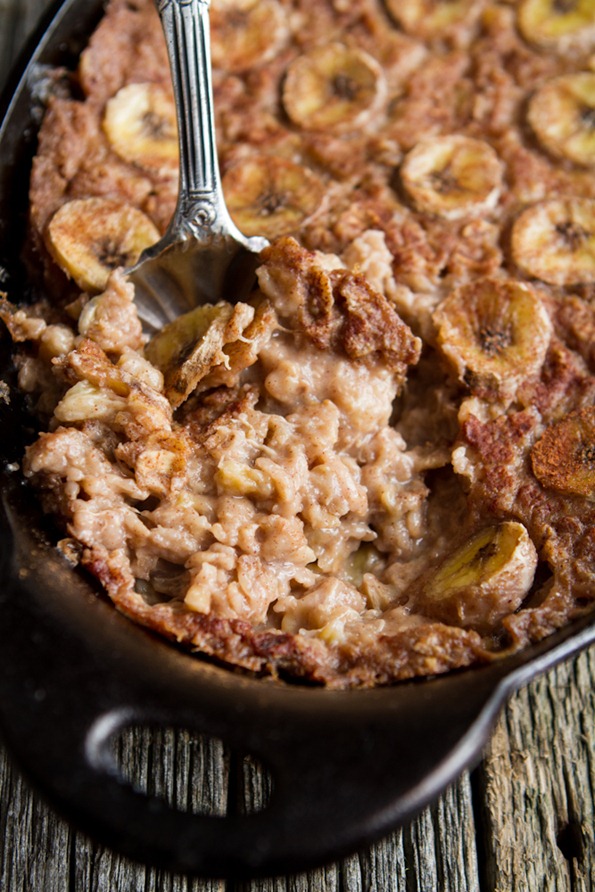 This recipe is easy too. Just sauté a few small, ripe bananas in 1 tablespoon each of: coconut oil, maple syrup, and Kahlua (or rum). Add a sprinkle of cinnamon and sauté for about 5 minutes, or until they soften.
Then stir it into your oatmeal mixture, top with even more banana slices, and b-a-k-e. [I can imagine that this would be even better with blueberries mixed in. I'm dreaming of summer blueberries right now and I might cry.]
So there you have it – Bananas Foster Baked Oatmeal. I'm warning you, the banana flavour is intense so this is for hard-core banana lovers only. Serve it with a spoonful of nut butter, a drizzle of maple syrup, and some pajamas (or in my case a fleece robe that Eric gave me 10 years ago. It has a burn hole on the sleeve from a cooking accident, but I still love it.)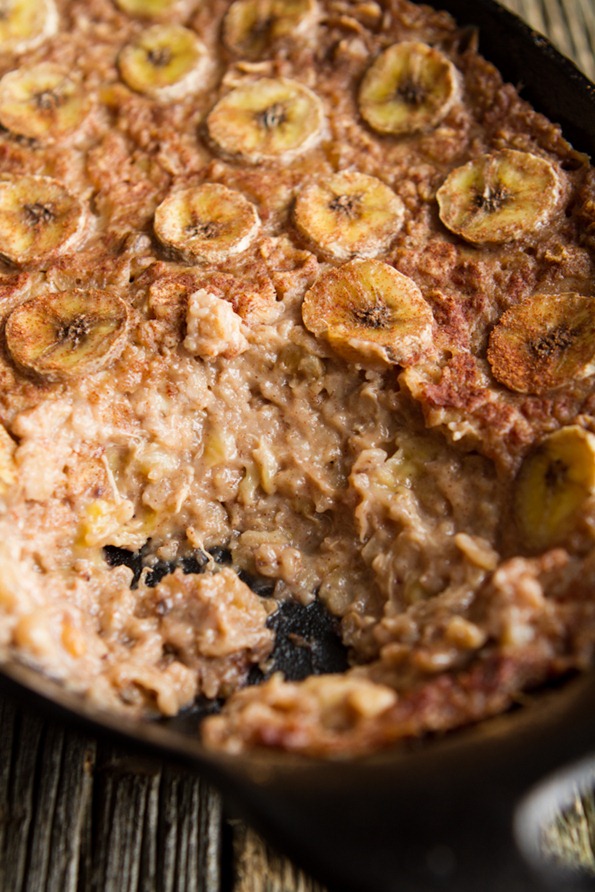 Bananas Foster Baked Oatmeal
Email, text, or print this recipe
Yield: 4 servings
for the baked oatmeal:
3/4 cup rolled oats
1/4 cup oat flour
1 tsp cinnamon
1/2 tsp baking powder
1/2 cup walnut halves, chopped
1 & 1/4 cup almond milk
Bananas Foster mixture from below
1 small banana, sliced (for garnish on top)
pinch of fine grain sea salt and nutmeg
for the Bananas Foster:
3 small firm ripe bananas, chopped
1 tbsp coconut oil
1 tbsp pure maple syrup (or other sweetener)
1-2 tbsp Kahlua (or rum)
sprinkle of cinnamon
1 tsp pure vanilla extract
1. Preheat oven to 350F and lightly grease a 5-6 cup casserole dish.
2. Stir all of the oatmeal ingredients in a large bowl until combined. Set aside while you prepare the Banana Foster.
3. Add coconut oil, maple syrup, and Kahlua into a skillet. Increase heat to medium and whisk until combined. When the mixture starts to simmer and bubble, add the chopped bananas and stir well until coated in syrup. Sprinkle on cinnamon. Sauté for about 5 minutes, reducing heat if necessary, until the bananas soften. Remove from heat and stir in the vanilla.
4. Stir the banana mixture into the oatmeal mixture and scoop it into your casserole dish. Bake uncovered for about 40-45 minutes at 350F or until the top is golden and with a thin firm layer on top and a soft middle. You will think it's undercooked at first, but the oatmeal will firm up as it cools. Straight from the oven it has the texture of stove-top oatmeal, but when cooled you can pretty much slice it into squares. I've also been known to eat this cold straight from the fridge for a snack.
For nutritional info, see here.