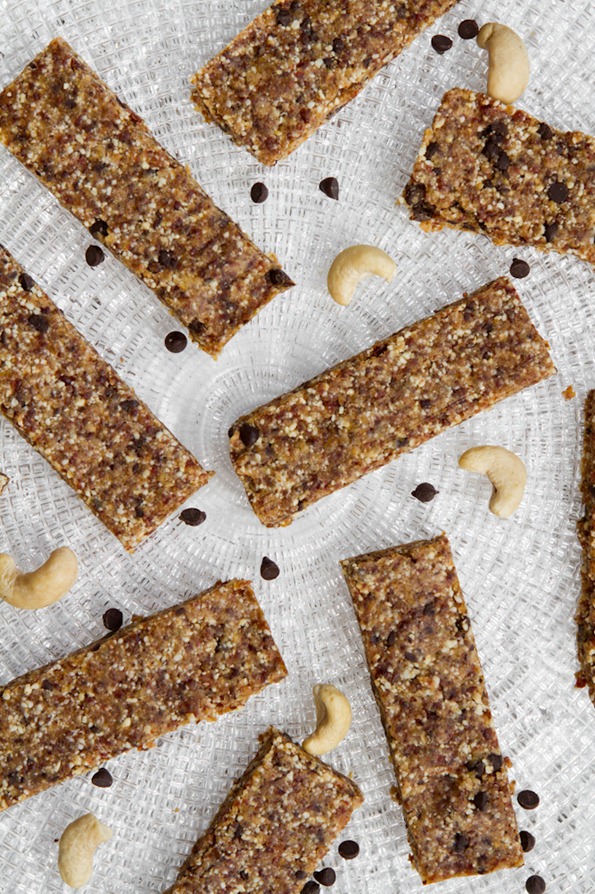 Oh, homemade Larabars. It's been too long. Really though, I can't say I've had a good reason to make energy bars. Let me tell you, my energy is in zero danger of plummeting any time soon. With all the recipe testing going down, my only challenge is trying not to pop the button off my pants from all this good food. The freezer is bursting at the seams; one wrong move and I'm pummeled in the face by a 10-pound solid chunk of homemade pasta sauce or chocolate pie. The last thing I need is an energy bar.
Eric, on the other hand, could use a portable snack. He plays in a volleyball league which meets for a few hours around dinnertime and he's usually famished by the time he sits down to eat dinner at 9 or 10 pm. Since I can't play in the league myself (I have a torn meniscus in my knee), I support him in the best way I know how – homemade snacks.
Of course, I enjoyed a couple bars (ok, ok and some dough!) – all in the name of taste-testing purposes of course. It's amazing how much of an appetite I can work up hovering over a food processor. Tell me I'm not alone.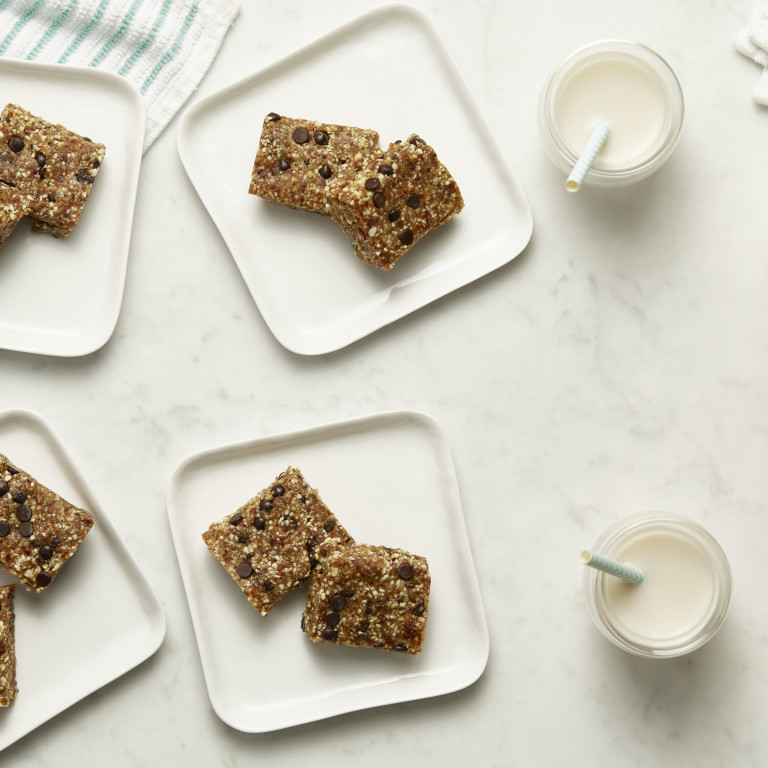 Chocolate Chip Cookie Dough Energy Bars
Vegan, gluten-free, oil-free, soy-free

Yield

10-12 servings
Prep time

Cook time

0 minutes
Total time

These are my take on the popular Chocolate Chip Cookie Dough Larabars. Now you can make them at home for a fraction of the cost! I like to store them in the freezer so I have an energy bar ready whenever I need a pick me up. For thick squares, press the dough into a 9x5-inch loaf pan. For thinner bars, use an 8x8-inch square pan.
Ingredients
1 1/2 cups (230g) raw cashews
1 cup tightly packed pitted Medjool dates (190g)

*

1 teaspoon pure vanilla extract
1 to 2 teaspoons water, if needed
1/4 plus 1/8 teaspoon fine sea salt
3 tablespoons mini non-dairy chocolate chips (regular size chips work too)
Directions
Add cashews into a food processor and process for 3 to 4 seconds, until a coarse meal forms.
Add in the pitted dates and vanilla. Process until the mixture comes together, for about 15 seconds, or longer if needed. The mixture should stick together easily when you squeeze it between your fingers. If it doesn't stick or it's still a bit crumbly, add a very small amount of water (1 teaspoon at a time) and process it again. I usually add between 1 to 2 teaspoons of water.
Finally, add the salt, to taste, and the chocolate chips, and process briefly to combine.
Line a loaf pan or an 8-inch square pan with a piece of parchment paper so that there's overhang to lift out the bars after freezing. Scoop the mixture into the pan and smooth out with your hand until it's level. Push down firmly all over the mixture. The more you pack it down the better the bars will hold together. Roll out with a pastry roller if you have one.
Freeze, uncovered, for at least 15 to 20 minutes and then slice into bars. For on-the-go, wrap bars in plastic wrap or tin foil and store in the fridge or freezer. I prefer these straight from the freezer. Most of all, hide from other members of the family!
Tip:
*

If your dates are stiff or dry, soak the dates in boiling water for 30 minutes before beginning. Drain well and quickly pat dry before use.
Nutrition Information
(click to expand)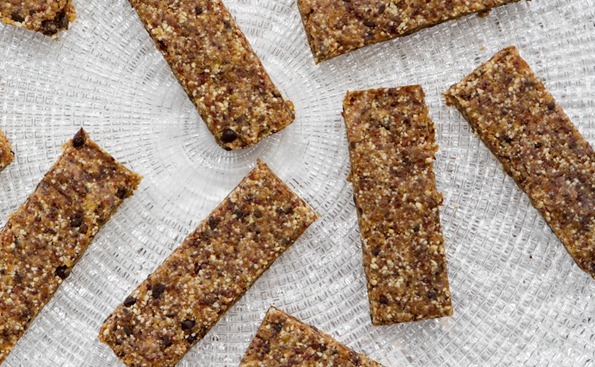 If you are looking for another tasty energy bar/ball recipe, check out my Dark Chocolate Cherry Energy Bites. Love those!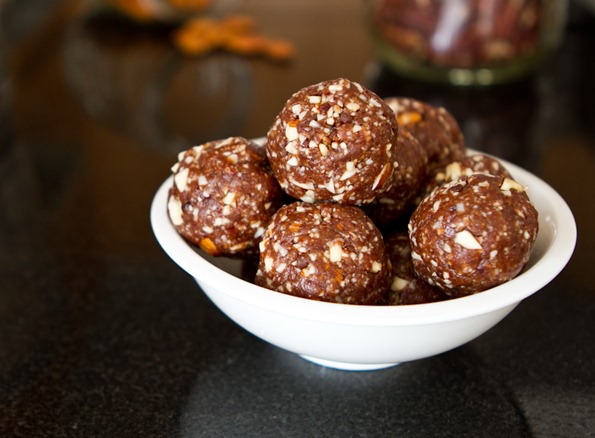 What's your favourite Larabar flavour of all time?