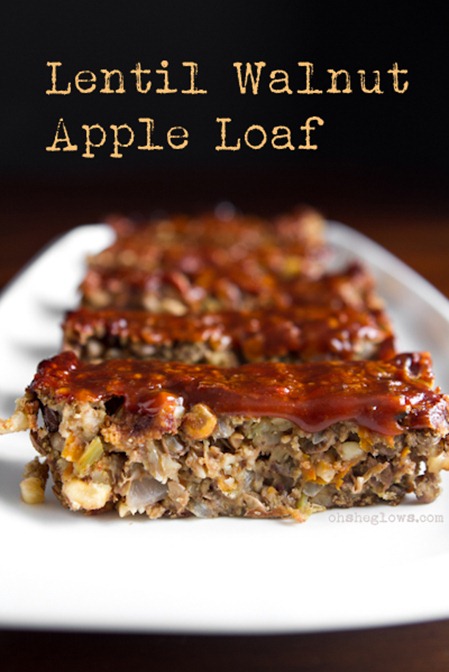 Out of all my favourite vegan recipes, this lentil loaf ranks in my top 10. This is a big deal, considering I'm in love with no less than 3,000 foods at any given moment. The original loaf recipe hails from talented chef and author, Terry Walters. I've enjoyed playing around with the recipe countless ways since I first made it in 2011. There's just something about the combo of hearty, stick-to-your-ribs lentils, shredded carrots and sweet apple, chunky celery, toasted walnuts, and a sweet tangy glaze to finish it all off. It's total comfort food to me.
I find myself eating the cold leftovers for breakfast in the morning. It gets crumbled over salads, stuffed into wraps and buns, and more recently thrown onto pasta sauce over a bed of spaghetti squash. I once ate half a loaf in the span of about 8 hours. Breakfast, lunch, and dinner. I guess it could be worse! To complicate matters, Eric is also a huge fan and we often find ourselves vying for the last slice…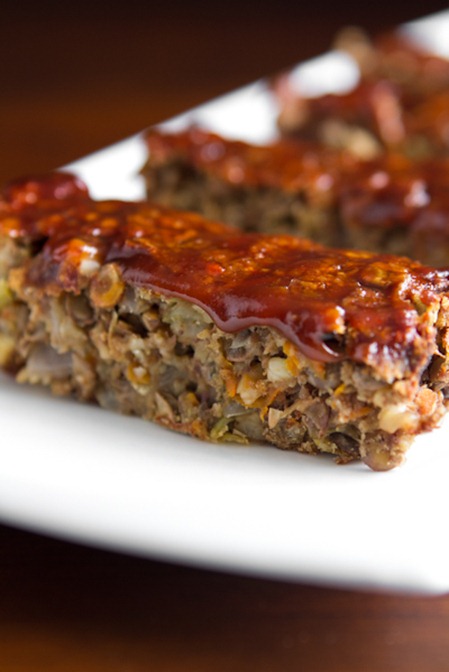 The only issue I have with the recipe I made a couple years ago is that it's quite labour intensive. For this version, my goal was to simplify the recipe without compromising the flavour and texture. I also played around with different ingredients and amounts. I'll be sharing my 3rd trial with you today – it's actually my new favourite out of all of them I've made. Make sure to see my notes below for a few tips I've picked up along the way.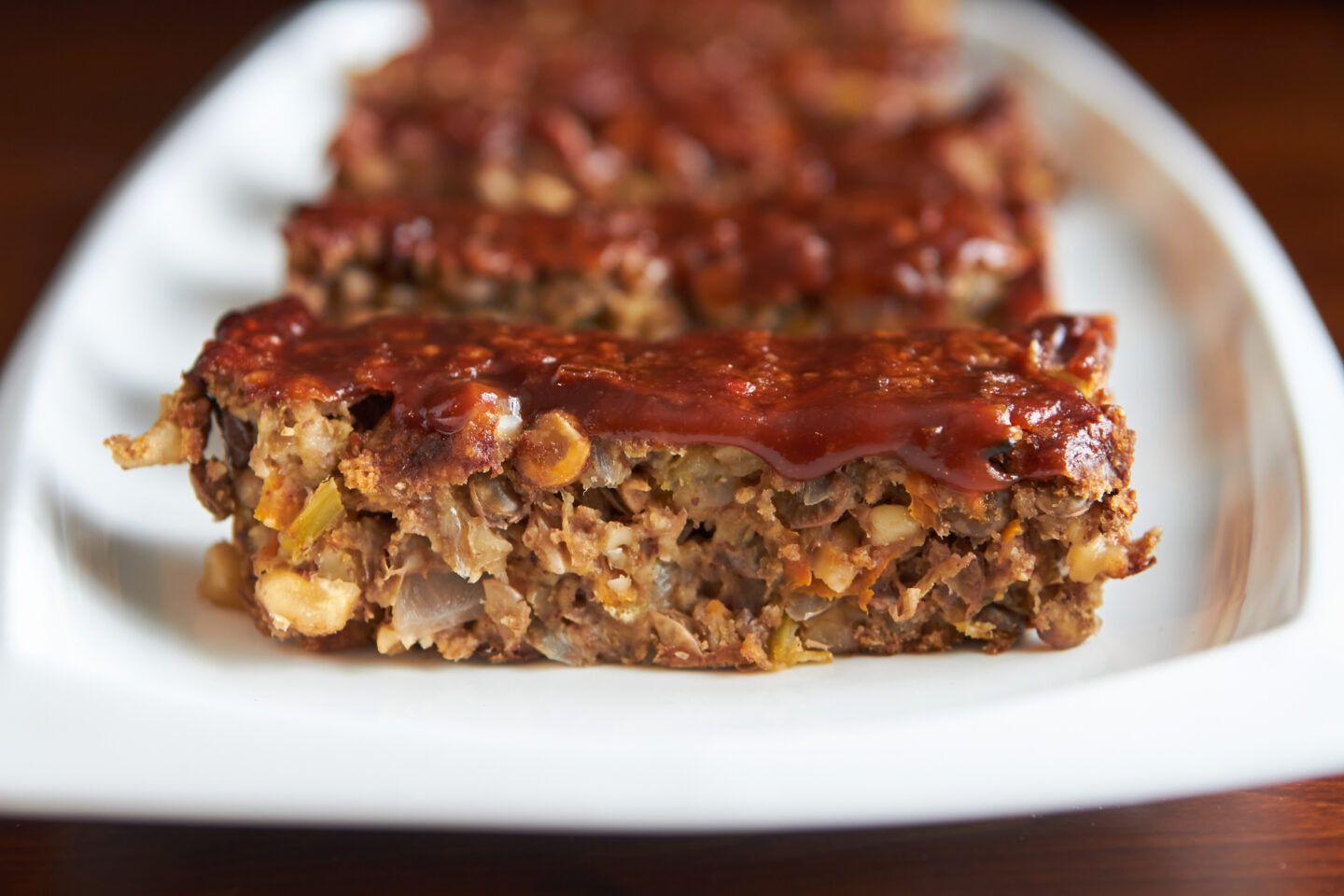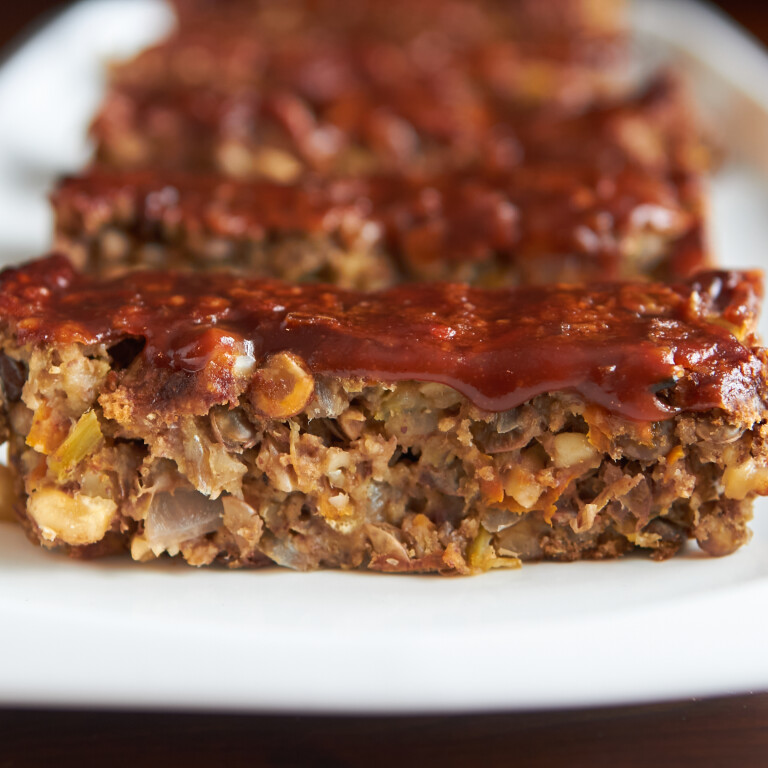 Glazed Lentil Walnut Apple Loaf, Revisited

Yield

1 loaf
Prep time

Cook time

Total time

Ingredients
For the loaf
1 cup uncooked green lentils
1 cup walnuts, finely chopped and toasted
3 tbsp ground flax + 1/2 cup water
3 garlic cloves, minced
1.5 cups diced sweet onion
1 cup diced celery
1 cup grated carrot
1/3 cup peeled and grated sweet apple (use a firm variety)
1/3 cup raisins
1/2 cup oat flour
3/4 cup breadcrumbs
2 tsp fresh thyme (or 3/4 tsp dried thyme)
salt & pepper, to taste (I use about 3/4 tsp sea salt + more Herbamare)
red pepper flakes, to taste
For the balsamic apple glaze
1/4 cup ketchup
1 tbsp pure maple syrup
2 tbsp apple butter (or unsweetened applesauce in a pinch)
2 tbsp balsamic vinegar
Directions
Preheat oven to 325°F. Rinse and strain lentils. Place lentils into pot along with 3 cups of water (or veg broth). Bring to a boil and season with salt. Reduce heat to medium/low and simmer, uncovered, for at least 40-45 minutes. Stir frequently & add touch of water if needed. The goal is to over-cook the lentils slightly (see pictures in post). Mash lentils slightly with a spoon when ready.
Toast walnuts at 325°F for about 8-10 minutes. Set aside. Increase oven temp to 350°F.
Whisk ground flax with water in a small bowl and set aside.
Heat a teaspoon of olive oil in a skillet over medium heat. Sautee the garlic and onion for about 5 minutes. Season with salt. Now add in the diced celery, shredded carrot and apple, and raisins. Sautee for about 5 minutes more. Remove from heat.
In a large mixing bowl, mix all ingredients together. Adjust seasonings to taste.
Grease a loaf pan and line with parchment paper. Press mixture firmly into pan. Whisk glaze ingredients and then spread half on top of loaf. Reserve the rest for a dipping sauce.
Bake at 350°F for 40-50 minutes, uncovered. Edges will be lightly brown. Cool in pan for at least 10 minutes before transferring to a cooling rack. I usually wait until loaf is cool before slicing.
Tip:
Note: Use Gluten-free oat flour and breadcrumbs if necessary. If you need a nut-free version you might want to try using toasted sunflower seeds.
Nutrition Information
(click to expand)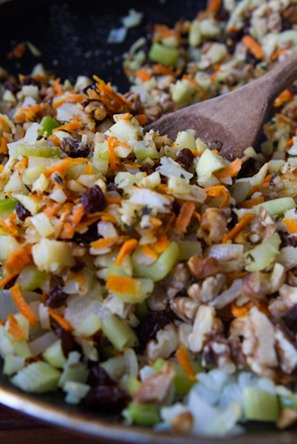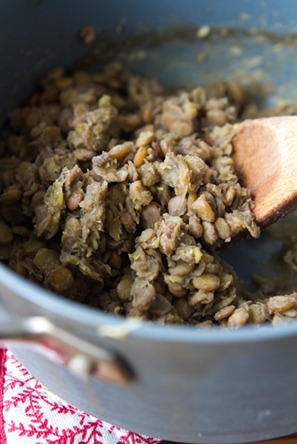 I used to have a problem with my lentil loaves falling apart on me. I've since discovered that it really helps to over-cook the lentils a bit, so the consistency of the lentils is doughy, almost like mashed potatoes. As you can see in the photos, the lentils are the perfect consistency to bind with the other ingredients.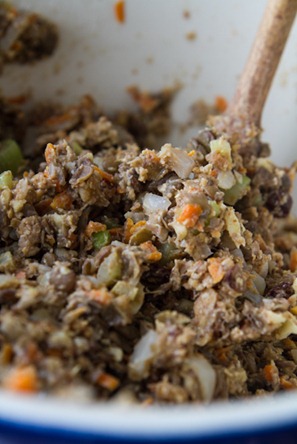 In addition to playing around with the ingredients, I also switched up the sizes of the tins/pans:
Trial 1: I made 4 mini loaves (the green and red ones).
Trial 2: I used a muffin tin. I got about 16 portions out of the batter which was great, but I made the mistake of using paper muffin liners and they completely stuck to the paper. Next time I will grease the tins well and not use paper liners. I also cooked them a bit too long (40 mins at 350F) and they dried out more than I'd like.
Trial 3: I made 2 medium-sized loaves using 9×5 loaf tins and baked for about 45 minutes or so. Keep in mind you can also use one big loaf tin too!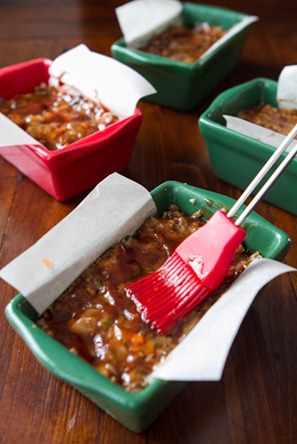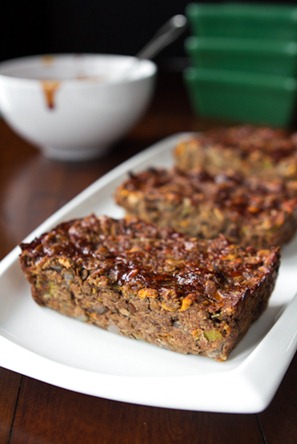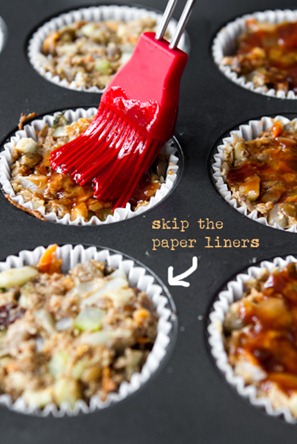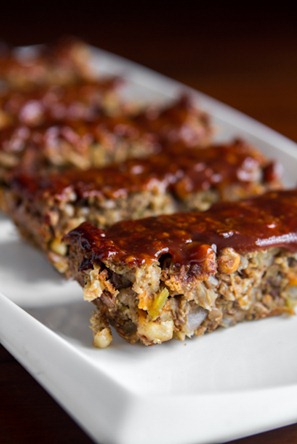 The loaves freeze well too. Just make sure to fully cool the baked loaves before wrapping and freezing.
If you are looking for a nut-free version, you might want to try using toasted sunflower seeds. I probably wouldn't use a full cup of seeds, but maybe 1/2-3/4 cup. For a gluten-free loaf, use GF oat flour and breadcrumbs and of course be sure to check all other ingredients.
As for serving suggestions, this loaf is great paired with applesauce, sautéed greens, and mashed/roasted potatoes.
With any luck, I might have a few left for our Thanksgiving dinner on Saturday. If you are celebrating Thanksgiving this weekend, have a wonderful holiday!
Looking for more Thanksgiving recipes? Check out my Thanksgiving Recipe round-up here, featuring high-protein garlic mashed potatoes, holiday salad, pumpkin garlic knots, and more.