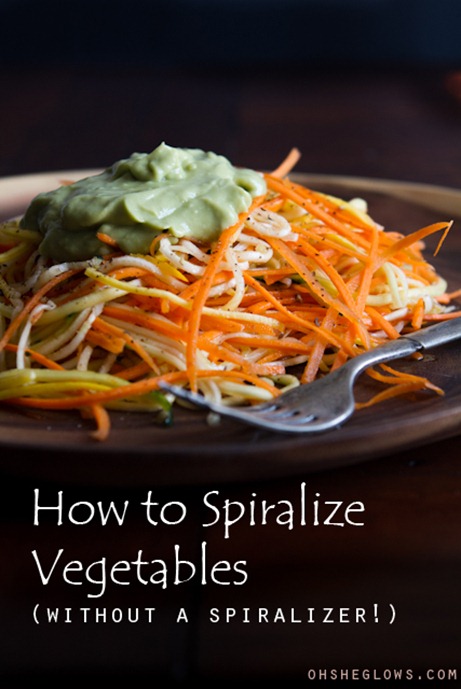 I'm sure many of you are familiar with spiralizer machines – famous for turning vegetables like zucchini into spiraled, curly, pasta-like strands. I first had zucchini "pasta" a few years ago at a raw food restaurant and I couldn't get over how similar it was to regular pasta noodles. A spiralizer machine has always been in the back of my mind since then!
I found myself at Kitchen Stuff Plus last week and asked a sales person if they sold spiralizer machines.
"No, I'm sorry we don't, but we do sell julienne peelers."
Julienne peeler?? My ears perked up.
How did I not know about this amazing invention? I immediately bought both brands of julienne peelers they carried – you know, just in case one was a dud. And one of them WAS a dud, but the other – Zyliss brand – worked fantastically. I was literally yelling, "Yay it worked!!!" to Sketchie who was trying his best to ignore me in his Sketchie Shell (formerly known as the "cat tent").
Meet my new Zyliss Julienne Peeler: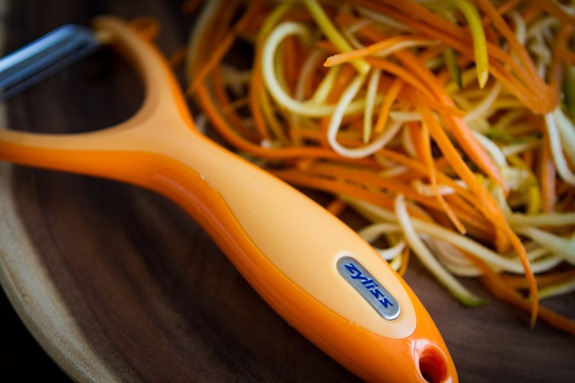 UPDATE: I now use this julienne peeler by Kuhn Rikon.
As soon as I got home I made a huge bowl of pasta-like veggies using a green zucchini, yellow zucchini, and a large carrot.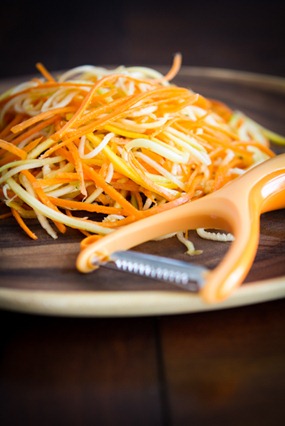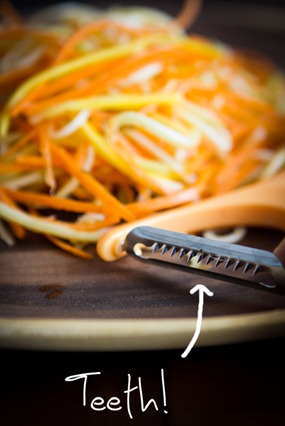 To make it, grab zucchini or carrots and peel away like you would a normal peeler. There is no need to cook the vegetables beforehand, but feel free to heat the veggie "noodles" up in a skillet very briefly just before serving. Sometimes I eat it cold and other times warm, it just depends on my mood.
I was quite impressed with how thin it cut the strands! It gets trickier to peel as you get close to the bottom, so I usually chop up the remaining piece and either throw it in or save it for a stir fry later on.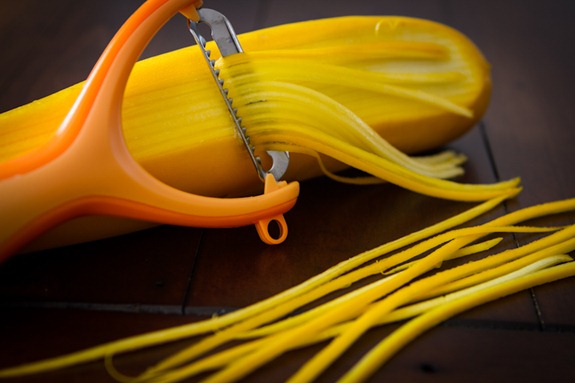 I'm sure using julienne peelers for this purpose is old news to many of you, but it's new, exciting news to me. Don't you love when you find out a cool trick?
Naturally, I've been julienning/spiralizing my little heart out. So far I've tried zucchini and carrots, but I'm wondering if it works on other veggies or fruit. I'm sure beets would work, although it would be messy. I'm pretty sure it will work on potatoes too. Butternut squash? Let me know below if you have any ideas and I will be sure to try it out.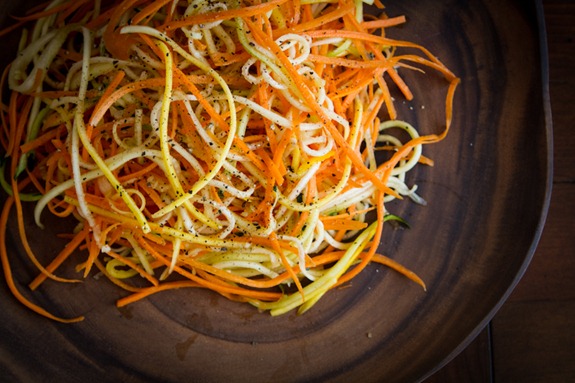 The first thing I made was a mix of green & yellow zucchini, and carrot "pasta" topped with my 15-Minute Creamy Avocado Pasta sauce. It was lovely!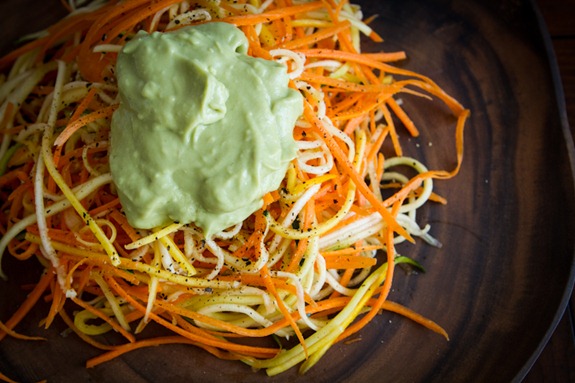 Avocado pasta sauce tip – if you are looking to cut down the oil, sometimes I sub half the oil (1 tbsp) for 1 tbsp water and it's never missed.
For some protein, I added tofu on the side. Easy, fun to eat, refreshing, and perfect for a hot summer day.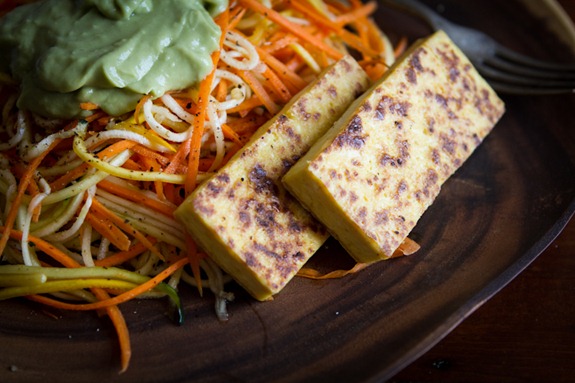 Another fun meal I made is this yellow zucchini pasta dish with White Linen Collection Marinara Sauce, hummus, a crumbled veggie burger, basil, and Herbamare.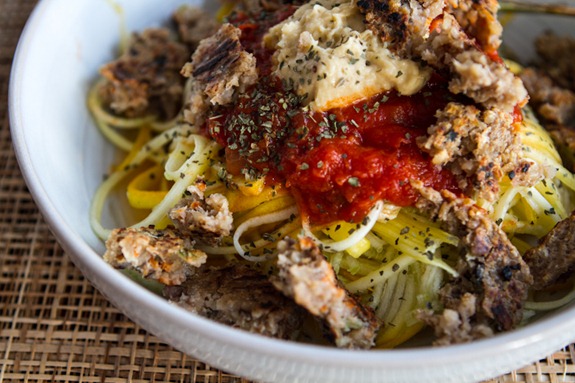 Promptly INHALED!
If you are interested in a cheap way to "julienne/spiralize" zucchini, carrots, etc – I highly recommend trying out a julienne peeler. It only takes a few minutes, the clean up is minimal, and if you're like me, you'll find yourself upping your veggie intake substantially.