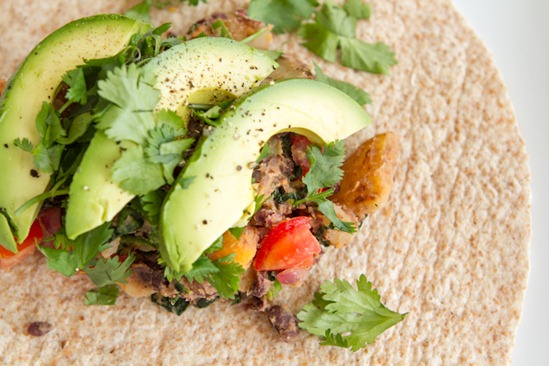 My potato kick is still going strong.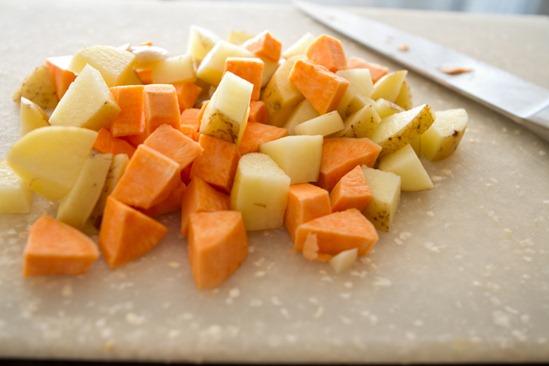 It started innocently enough with my Chocolate Chip Cookie Pota'Dough Dip and since then I've fallen in love with potatoes all over again. They are so filling and comforting! I don't know why I ever fell off the potato bandwagon. If I had a dime for everytime I forgot about a favourite food and then discovered it all over again, I'd be rich.
We love our burritos around here, so last night I made potato and black bean burritos…with a spicy kick. Potatoes are tricky; they can make an entire dish bland if we're not careful. I made sure to amp the burrito mixture up with jalapeno, chili powder, and cumin to pack in some heat and flavour. I don't suggest going skimpy on the toppings either. I added a spoonful of salsa, a few slices of avocado, and handful of cilantro. Without the toppings it was decent, but with the toppings it's now a recipe I want to tell you about.
Oh and shredded kale thrown in for good measure. I'm also on a shredding kale kick and I can't seem to stop.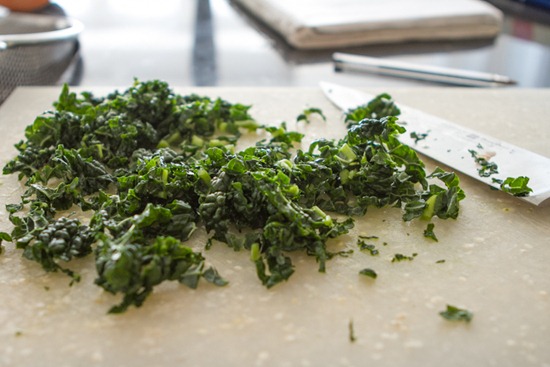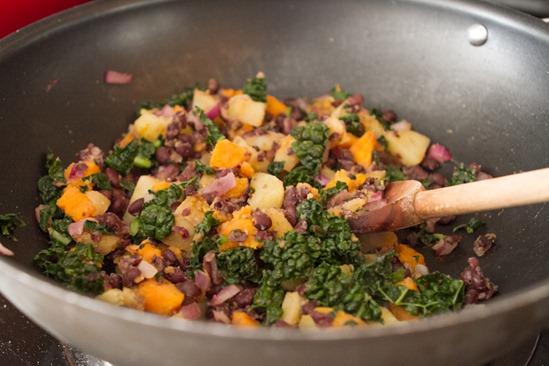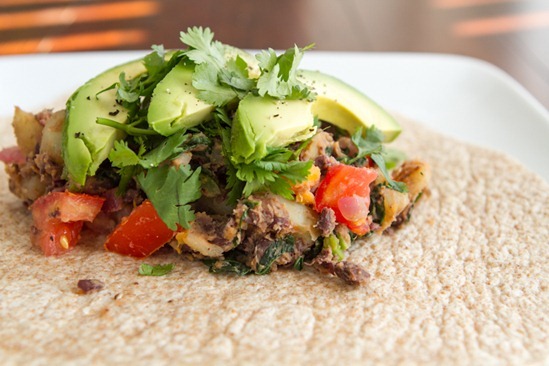 Spicy Potato 'n Black Bean Burritos
Print, Email, or Text this recipe
Yield: 3-4 servings
Ingredients:
200 grams yellow-skinned potato, not peeled and chopped into 1" pieces (about 2 small potatoes)
150 grams sweet potato, peeled and chopped (about 1/2 large)
1 tsp extra virgin olive oil
1 cup diced red onion
1 jalapeno pepper, seeded and diced
1 small tomato, chopped
1/2 tsp chili powder
1 tsp ground cumin
1 tbsp fresh lime juice
1 cup shredded dinosaur kale, large stems removed
1.5 cups cooked black beans (one 15-oz can), drained and rinsed
Fine grain sea salt (or Herbamare) & ground pepper, to taste
toppings: Avocado slices, salsa, cilantro
1. In a medium-sized pot, add the chopped potatoes and cover with water. Bring to a boil and then reduce heat to medium. Gently boil/simmer for about 12-15 minutes, or until just tender.
2. Meanwhile, preheat a large skillet with 1 tsp oil and sauté the red onion over medium heat for a few minutes. After boiling the potatoes, drain and gently mash them up a bit, leaving some chunks for texture.
3. Add potatoes to the skillet mixture and sauté for another 5-10 minutes or so, reducing heat if necessary.
4. Add in the diced jalapeno, tomato, chili powder, lime, and cumin. Season generously with salt and pepper and stir well, heating for a few minutes more.
5. Finally, stir in the kale and black beans and sauté until heated through. Adjust seasonings to taste and portion on large or x-large tortilla wraps. Top with avocado, cilantro, and salsa…or whatever you wish! Use leftovers on a salad for a fun twist.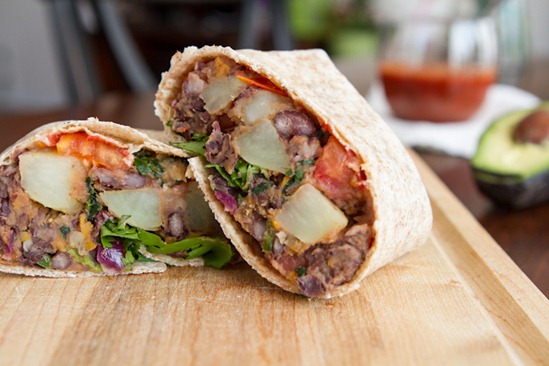 If you find yourself with any leftovers, I suggest spooning the mixture (heated, if you're down with that) over a salad for lunch. Top it with avocado and salsa and you have yourself a filling burrito in a bowl.
For other burrito recipes see…
Black Bean and Butternut Squash burritos
and
High Protein Breakfast Burritos
Have a great weekend!