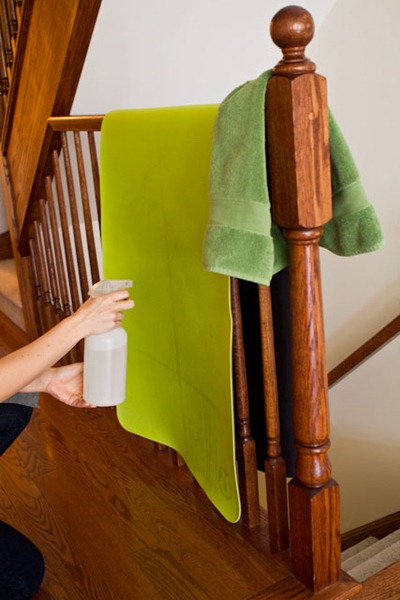 I feel like so many of my posts have started out with…
"On Facebook, I asked you about x,y, and z and you gave me 5 gazillion suggestions."
Well, you've done it again. Do you charge a fee for this service? Maybe we can put it on my tab… =)
This time, I pestered you for tips on homemade or store-bought yoga mat cleaners.
It turns out there are a million and one ways to clean a yoga mat. Or maybe more. What began as an innocent journey into making my own mat cleaner, turned into a ton of reading and researching online.
There are as many different options as there are opinions on what to use. If you make your own mat cleaner, chances are you have your favourite mix. I think a good place to start when figuring out which mat cleaner will work for you is to check with your mat brand and see what they recommend. The "right" cleaning methods and ingredients can vary a lot from mat to mat.
Of course, I didn't take my own advice! I started by making my cleaner first, only to find out later from a discussion with my mat brand- Lululemon – that they don't recommend using essential oils on their mats because it can clog the pores of the mat.
Do as I say, not as I do!
However, I'm in the market for a new mat because my mat is cracking all over the place. The Manduka pro mat (or maybe the lite?) is high up on my list right now since it has a lifetime guarantee and is rated very well. I'm still not sure though.
I went on Manduka's Facebook page and asked them if essentials oils would clog the pores of their mats.
Manduka: "Well, our mats don't exactly have pores. We use a closed-cell technology on both sides of the PRO series mats and on the practice side (the one with the sea grass texture) of the eKO mats. Which means, essential oils after a cleaning should be just fine! A few drops in your cleanser is a great way to do both – that's how we make our organic Manduka Mat Washes."
good to know! I suggest checking with your mat brand to be sure.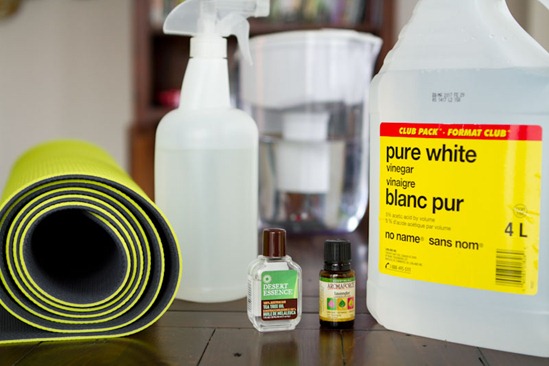 This is what I used to make my mat cleaner:
White vinegar
purified water
tea tree oil
essential oil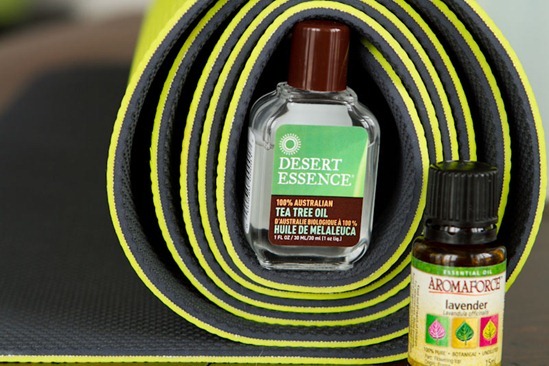 I did a lot of reading online about various homemade cleaners and most people suggest using white vinegar. I used 1 part vinegar to 3 parts water, but the mixtures can vary a lot. You can also use witch hazel or lemon juice, but I find white vinegar to be more cost effective. If you are concerned about using vinegar on your mat, you can try using alcohol-free witch hazel which I've heard also works.
Here's my yoga mat spray "recipe"

1 cup white vinegar
3 cups filtered water
1 tsp tea tree oil
Essential oil (about 10-30 drops depending preference) peppermint, lavender, and thyme are nice, but use anything you like!

 

1. Place all ingredients into a large spray bottle and shake before each use.

2. Spray down your mat on one side and let it sit for a few minutes. With a damp cloth, wipe it down. Finally, wipe it with a dry towel or simply let it air dry.

3. Repeat on other side.

Thanks to ehow, 3 Healthy Chicks, and Eco Yogini for the tips.
Obviously this isn't the only solution for cleaning your mat and I will probably play around with different methods at some point!
If you want to give your mat a super deep clean, you can place it in a bathtub with hot water (just an inch over your mat- not a full tub), some vinegar (maybe 1 cup?), and essential oil and let it soak for at least an hour. You can then rub it down on both sides with a soft cloth while it's in the tub. Rinse it and then hang it on a clothing rack until completely air dry (note: this can often take 48 hours to dry completely, so be warned).
Also be careful with using liquid soap in your cleaner because it can get into the mat and suds can seep out while you practice. Some people get away with just adding a couple drops to a big bottle of water though, so I really think it depends on how much you add.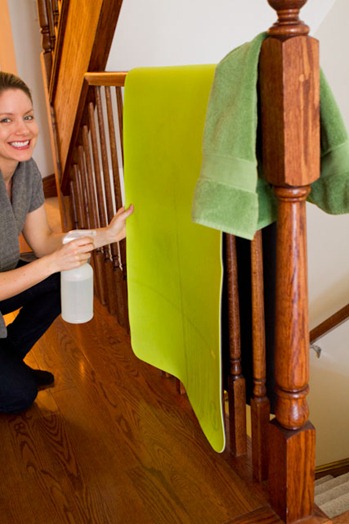 As for me, I'm still loving the classes that I've been doing since my knee injury:
Hot yoga (in various styles) 1-2x week
Hot Pilates 1x week
Yoga with weights 1x week
Yoga Spinn (45 mins spin class followed by 15 mins yoga!) 2x week
Walking
It's a wonderful balance of cardio, strength, and flexibility (and might I add, my spiritual practice and emotional well-being). I feel stronger than I think I ever have and I look forward to the variety each day.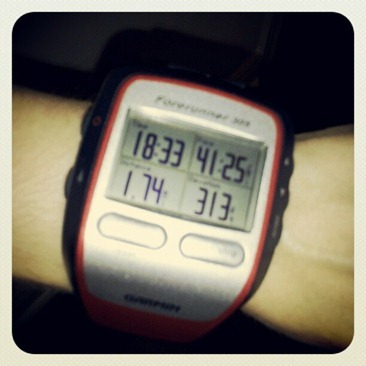 My knee has been feeling great for the past couple weeks, so yesterday I finally decided to go for my first run in a month. It went very well and I had zero pain, although admittedly, I felt a bit out of my running groove. Regardless, it felt so good to be out there running again, even if it was just a shorter one. My plan right now is to slooowly build up my running, while still enjoying my other classes for variety. Injuries are frustrating, but sometimes they force us to try new things and discover a passion in other forms of exercise. For that, I'm very grateful.