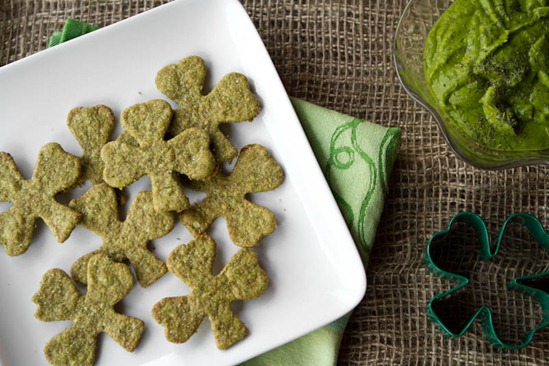 This has to be one of the easiest green recipes I've ever made, aside from the Green Monster. I've wanted to make green crackers for a while now, using spinach for the lovely green colour and burst of nutrition. Attempt #1 was adapting the gluten-free crackers with spinach. The dough was super sticky and it was just a big flop. I'll have to work on that one a bit more.
For attempt #2, I adapted the Homemade Wheat Thins I made a while back: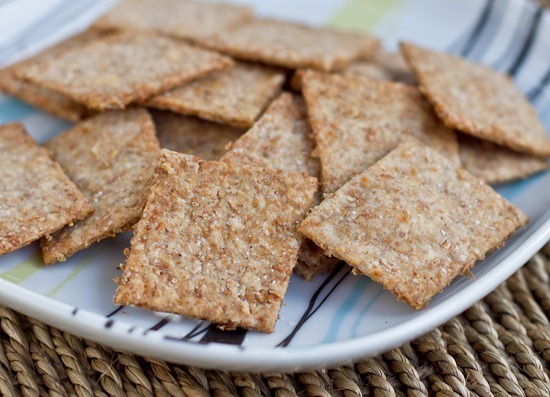 If you've made those crackers you'll know that the dough rolls easy and they taste much better than the store-bought version. It's almost impossible not to eat the entire batch in a day…or maybe that's just me.
The dough isn't the sticky, annoying dough that you fight with either. I was happy that the spinach crackers also followed suit…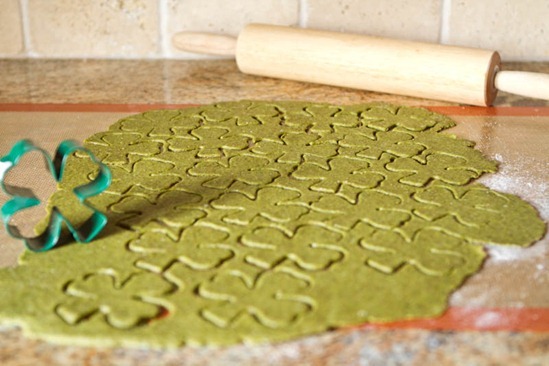 I picked up this shamrock cookie cutter at Bulk Barn the other day and somehow resisted the strong urge to buy Easter stuff…(help me)
As you can see, the dough is a lovely bright green before baking! It's amazing what 1 cup of spinach can do. Imagine all that green power inside your body…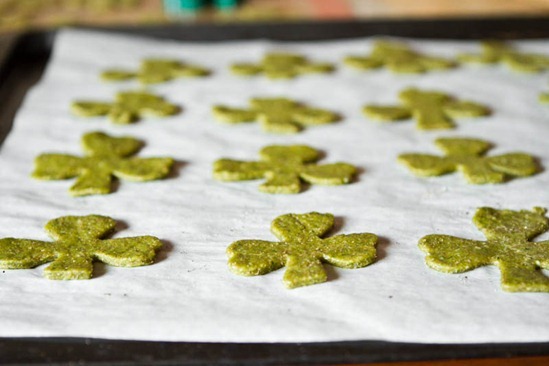 After baking, they are more of a pale green, but beautiful nonetheless.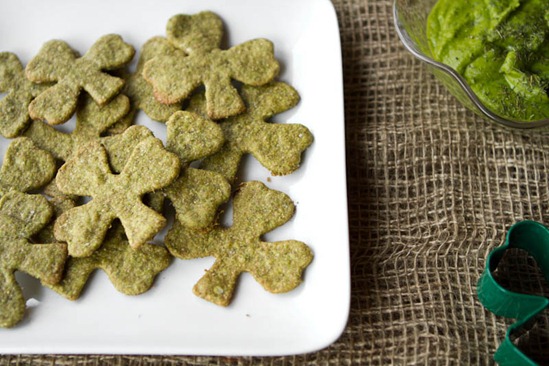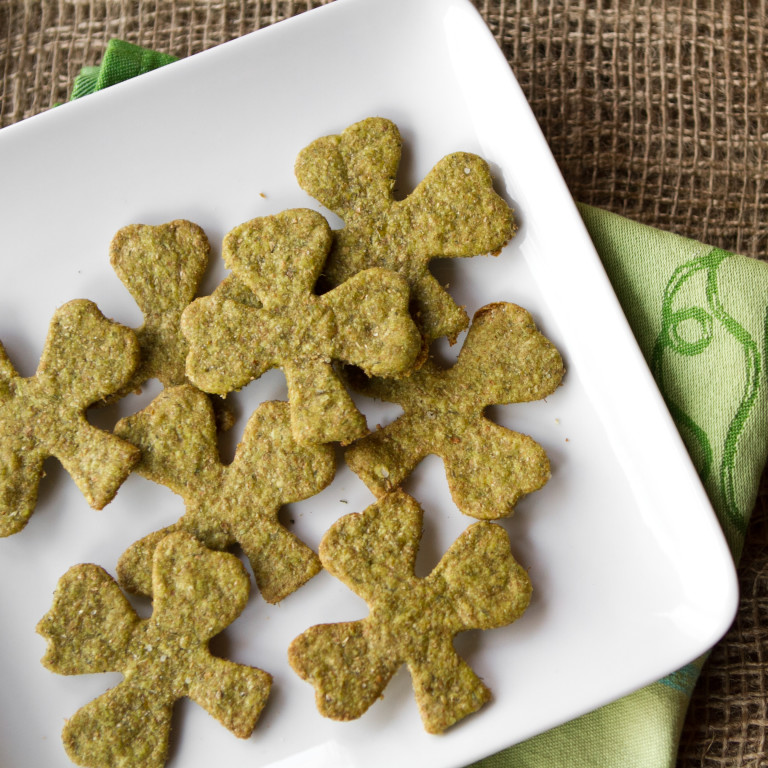 Sneaky Shamrock Spinach Crackers
Vegan, nut-free, soy-free

Yield

32 shamrock crackers or 64 small rectangles
Prep time

Cook time

Total time

Another sneaky way to get in your greens…and no one will be the wiser, especially kids! Crispy but chewy, wholesome, green, and the perfect vehicle for your favourite festive dip or spread.
Adapted from Homemade Wheat Thins.
Ingredients
1 1/4 cups (5 oz) 100% whole wheat flour
1 1/2 tbsp sugar
1/4 - 1/2 tsp kosher salt, plus extra for sprinkling on
1 tsp dried dill weed (or other herbs/spices of choice)
4 tbsp Earth Balance (I used soy-free)
1/4 cup + 2 tbsp water
1 cup fresh spinach (30 grams)
Directions
Preheat oven to 400 F. Line two baking sheets with parchment paper or a non-stick mat. Or just use 1 baking sheet and bake 2 separate batches like I did.
In a large bowl, whisk together the dry ingredients (flour, sugar, salt, dill).
With a pastry blender (or two forks), cut in the Earth Balance into the flour mixture until crumbly. See image below.
In a blender, blend the water and spinach until smooth. Now pour this into the flour and Earth balance mixture. Stir this mixture until it just comes together and then gently knead with hands until it forms a ball. Be sure not to over handle the dough.
Split the dough in half. On a non-stick mat or lightly floured surface, roll out one half of the dough very thin (1/16th inch). Cut with cookie cutters or with a pizza roller. Gently lift off with fingers and place on prepared sheet. Repeat as necessary. Sprinkle with more salt (I used Herbamare and it tasted amazing!)
Bake for 9-10 minutes, rotating pan half way through baking to ensure more even baking. Crackers should be lightly golden when ready. My crackers took 10 minutes, but watch closely after 8 minutes. Be careful because they burn quickly. Cool completely on baking sheet and serve immediately. Store leftovers in a glass container.
Nutrition Information
(click to expand)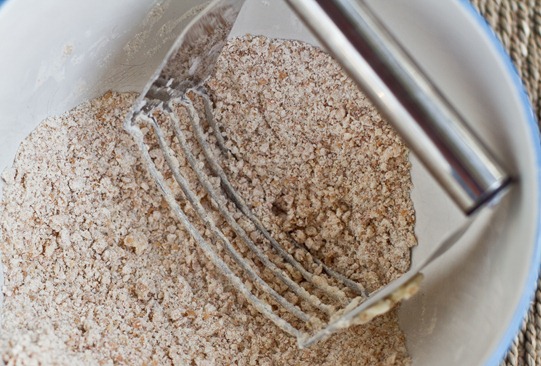 Don't be fooled by the long directions…this recipe took me just 10 minutes to throw together! I just like to be detailed for you. :) I was in and out of the kitchen in 30 minutes flat.
To pair with the crackers, I added some hummus into my blender along with a touch of water and some spinach to make this gorgeous BRIGHT green dip!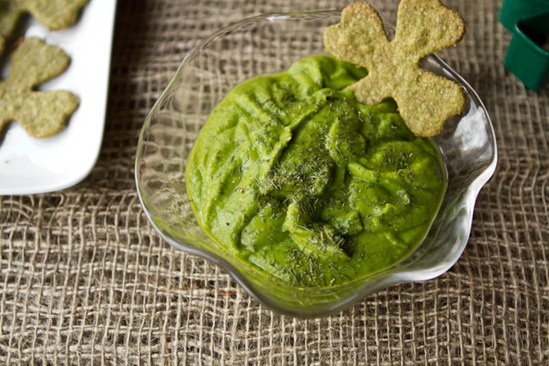 If you don't want to make green hummus, you can try making my favourite guacamole for another pop of green.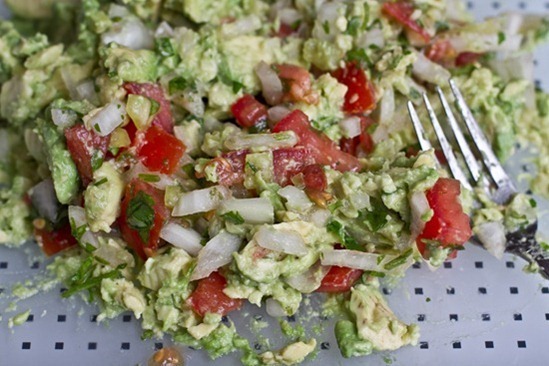 This batch made about 32 crackers…and they go fast! My suggestion is to double the batch if making for a group. No one wants fight club to break out on the dining room table.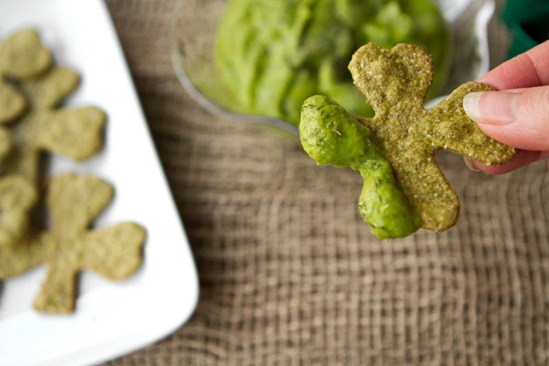 Serve with Homemade Baileys on its own or in a Green Monster, as some of you suggested the other day (really good!). Breakfast on Saturday morning? I think so.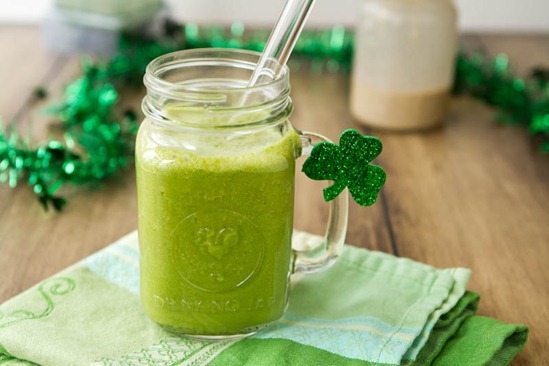 ~~~
Remember when I told you that I have news to share, but I wouldn't know exactly when that would be? In the words of Stephanie Tanner, how rude. bahah
Well, I can finally share the news this weekend…..finally! I don't know how I've waited this long because I'm an incredibly impatient person. By the way, it's not baby-related news, just in case the Baileys didn't confirm that for you…More deets to come!