Happy Friday!
Just a quick note about the pancake recipe I posted yesterday. I tried the pancakes this morning using a couple different methods after a reader mentioned the pancakes stuck to the pan after making a couple small substitutions. I went back into the kitchen to see if I could figure out why the pancakes might have stuck to the pan for someone else. For the first trial, I used an old skillet that wasn't non-stick. The pancakes completely stuck to the skillet, just as I suspected. I also tried using my non-stick skillet, but I didn't grease it first, and the pancakes stuck more than I'd like.
My suggestion is to use a non-stick pan and lightly grease it with oil before making the pancakes. I've made 5 batches this way and I didn't have any problems with sticking. I'm also not sure how modifications to the recipe will hold up, such as flour substitutions, so I suggest following the recipe as written. It's really anyone's guess when changing a vegan & GF recipe!
In other news, I have a cute, little dessert for you today that is a cinch to whip up.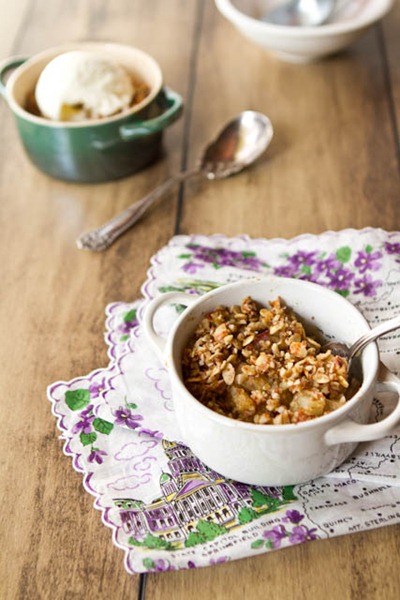 I had a couple pears on their last legs and thought it would be fun to make a 2-serving pear crisp in tiny little 8-oz ramekins.
Sometimes it's nice to make a smaller portion when you don't want to spend a lot of time prepping ingredients. It's just enough to satisfy the sweet tooth!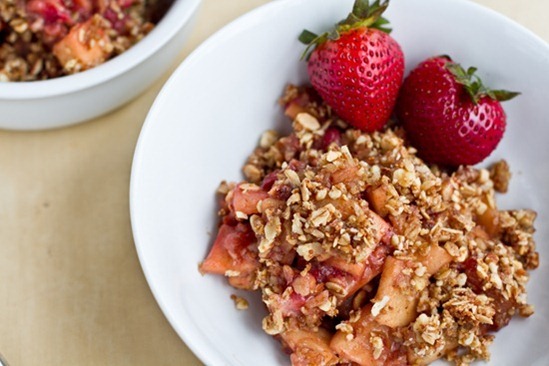 Using my Strawberry Apple Breakfast Crisp (image above), I cut it down to make just two servings and then swapped out the fruit and spices. The result is a healthy pear crisp that is just sweet enough without going overboard.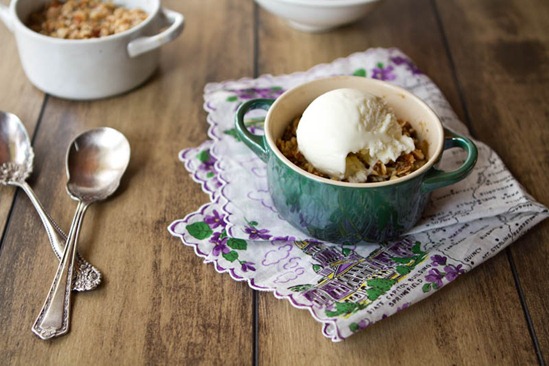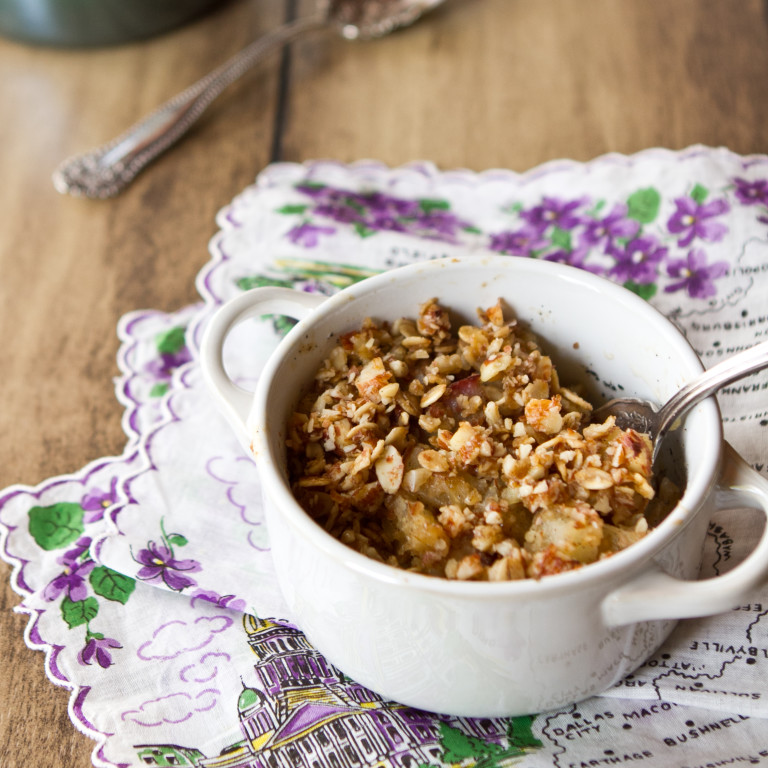 Cardamom Almond Pear Crisp for Two

Yield

2 servings
Prep time

Cook time

Total time

This crisp is flourless, all-natural, low in sugar, and vegan. I love the chewy topping thanks to the almond mixture. To make this gluten-free, use certified gluten-free oats.
Adapted from my Flourless Strawberry Apple Breakfast Crisp
Ingredients
For the fruit mixture
2 cups chopped pears, unpeeled (about 2)
1 tbsp Sucanat or brown sugar
1 tsp cornstarch
1/4 tsp ground cardamom (or cinnamon)
1 vanilla bean, scraped (or 1/2 tsp vanilla extract)
For the topping
1 tsp coconut oil, melted (or olive oil)
3 tbsp almonds
2 tbsp rolled oats
1 tbsp Sucanat or brown sugar
1 tsp pure maple syrup (or other liquid sweetener)
pinch of salt
Directions
Preheat oven to 400F and grease two (8-oz) ramekin dishes with oil.
In a medium-sized bowl, stir together the fruit mixture ingredients (chopped pears, sugar, cornstarch, cardamom/cinnamon, and vanilla).
In a processor (I used my mini processor), process the almonds until finely chopped. Now add in the oats and process just until chopped. If you don't have a processor, you can probably do this by hand.
In a small bowl, melt the coconut oil in the microwave. Now stir in the rest of the topping ingredients. Add 2 tablespoons of the topping mixture into fruit mixture and stir until combined. Divide the fruit mixture into ramekins. Sprinkle the rest of the topping on top of the fruit mixture.
Cover ramekins with lid (or cover with tin foil and poke a couple holes). Bake, covered, at 400F for 22-25 minutes. The topping will burn if you don't cover it. Allow to slightly cool for 10 minutes before serving with a scoop of vegan ice cream. Dig in!!!
Nutrition Information
(click to expand)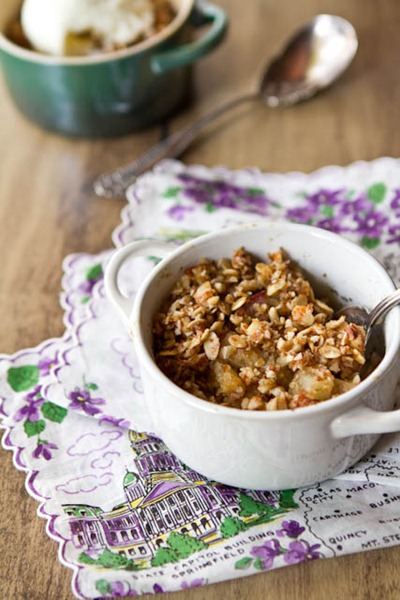 A light and healthy dessert that will leave you feeling refreshed and satisfied just in time for spring!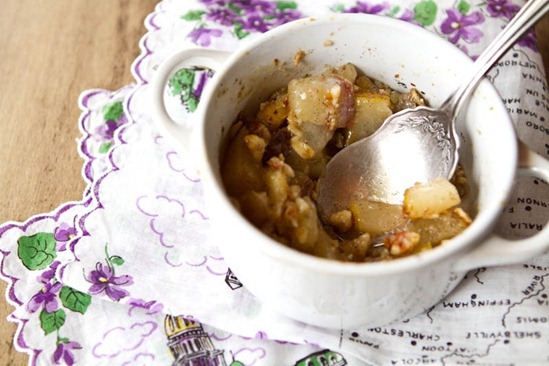 You can serve it naked, but I definitely recommend serving it with a scoop of vegan ice cream. :) That one is a no brainer. The ice cream gets all melty and warm, creating a gooey, comforting dessert.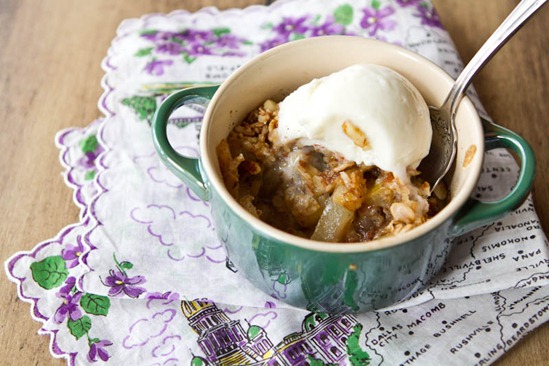 Can I just say how pumped I am over the spring-like weather forecast next week?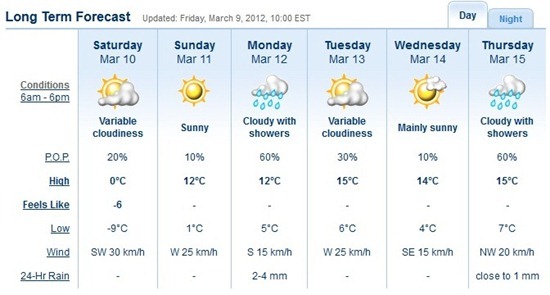 Anyone else being blessed by warmer weather?