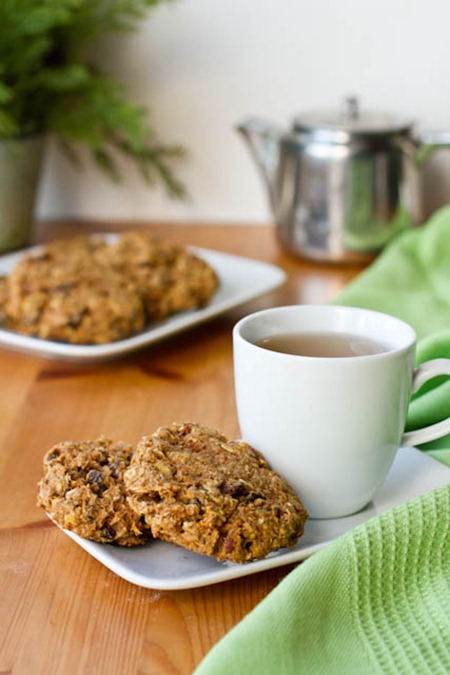 Well, I didn't end up making the Itty Bitty Carrot Cake Cookies, but I did end up making an off-spring!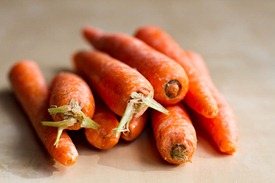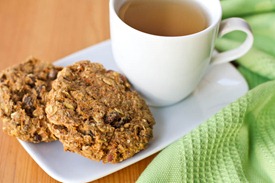 Meet the carrot cake cookie in breakfast form. I cut down the oil (using applesauce to replace some of it) and amped up the protein, fibre, and healthy fats naturally using ground flax.
In my first version, I used protein powder instead of flax, but the texture was weird and the flavour was off. Ground flax all the way!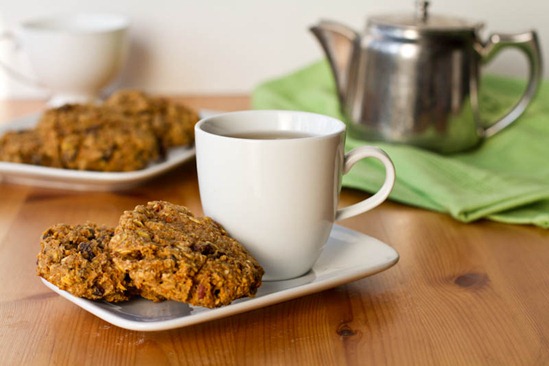 I also left them chunky instead of flattening them down. Much better.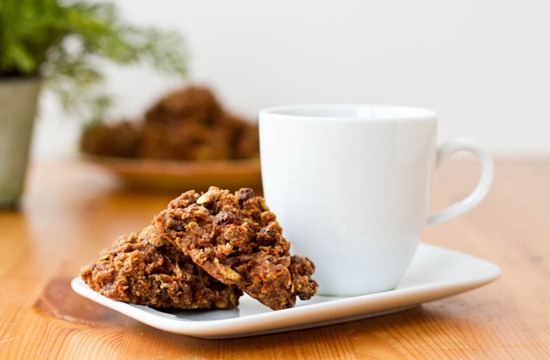 The cookies are lightly sweet, with a lovely carrot cake flavour and the texture of a muffin top. I added in a full cup of grated carrots and a tablespoon of freshly grated ginger for a boost of nutrition and an authentic carrot cake flavour. Ginger also aids in digestion as an added bonus.
Eric summed them up nicely, "If I was looking for a healthy cookie, I would be happy with these. If I wanted a regular unhealthy dessert cookie, I might be a bit disappointed. But they are perfect for breakfast or a snack and I like that they taste like a muffin."
I'm not sure I can add anything to that, so I'll just give you the recipe! Nutritional info follows.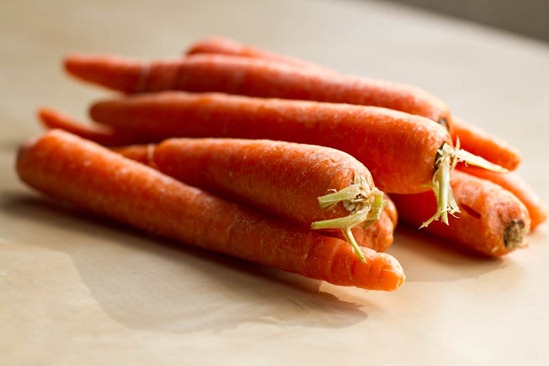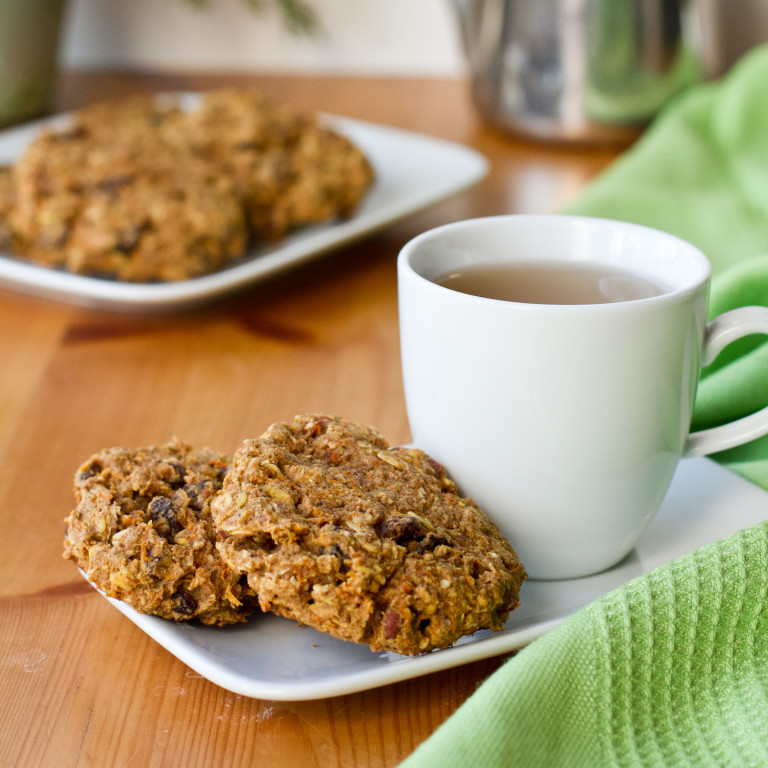 Oh Mega Carrot Cake Breakfast Cookies

Yield

13 cookies
Prep time

Cook time

Total time

Like a healthy breakfast muffin in carrot cake cookie form. Coconut oil, maple syrup, and fresh ginger work well to create a nice carrot cake flavour, however if you are without those ingredients you can try subbing in another light tasting oil of your choice, other liquid sweetener, and ground ginger (maybe 1/4 tsp?).
Adapted from Itty Bitty Carrot Cake Cookies, which was adapted from 101 Cookbooks.
Ingredients
1/2 cup chopped pecans, toasted
3/4 cup ground flax
1 cup whole wheat pastry flour
1/2 cup regular rolled oats
3/4 tsp baking powder
1/4 tsp kosher salt
2 tsp ground cinnamon
1/3 cup raisins
1 cup lightly packed shredded carrots (use finest grate)
3 tbsp coconut oil
1/2 cup pure maple syrup (other liquid sweeteners should work)
1/4 cup applesauce
1 tsp pure vanilla extract
1 tbsp fresh grated ginger
Directions
Preheat the oven to 325F and toast the pecans for 10-11 minutes. Meanwhile, prepare the batter. In a large bowl, mix together the flax, flour, oats, baking powder, salt, cinnamon, and raisins.
Grate the carrots and ginger using the finest grate. In a smaller bowl, melt the coconut oil in the microwave for about 45-60 seconds. You want the oil hot so it doesn't clump up when adding the cold wet ingredients. Now add in the maple syrup, carrots, applesauce, grated ginger, and vanilla. Stir well.
Remove pecans from the oven and add to the dry ingredients. Increase oven temp to 350F. Now add the wet ingredients to the dry and mix well. The dough will be very sticky, so not to worry.
With a spoon, scoop about 13 cookies onto a lined baking sheet. They don't spread much so you can put them an inch apart. Bake for 14-15 minutes at 350F and allow to cool on baking sheet.
Nutrition Information
(click to expand)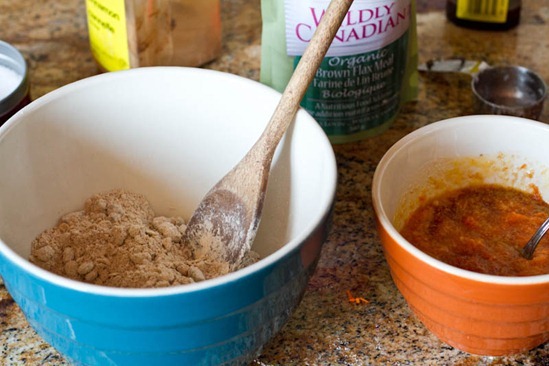 Just a word of caution- the dough is very sticky so don't be alarmed when you mix it up. It's easiest to just scoop the dough with a spoon and drop it onto the baking sheet.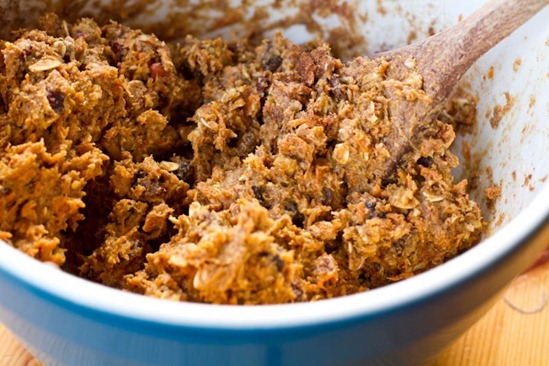 They are a lovely cookie for an on-the-go breakfast or a mid-afternoon snack. And like Eric says, keep in mind that it's a healthier cookie and you won't be disappointed.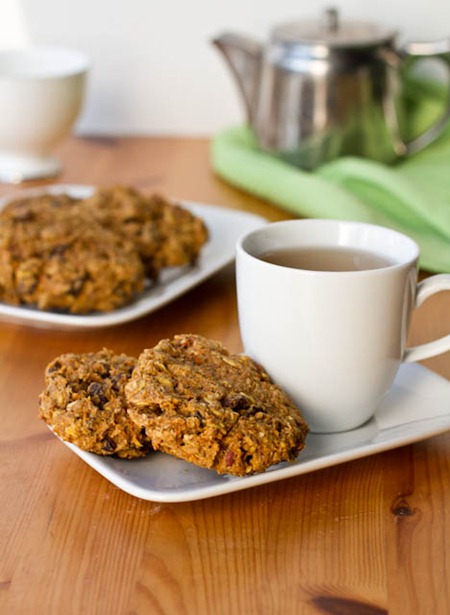 Breakfast this morning was a lovely Green Monster with a side of cookie.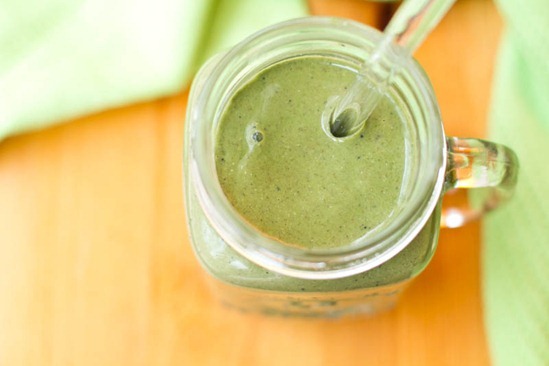 Superfood Green Monster
This Green Monster packs in superfoods like blueberries, raspberries, strawberries, chia seeds, and spinach! For more Green Monster recipes, visit the Green Monster Movement.
Yield: 1 serving
Ingredients:
1 large handful spinach
1 cup + 2-3 tbsp unsweetened almond milk
2 tbsp chia seeds
1/4 cup frozen mixed berries
1 frozen banana
1 scoop Garden of Life Raw Protein powder, or other powder
Ice, if preferred
1. Add all ingredients to blender and blend until smooth. Add ice if desired.
Nutritional Info (serves 1): 349 kcals, 14 grams fat, 39 grams carbs, 21 grams fibre, 12 grams sugar, 27 grams protein.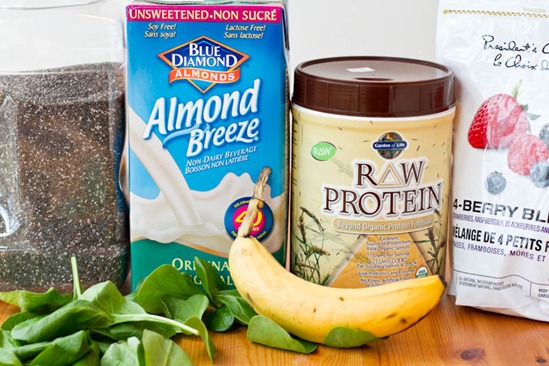 Note the hot tea in the background to warm me up!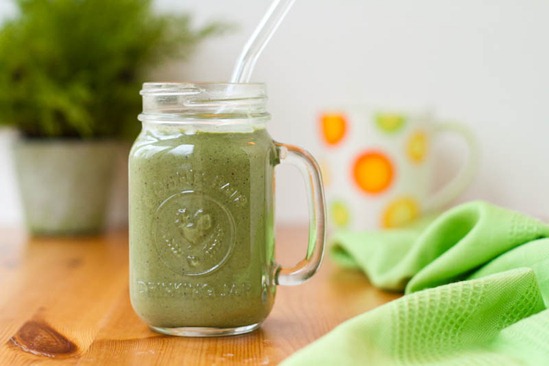 [Mason glass was picked up in November while visiting Fish's Eddy in NYC]
I thought I would pass along a couple fun vegan links for you today…
1. Check out the PPK's Vegan Top 100 of 2011 list
2. VegNews Top 10 Vegan trends of 2011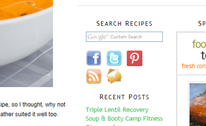 3. I also wanted to point out that I added some social media icons on the right hand sidebar of my page for Facebook, Twitter, Pinterest, Email Subscribe, and RSS! Sorry it took me so long…I'm a bit slow with figuring out these things! In case anyone else is interested, I used this WordPress Social Media Widget.
Have a great day!