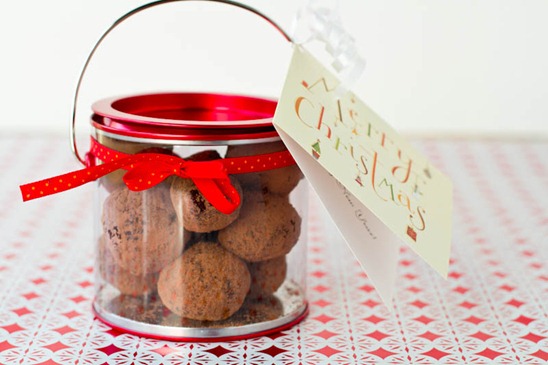 You couldn't twist my arm enough to make me eat one of these creamy chocolate truffles right now.
I know what you're thinking…Who are you and what have you done with Ange?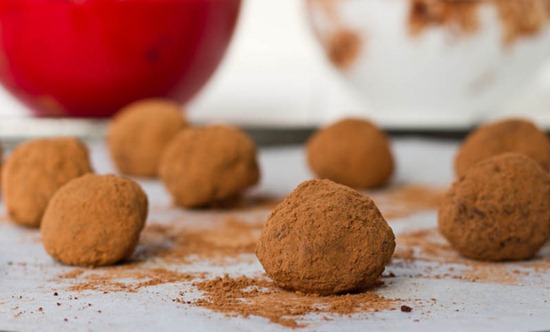 Well, the reason for my truffle aversion right now is a little something called a hangover…of the red wine kind. Here I was doing so well eating healthy all weekend and then I went a bit crazy with the booze. You win some, you lose some. :) As I type this at 8pm on Sunday night, I can't even fathom eating something sugary right now.
This too shall pass.
Despite, my current inability to eat anything that isn't a salty carb, I can assure you these truffles are incredible! They almost didn't make it to my sister's place…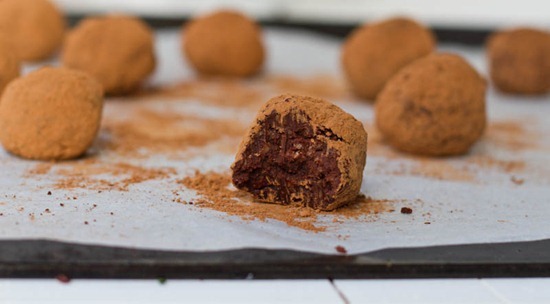 Thankfully, they did…and everyone raved about them. I heard many, "I'm not normally a truffle fan, but these are amazing" comments.
And then I ended up as a short-lived President with a break-proof beer insulator on my wine glass, hugging stuffed Santas. It's a long story.
The good times rolled much like these truffles! These vegan truffles come together incredibly easy which is always nice. The only thing you need is a bit of patience while the truffle mixture firms up in the fridge for a couple hours. If you are in a rush like I was, you can place it in the freezer for 30 minutes and then in the fridge for another 30-45 mins to save a bit of time. Who can really wait 2 hours for chocolate anyways?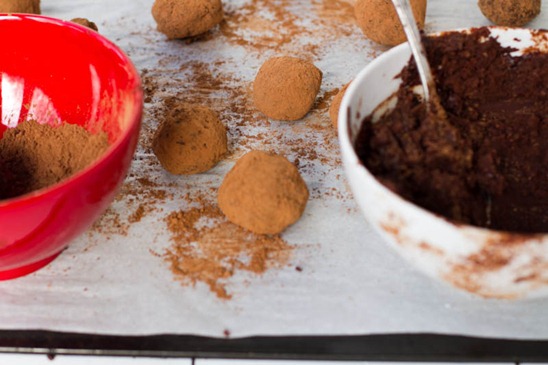 After the dough firms up, just shape it into balls and roll in cocoa powder. Easy stuff!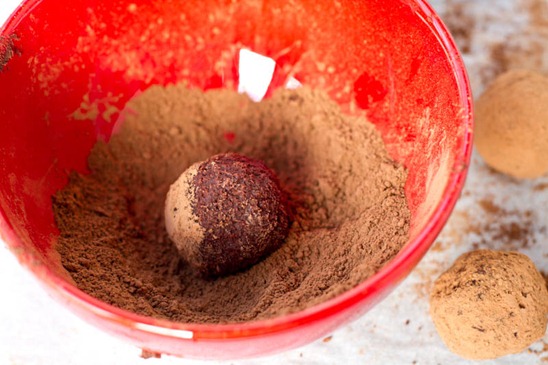 They'll think you baked for hours.
You can also try rolling it in finely chopped toasted mixed nuts, which would give it a nice crunch. I think I will try that when I make them again on Friday!
After rolling the truffles in cocoa powder, I placed them into a cute little "Painter's can" food container I purchased at Bulk Barn. It's adorable…transparent…what's not to love?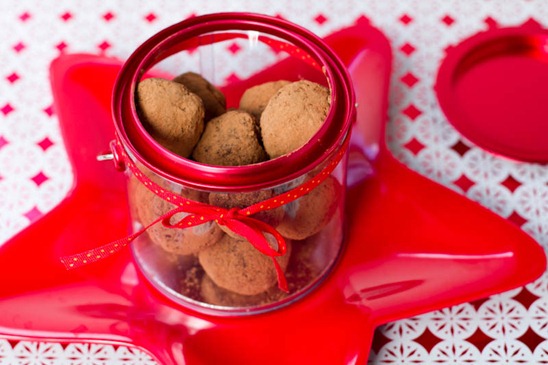 To complete my hostess gift, I attached a trimmed Christmas card with ribbon and wrote the recipe on the inside.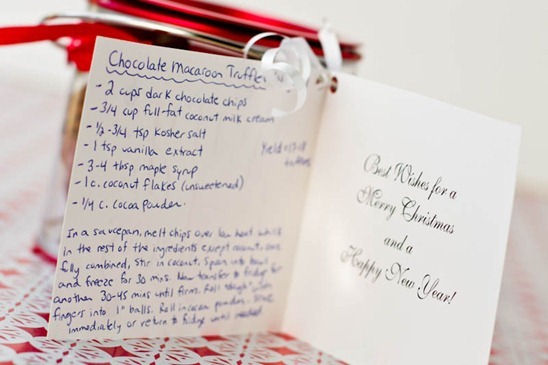 You can also change up the flavours too. I was thinking a chocolate orange truffle would be nice (maybe add 1/2-1 tsp orange extract and some fresh orange zest) or a mint crunch truffle (add 1/2-1 tsp peppermint extract along with some crushed candy cane). Yum!
Don't want the shredded coconut? Just leave it out!
Need to make ahead of time? You're in luck.
I do, however, suggest serving them with a glass of cold almond milk, instead of red wine.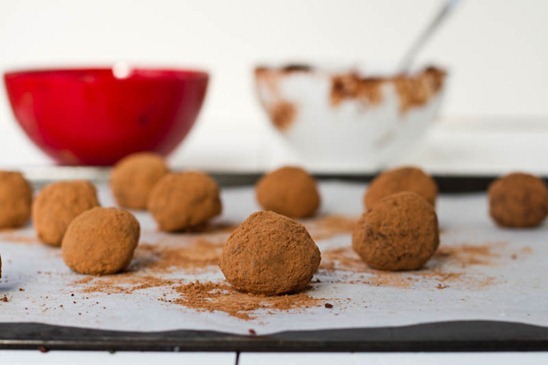 [print_this]
Vegan Chocolate Macaroon Truffles
I've never been a big fan of traditional truffles, but these are lovely. The thick coconut milk replaces traditional cream and gives them an incredibly smooth texture while adding a hint of coconut flavour. I thought the shredded coconut would go along nicely with these truffles to bring out the coconut milk. I also added a hint of vanilla, maple syrup, and a pinch of salt to bring out the flavours even more. Try rolling them in finely chopped roasted nuts if you want to change it up and add a nutty crunch. Or try using orange extract and orange zest or peppermint extract and crushed candycane for a fun change. Don't want the shredded coconut? Just leave it out!
Yield: 17-19 large truffles
Ingredients:
2 cups dark or semi-sweet chocolate chips (I used Camino semi-sweet)
3/4 cup full-fat coconut milk (cream from top of can)
3-4 tbsp pure maple syrup (or other liquid sweetener), to taste
1 tsp pure vanilla extract
1/2-3/4 tsp kosher salt, to taste
1 cup unsweetened shredded coconut (optional)
Cocoa powder, for rolling (or finely chopped toasted nuts)
1. In a medium-sized saucepan, melt the chocolate chips on the lowest heat, stirring frequently. Alternatively, you can use a double boiler if you prefer.
2. Open a can of full-fat coconut milk, and gently scrape the cream from the top of the can to make 3/4 cup. Whisk this into the melted chocolate.
3. Stir in the vanilla, salt, maple syrup all to taste. Whisk well to remove all clumps, as the maple syrup may harden it up again. If it does harden up just keep heating it on low and whisk until smooth. Remove from heat and stir in the coconut.
4. Scoop mixture into a bowl and place in the freezer for 30 mins. Stir with a spoon to break up the hardened spots and place in the fridge for 45 mins to firm up some more.
5. Once firm, shape mixture with fingers (I wore plastic gloves to avoid making a huge mess of my hands) into 1.5 inch balls. The mixture will be quite sticky. If it's too sticky, simply return it to the fridge for a bit longer. Roll into cocoa powder and repeat for the rest. Store in fridge until ready to use.
[/print_this]
The truffles are an indulgent, easy gift you can make for your girlfriends, family, host or hostess, or maybe even yourself!
As I edit this post on Monday morning, a truffle for breakfast is almost tempting. I'm back, baby.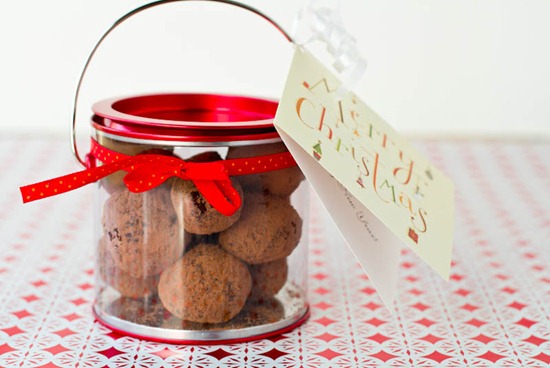 Recipes coming up…
Coming up on the blog, the 12 Days of Healthy Dinner Recipes continues with a take-out inspired dinner recipe. On the cookie front- Eggnog Spiced Snickerdoodles I made for a cookie swap.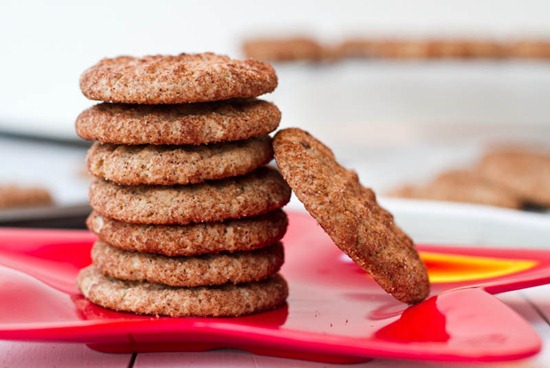 Bring your appetite, it's going to be a fun week!
~~~

The winner of the Ellie Eternity Scarf Giveaway is #1145- Abbey L. Congrats! I have emailed you to collect your info.
Big thanks to everyone for participating!